Tuesday, August 2, 2016
Dear Friends,
Hello! Thank you for subscribing to my E-newsletter. I am honored to serve the 23rd Senate District and look forward to working with you toward building a better future for Pennsylvania!
This E-newsletter serves to keep you updated on what is happening throughout Bradford, Lycoming, Sullivan, Susquehanna and Union counties and what I am doing as your state senator in Harrisburg. I hope that you will find this E-newsletter helpful, and if you have any questions or concerns, please feel free to contact me.
Gene Yaw
State Senator
www.SenatorGeneYaw.com

Vietnam Veterans' Commemorative Ceremony Set

On behalf of a grateful nation Senator Gene Yaw State Representative Garth Everett & State Representative Jeff Wheeland to present Vietnam Veterans' Commemorative Ceremony
Senator Gene Yaw together with State Representatives Garth Everett & Jeff Wheeland will recognize and honor the Vietnam Veterans of the 23rd Senatorial District for their service and sacrifice on behalf of the United States, with a special Commemorative Ceremony.
Event Date : Thursday, November 3rd, 2016
Time : 7PM
Place : Community Arts Center, 220 West 4th Street, Williamsport, PA 17701
Hosted by : Senator Gene Yaw, Representative Garth Everett & Representative Jeff Wheeland
In Accordance With Public Law 110-181 SEC.598; the 2008 National Defense Authorization Act authorized the Secretary of Defense to conduct a program to commemorate the 50th anniversary of the Vietnam War and "in conducting the commemorative program, the Secretary shall coordinate, support, and facilitate other programs and activities of the Federal Government, State and local governments, and other persons and organizations in commemoration of the Vietnam War."
A special Vietnam Veterans' lapel pin has been produced as part of the commemorative program and will be distributed to attending veterans.
In order to attend this event and to be eligible to receive the commemorative pin, the recipient must be a United States Veteran who served on active duty in the United States Armed Forces at any time during the period of November 01, 1955 to May 15, 1975, regardless of stationing location.
To fully accommodate all who wish to attend, and ensure a sufficient quantity of the commemorative pins, we ask that you register through Senator Yaw's website, www.senatorgeneyaw.com/vietnam-veterans-50th, or by calling 570-546-2084 (Rep. Everett's Office).
PART 2 of 2: August 2016 – Senator Yaw Tours the Antique Automobile Club of America Grand National Meet
This month, 'A Conversation with Senator Gene Yaw' showcases the 2016 Antique Automobile Club of America (AACA) Grand National Meet hosted by the Susquehannock Region and the Penn College Classic Cruisers Student Chapter. The meet is held once a year and alternates between east and west of the Mississippi.
The television report will air on:
Blue Ridge Communications/Mansfield - Channel 13; Service Electric Cablevision - SECV Productions - Channel 8; Time Warner, Sayre; Adams Cable Service, Channel 7; Comcast/Williamsport - Click On Demand/Get Local/Local Government/State Senate/A Conversation with Senator Gene Yaw.
Please check local listings for air times.
'A Conversation with Senator Gene Yaw' is intended to keep residents of the 23rd Senatorial District informed about state and local issues and to showcase the people, places and communities that make this region so unique.
Senator Yaw's television report is also available online at www.senatorgeneyaw.com, click 'Newsroom' and 'A Conversation with Senator Gene Yaw'.

Modernization of Professional Nursing Law
The Senate recently approved legislation that would modernize the Professional Nursing Law for Advanced Practice Registered Nurses (APRNs) in Pennsylvania.
Senate Bill 717 will ensure more people have access to quality care by empowering nurse practitioners to serve patients to their fullest potential.
Over the next decade, there will be a shortage of 250,000 doctors in the United States. Further, our nation's population continues to grow. The choice seems to be "some care" versus "no care", which is why I supported this legislation.
Relieving the Substitute Teacher Shortage
The Senate recently approved legislation aimed at easing the shortage of substitute teachers in Pennsylvania school districts. Senate Bill 1312 allows college students who have completed 60 credit hours and are enrolled in a teacher preparation program to substitute for a limited number of days in any school district in the Commonwealth. The bill was sent to the House of Representatives for consideration.
To read more, click here.
Oral Chemo Parity Legislation
Legislation requiring insurers to provide coverage for orally administered chemotherapy on a basis that is at least as favorable as that for intravenous or injected chemotherapy treatment received final legislative approval. Under current law, intravenous anti-cancer medications are typically covered under a health plan's medical benefit, often requiring patients to pay a minimal fixed co-payment.
Orally administered anticancer medications, however, are covered under a health plan's pharmacy benefit, making them much more costly and sometimes an unaffordable option for patients. House Bill 60 ensures cost will not prevent patients from choosing the best treatment for them.
To read more, click here.
New Regulations for Pennsylvania CDL Holders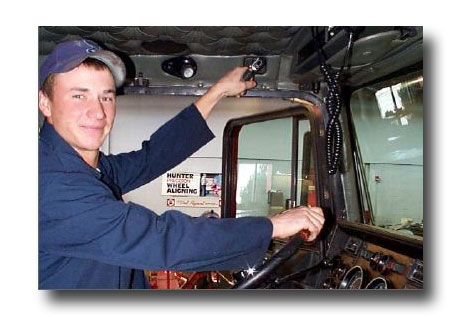 Pennsylvania's Commercial Drivers' License holders must adhere to new requirements due to recent changes in state and federal regulations.
PennDOT is now requiring CDL holders applying to renew their licenses to show up in person at a photo license center to present paperwork, documenting proof of citizenship and residency.
Those applying for a CDL permit must follow those steps and show proof they hold a standard driver's license before submitting an application. Additionally, there is also a change for school bus drivers who hold CDLs and are required to take an annual physical.
Changes in the Federal Motor Carrier Safety Administration requirements prompted the adjustments in the state's CDL regulations.
Be sure to review all requirements, prior to applying or renewing your CDL. Click here.

Sen. Yaw Responds to Latest Heroin Death Report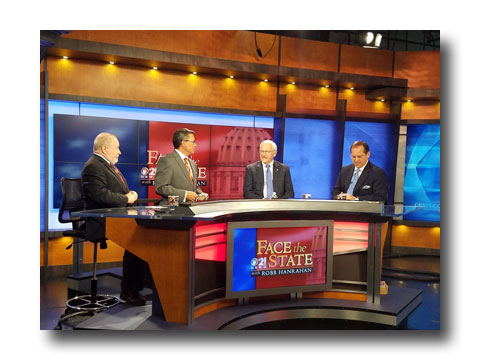 State Senator Gene Yaw (R-23) recently addressed the latest report issued by the Drug Enforcement Administration (DEA) Philadelphia Field Division's (PFD) Intelligence Program, which analyzed illicit and diverted pharmaceutical abuse in Pennsylvania, as measured through drug-related overdose death data.
According to the July 2016 report, 3,383 drug-related overdose deaths were reported in the state in 2015, an increase of 23.4 percent from the total number of overdose deaths reported in 2014. The presence of heroin or at least one opioid was reported in approximately 81 percent of the decedents.
Beginning in 2014, the Center for Rural Pennsylvania, a bipartisan, bicameral legislative research agency of the General Assembly has held 10 public hearings focusing specifically on law enforcement efforts, treatment and recovery services and education across the state.
"The Center's work has laid the foundation for greater awareness by the legislature in coordinating a statewide response," Yaw added. We have looked extensively at every facet of this growing crisis, and my colleagues and I are working to address many of the issues brought to our attention legislatively."
To read more, click here.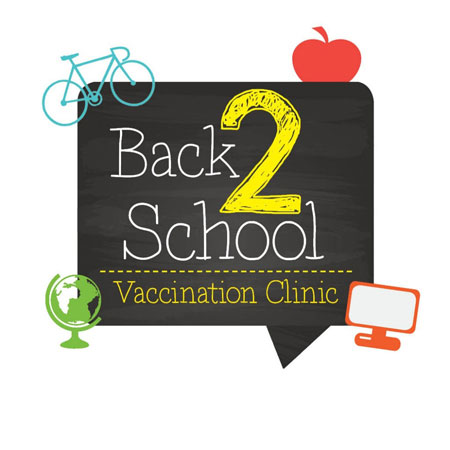 2016 Senior Expo on the Horizon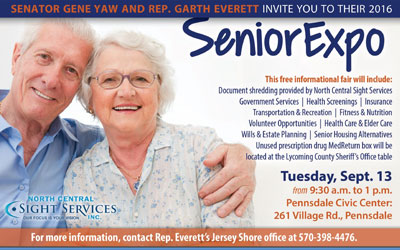 DEP Accepting Applications for the 2016 Small Business Advantage Grants
Grants will Fund Pollution Prevention and Energy Efficiency Projects
The Pennsylvania Department of Environmental Protection (DEP) announced the availability of up to $1,000,000 of grant funding in the 13th year of the Commonwealth's Small Business Advantage Grant Program for small businesses that adopt or acquire equipment or processes that promote pollution prevention and/or energy efficiency projects.
With more than 900,000 small businesses in this Commonwealth, a well-designed energy efficiency or pollution prevention project can help small businesses cut operating costs and complement the economy, while simultaneously protecting the environment.
The grants provide funding to projects that include auxiliary power units deployed as anti-idling technology for trucks, HVAC and boiler upgrades, high-efficiency lighting, solvent recovery systems and waste recycling systems.
Applicants must be a for-profit corporation, limited liability corporation, partnership, sole proprietorship or other legal entity with 100 or fewer full-time employees. The grant-supported project must be located in Pennsylvania. Eligible projects must save the business a minimum of $500 and 25 percent annually in energy consumption or pollution related expenses.
To read more, click here.
Farm Conservation Tax Credit
Pennsylvania Farm Conservation Tax Credit Program Applications Available Beginning August 1
Pennsylvania farmers can apply for 2016-17 Resource Enhancement and Protection (REAP) program tax credits beginning August 1.
REAP is a tax credit program for agricultural producers who install best management practices (BMPs) or make equipment purchases that reduce erosion and sedimentation that impacts Pennsylvania's streams and watersheds. The program, administered by the State Conservation Commission, gives agriculture producers an incentive to purchase conservation equipment and materials to better protect the environment.
Farmers may receive tax credits of up to $150,000 per agricultural operation for 50 to 75 percent of the project's cost. The most common projects approved are for no-till planting and precision ag equipment, waste storage facilities, Conservation Plans, Nutrient Management Plans and protecting heavy animal use areas like barnyards. REAP can be used in conjunction with other funding sources such as the Environmental Quality Incentive Program (EQIP) or the Chesapeake Bay Program for purchases.
For more information, click here.
---
If you do not wish to receive this email, click here to unsubscribe.
Privacy Policy
2016 © Senate of Pennsylvania
senatorgeneyaw.com