Monday, August 15, 2016
Dear Friends,
Hello! Thank you for subscribing to my E-newsletter. I am honored to serve the 23rd Senate District and look forward to working with you toward building a better future for Pennsylvania!
This E-newsletter serves to keep you updated on what is happening throughout Bradford, Lycoming, Sullivan, Susquehanna and Union counties and what I am doing as your state senator in Harrisburg. I hope that you will find this E-newsletter helpful, and if you have any questions or concerns, please feel free to contact me.
Gene Yaw
State Senator
www.SenatorGeneYaw.com

Congratulations to Sullivan County's Olympic Athletes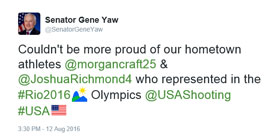 I am very proud of our local athletes, Josh Richmond and Morgan Craft, who represented our country as part of the USA Shooting Team in Rio de Janeiro last week. These talented Olympians from our area who put in countless hours of training and preparation have displayed their talents in front of the entire world.
Over the years, Josh and Morgan have excelled in every aspect of their sport and I admire their hard work, dedication and commitment. I stand with all Pennsylvanians in extending a congratulations for their accomplishments and look forward to seeing them both in Tokyo in 2020!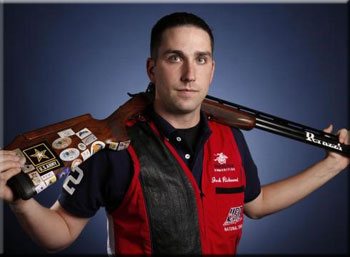 Josh Richmond
Event: Double Trap
Olympic Experience: 2012, 2016
Hometown: Hillsgrove, Sullivan County
Shooting Success: A 12-time world cup medalist and two-time world champion.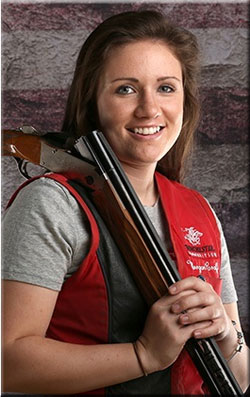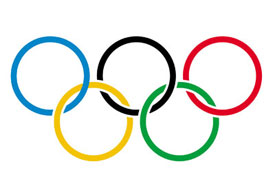 Morgan Craft
Event: Women's Skeet
Hometown: Muncy Valley, Sullivan County
Shooting Success: Won a world title in 2015; also won a gold medal at the 2016 world cup in Cyprus and was a two-time world cup medalist in 2015. She also won a 2014 national title.
Exploring Naloxone Uptake and Use – A Public Discussion

On August 29th, I will be hosting a discussion on the administration of Naloxone, a medication approved by the Food and Drug Administration to reverse an overdose by opioids such as heroin, morphine and oxycodone. This seminar will offer not only a discussion on the use of naloxone but also provide the option of required training. While the program is geared toward school officials, law enforcement and emergency medical service professionals – the meeting is OPEN to anyone who would like to receive information regarding the use or administration of naloxone.
In 2014, Senate Bill 1164, now Act 139, provided legal protection for witnesses, or good samaritans, seeking medical help at the scene of an overdose. In addition, it allowed Naloxone, better known under its brand name Narcan, to be prescribed to a third party, such as a friend or family member, and administered by law enforcement and firefighters.
Pennsylvania's Physician General Dr. Rachel Levine and Gary Tennis, Secretary of Drug and Alcohol Programs, will be on-hand to answer questions, address concerns and provide additional information on the new law.
When used correctly and in a timely manner, Naloxone is highly effective in reversing an opioid overdose. Naloxone only works on opioids and will not have any negative impact if administered to someone not suffering from an opioid overdose. This medication is one more tool that can be utilized in treating individuals suffering from the disease of addiction.
The events are scheduled for:
August 29th, 2016
10AM – 11:30AM
Wysox Volunteer Fire Company
111 Lake Road
Wysox, PA 18854
August 29th, 2016
2PM – 3:30PM
Pennsylvania College of Technology
Student and Administrative Services Center – Presentation Room
Williamsport, PA 17701
For more information or to register, you can contact Rita Zielonis in my office at rzielonis@pasen.gov, or (717) 787-3280 or register online at: http://www.senatorgeneyaw.com/naloxone-forum/ .

PPL Electric Utilities Warns Customers of Sophisticated Phone Scam
Bogus Calls Designed to Sound Like Company Call Center
PPL Electric Utilities is warning its customers to be aware of a phone scam in which calls appear to come from the utility and mimic the company's call center.
Customers are being called and told their account is delinquent and they need to make an immediate payment or have their electricity shut off. In many cases, customers are being told to pay with prepaid debit cards. They are being instructed to call a phony call center, where they are prompted to enter their account information.
In one brazen attempt, a scammer walked into a business pretending to be from PPL and demanded money under threat of a service shut-off, but was unsuccessful.
Threatened shut-offs are a tactic used in previous scam attempts against PPL customers and at other utilities across the country.
The bogus number that customers are being told to call - 855-625-7634 - has been associated with other scams against utility customers in other parts of the country. Another number - 844-255-4708 - also is being used. In some cases, the bogus number has been set up to look on Caller ID like it is from PPL.
Mostly business, and some residential, customers have been targeted by the recent scams.
PPL reminds its residential and small business customers that the only number they should be calling to discuss their account is 1-800-DIAL-PPL (1-800-342-5775). Mid-size to large businesses can call 1-888-220-9991, option 4.
Here is important information to avoid scams:
PPL never sends anyone to demand bill payment.

PPL does not call customers seeking personal information.

PPL never calls customers threatening to shut off electric service unless immediate payment is made.

PPL does not accept Green Dot or other prepaid debit cards for bill payments.
PPL does conduct collections activities on accounts that are legitimately delinquent. Service termination always is a last resort. When PPL begins the service termination process, it provides a formal notification that involves a letter and phone call as well as information left at the address in question. At any time, a customer who is delinquent can call PPL to make a payment arrangement and avoid shutoff.
Be sure to report any scam attempts to PPL at 1-800-342-5775 and also to local police.

DCNR, DEP Offering Grants to Plant Buffers Along Streams to Improve Water Quality
The Departments of Conservation and Natural Resources and Environmental Protection today are announcing that grants are being made available to assist landowners with planting trees along streams in Pennsylvania to improve water quality. Pennsylvania has a goal of planting 95,000 acres of streamside buffers by 2025.
The DCNR Community Conservation Partnership Program grant round led by the DCNR Bureau of Recreation and Conservation will open on August 1 and close September 15 for this year. These new grants are in addition to DEP's Growing Greener grants, which also include funding for forest buffer plantings.
To expand on the existing streamside buffer options for landowners, DCNR is piloting a multi-functional buffer option that is eligible for grant dollars to provide greater flexibility in landowner eligibility, buffer designs, widths, plant species and offers the option of planting some income-producing crops in the buffer zone.
Dunn noted that DCNR Bureau of Forestry service foresters located in each of the 20 forest districts statewide can assist landowners with information about planting forest buffers.
Eligible applicants include local governments, nonprofit groups and educational organizations. Eligible activities covered by these grants include landowner outreach, buffer design, site preparation and buffer installation, plant materials and tree shelters, and short term maintenance (approximately 3 years).
For more information, click here.

Elder Financial Abuse Informational Video
Financial scams rob seniors of an estimated $2.5 billion each year, according to the Pennsylvania Department of Banking and Securities. The department has released this seven-minute Elder Financial Abuse informational video as a reminder to caregivers and relatives of the elderly to watch closely for signs that may point to financial fraud. To read more, click here.

---
DDAP Seeking Comments on Addiction Treatment Programs
The Pennsylvania Department of Drug and Alcohol Programs is accepting public comments on its website regarding consumer access to addiction treatment programs.
The public comments will help the department's newly created task force compile a report with recommendations to remove barriers to treatment, to be submitted to the General Assembly in May 2017. To read more, click here.

---
2016 PA Fair Guide Leads to Good Food and Fun

August and September are chock full of county and local agricultural fairs, according to the Pennsylvania Department of Agriculture (PDA).
A review of The 2016 Pennsylvania Fair Guide list of events and a corresponding map can help you select your next trip to a PA fair. Take it a step or two further with VisitPA's Fairs and Festivals list of more than 100 events broken out into eleven regions.
In addition, the PDA "Markets and Farm Stands" database provides for searches by county. Other search options include products, pick-your-own scenarios, and tours.

---
If you do not wish to receive this email, click here to unsubscribe.
Privacy Policy
2016 © Senate of Pennsylvania
senatorgeneyaw.com