Monday, October 17, 2016
Dear Friends,
Hello! Thank you for subscribing to my E-newsletter. I am honored to serve the 23rd Senate District and look forward to working with you toward building a better future for Pennsylvania!
This E-newsletter serves to keep you updated on what is happening throughout Bradford, Lycoming, Sullivan, Susquehanna and Union counties and what I am doing as your state senator in Harrisburg. I hope that you will find this E-newsletter helpful, and if you have any questions or concerns, please feel free to contact me.
Gene Yaw
State Senator
www.SenatorGeneYaw.com

"You don't have to be great to start, but you have to start to be great."

Senate Reconvenes This Week

The state Senate convenes today through Wednesday, October 19th. To view the list of Committee meetings, click here.


On Monday, October 17th at 2 PM, Governor Tom Wolf will hold a briefing in the Governor's Reception Room to recognize the 13 counties with full naloxone participation among their municipal police departments. The District Attorneys of Butler, Clarion, Potter, Franklin, Perry, Dauphin, York, Chester, Delaware, Lehigh, Northampton, Wyoming, and Wayne counties have procured full naloxone participation from their police departments. The Governor will be recognizing their work as well as calling on the remaining counties to do the same in order to better prevent opioid overdose deaths.
On Tuesday, October 18th at 9:30 AM, a pair of Senate-approved opioid-related bills (SB1367 and SB1368), will be considered in the House Health Committee, as well as a Senate-passed measure to expand the state's Human Services Block Grant Pilot Program to all counties.
On Tuesday, October 18th at 9:30 AM, the state Senate Agriculture and Rural Affairs Committee and Senate Environmental Resources and Energy Committee will discuss Chesapeake Bay mandates during a joint public hearing. The committees are specifically interested in opinions on Pennsylvania's Chesapeake Bay Restoration Strategy and any potential funding sources to meet future obligations. Click here for the Hearing Agenda.
On Tuesday, October 18th at 10 AM, Senate President Pro Tempore Joe Scarnati and Speaker of the House Mike Turzai will hold a press conference in the Capitol Rotunda to recognize the 200th Session of the General Assembly. The Main Rotunda display cases on either side of the Rotunda staircase hold historic treasures from the past 200 years of session.
On Tuesday, October 18th, at 12:30 PM, Senators will call for the introduction of a resolution directing the Joint State Government Commission to establish an Animal Abuse Prevention Task Force composed of professional experts and organizations charged with the responsibility of analyzing current laws throughout the nation that seek to reduce instances of animal cruelty and abuse and report its findings and recommendations to the Senate.
On Tuesday, October 18th at 1 PM, Senator Yaw will honor former Lycoming College football coach Frank Girardi on the Senate Floor. Girardi will be inducted into the College Football Hall of Fame during a December 6th ceremony at the Waldorf Astoria in New York City.

Act 13 Impact Fee Dollars At Work
District Awarded Over $2 Million in PHARE Funding
Funding Made Possible Through Natural Gas 'Act 13' Impact Fees
Last week, the Pennsylvania Housing Finance Agency (PHFA) Board of Directors approved the release of $2.13 million in Pennsylvania Housing Affordability and Rehabilitation Enhancement (PHARE) funding that will be distributed in Bradford, Lycoming, Sullivan and Susquehanna counties.
The approved projects will remediate and construct housing and address housing needs for seniors, low to moderate income individuals and individuals who are intellectually disabled or those with mental health issues. The projects will also provide rental assistance and offer homeownership options.
To view the list of projects, click here.

MultiModal Funding Approved
Local Multimodal Project Awarded Funding
A Lycoming County roadway project will receive Multimodal Transportation funds from the Pennsylvania Department of Transportation (PennDOT).
As announced, $95,000 will be awarded to Armstrong Township for roadway construction along Mosquito Valley Road. The project will improve structural stability, safety, and pavement drainage and safely provide for multimodal uses.
The Multimodal Transportation Fund was created by Act 89 of 2013, Pennsylvania's transportation funding plan. For more information, click here.

'Breakfast Meeting on Agriculture' Held in Lewisburg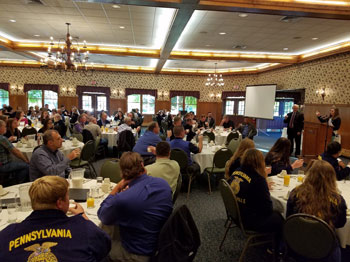 To view photos from the event, click here.
On Friday, October 14th, Representative Fred Keller and I welcomed members of the Lycoming & Union Agriculture community for a 'Breakfast Meeting on Agriculture' at the Country Cupboard Restaurant in Lewisburg. The event brought together local farmers, FFA students from Mid-West, Montoursville, Mifflinburg, Selinsgrove and Williamsport High Schools, teachers, extension and agribusiness professionals to discuss a number of important topics.
The guest speaker for the event was Dave Swartz, Director of the Penn State Extension Offices in Carlisle, Dauphin and New Bloomfield. Penn State Extension is an educational outreach program of Penn State's College of Agricultural Sciences.
---
Former School Opened for People of All Ages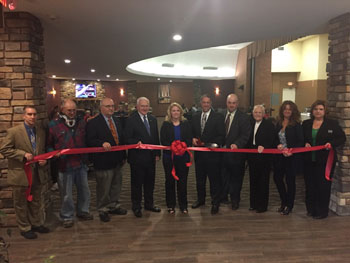 Above, from left to right, are Tim Keohane, director at Small Business Development Center; Dean Lehman; Limestone Township supervisor; Vincent Matteo, president/CEO of the Chamber of Commerce; Sen. Yaw; Julieanne Steinbacher, partner; Troy Musser, partner; Chris Lorson, partner; Virla Ocker, marketing and admissions director; and Karen Young and Tammy Gunsallus, of the Jersey Shore State Bank.
On October 13th, I attended the Nippenose Valley Village ribbon cutting, Rt. 44 Highway, Williamsport, celebrating the completed six-month renovation that turned the old Nippenose Valley Elementary School into a personal-care facility with 51 rooms.
Nippenose Valley Village will be available to local churches and for activities for current residents. The list of future activities includes a John Bauer basketball league, quilting club, a bridge club, and opportunities for 4H groups, boy scouts, girl scouts and church groups.
---
Susquehanna Council, Boy Scouts of America
Honors Jennifer D. Wilson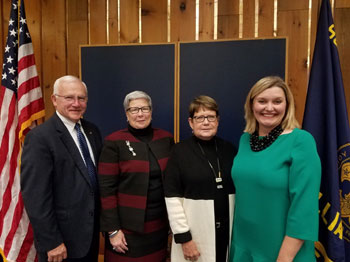 Above, from left to right, are Senator Yaw, Dr. Davie Jane Gilmour,
President of the Pennsylvania College of Technology, Ann Pepperman, Esq., and
Jennifer D. Wilson, 2016 Distinguished Citizen Award Recipient
On Thursday, October 13th, I joined with the Susquehanna Council, Boy Scouts of America to honor Jennifer Wilson with the 2016 Distinguished Citizen Award.
Jennifer serves as the President and Chief Executive Officer for the First Community Foundation Partnership of Pennsyvlania, a regional community foundation serving nonprofits and philanthropists of North Central Pennsylvania.
Jennifer was recognized for her outstanding commitment to her community and service to others. Congratulations Jennifer!
---
NFIB Holds Local Discussion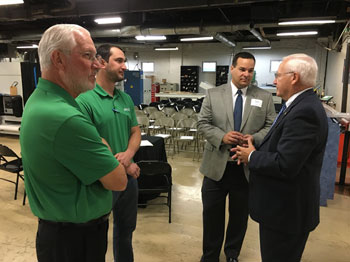 On Thursday, October 13th, I attended an NFIB Pennsylvania discussion and tour at Hermance Machine Company in Williamsport. Hermance Machine Company was started in 1902 by Albert D. Hermance at the pinnacle of the lumber boom that gave Williamsport, PA its nickname, 'Lumber Capital of the World'. The company provides a wide selection of quality industrial woodworking equipment from the U.S. and abroad.

Get Rid of Your Old Pills on Drug Take-Back Day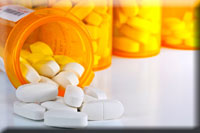 Saturday, October 22nd is National Prescription Drug Take-Back Day, which aims to provide a safe, convenient, and responsible means of disposing of prescription drugs, while also educating the general public about the potential for abuse of medications.
Drop-off sites throughout Bradford, Lycoming, Sullivan, Susquehanna and Union Counties will be open from 10 AM to 2 PM. You can find one near you by going to the DEA's Diversion Control website, or contacting your local police department or county Sheriff's Office. The service is free and anonymous.

EPA Planning Assistance Available
Want to Reinvent Your Rural Community?
EPA Offers Assistance to Help Rural Communities Revitalize Downtowns
Deadline Nov. 6th
The U.S. Environmental Protection Agency (EPA) is inviting rural communities to apply for planning assistance to develop strategies that help grow the economy and revitalize downtown neighborhoods. EPA is offering this assistance as part of Rural Advantage, a suite of federal economic development planning assistance programs for rural communities.
Communities may apply for assistance through the following programs:
Local Foods, Local Places (LFLP), which helps communities leverage local food enterprise to diversify their economy and renew their downtowns.

Cool & Connected, which helps communities use broadband service to create walkable, connected, economically successful neighborhoods.

Healthy Places for Healthy People, a new program that will help communities partner with health care facilities to catalyze downtown revitalization and to improve options for healthy living and economic opportunity.
For more information, click here.
PA Midstream Conference Held in State College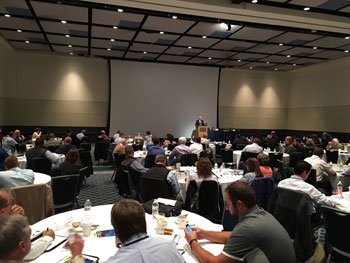 On October 13th, I served as the Keynote Speaker during the annual PA Midstream Conference in State College. The conference provided attendees with a comprehensive view of the midstream activity in the state.

DCNR Accepting Nominations for 2017 Trails Advisory Committee
The Department of Conservation and Natural Resources (DCNR) is accepting nominations for three open positions on the 2017 Pennsylvania Trails Advisory Committee.
The advisory committee is charged with implementing recommendations of the Statewide Comprehensive Outdoor Recreation Plan to develop a statewide land and water trail network to facilitate recreation, transportation, and healthy lifestyles.
The 20-member committee represents both motorized and non-motorized trail users and advises the commonwealth on the use of state and federal trail funding. DCNR is accepting nominations for three open positions on the committee representing the following user groups: water trail users; horseback riding; and member-at-large. Members will serve a three-year term starting January 1, 2017.
All nominees must submit a cover letter and resume to RA-explorepatrails@pa.gov by October 28, 2016. For more information on the Pennsylvania Trails Advisory Committee, click here.
For more information on Pennsylvania's 573 trails covering more than 11,000 miles in the state, visit www.explorePAtrails.com.

---
If you do not wish to receive this email, click here to unsubscribe.
Privacy Policy
2016 © Senate of Pennsylvania
senatorgeneyaw.com