Tuesday, November 1, 2016
Dear Friends,
Hello! Thank you for subscribing to my E-newsletter. I am honored to serve the 23rd Senate District and look forward to working with you toward building a better future for Pennsylvania!
This E-newsletter serves to keep you updated on what is happening throughout Bradford, Lycoming, Sullivan, Susquehanna and Union counties and what I am doing as your state senator in Harrisburg. I hope that you will find this E-newsletter helpful, and if you have any questions or concerns, please feel free to contact me.
Gene Yaw
State Senator
www.SenatorGeneYaw.com

"Outcome is not in your control. What's in your control is your effort and your intentions."

Bills Related to State's Opioid Crisis Head to Governor
Last week, two bills I sponsored seeking to address opioid abuse and misuse in our state were overwhelmingly approved by the state legislature. On Wednesday, November 2nd at 2 PM, Governor Tom Wolf will sign those bills during a ceremony in the Capitol Rotunda in Harrisburg.
Each of these bills can be compared to the strands of a rope. Each strand represents one measure to fight the opioid and heroin epidemic. Alone, they might not be fully effective, but together they can strengthen the rope and our collective efforts to address this epidemic. I am grateful that the legislature recognized the need to address opioid abuse and misuse, and I am confident that the Governor will approve these important measures.
To read more on the bills, click here.


Both the Senate and House have passed House Bill 1196, which allows distributors to sell six-packs, make-your-own six-packs and growlers. HB 1196 marks another round of sweeping liquor law reforms that will bring long-awaited changes to Pennsylvania consumers. The Governor is expected to sign the legislation, once signed in the Senate.
Legislation that makes a number of changes to Pennsylvania's Unemployment Compensation Law is now before the governor for his signature. House Bill 319 restores unemployment compensation for seasonal workers, while including safeguards to ensure that the unemployment compensation remains on the path to solvency.
Senate Bill 486 that would allow counties to apply a fee through the Recorder of Deeds office of up to $15 for each deed and mortgage recorded to be used for a demolition program is also awaiting the Governor's signature. Currently, many counties across Pennsylvania are facing a major problem dealing with blighted properties. Some of these properties are beyond repair and are in need of demolition. Many counties lack these needed funds to tear down these eyesores and, in some cases, safety hazards.
A bill to authorize transportation network companies like Uber and Lyft to operate statewide is now before the governor for his signature. Senate Bill 984 would establish a regulatory framework for the operation of transportation companies in every county in Pennsylvania.
House Bill 2084 would require the Department of Corrections to issue pepper spray on a routine basis to any officer or employee of the Department who may be called upon to respond to an emergency situation. The legislation is expected to be signed in the Senate this week.
The House of Representatives did not consider House Bill 1391 last week. The bill addresses the minimum royalty payment for unconventional gas well production.

Panda Power Funds Commissions
Nation's First Marcellus Shale-Gas Power Plant
On Thursday, October 27th, I joined officials from across Pennsylvania and Panda Power Funds in commissioning the nation's first power plant designed to take advantage of abundant U.S. natural gas reserves discovered in the Marcellus Shale. The combined-cycle facility will provide power for up to one million homes and is located in Bradford County.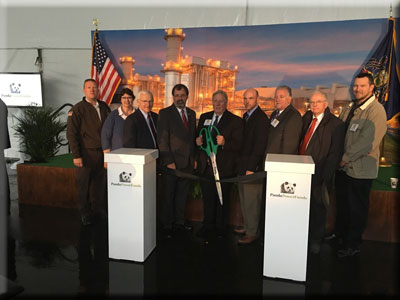 "Bradford County isn't just supplying natural gas, or electricity, to the marketplace — but energy security to the nation" - Todd Carter, senior partner and chief executive officer of Panda Power Funds.
---
Town Hall Meeting on Heroin Held at Loyalsock Township High School
Project Bald Eagle, a coalition of organizations, community leaders, professionals and citizens working together to stem the tide of the heroin epidemic, hosted a presentation and town hall meeting on opioids last week at the Loyalsock High school auditorium.
The evening consisted of a panel discussion with panelists Steve Murphy Shope, executive director of Project Bald Eagle; Sen. Yaw; Barry Denk, of the Center for Rural Pennsylvania; Dr. Todd Fausnaught, of CleanSlate; and Kathleen Hugo, of Crossroads Counseling.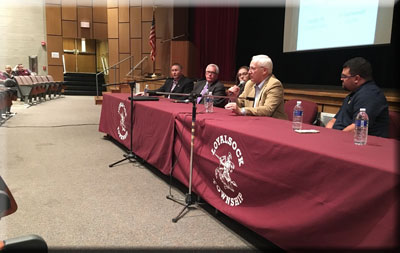 Mini Disaster Recovery Centers To Be Established
The Lycoming County Department of Public Safety announced that it will have roving Mini Disaster Recovery Centers (MDRC) the week of October 31, 2016. A Roving Mini Disaster Recovery Center is a location where those affected by the flooding disaster may go for information about your current situation and needs, as it relates to the recent flash flooding.
The first MDRC will be at the Ralston Volunteer Fire Company, 10970 Route 14 Highway, Ralston. It will be open Tuesday, November 1st from 10 AM to 8 PM and Wednesday, November 2nd from 10 AM to 5 PM.
The second MDRC will be at the Lycoming County Department of Public Safety, 542 County Farm Road, Montoursville. It will be open Thursday, November 3rd from 10 AM to 8 PM and Friday, November 4th from 10 AM to 5 PM.
The third and final MDRC will be at the Plunketts Creek Township Building, 179 Dunwoody Road, Williamsport. It will be open Saturday, November 5th from 9 AM to 5 PM.
ALL persons affected by the flooding that occurred on October 21, 2016 are asked to stop by the locations to meet with various cunty and state agencies.
Agencies that have been invited include, but are not limited to: Lycoming County Assessment, Lycoming County Planning, Lycoming County Zoning, Lycoming County Soil Conservation, Lycoming County Dept. of Public Safety, PA Department of Health, PA Department of Environmental Protection (DEP) and PennDot. The Red Cross will also be available.
The PA Department of Health will also be offering tetanus shots at these MDRCs on Tuesday, November 1st from 10 AM to 8 PM at the Ralston VFC and Thursday, November 3rd from 10 AM to 8 PM at the Lycoming Count Dept. of Public Safety.

New Pipeline Investment Program Begins
The Commonwealth Financing Authority (CFA) has opened the new Pipeline Investment Program (PIPE) for applications, offering up to $24 million funding to make Pennsylvania's natural gas available to its residents, manufacturers, and pad-ready sites, hastening the development of low-cost energy and creating new jobs. This program was created out of legislation I sponsored over the last two legislative sessions.
Administered by the CFA and funded through the reallocation of two fiscal years of funding from a previously underutilized program, the PIPE program will offer grants of up to $1 million for pipeline project expenses including construction; acquisition of land, rights of way, and easements; land clearing and preparation; and engineering, design, and inspection costs. Applicants must provide matching funds equal to at least 50 percent of the total project cost.
Applicants eligible for PIPE funding include:
Businesses – A corporation, partnership, sole proprietorship, limited liability company, business trust or other CFA-approved commercial entity

Economic Development Organizations – A nonprofit corporation or association whose purpose is the enhancement of economic conditions in their community

Hospitals – An entity licensed to provide inpatient care and services under either the Public Welfare Code or the Health Care Facilities Act

Municipalities – Any city, township, borough, town, county, or home rule municipality

School Districts
The first PIPE approvals are anticipated for early 2017. For additional information on the Pipeline Investment Program, to review program guidelines, or to apply, visit dced.pa.gov.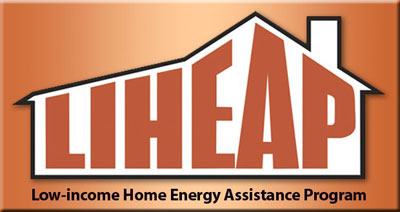 Residents in need of home heating assistance can apply for the Low-Income Home Energy Assistance Program (LIHEAP) starting November 1. The federally funded LIHEAP offers assistance in the form of a cash grant, sent directly to the utility company. Crisis grants may be available if individuals have an emergency situation and are in jeopardy of losing their heat. For more information, click here.

Hunters Sharing the Harvest
Are You a Hunter?

Share your extra venison this year through the Hunters Sharing the Harvest (HSH) donation program.
Deer hunters can take part in Pennsylvania's Hunters Sharing the Harvest program, which offers participants a way to donate a portion of their venison to help local families in need. Hunters can take their deer to any participating processor and choose the amount of venison they would like to donate to local charities for distribution to families. For more information, click here.

---
If you do not wish to receive this email, click here to unsubscribe.
Privacy Policy
2016 © Senate of Pennsylvania
senatorgeneyaw.com