Thursday, November 10, 2016
Dear Friends,
Hello! Thank you for subscribing to my E-newsletter. I am honored to serve the 23rd Senate District and look forward to working with you toward building a better future for Pennsylvania!
This E-newsletter serves to keep you updated on what is happening throughout Bradford, Lycoming, Sullivan, Susquehanna and Union counties and what I am doing as your state senator in Harrisburg. I hope that you will find this E-newsletter helpful, and if you have any questions or concerns, please feel free to contact me.
Gene Yaw
State Senator
www.SenatorGeneYaw.com

"Great thoughts speak only to the thoughtful mind,
but great actions speak to all mankind."

Senator Yaw Shares a Veterans Day Message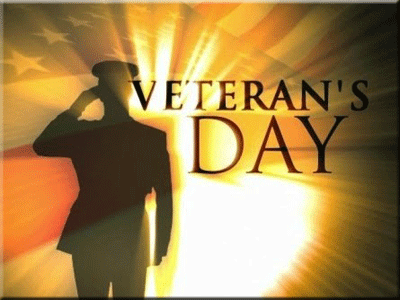 America does not "celebrate" war. We celebrate the triumph of the human spirit. We honor self-sacrifice, and pay tribute to our veterans and their families for their sacrifices, so that others might live under better conditions, and better governments.
It is up to society to make sure they did not make their sacrifices for nothing. Patriotism, love of country, support for democracy. These words may sound old-fashioned to some people today. But more than a million men and women died for those ideals, on our behalf.
Millions more have freely given precious years, standing at the ready. Their sacrifices should be honored. The convictions they believed in are lasting and timeless.
We pray for a world where peace and democracy can survive together. We look optimistically toward a time when our prayers are answered.
And most importantly we use this day to thank all of those who have served this nation with courage and honor. Thank you all for your service – and God Bless our great country.

Vietnam Veterans Recognized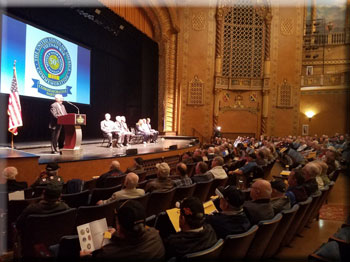 Last week, I had the honor of joining Rep. Garth Everett and Rep. Jeff Wheeland to host a ceremony honoring Vietnam Veterans from the 83rd and the 84th House Districts.
Authorized by Congress, established under the Secretary of Defense, and launched by the President in May 2012, the 50th Vietnam War Commemoration recognizes all men and women who served on active duty in the U.S. Armed Forces from Nov 1, 1955 to May 15, 1975. Nine million Americans, approximately 7 million living today, served during that period, and the Commemoration makes no distinction between Veterans who served in-country, in-theater, or were stationed elsewhere during those 20 years. All answered the call of duty.
Over 300 Veterans attended last week's special ceremony, and I look forward to recognizing many more of our veterans throughout the New Year.

---
State Grant Paves Way for Hospital Expansion, Job Creation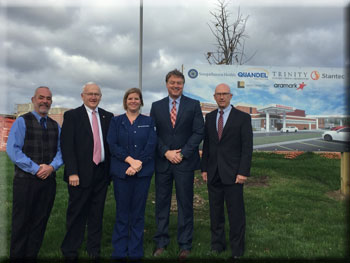 Rep. Garth Everett; Sen. Yaw; Janai Arbogast, Supervisor of the Emergency Department; Ron Reynolds, President of Muncy Valley Hospital and Steven P. Johnson, President and CEO of UPMC Susquehanna.
Recently, funds through the Pennsylvania's Redevelopment Assistance Capital Program (RACP) were approved to expand the Emergency Department at Muncy Valley Hospital, Lycoming County.
The $5 million RACP grant will be used to add 5,500 square feet and completely renovate 11,000 existing square feet to support the dramatic increase in patient visits that the hospital has experienced. The five current curtained bays will be replaced with 8 private rooms and 6 additional specialty rooms for patients needing behavioral health, decontamination and trauma/resuscitation services. These new patient rooms will allow for the addition of more modern technology, increased patient privacy, and improved infection control.
There is no question this expansion project will help Muncy Valley Hospital staff perform their jobs, while meeting the increasing patient demand at the hospital. This is an important state investment that is expected to create approximately 20 new full and part-time positions. I was pleased to advocate for this important funding.

---
Business Spotlight: Pik Rite
On Thursday, November 3rd, I visited Pik Rite, a local Union County business that designs and manufactures innovative, high-quality vegetable harvesting equipment, manure spreaders, commercial waste handling tanks and dump truck bodies.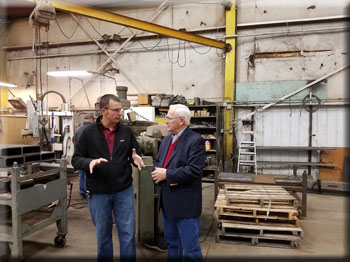 Pik Rite's tomato and vegetable harvesters are considered the leaders of the industry throughout the Midwest and Eastern sections of North America, as well as Ontario, Canada.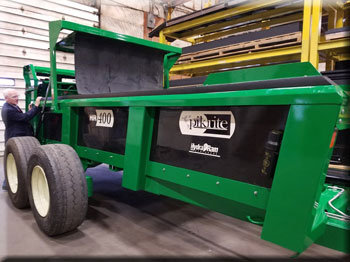 Pik Rite exports all around the world. They have exported to every single continent other than Antarctica (but perhaps very soon).
Today, they have approximately 70 hardworking, dedicated individuals employed.
Be sure to watch my next television program later this month where I will highlight this extraordinary company.


On Thursday, November 10th, my Chief of Staff Rita Zielonis met with faculty and students from Northern Tier Career Center in Bradford County.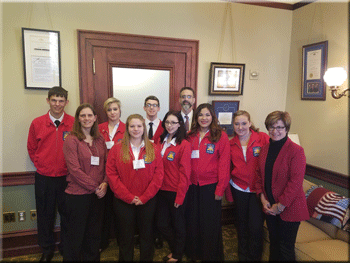 Pictured from L to R: Josh Lundy, Amanda Connell, Kassidy Good, Sarah King, Ray Hallett III, Franki Worthington, Dion Sullivan, Nikira Taveras and Annamay Sherwood and Rita Zielonis.


The Pennsylvania Department of Agriculture is accepting online registration for the 2017 PA Farm Show competition. The Farm Show runs January 7-14, featuring nearly 6,000 animals, 10,000 competitive exhibits, and 300 commercial exhibits. For more information, click here.

Utilities United Against Scams Day
PPL Electric Utilities is keeping up the pressure on would-be scammers who target their customers. They do this by continuing to raise awareness of the issue and they've banded together with other utilities (both gas and electric) in a nationwide group called Utilities United Against Scams.
November 16th is Utilities United Against Scams Day. Going forward, it will continue to be observed on the third Wednesday of November.
The vast majority of PPL customers do not fall victim to these scams, but sadly some still do. Both business and residential customers are targets.
For more information, click here.

---
If you do not wish to receive this email, click here to unsubscribe.
Privacy Policy
2016 © Senate of Pennsylvania
senatorgeneyaw.com