Monday, December 5, 2016
Dear Friends,
Hello! Thank you for subscribing to my E-newsletter. I am honored to serve the 23rd Senate District and look forward to working with you toward building a better future for Pennsylvania!
This E-newsletter serves to keep you updated on what is happening throughout Bradford, Lycoming, Sullivan, Susquehanna and Union counties and what I am doing as your state senator in Harrisburg. I hope that you will find this E-newsletter helpful, and if you have any questions or concerns, please feel free to contact me.
Gene Yaw
State Senator
www.SenatorGeneYaw.com

"Every failure will teach you something else about how to succeed."

Sen. Yaw's Television Program:
Visiting Pik Rite | Built to Work the Way You Work
This month, 'A Conversation with Senator Gene Yaw (R-23)' showcases a local Union County-based business that designs and manufactures innovative, high-quality harvesting, spreading, waste-handling and truck body equipment.
Since 1986, Pik Rite has introduced companies around the globe to their award-winning, client-inspired vegetable harvesting equipment, manure spreaders, commercial waste handling tanks and dump truck bodies. Employing the latest technologies and adapting to the most current needs, Pik Rite's engineers design specialized machinery that is perfectly suited to promise affordability, efficiency and endurance.
To read more, click here.
---
Sen. Yaw to Appear on PCN LIVE Call-In Program Tuesday
Beginning Monday, December 5th, the Pennsylvania Cable Network (PCN) will feature 24 hours of programming to highlight Pennsylvania's efforts to combat the growing opioid and heroin epidemic. The programs will feature elected officials, addiction specialists and rehabilitation experts who will appear on the live Call-In Program nightly to educate the public and answer viewer questions.
On Tuesday, December 6th, I will join State Senate Minority Leader Jay Costa (D-43) and State Representative Gene DiGirolamo (R-18) to discuss the epidemic.
Viewers can participate in the live Call-In Program at 7 PM by calling 888-PA6-5001 or contacting 'PCNTV' on Facebook and Twitter.
Related hearings, legislative updates, and press conferences will air on the cable network and on the PCN Select app throughout the week. For a complete schedule of programs, times, and information about PCN Select, visit www.pcntv.com.

Pennsylvania Bar Association Discussion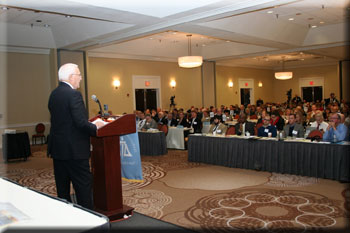 Recently, I had an opportunity to address members of the Pennsylvania Bar Association to discuss legislative matters before the PA General Assembly. Specifically, I highlighted the legislature's efforts to address the rise in heroin and opioid abuse.

Public Open House Planned for
Bradford and Lycoming County Bridge Projects
The community is invited to a public open house regarding the replacement of two Bradford County bridges and one Lycoming County Bridge included in the Pennsylvania Department of Transportation's (PennDOT) Rapid Bridge Replacement Project.
The open houses will be focused on important information including the construction schedule and traffic changes that are planned to take effect while the bridges are being replaced.
Outlined below are details of the bridges to be replaced and each open house.

Bradford County Open House
Route 14 (Canton Street) Bridge,
spanning Fall Brook in Troy Borough (JV-89)
and
Route 414 Bridge,
spanning a tributary to Towanda Creek in the Village of Franklindale (JV-93)
Location: Oscoluwa Engine & Hose Co.
88 Fire House Drive, Troy PA 16947
Date: Thursday, December 15, 2016 from 4 - 6 PM


Lycoming County Open House
Route 15 Bridge,
spanning Black Hole Creek in Clinton Township, approximately 8 miles south of Williamsport (JV-106)
Location: Clinton Township Lower Building
2118 State Route 54
Montgomery, PA 17752
Date: Tuesday, December 13, 2016 from 4 - 5:30 PM

Representatives from Plenary Walsh Keystone Partners will be available to discuss the bridge projects and answer questions. Construction plans will be on display for reference.
To view the bridges included in the statewide initiative and learn more about the Rapid Bridge Replacement Project and P3 in Pennsylvania, visit www.p3forpa.pa.gov. Additional information on the project, the team and how to bid on the project can be found at www.parapidbridges.com.
Requests for special needs or accommodations to aid public participation at this facility should be directed to McKenzi Loid at 412-475-5164.

Center for Rural Pennsylvania
CRP Board Members Recognized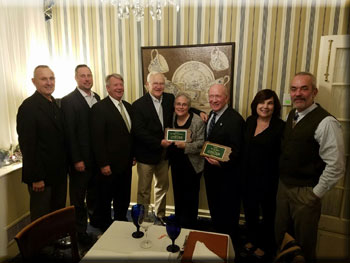 Pictured L to R: Rep. Sid Kavulich, Steve Brame, Sen. John Wozniak, Sen. Gene Yaw,
Dr. Karen Whitney, Dr. Ted Alter, Dr. Nancy Falvo and Rep. Garth Everett.
Last week, I joined fellow Board Members of the Center for Rural Pennsylvania (CRP) to recognize the work and accomplishments of out-going CRP Board Members Senator John Wozniak, Dr. Karen Whitney and Dr. Ted Alter. (Not pictured, out-going Board Member Taylor Doebler)

State Assistance Available
Apply Now for Home Heating Assistance Program
Pennsylvania's Low Income Home Energy Assistance Program (LIHEAP) is taking applications through March 31, 2017 for home heating assistance to qualifying low- and fixed-income individuals and families, according to the Pennsylvania Department of Human Services.
Income eligibility for heating assistance for a household of one is $17,820, increasing incrementally with a family of ten's income eligibility set at $73,815. Each additional person over ten raises the limit by $6,240.
Apply online or download an application through COMPASS, Pennsylvania's secure website for many health and human service programs.

Federal Assistance Available
Substance Abuse Program Funding Available
The Substance Abuse and Mental Health Services Administration (SAMHSA) is providing up to $2,168,426 in funding to programs in Pennsylvania over several years promoting screening, brief intervention and referral to treatment (SBIRT) programs.
SBIRT is a comprehensive, integrated, public health approach to the delivery of early intervention and treatment services for persons with substance use disorders, as well as those who are at risk of developing these disorders.
For more information on SAMHSA grants, visit www.samhsa.gov/grants.

Ag Land Preservation Program
Susquehanna County Agricultural Land Preservation Program
is Accepting Applications
The PA Agricultural Land Preservation Easement Purchase Program of Susquehanna County, which is administered by the Susquehanna County Conservation District, is having an application period from Nov. 15, 2016 to Jan. 15, 2017. This program purchases conservation easements from landowners to help protect the farming heritage of Susquehanna County.
An agricultural conservation easement is a legal restriction on land development that limits the use of land to agricultural purposes. Applications are ranked according to soil quality, development potential and farmland and clustering potential. The highest ranking farm is considered for purchase first. The farm is then appraised to determine the easement value.
Currently the PA Agricultural Land Preservation Program has purchased 6,226 acres in Susquehanna County and has paid over nine million dollars to 31 landowners for their easements.
For more information, contact: Christie Bedene at 570-278-4600, Ext. 3062, or visit their office at 88 Chenango Street, Montrose, PA 18801.

Aggressive Driving Campaign
Aggressive Driving Enforcement Expected During Holiday Season
The holiday Aggressive Driving Campaign is focusing on speeding, driving too fast for conditions, and following too closely, among other factors contributing to vehicle crashes, according to the Pennsylvania Department of Transportation.
The Pennsylvania State Police and more than 205 of the state's municipal police departments are concentrating on roadways with a historically high number of aggressive driving crashes.
Pennsylvania experienced a decline in speed-related crash fatalities from 385 in 2007 to 177 in 2015. Similarly, speed-related crashes have declined from 6,137 in 2006 to 3,941 in 2015.

---
If you do not wish to receive this email, click here to unsubscribe.
Privacy Policy
2016 © Senate of Pennsylvania
senatorgeneyaw.com