Monday, January 9, 2017
Dear Friends,
Hello! Thank you for subscribing to my E-newsletter. I am honored to serve the 23rd Senate District and look forward to working with you toward building a better future for Pennsylvania!
This E-newsletter serves to keep you updated on what is happening throughout Bradford, Lycoming, Sullivan, Susquehanna and Union counties and what I am doing as your state senator in Harrisburg. I hope that you will find this E-newsletter helpful, and if you have any questions or concerns, please feel free to contact me.
Gene Yaw
State Senator
www.SenatorGeneYaw.com

"There will always be someone who can't see your worth. Don't let it be you."

2017-18 Legislative Session Begins
Senators Sworn In,
New Legislative Session Begins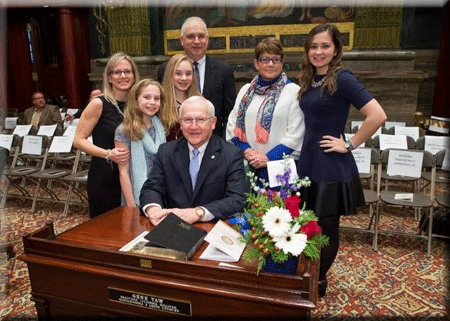 I want to thank the residents of the 23rd Senatorial District for again placing trust in me to represent their interests in Harrisburg. Being elected to the state Senate is an incredible honor and I am extremely proud to have earned your support. I would like to thank my family, friends and those who volunteered their time to work towards a better Pennsylvania. There are many important issues that need to be addressed by the legislature during the 2017-18 session and, I believe that by continuing to work together, we can make our state a better place to live, work and raise our families.
On January 3rd, five new Republican state senators, as well as 11 re-elected Republican members, were sworn into office during ceremonies at the State Capitol.
Voters gave Senate Republicans a 34-16 majority in the fall election. There are a total of 50 Senate Districts in Pennsylvania, each composed of approximately 250,000 residents.

Relocation of Williamsport District Office;
New Satellite Office Hours & Locations
To provide greater access and better constituent services to residents throughout the 23rd Senatorial District, I recently announced changes to my district office operations.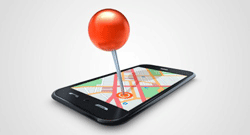 The Williamsport District Office is now located at 175 Pine Street, Suite 105, and will be open weekdays from 9 AM to 5 PM. Phone and fax numbers for the Williamsport District Office remain unchanged, (570) 322-6457 (Phone); (800) 443-5772 (Toll-Free in Pennsylvania); (570) 327-3703 (Fax).
As a means to better serve the residents through increased outreach efforts, new weekly satellite office hours will be held. January Outreach Hours Include:
BRADFORD COUNTY
Thursday, January 12, 2017
3 PM-5 PM
Wyalusing Library
115 Church Street
Wyalusing, PA 18853
Wednesday, January 18, 2017
10 AM-12 PM
Towanda Library
104 Main Street
Towanda, PA 18848
Thursday, January 26, 2017
3 PM-5 PM
Green Free Library
38 North Center Street
Canton, PA 17724
---
UNION COUNTY
Thursday, January 19, 2017
10:30 AM-12 PM
Lewisburg Borough Council Chambers
55 South Fifth Street
Lewisburg, PA 17837
Satellite hours and locations will be announced monthly and can be viewed by visiting the Senator's website at www.senatorgeneyaw.com, or by calling (800) 443-5772. Constituents are encouraged to visit any of the satellite locations during scheduled office hours. Walk-ins are welcome, but appointments are recommended.

Senate Environmental Resources & Energy Committee Update
I thank Senator Scarnati for entrusting me again to serve as the Chairman of the Senate Environmental Resources and Energy Committee for the 2017-18 legislative session.
During this new legislative session, we will continue working to strengthen our laws and regulations to further protect Pennsylvania's rivers, forests and streams for future generations. This effort will include promoting policy initiatives in the areas of nutrient reduction, fisheries management, toxics remediation, pollution prevention, habitat restoration and land management.
We will continue promoting the sustainable and safe use of our natural resources, in order to reduce our dependence on foreign energy sources. This past session we took major steps to expand our energy infrastructure locally to under-served and un-served rural areas of the state. However, a great challenge still exists with the lack of pipeline infrastructure that connects Pennsylvania's Marcellus production with that of other national and world markets.
Additionally, through our Committee work, we have the opportunity to implement and support programs that use our diverse portfolio of energy sources, which will continue Pennsylvania's vital role of providing electricity throughout the Northeast.
This session, the Committee will also evaluate changes to the Covered Device Recycling Act to make safe, responsible and affordable recycling of electronic devices more accessible across Pennsylvania, and again discuss legislation seeking to expand the rights of landowners who are currently leased with natural gas companies. Over two consecutive sessions, the Senate Environmental Resources and Energy Committee approved measures aimed at leveling the playing field in favor of Pennsylvania landowners who are looking for fair treatment when leasing their land. Unfortunately, those efforts approved by the Senate later stalled in the House of Representatives.
I look forward to working with my colleagues during the new legislative session to address these important issues.

Implementing Pennsylvania's REAL ID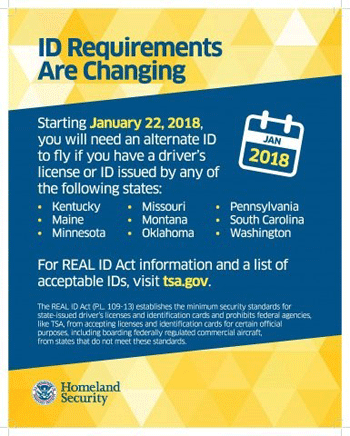 As many of you are aware, Pennsylvanians are now facing two deadlines for changes that will cause significant inconvenience and impediments for those who do not have a United States passport.
As of January 30, 2017, federal agencies will be prohibited from accepting driver's licenses and identification cards issued by Pennsylvania. On January 22, 2018, Pennsylvanians over age 18 will need a passport to travel on any commercial airplane.
In response to the terrorist events on September 11, 2001, Congress passed the REAL ID Act of 2005, which established an unfunded directive on security standards for state-issued driver's licenses and identification cards. Since then, the U.S. Department of Homeland Security (DHS) voluntarily issued extensions to Pennsylvania that delayed full implementation of the federal law.
In early October 2016, DHS informed Pennsylvania's policymakers that no further extensions would be granted and the provisions in federal law directly impacting Pennsylvanians would begin to take effect on January 30, 2017, including a federally-approved form of identification to access certain federal facilities. Furthermore, Pennsylvanians would need an alternative form of federally-approved identification for air travel starting on January 22, 2018.
According to 2005 estimates from the Pennsylvania Department of Transportation (PennDOT), the Commonwealth would need over $140 million to implement REAL ID. This is a significant cost to the Commonwealth that would need extracted from the Motor License Fund, which supports competing infrastructure investment priorities across the state.
The estimated cost to implement REAL ID coupled with legitimate concerns at the time (e.g. the federal government's overreach, privacy issues, etc.) led the General Assembly to overwhelmingly pass Senate Bill 354 in 2012, which prohibits Pennsylvania from participating in Real ID.
Currently, Senator Kim Ward (R-39) issued a co-sponsorship memorandum to introduce legislation to repeal Pennsylvania's "REAL ID Nonparticipation Act".
Until the General Assembly passes legislation to allow Pennsylvania to become REAL ID compliant, I would suggest monitoring PennDOT's website or DHS's website for guidance on when a federally-approved identification is needed to access certain federal facilities and for air travel.

Get the Latest Updates on All Things 4‑H

Parents, are you looking for a fun way to encourage positive educational growth, leadership and citizenship in your child? Consider enrolling them in 4-H.
4-H offers fun and unique clubs and projects that will inspire your child to become the very best! 4-H youth have the opportunity to show their projects at county fairs, compete in 4-H events, go on 4-H field trips and attend 4-H camp. 4-H is open to all youth age 5-18 years old.
If you would like to learn more about 4-H of Bradford, Lycoming, Sullivan, Susquehanna, Tioga and Wyoming Counties visit extension.psu.edu or contact your local Penn State Extension office.

Geisinger Health Plan Educates Teens, Communities on Opioid Abuse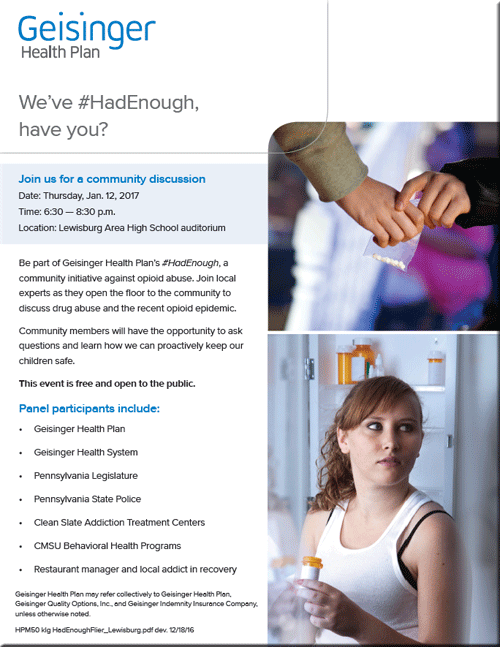 PPL Foundation Announces
2017 Sustaining Grant Program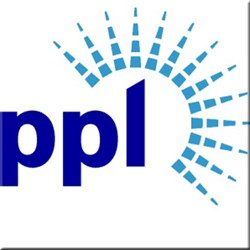 The PPL Foundation opened its 2017 Sustaining Grant program and is currently accepting applications from organizations focused on education, workforce development and community revitalization.
Last year, the Foundation awarded more than $450,000 in grants to 95 nonprofit organizations in communities throughout PPL Electric Utilities' 29-county service territory.
Complete instructions and a full FAQ are available on the application website. Interested organizations can apply for sustaining grants from $1,000 to $25,000 beginning January 1, 2017. The application deadline is March 31, 2017.
To be considered for a grant, all organizations must apply online at www.pplcares.com.

Track the Snow Plows Before Leaving Home
Winter weather will soon present challenging driving conditions. GPS-equipped snow plows will now allow motorists to determine if the state roads they rely upon to get to work are plowed and treated, according to the Pennsylvania Department of Transportation.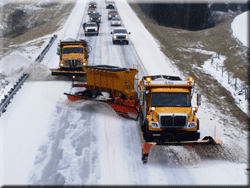 Using 511PA, click the box beside the truck that appears above the map. Then click on the individual plow trucks appearing on the map to view details on the plow's movements over the previous six hours.
Select winter road conditions, then click on the weather symbols posted along your planned route to reveal additional details including wind direction and speed, temperature and wind chill. Sunny or snowy, the website will also indicate traffic volume including free flowing, moderate, heavy, stop and go, and closures.
This pilot program began with 119 plow trucks and expanded to include 516 PennDOT trucks and 212 rental trucks removing snow on interstates and expressways across the state during 2015. The Department intends to install the tracking technology on over 2,000 plow trucks this winter.

2015-2016 Senate Accomplishments
The 2015-16 legislative session began with a new Governor determined to impose an agenda out of touch with ordinary Pennsylvanians, including massive government growth and the largest tax increase in Commonwealth history. Bolstered by the support of an electorate that sent a large Republican majority to Harrisburg, Senate Republicans stood firm. For two consecutive budgets, Senate Republicans rejected the Wolf Administration's efforts to enact massive, broad-based tax increases.
The chamber also passed three historic pension reform bills, beginning with the sweeping Senate Bill 1, which was vetoed by the Governor.
The Senate also adopted Act 39 of 2016 and Act 166 of 2016, taking the first steps in getting the Commonwealth out of the liquor business by providing for the private sale of wine at restaurants and grocery stores, as well as making many other changes that will result in increased customer convenience.
With passage of Act 16 of 2016, Pennsylvania doctors will be able to use medical cannabis to treat chronic pain and children suffering seizures.
Confronting a crisis affecting a growing number of Pennsylvania communities, the Senate passed an array of bills to prevent and treat addiction to opioids and heroin.

---
If you do not wish to receive this email, click here to unsubscribe.
Privacy Policy
2017 © Senate of Pennsylvania
senatorgeneyaw.com