Thursday, January 19, 2017
Dear Friends,
Hello! Thank you for subscribing to my E-newsletter. I am honored to serve the 23rd Senate District and look forward to working with you toward building a better future for Pennsylvania!
This E-newsletter serves to keep you updated on what is happening throughout Bradford, Lycoming, Sullivan, Susquehanna and Union counties and what I am doing as your state senator in Harrisburg. I hope that you will find this E-newsletter helpful, and if you have any questions or concerns, please feel free to contact me.
Gene Yaw
State Senator
www.SenatorGeneYaw.com

"Stay humble, be fearless, and work, work, work, work, work, work."

Real ID & How It Impacts You
As previously noted, federal agencies were prohibited from accepting driver's licenses and identification cards issued by Pennsylvania by January 30, 2017.
The U.S. Department of Homeland Security (DHS) has granted Pennsylvania a limited extension to allow the state to meet the requirements of the REAL ID Act of 2005.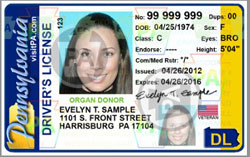 Through June 6, 2017, federal agencies may accept driver's licenses and identification cards issued by Pennsylvania for official purposes in accordance with the phased enforcement schedule and existing agency policies.
Currently, military bases, nuclear power plants, and federal facilities may accept state-issued driver's licenses or identification cards for access purposes only if the document is issued by a state that is REAL ID compliant or that has received an extension.
However, on January 22, 2018, Pennsylvanians over age 18 will need a passport to travel on any commercial airplane.
The websites below provide additional information and details.
Senate Reconvenes Monday, January 23

Senate Committee Schedule
---
January 23, 2017
MAJORITY POLICY COMMITTEE
Hearing Room 1 North Office Bldg.
9:00 AM
Joint public hearing with Senate Judiciary committee to review proposed prison closings
---
January 25, 2017
LOCAL GOVERNMENT COMMISSION
Room 14 East Wing
8:45 AM
LOCAL GOVERNMENT COMMISSION
Room 14 East Wing
8:45 AM
Monthly business meeting
---
January 26, 2017
LOCAL GOVERNMENT COMMISSION
Room 461 Main Capitol
10:00 AM
Assessment Reform Task Force Meeting
---
February 21, 2017
APPROPRIATIONS
Hearing Room 1 North Office Bldg.
10:00 AM
Budget Hearing: Treasury Department
APPROPRIATIONS
Hearing Room 1 North Office Bldg.
1:00 PM
Budget Hearing: Independent Fiscal Office
---
Complete Senate Committee Schedule

Lewisburg Soccer Team Recognition
Lewisburg Boys State Soccer Champs To Be Recognized by
Senator Yaw on Monday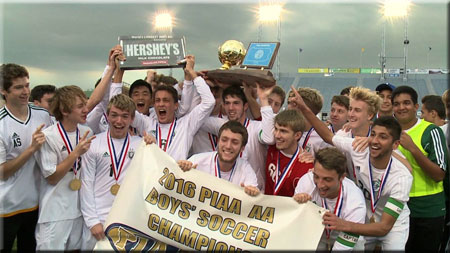 For the second straight year, the Lewisburg Green Dragons will be recognized before the Pennsylvania General Assembly as a result of their 2016 PIAA AA State Victory. On Monday, January 23rd, the Green Dragons, who defeated Quaker Valley 1-0 to earn the state title, will be present in the State Capitol where they will be recognized by Rep. Fred Keller in the House of Representatives, followed by recognition in the Senate Chamber by Senator Yaw.

Snapshot from the 101st Farm Show
Out and About at the Pennsylvania Farm Show
Since 1916, Pennsylvania is proud to host the largest indoor agricultural exposition in the country, with nearly 6,000 animals, 10,000 competitive exhibits and 300 commercial exhibits. This event held at the Farm Show Complex features livestock judging, cooking demonstrations, horses, entertainment, food and all aspects of farm and agricultural exhibits and contests. I was pleased to meet up with many area residents from across the 23rd Senate District while at this year's Farm Show.
During the PA Farm Show, I was honored to receive a Certificate of Appreciation from the Animal Care Sanctuary. Animal Care Sanctuary of East Smithfield and Wellsboro, PA is one of the oldest and largest no-kill sanctuaries for companion animals in the United States. Founded in 1967, the Animal Care Sanctuary is a national leader in the no-kill movement and a pioneer in innovative programming.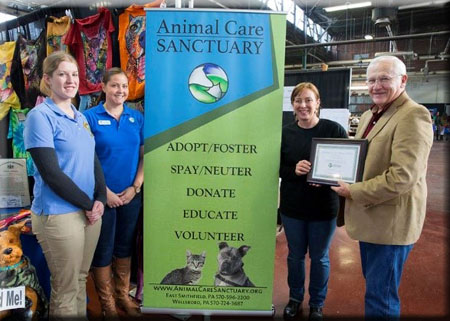 While at the Farm Show I also ran into Joel Rotz, Director of the Pennsylvania Farm Bureau. The Pennsylvania Farm Bureau is the state's largest farm organization with a volunteer membership of nearly 62,000 farm and rural families, representing farms of every size and commodity across Pennsylvania.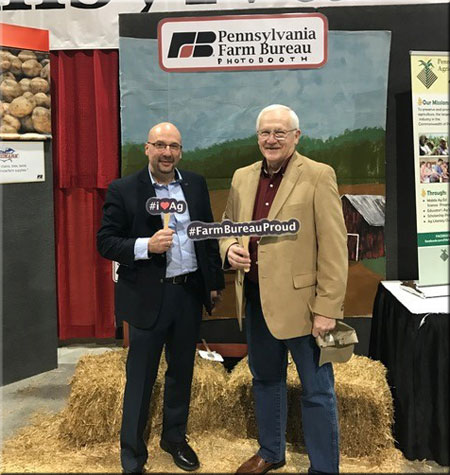 DEP Urges Pennsylvanians To Test Homes for Radon
The Department of Environmental Protection (DEP) urges Pennsylvanians to test their homes for radon in January as part of national Radon Action Month. Colorless, odorless, and radioactive, radon is a known human carcinogen and the second leading cause of lung cancer in the United States.
The DEP website provides information and a video on how to test your home, the DEP Facebook and Twitter pages are sharing daily radon tips, and a DEP public service announcement is airing on TV and radio.
Radon occurs naturally from the breakdown of uranium in soil and rocks and enters homes through cracks in the foundation or other openings.
To read more, click here.

Area Projects Awarded Federal Funds
Local Projects To Improve Transportation Alternatives
Will Receive Federal Funding
Two local projects will receive federal monies as part of the Transportation Alternatives Program (TAP).
PennDOT evaluated the applications and made selections based on such criteria as safety benefits, reasonableness of cost, readiness for implementation, statewide or regional significance, integration of land use and transportation decision making, collaboration with stakeholders, and leverage of other projects or funding.
The projects awarded funding include:
City of Williamsport: $798,500 for phase four of the Williamsport Pathway to Health Project, a multi-phased streetscape and safety improvement project in the City of Williamsport.
Loyalsock Township: $765,000 to construct two pedestrian bridges/trail segments to connect the Recreation Center and Park/Pool Complex and the Junior/Senior High School with Bruce Henry Park and surrounding residential areas.

Pennsylvania Treasury News
PA Treasury Unveils New Website on PA ABLE Savings Account Program
Individuals with disabilities can learn about the upcoming program, determine eligibility and register to receive updates.
The PA Treasury has launched a new Achieving a Better Life Experience (ABLE) Savings Program website that provides quick and easy access to essential information on the upcoming program to give individuals with qualified disabilities a tax-free way to save for future disability-related expenses, while maintaining government benefits. The site also has a short quiz to help determine eligibility, a comprehensive Frequently Asked Questions section, and allows users to sign up to receive updates on the program, including when accounts open for enrollment.
Modeled after college 529 savings accounts, PA ABLE accounts allow eligible individuals with qualifying disabilities and their families to save for housing, education, transportation, medical and other expenses, without jeopardizing government benefits. The federal tax-free savings and investment options are offered to encourage individuals with a disability and their families to save private funds to support health, independence and quality of life.
The website has a clean uncluttered design, streamlined functionality and enhanced rich content focused on the PA Treasury's mission to provide excellent service and information on the new PA ABLE program and accounts. Treasury will update the PA ABLE website regularly with news of account openings, investment options and account enrollment. Visitors are encouraged to explore the website and sign up for direct emails from the PA Treasury Department on PA ABLE programming. PA Treasury has also opened an ABLE Call Center at (855) 529-2253. Staff is available to answer questions and provide more information Monday through Friday, 8 a.m. to 5 p.m. (EST).

Federal Money to Help PA Rural Hospitals
Governor Wolf Announces $25 Million Federal Investment in Pennsylvania's Rural Health System
As in other states across the nation, providing access to quality health care for Pennsylvanians residing in rural communities has become an increasing challenge. Since 1990, health outcomes in rural communities across America have deteriorated. While people living in urban areas have seen better health outcomes and an improved access to care, those in rural areas face much starker health challenges.
Earlier this year Pennsylvania submitted a plan to the Center for Medicare and Medicaid Innovation to implement a Rural Health Transformation Initiative. The federal government reviewed Pennsylvania's proposal and recently announced that Pennsylvania would receive a $25 million grant to put this model into place.
The goals of this new rural health model are to improve population health and quality of care that is delivered locally, and to enable rural hospitals to move toward greater financial sustainability through an all-payer global budget model.

Department of Health News
Immunization Clinic Available in Susquehanna County
On the second Thursday of every month, from 9 AM - 11 AM, the Susquehanna County State Health Center, 157 Spruce Street, Suite 2, in Montrose, Susquehanna County, is providing a public immunization clinic for area residents.
You are eligible for vaccines at NO COST if you are:
underinsured (your insurance does not cover the vaccine); or

uninsured (you have no insurance).
Please call the Pennsylvania Department of Health at 570-278-3889 if you have questions or TO SCHEDULE AN APPOINTMENT.

---
If you do not wish to receive this email, click here to unsubscribe.
Privacy Policy
2017 © Senate of Pennsylvania
senatorgeneyaw.com