Tuesday, January 31, 2017
Dear Friends,
Hello! Thank you for subscribing to my E-newsletter. I am honored to serve the 23rd Senate District and look forward to working with you toward building a better future for Pennsylvania!
This E-newsletter serves to keep you updated on what is happening throughout Bradford, Lycoming, Sullivan, Susquehanna and Union counties and what I am doing as your state senator in Harrisburg. I hope that you will find this E-newsletter helpful, and if you have any questions or concerns, please feel free to contact me.
Gene Yaw
State Senator
www.SenatorGeneYaw.com

"Change your thoughts and you change your world."

Senate Reconvened This Week

The Senate kicked off this week's voting session on Monday. Two bills, referred as the Oil and Gas Lease Protection Package, which I sponsored, were approved by the full Senate.
Senate Bill 138 allows royalty interest owners the opportunity to inspect records of the gas company to verify proper payment. Senate Bill 139 prohibits a gas company from retaliating against a royalty interest owner by terminating the lease agreement or ceasing development because a landowner questions the accuracy of the royalty payments.
Committee Activity Streamed live at PASenateGOP.com:
Tuesday 10:30 a.m. - East Wing, Hearing Room 8E-A
Senate Education Committee, chaired by Sen. John Eichelberger (R-Blair):
Meeting to consider Senate Bill 227, Senate Bill 228, and Senate Bill 229.
Tuesday 11:30 a.m. - East Wing, Hearing Room 8E-B
Senate Judiciary Committee, chaired by Sen. Stewart Greenleaf (R-Montgomery):
Meeting to consider Senate Bill 8, Senate Bill 146, Senate Bill 176, Senate 221, and Senate Bill 222.
Tuesday 12:30 p.m. - East Wing, Hearing Room 8E-A
Senate State Government Committee, chaired by Sen. Mike Folmer (R-Lebanon):
Meeting to consider Senate Bill 9, Senate Bill 166, Senate Bill 167 and Senate Bill 169.
Wednesday 10 a.m. - East Wing, Hearing Room 8E-B
The Senate Game and Fisheries Committee , chaired by Sen. Pat Stefano (R-Fayette):
Meeting to consider Senate Bill 30, Senate Bill 123 and Senate Bill 192.
Full Senate Committee Schedule

Senator Yaw Welcomes 'Back-To-Back' Lewisburg State Champions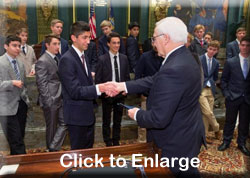 Last week, I welcomed the 'back-to-back' PIAA Class AA Boys Soccer champions, the Lewisburg Area High School Green Dragon Soccer Team, to the State Capitol.
The Green Dragons captured the 2016 PIAA Class AA boys' soccer championship title defeating Quaker Valley High School, by a score of 1-0, last November at Hershey Park Stadium.
The team also captured the PIAA Class AA soccer championship against South Park in 2015, making them the first District IV boys' team to win back-to-back State titles.
The team is coached by Skip Kratzer, Ben Kettlewell, Terry Gerlinski and Larry Winans.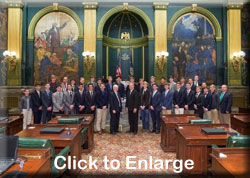 It is so encouraging to see what these young men have accomplished. They showed us all that persistence and hard work pays off and I'm very excited to see what the future holds for those who will remain on this team, as well as for those moving on to play at the collegiate level. It is my honor to recognize and welcome all of these exceptional athletes and coaches who are here representing Lewisburg High School to the state Capitol.
In addition to its second consecutive title, the Green Dragon's also received its second straight Academic Award from the National Soccer Coaches Association of America (NSCAA). In order to be recognized, the squad must accumulate a 3.25 GPA or better.

….More on REAL ID
Many of you have reached out to me with additional questions concerning Pennsylvania's Implementation of the REAL ID ACT.
I would like to provide an update on Real ID, as well as answer some of your questions that I have received.
The Real ID Act was passed by Congress in 2005 to establish minimum standards for state-issued driver's licenses and identification cards. The idea was for there to be an across-the-board level of security standards when accessing federal facilities, including nuclear power plants, military bases, and boarding commercial airplanes for domestic travel.
In 2012, the Pennsylvania Legislature overwhelmingly passed Senate Bill 354 (Act 38 of 2012), which prohibited Pennsylvania from participating in Real ID. Why? In the most simple terms – cost and privacy.
According to 2005 estimates from the Pennsylvania Department of Transportation (PennDOT), the Commonwealth would need over $140 million to implement REAL ID. This would be only upfront costs and doesn't take into consideration sustained annual funding. This is a significant cost to the Commonwealth's taxpayers.
Moreover, the estimated cost to implement REAL ID coupled with legitimate concerns for individual rights at the time (e.g. the federal government's overreach, privacy issues, security, control, oversight of state data, etc.) led the General Assembly to approve Senate Bill 354 overwhelmingly in both the House and Senate.
In early October 2016, the federal Department of Homeland Security informed Pennsylvania's policymakers that no further extensions would be granted and the provisions in federal law directly impacting Pennsylvanians would begin to take effect in January.
Currently, Pennsylvania joins Alaska, Kentucky, Oklahoma, Oregon, South Carolina and Virginia as states with limited extensions with the REAL ID ACT.
What is being done?
Recently, the Department of Homeland Security announced that they would give Pennsylvania an extension to come into compliance with the REAL ID ACT. That extension has gone from January 30, 2017 until June 6, 2017 so Pennsylvania can reassess its position and make necessary legislative actions.
At present, there is legislation sponsored by Senator Kim Ward, which will repeal the law passed in 2012 that prohibits Pennsylvania from participating in REAL ID. Senate Bill 133 would, therefore, bring Pennsylvania into compliance with the federal REAL ID Act. I have added my name as a co-sponsor to this legislation, and I am optimistic it will be considered in the near future.
As far as needing a Real ID-compliant driver's license or identification card for domestic air travel, Pennsylvanian's would be required by January 22, 2018 to have a REAL ID compliant form of identification. If you have a passport already that will suffice. If you do not have a passport and are traveling domestically on or after January 22, 2018 the TSA will accept (for state's working on complying with the REAL ID ACT) alternate acceptable identification. If the traveler cannot provide an acceptable form of identification, they will not be permitted through the security checkpoint.
Starting October 1, 2020, every traveler will need to present a REAL ID-compliant license or another acceptable form of identification for domestic air travel.
Will minors need to have identification to travel domestically? No.
The Transportation Safety Administration does not require children under 18 to provide identification when traveling with a companion within the United States. The companion will need acceptable identification.
The websites below provide additional information and details.
If you have questions, comments, or ideas on any issues facing the state, please don't hesitate to contact me. I always look forward to hearing from constituents. I can be reached via email at gyaw@pasen.gov or by telephone at either of my offices.

Paternostro Highway Dedicated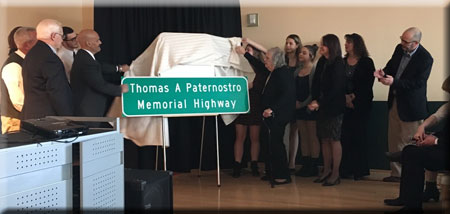 This weekend, I was honored to participate in a memorial highway dedication for the late Thomas A. Paternostro, which was held at the George A. Ferrell Elementary School. The event welcomed dozens of family members and friends who celebrated the lifelong educator and former East Lycoming School District superintendent.
As approved by the state legislature last year through Act 159, the portion of U.S. Route 220 stretching from the Picture Rocks Borough line to the Hughesville Borough line now will now be known as Thomas A. Paternostro Memorial Highway.

Xpress Natural Gas Fueling Station
to Create New Jobs in Susquehanna County
Xpress Natural Gas, LLC (XNG), a pioneer of the 'virtual pipeline' that provides a network of compression stations and lightweight, high-capacity trailers, will construct a commercial compressed natural gas fueling station in Susquehanna County and create 88 new, high-wage jobs.
Designed to daily fuel up to 100 trailers that the company uses to deliver compressed natural gas to customers across the Northeast and Mid-Atlantic states, XNG will construct a 130,000-square-foot fueling station on 20 acres of land in Forest Lake Township, Susquehanna County. The company will invest $18,620,000 in this first phase, which includes the land purchase and construction and infrastructure costs for the station. XNG has committed to the creation of 88 new, full-time jobs over the next three years. Employee hiring has commenced.
To read more, click here.

PIPE Application Period Open
New Pipeline Investment Program Begins
The Commonwealth Financing Authority (CFA) has opened the new Pipeline Investment Program (PIPE) for applications, offering up to $24 million funding to make Pennsylvania's natural gas available to its residents, manufacturers, and pad-ready sites, hastening the development of low-cost energy and creating new jobs. This program was created out of legislation I sponsored over the last two legislative sessions.
Administered by the CFA and funded through the reallocation of two fiscal years of funding from a previously underutilized program, the PIPE program will offer grants of up to $1 million for pipeline project expenses including construction; acquisition of land, rights of way, and easements; land clearing and preparation; and engineering, design, and inspection costs. Applicants must provide matching funds equal to at least 50 percent of the total project cost.
Applicants eligible for PIPE funding include:
Businesses – A corporation, partnership, sole proprietorship, limited liability company, business trust or other CFA-approved commercial entity.

Economic Development Organizations – A nonprofit corporation or association whose purpose is the enhancement of economic conditions in their community.

Hospitals – An entity licensed to provide inpatient care and services under either the Public Welfare Code or the Health Care Facilities Act.

Municipalities – Any city, township, borough, town, county, or home rule municipality.

School Districts
The first PIPE approvals are anticipated for early 2017. For additional information on the Pipeline Investment Program, to review program guidelines, or to apply, visit dced.pa.gov.

Committee Acts to Review PA Progress
in Supporting Volunteer Firefighters/EMS
The Senate Veterans Affairs and Emergency Preparedness Committee last week approved a measure to review Pennsylvania's progress in providing essential support to its volunteer fire departments and EMS organizations.
Senate Resolution 6 calls for a "reboot" of Senate Resolution 60 of 2003, the comprehensive study of fire and EMS issues completed in 2004. SR 6 calls for a new commission made up of legislators, first responders and representatives from municipalities. The panel would follow up on the impact of SR 60 and study issues currently affecting first responders. The commission would then provide its recommendations to the General Assembly by June 30, 2018.
---
Local Government Committee Acts to Bar PA Sanctuary Cities
The Senate Local Government Committee approved legislation that prevents municipalities and counties from designating themselves as 'sanctuary cities' in order to thwart federal efforts to combat illegal immigration.
Under Senate Bill 10 any law enforcement agency, municipality, or county that refuses to enforce a constitutional order shall not be eligible for any state grants or be eligible to participate in the sale of state surplus property. More
---
Legislation Re-Introduced to Protect Child Victims of Human Trafficking
Sen. Stewart Greenleaf (R-Montgomery) on Wednesday announced the re-introduction of his 'Safe Harbor' legislation that would require that sexually exploited children be diverted from the criminal justice system to more appropriate human services.
The legislation follows Senator Greenleaf's Act 105 of 2014 (SB 75) that rewrote the Commonwealth's human trafficking statute to better enable prosecutors to charge human traffickers and increased penalties for human trafficking.
More than 100,000 children are exploited through prostitution in the United States each year. Adults psychologically manipulate these children, often with the use of illegal drugs. As a consequence, children have been charged with prostitution, drug possession, loitering, and other offenses that are inherently related to prostitution. More
---
Legislators Seek Tax Breaks for Disabled Vets
Legislation calling for a state constitutional amendment to expand the Property Tax Exemption Program for Disabled Veterans has been introduced.
Currently, an honorably discharged veteran must be 100 percent disabled to receive a 100 percent exemption from property taxes. The senators' proposal would provide tax exemptions to all disabled veterans — with at least a 50 percent disability — at a percentage corresponding to their level of disability, as determined by the U.S. Department of Veterans Affairs. More
---
Bill Protecting Responsible Gun Owners to be Introduced
Sen. Wayne Langerholc (R-Cambria) announced Wednesday that he will be introducing legislation that would protect law-abiding gun owners from gun laws enacted by local municipalities that go above and beyond state law. More

---
If you do not wish to receive this email, click here to unsubscribe.
Privacy Policy
2017 © Senate of Pennsylvania
senatorgeneyaw.com