Monday, February 6, 2017
Dear Friends,
Hello! Thank you for subscribing to my E-newsletter. I am honored to serve the 23rd Senate District and look forward to working with you toward building a better future for Pennsylvania!
This E-newsletter serves to keep you updated on what is happening throughout Bradford, Lycoming, Sullivan, Susquehanna and Union counties and what I am doing as your state senator in Harrisburg. I hope that you will find this E-newsletter helpful, and if you have any questions or concerns, please feel free to contact me.
Gene Yaw
State Senator
www.SenatorGeneYaw.com

"Your inner strength is your outer foundation"

Senate Reconvenes Today at 1 PM, Budget Address Tuesday

The Senate reconvenes at 1 p.m. today. On Tuesday, session will begin at 11 a.m. followed by a joint session with the House of Representatives for the Governor's budget address.
Bills expected to be considered this week include:
Senate Bill 169 requires lobbyists to register and file reports electronically with the Department of State and that information be posted within seven days. Sen. Dan Laughlin (R-Erie)
Senate Bill 170 requires comprehensive reform measures at the Delaware River Port Authority. Sen. John Rafferty (R-Montgomery)
Senate Bill 181 establishes a performance-based budget component. Sen. Bob Mensch (R-Montgomery)
Senate Bill 241 amends the Equal Pay Law to allow employers to determine wages based on the level or amount of education, training or experience, and prohibits employer discrimination against an employee who files a complaint. Sen. Tom McGarrigle (R-Delaware)
Committee Activity Streamed Live at PASenateGOP.com:
Full Senate Committee Schedule

Senate Votes to Update Review of Volunteer Firefighter/EMS Support
On Tuesday, the Senate approved a measure to review Pennsylvania's progress in providing essential support to its volunteer fire departments and EMS organizations. The bill now goes to the House of Representatives for consideration.
Senate Resolution 6 calls for a 'reboot' of Senate Resolution 60 of 2003, the comprehensive study of fire and EMS issues completed in 2004. SR 6 calls for a new commission made up of legislators, first responders and representatives from municipalities. The panel would follow up on the impact of SR 60 and study issues currently affecting first responders. The commission would then provide its recommendations to the General Assembly by June 30, 2018. More
---
Legislation Eliminating Child Abuse Statute of Limitations Approved by Senate
The Senate on Wednesday approved legislation eliminating the statute of limitations for child sex abuse cases.
Senate Bill 261 eliminates the statute of limitations for child sex abuse crimes and gives victims additional time to file civil actions against their abuser. Currently, victims have until age 30 to file a civil claim. Senate Bill 261 would set the deadline at 50 years of age. The bill now goes to the House of Representatives for consideration.
---
Measure to Improve Law Covering Cruelty to Horses Passes Senate
On Tuesday, the Senate approved legislation to improve the enforcement and application of Pennsylvania's cruelty laws covering horses.
Senate Bill 69 will amend Title 18 (Crimes) to better define 'torture' and to provide appropriate penalties with language drafted with the assistance of the Farm Bureau. The bill will also amend Chapter 37 of Title 22 (governing Humane Society Police Officers) to provide necessary guidance and uniformity to those who are tasked with protecting the humane treatment of these large animals. The bill now goes to the House of Representatives for consideration.
---
Bill to Ban Taxpayer-Funded Collection of Union Political Contributions Approved by Committee
The Senate State Government Committee on Tuesday approved legislation to prevent the taxpayer-funded collection of union political contributions by the Commonwealth and school districts.
Senate Bill 167 proposes to amend the state Constitution to permanently ban public sector unions from utilizing schools and state government to collect political contributions for them.
The bill was amended in committee to ban only the collection of political contributions, mirroring a companion bill, Senate Bill 166, sponsored by Sen. John Eichelberger (R-Blair), which would address the issue statutorily and was also voted out of the committee. More
---
Committee Approves Bills Allowing Game, Fish & Boat Commissions to Set Fees
The Senate Game and Fisheries Committee approved legislation that would give the Pennsylvania Game Commission the authority to establish the fees that it charges for hunting and fur-taking licenses.
Senate Bill 192 would allow the commission to set its own license costs while providing the legislature with necessary oversight of the organization. The committee also approved Senate Bill 30, which would authorize the PA Fish and Boat Commission to establish the fees for fishing and boating related licenses. Fees for both commissions are currently determined by legislation. More
---
Alloway Reintroduces Libre's Law to Help Prevent Animal Cruelty
Sen. Richard Alloway (R-Franklin) reintroduced Libre's Law on Thursday as part of his continuing efforts to help prevent animal cruelty and neglect in Pennsylvania.
Libre's Law, Senate Bill 298, would hold animal abusers accountable by making it easier to prosecute a person who knowingly mistreats, abuses or neglects an animal. It also adds a new classification for offenders who cause the death or serious bodily injury of an animal. Violators could be found guilty of a third-degree felony.
The legislation was inspired by the story of Libre, a four-month-old Boston terrier who was rescued in July from a Lancaster County farm after suffering from weeks of severe neglect. More

Trout Stocking Schedules Available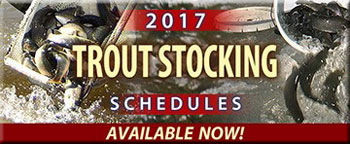 The Pennsylvania Fish and Boat Commission (PFBC) has posted the 2017 Adult Trout Stocking Schedules online and on the PFBC's 'FishBoatPA' mobile app. Anglers can search the trout stocking schedules for locations and dates of interest. Included in this year's stocking lists are the Keystone Select Stocked Trout Waters, a program in which 14 waters across the state will be stocked with large 14" - 20" trout. More

DCNR Opens Latest Grant Round

The state Department of Conservation and Natural Resources is accepting applications for the latest round of grants for Community Conservation and Recreational Projects. Projects include parks, trails, conservation areas and watersheds. The application period will remain open until April 12, 2017. More

---
If you do not wish to receive this email, click here to unsubscribe.
Privacy Policy
2017 © Senate of Pennsylvania
senatorgeneyaw.com
Harrisburg Office
Senate Box 203023
362 Main Capitol
Harrisburg, PA 17120-3023
717-787-3280
FAX: 717-772-0575
TTY: 800-364-1581
Williamsport Office
175 Pine Street
Suite 105
Williamsport, PA 17701
570-322-6457
800-443-5772
FAX: 570-327-3703