Monday, February 13, 2017
Dear Friends,
Hello! Thank you for subscribing to my E-newsletter. I am honored to serve the 23rd Senate District and look forward to working with you toward building a better future for Pennsylvania!
This E-newsletter serves to keep you updated on what is happening throughout Bradford, Lycoming, Sullivan, Susquehanna and Union counties and what I am doing as your state senator in Harrisburg. I hope that you will find this E-newsletter helpful, and if you have any questions or concerns, please feel free to contact me.
Gene Yaw
State Senator
www.SenatorGeneYaw.com

"Your success will be determined by how well you can overcome hardship."

Senate Appropriations Committee to Review Governor Wolfís Proposed 2017-2018 State Budget

On Tuesday, February 7, Governor Tom Wolf outlined his 2017-2018 state budget proposal.
While I was encouraged that the governor did not propose massive broad-based tax increases, as he has in prior years, I am concerned that his plan includes $1 billion in new taxes. It also contains many proposals funded by one-time revenues, while failing to address skyrocketing pension costs and long-term spending.
Additionally, I am disappointed that Governor Wolf continues to insist on an unrealistic natural gas severance tax to fund his budget priorities. The idea of creating a new severance tax is completely impractical and a perfect example of bad public policy.
Simply put, we donít need a new tax on natural gas extraction, because we already have a tax on natural gas in the form of impact fees. Revenue from the impact fee funds a wide variety of projects, from statewide environmental initiatives to local infrastructure improvements, affordable housing and local community and recreation projects.
Beginning on February 21st, the Senate Appropriations Committee, of which I serve as a member, will thoroughly review the Governorís budget proposal.
To preview the upcoming Senate Appropriations Budget Hearing Schedule, click here.

Environmental Committee Report
Senate Environmental Committee Holds Hearing on Impact of Pharmaceuticals in Pennsylvania Waterways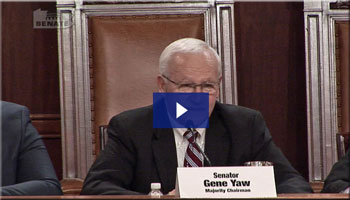 On Tuesday, February 7, the state Senate Environmental Resources and Energy Committee held a public hearing to discuss the impact of pharmaceuticals in Pennsylvania waterways.
Pharmaceuticals are synthetic or natural chemicals that can be found in prescription medicines, over-the-counter therapeutic drugs and veterinary drugs. The occurrence of pharmaceuticals in the environment and the water cycle at trace levels has been widely discussed and published in literature in the past decade.
To preview the hearing and/or review submitted testimony, click here.

Legislative Review
Senate Passes Sanctuary City Bill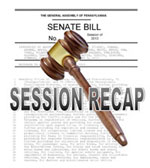 Seeking to promote greater public safety, the state Senate approved legislation last week to prevent municipalities from obstructing federal efforts to deport illegal immigrants who pose a danger to Pennsylvania communities and residents.
Senate Bill 10 prohibits governing bodies such as counties or municipalities from adopting rules or ordinances that contradict federal immigration policy. The bill passed with a bipartisan and veto-proof majority. The final vote was 37-12.
---
Senate Panel Advances Bill Addressing REAL ID Issues
The Senate Communications and Technology Committee approved legislation last week designed to advance the conversation regarding Pennsylvaniaís compliance with the federal REAL ID Act.
Failure to comply with the REAL ID Act would mean Pennsylvania driverís licenses and state-issued ID cards would not be considered a valid form of identification for the purposes of boarding an airplane or entering federal buildings or nuclear power plants.
Although the new requirements were supposed to go into effect on January 30, Pennsylvania received an extension until June 6 to allow additional time to comply with the federal mandate.
Senate Bill 133 will now move to the full Senate for consideration.
---
Senate Passes Abortion Control Act Reform Legislation
The state Senate passed legislation updating the Abortion Control Act to prevent abortions from being performed after 20 weeks and further prohibit dismemberment abortions.
As a co-sponsor of the legislation, Senate Bill 3 reduces the maximum gestational age for legal abortions from 24 to 20 weeks. As in current law, this limitation would not apply in situations where an abortion is necessary to prevent the death or impairment of a major bodily function of a woman. In addition, this legislation would prohibit the practice of tearing a fetus apart by its limbs, also called dismemberment abortion.
In light of medical advancements over the past several years, 15 states have now begun to reduce the maximum gestational age for legal abortions from 24 to 20 weeks. These states include Alabama, Arkansas, Indiana, Kansas, Louisiana, Mississippi, Nebraska, North Carolina, North Dakota, Oklahoma, South Carolina, South Dakota, Texas, West Virginia, and Wisconsin. Additionally, Governor John Kasich of Ohio just recently signed a bill that would ban abortions after 20 weeks in that state.
Senate Bill 3 will now be sent to the House of Representatives for consideration.
---
Senate Approves 'Paycheck Protection' Bill
As passed by the full Senate last week, Senate Bill 166 would guarantee an end to the payroll deduction of political contributions from government employees.
The law would only apply to public sector union contracts that currently benefit from this taxpayer-funded legal and financial privilege. To be clear, the legislation still allows public sector unions to continue to collect membership dues from union members and deduct the 'Fair Share' amount from nonmembers which is used strictly for collective bargaining purposes, grievances, and arbitrations. In addition, unions can continue to spend political money, it just cannot be collected from employee paychecks by the government. Political contributions and other political funds must be collected from individuals directly by the organization seeking the funds, just as every other political organization must do.
Senate Bill 166 now goes to the House of Representatives for consideration.

Over $1 Million Approved for Volunteer Fire
and EMS Services in the 23rd District
One hundred and one volunteer fire and ambulance service organizations throughout Bradford, Lycoming, Sullivan, Susquehanna and Union counties will share in more than $1.08 million in funding through the Fire Company Volunteer Ambulance Services (FCVAS) Grant Program.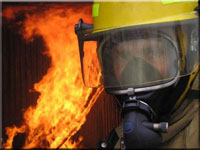 All grants awarded were generated from slot machine gaming proceeds through a program created by the Legislature and administered by the Pennsylvania Emergency Management Agency and Office of the State Fire Commissioner.
The FCVAS program can be used for construction or renovation projects, equipment purchases, debt reduction and training or certification.
Learn more about fire services in Pennsylvania by visiting the OSFC website or on FaceBook.

Upcoming Satellite Hours and Locations: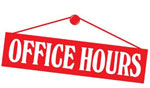 As a means to better serve area residents through increased outreach efforts, the below hours and locations have been added to provide better opportunities for area residents to meet directly with a member of my staff.
Wednesday, February 15, 2017
10 AM - Noon
Towanda Library
104 Main Street
Towanda, PA 18848
Thursday, February 23, 2017
3 PM - 5 PM
Green Free Library
38 North Center Street
Canton, PA 17724
Wednesday, March 1, 2017
3 PM - 5 PM
Allen F. Pierce Library
34 Fenner Street
Troy, PA 16947
Thursday, February 16, 2017
10:30 AM - Noon
Lewisburg Borough Council Chambers
55 South Fifth Street
Lewisburg, PA 17837
---
If you do not wish to receive this email, click here to unsubscribe.
Privacy Policy
2017 © Senate of Pennsylvania
senatorgeneyaw.com