"No person was ever honored for what he received. Honor has been the reward for what he gave."
Under sunny skies and warmer than normal temperatures yesterday, we celebrated Easter Sunday with church services and community events. Those of the Jewish faith also commemorate Passover, an eight-day celebration that marks the liberation of the Jewish people from slavery in Egypt more than 3,000 years ago. Both Easter and Passover are a celebration of rebirth, renewal and new beginnings.
Ann and I hope you had an opportunity to spend time this weekend with family and friends, time to reflect and, of course, an opportunity to soak up the sunshine. We wish you and your family the renewal of faith, hope and happiness during this special time!
---
The Senate is scheduled to reconvene on Monday, April 16th, 2018 at 1PM.
Under the Dome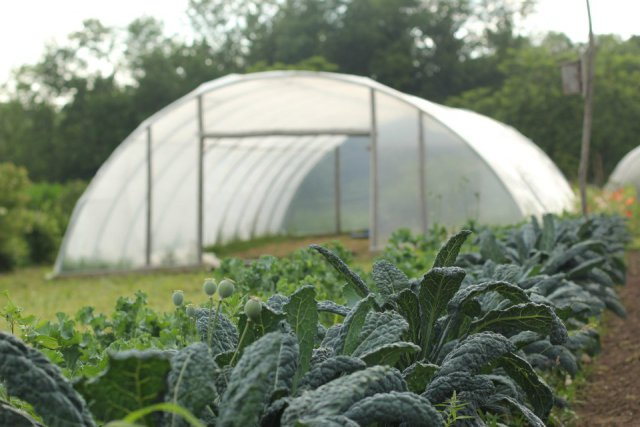 On March 27th, the state Senate Environmental Resources and Energy Committee, which I chair, supported legislation that would exempt "high tunnel" structures that meet certain parameters from any requirements under Act 167 (Storm Water Management Act) and directs local governments to amend their plans, ordinances, or regulations to reflect this change. The bill, House Bill 1486, was unanimously supported by the full Senate and moved to the Governor for his signature.
The Senate approved another legislative measure last week, sending it to the House of Representatives for consideration. Senate Bill 114 would allow sewer authorities to obtain a court order allowing it to terminate sewer service to commercial customers who are seriously delinquent, by at least six months, in payments of sewer bills. The bill would provide for additional notices to the owner and health departments of the date that service would be terminated.
Health and Human Services Budget Hearing Held
On March 27th, I questioned Secretary of Health Dr. Rachel Levine and Secretary of Human Services Teresa Miller during the Senate Appropriations Committee budget hearing for the Department of Health and the Department of Human Services.
Both Secretaries offered an update on the proposed consolidation of the two agencies, as well as discussing the backlog in birth certificate and death certificate processing times. My office has been told that, while processing times vary, it can take up to six months to receive certificates by mail.
Birth and death certificate copies are $20 each, and must be paid with check or money order. Fees are waived for members of the armed forces who served or are currently serving, and their spouses and children.
For more information on submitting birth/death certificate requests, my offices are able to offer assistance. Please contact (570) 322-6457 (Williamsport) or (717) 787-3280 (Harrisburg) should you have questions or concerns.
Op-Ed: Require Universal Public Service
At a time when our society is coming unglued by political correctness, I ask myself "What the hell has happened to this country?" What has happened to the "great melting pot?"
Years ago, immigrants came to this country from Germany, Italy, China, England and many more. Those people maintained their identities – examples include, Little Italy and Chinatown, but still became Americans. I remember jokes about virtually every ethnic background. Yes, we actually laughed at each other, but when it came time to defend this country, we did it together.
In my opinion, what changed the "great melting pot" was the elimination of the draft for mandatory military service. I joined the Army at age 20 and was sent to Fort Jackson, South Carolina for basic training. Yes, it was military training, but it was also people training. For the first time in my life, I had to associate, eat, sleep and work with African Americans, Hispanics, and Asians, as well as people from diverse backgrounds of Appalachia and New York City. I am sure all of those people felt the same about me. What happened to me was what happened to America. People from diverse ethnic and cultural backgrounds served in the military.
To read more, click here.
Do you have Medicare?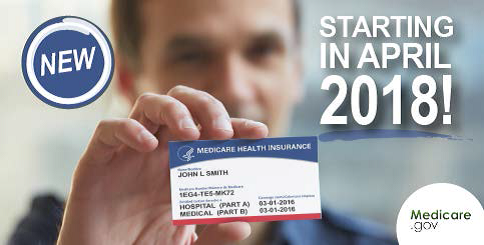 Starting in April 2018, watch your mailbox! Medicare is mailing new cards with new Medicare numbers to every person with Medicare. You don't need to do anything to get your new card. Once you get your new Medicare card, destroy your old card. You can start using your new Medicare card right away at your pharmacy and with your doctor or other healthcare providers. Keep an eye out for your New Card, New Number!
If someone calls you unexpectedly saying they "work with" or represent Medicare and need your card Number or other personal information, hang up! It's a SCAM. Medicare will only call you if you've called and left a message or if a representative said that someone will call you back.
For more information, click here.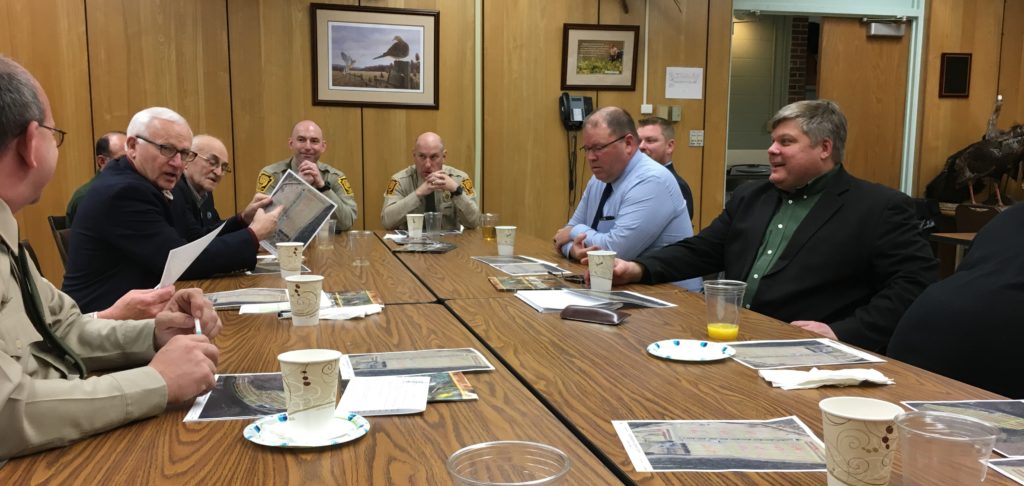 On March 29th, State Reps. Garth Everett, Jeff Wheeland and I met with local Game Commission staff to discuss chronic wasting disease, its status in Pennsylvania, and action being taken by the Game Commission to prevent its spread.
Energy Efficiency and Renewable Energy Project Grants
USDA Rural Development offers grants for Energy Efficiency and Renewable Energy type projects for up to 25% of the total eligible project cost. Eligible applicants include rural small businesses and agricultural producers. Projects may include but are not limited to LED lighting, Insulation, Refrigeration, Solar, and more.
For more information, click here.
April Satellite Office Hours in Bradford County Scheduled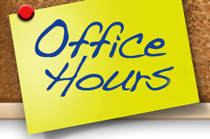 As a means to better serve the residents of the 23rd Senatorial District through increased outreach efforts, the hours and locations will provide better opportunities for area residents to meet directly with my staff.
Wednesday, April 4, 2018
3PM-5PM
Allen F. Pierce Library
34 Fenner Street
Troy, PA 16947
Thursday, April 12, 2018
3PM-5PM
Wyalusing Library
115 Church Street
Wyalusing, PA 18853
Wednesday, April 18, 2018
10AM-12PM
Towanda Library
104 Main Street
Towanda, PA 18848
Thursday, April 26, 2018
3PM-5PM
Green Free Library
38 North Center St.
Canton, PA 17724
Satellite hours and locations will be announced monthly and can be viewed by visiting my website at www.senatorgeneyaw.com. Walk-ins are welcome, but appointments are recommended.
Services are always available at Senator Yaw's Williamsport District Office, located at 175 Pine Street, Suite 105, from 9AM-5PM, or by calling (800) 443-5772.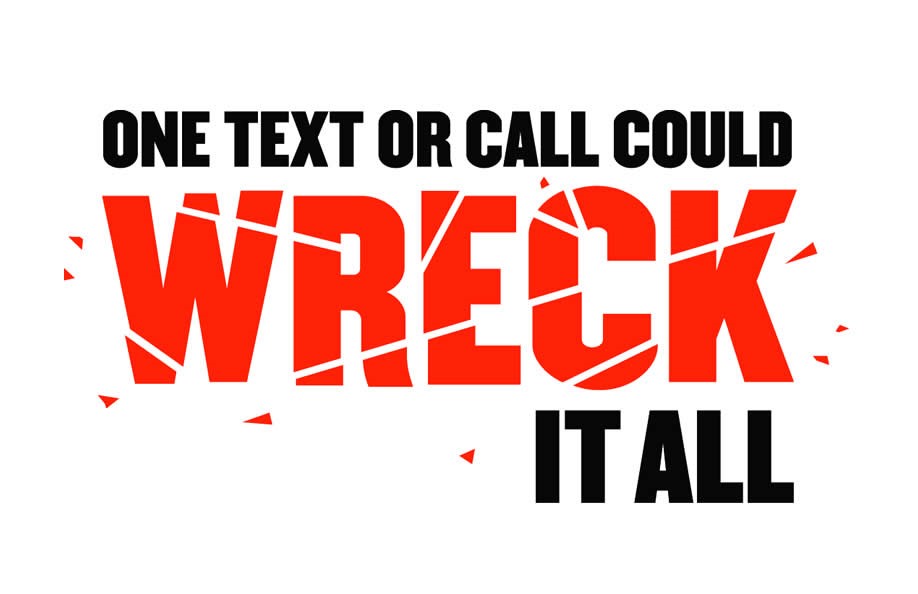 April is National Distracted Driving Awareness Month
Distracted Driving is anything that causes you to take your attention away from driving, take your eyes off of the road or take your hands off of the wheel. Here are some interesting facts about distracted driving:
Using a cell phone while driving increases your risk of a crash by 4 times, whether or not it is hands free.
The simple act of dialing a phone increases your crash risk by 3 times.
Sending or receiving a text, besides being illegal in PA, takes a driver's eye from the road for an average of 4.6 seconds. When traveling at 55 mph, that's enough time to travel the length of a football field.
Drivers using cell phones look but fail to see up to 50% of the information in their driving environment.
And it's not just cell phones. Eating, drinking, smoking, adjusting the radio, personal grooming and passengers are all distractions too.
According to a recent AAA study, six out of 10 teen crashes were caused by a distracted driver. AAA also reports that distraction contributes to more than 5,000 crash fatalities each year.
In Pennsylvania, there were 16,050 distracted driving crashes in PA that resulted in 69 fatalities during 2016.
Motorists are urged to pay attention when you are behind the wheel and just drive. – Kim Smith, PennDOT District 3 Safety Press Officer