Monday, June 22, 2015

Dear Friends,
Hello! Thank you for subscribing to my E-newsletter. I am honored to serve the 23rd Senate District and look forward to working with you toward building a better future for Pennsylvania!
This E-newsletter serves to keep you updated on what is happening throughout Bradford, Lycoming, Sullivan, Susquehanna and Union counties and what I am doing as your state senator in Harrisburg. I hope that you will find this E-newsletter helpful, and if you have any questions or concerns, please feel free to contact me.
Gene Yaw
State Senator
www.SenatorGeneYaw.com
Session Convenes Today at 1 p.m.; State Budget Deliberations Continue
| | |
| --- | --- |
| | The state Senate returns to voting session this week and budget discussions are continuing… Live web streams of Senate session and the majority of committee meetings are available on my website at: www.senatorgeneyaw.com. |
Heroin Treatment Hearings Set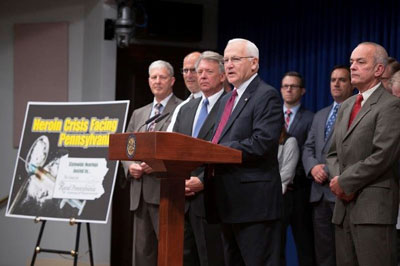 The Center for Rural Pennsylvania Board of Directors, announced this week that it has scheduled three additional hearings to discuss heroin and opioid treatment and recovery efforts. The announcement came at its June 15th Board meeting in Harrisburg.
The public hearings will take place on July 21st in Latrobe, July 29th in Scranton and August 18th in York. Each hearing has been scheduled to run from 10 a.m. to 1 p.m.
The Center Board of Directors, consisting of members of the Senate, House of Representatives, Governor appointees and academia, and joined by legislators from across the state, last summer held four public hearings to examine the heroin epidemic. To read more, click here.
Touring Sun Area Technical Institute

[For more pictures, click here]
On July 1st, a 'Conversation with Senator Gene Yaw' focuses on the Sun Area Technical Institute, located in New Berlin, Union County.
The program airs on: Blue Ridge Communications/Mansfield - Channel 13; CATV - Channel 8; Time Warner, Sayre; Adams Cable Service, Channel 7; Comcast/Williamsport - Click On Demand/Get Local/Local Government/State Senate/A Conversation with Senator Gene Yaw.
Please check local listings for air times.
A 'Conversation with Senator Gene Yaw' is intended to keep residents of the 23rd Senatorial District, which consists of Lycoming, Bradford, Sullivan, Susquehanna and Union counties, informed about state and local issues and to showcase the people, places and communities that make this area so unique.

Ribbon Cutting Held for Pine-Grove Self-Storage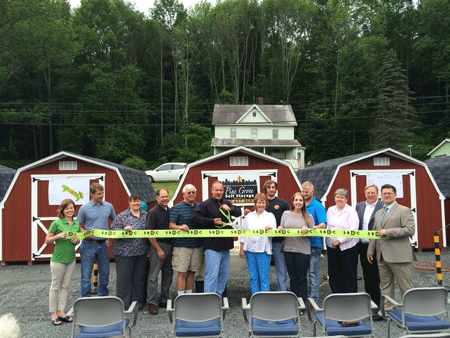 Welcome and Congratulations to a new business in my district. My staff attended the ribbon cutting of Pine Grove Self Storage located in North Towanda Township, Bradford County. Owner Keith Kinsman is looking forward to meeting the needs of the community and industry. As stated, "Our units are brand new stick built shed units, featuring 120 sq. foot of dry and secure storage."
House of Representatives Approves Changes to Current Child Protection Laws

Last week, the state House approved legislation that more clearly defines who is subject to the requirements enacted under Pennsylvania's child protection laws and makes those requirements less onerous for adult volunteers who work with children.
House Bill 1276 aims to clarify the types of volunteers and employees who are required to obtain background checks to work with children. Under the bill, only volunteers and employees with direct and routine interaction with a child as part of a child care service, a school, or a program, activity or service would need to obtain the clearances.
In addition, the legislation would also permit employers or organizations to accept non-original copies of the required documents on file, rather than the original copies needing to be maintained by the employer or organization.
The bill has moved to the Senate for consideration.

Senate Approves Bill to Delay Keystone Exams as a Graduation Requirement
The Senate also unanimously approved a bill that will delay the Keystone Exams as a graduation requirement for two years.
Senate Bill 880 will delay the end-of-course exams in algebra, biology and literature as a graduation requirement until 2019.
The bill is now expected to be referred to the House Education Committee for its consideration.

Basic Education Funding Commission Releases Recommendations and Report
On June 18th, the Basic Education Funding Commission recommended that the General Assembly adopt a new formula for distributing state funding for basic education to Pennsylvania's 500 school districts.
The Commission undertook an extensive and comprehensive study of a number of factors before arriving ultimately at a consensus on a new formula that will benefit school districts, parents and children.
The Commission determined that allocation of basic education funding needs to allow for accountability, transparency and predictability. The main objective of the new funding formula is to fairly distribute state resources according to various student and school district factors.
The 15-member group, created through Act 51 of 2014 held 15 hearings over 11 months and heard from a wide range of experts and advocates in the education field, as well as parents, from urban, suburban and rural school districts throughout the state.
For more information on the report recommended by the Commission, visit the Basic Education Funding Commission's website.

Credit Union Legislative Day in Harrisburg
Credit Union Legislative Day in Harrisburg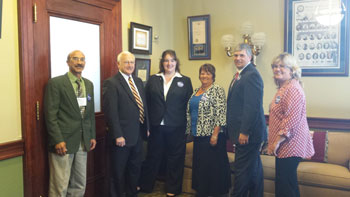 On June 16th, I had the opportunity to meet with residents of my Senate District during their annual Credit Union Legislative Lobby Day in Harrisburg. It was great talking with (left to right: Paul Nyman, Horizon Federal Credit Union; Katelyn Smith, Executive Assistant, Horizon Federal Credit Union; Barbara Vitolo, CEO, Wyrope Williamsport Federal Credit Union; Rick Wargo, PCUA; and Trish Shermot, Gov. Relations, Visions Federal Credit Union).
'War on Coal' Hearing Re-Cap
Pennsylvania House, Senate Coal Caucuses Convene at State Capitol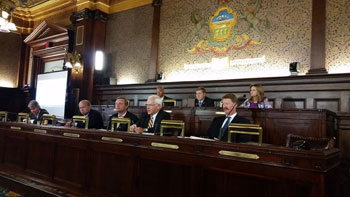 A bipartisan group of state legislators met Tuesday at the Capitol Building to discuss the federal Environmental Protection Agency's (EPA) proposed "Clean Power Plan" and its impact on Pennsylvania's job climate, electric rates and overall economy.
The House and Senate Coal Caucus public hearing featured testimony from John Pippy, CEO of the Pennsylvania Coal Alliance; Eugene Trisko, Counsel to United Mine Workers of America; Gary Merritt, North Star Generation and Vince Brisini, Olympus Power.
The EPA's proposed plan would seek to cut carbon pollution from nationwide coal-fired power plants by 30 percent in 2030, compared to 2005 levels. The plan is being developed under the Clean Air Act.
To read more, or to view hearing testimony, click here.

District-Wide Drought Watch Is In Effect
Residents across the 23rd Senate District are being asked by the Pennsylvania Department of Environmental Protection to voluntary reduce water use and consumption as certain areas have below-average water levels.
A drought watch has been declared after low groundwater and surface water levels have been identified in the northeast and central portions of Pennsylvania.
Here are some helpful hints to reduce water consumption:
---
If you do not wish to receive this email, click here to unsubscribe.
Privacy Policy
2015 © Senate of Pennsylvania
senatorgeneyaw.com