Heroin: Combating this Growing Epidemic in Rural Pennsylvania
The Center for Rural Pennsylvania held public hearings to examine and discuss current policies and practices related to heroin and opioid addiction, including prevention, treatment and law enforcement efforts. In Pennsylvania, the number of fatal heroin overdoses has been steadily increasing. According to a 2014 report from the Pennsylvania State Coroners Association, there were 45 reported heroin deaths in 2009 and 124 reported heroin deaths by mid-2013. Other states across the nation are reporting an increase in heroin use as addicts are shifting from more costly prescription opioids to cheaper alternatives. Three primary themes repeatedly mentioned during the hearings included: educating individuals to the dangers of opioid abuse; increasing the accessibility and availability for those seeking treatment; and providing law enforcement with the tools to help eradicate heroin from our communities. To learn more click here.
April 3, 2017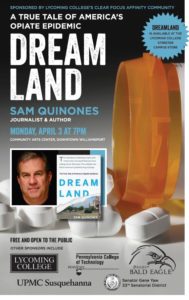 Sam Quinones, a former Los Angeles-based journalist, will share the insights he gained while writing his book "Dreamland: The True Tale of America's Opiate Epidemic" during a presentation on April 3 at 7 p.m. at the Community Arts Center in downtown Williamsport. The presentation is free and open to the public.
Quinones will discuss the development and writing of his book, which traces the emergence and social impacts of the national crisis of opioid and heroin abuse. His stories center around the fall and rise of Portsmouth, Ohio, as the backdrop to weave together two riveting tales of capitalism run amok: the unfettered prescription of addictive pain medications during the 1990s and the influx of black tar heroin.
http://www.lycoming.edu/news/stories/2017/02/sam-quinones-dreamland.aspx
State Senator Gene Yaw hosted a special conversation for his constituents to specifically address opioid and heroin addiction. Pennsylvania is leading the nation in drug overdose deaths, especially in young men. The Senator and his guests, Barry Denk, Director of the Center for Rural Pennsylvania, and Dr. Nancy Falvo, Professor of Nursing, Clarion University, talked to callers about community driven programs to help prevent and deal with the epidemic. Listen as they discuss the availability and use of Narcan/Naloxone to help overdose victims. Multiple aspects of the overall problem were discussed from reducing access, the efficacy of methadone and other treatments, and how to monitor the use of opioid medications for those who legitimately need them to help with chronic pain. The panel also discussed the mental health issues that contribute to drug addiction.
October 26, 2017
Center for Rural Pennsylvania public hearing in Williamsport to receive testimony on the current state of Heroin and Opioid addiction in Pennsylvania.
Agenda
VIDEO COURTESY OF PCN
October 2017
Senator Gene Yaw announces an October 26th public hearing in Williamsport on the "state of addiction" after three years of investigation of the heroin and opioid crisis in Pennsylvania. Thursday – October 26th 9am – 1pm Walnut Conference Room, UPMC Susquehanna, 700 High Street, Williamsport, PA 17701
June 2017
Senator Aument hosts a discussion on the growing heroin and opioid epidemic in Lancaster County and across the state.
Senator Gene Yaw talks with Cambria County Senator John Wozniak about upcoming hearings through The Center for Rural Pennsylvania on the rise of heroin and other opioid use in Pennsylvania.
Senator Gene Yaw talks with Barry Denk, Executive Director of the Center for Rural Pennsylvania about upcoming hearings through the Center on the rise of heroin and other opioid use in Pennsylvania.
Senator Gene Yaw talks with Berks County Senator Judy Schwank about upcoming hearings through The Center for Rural Pennsylvania on the rise of heroin and other opioid use in Pennsylvania.
Please contact the Center for Rural Pennsylvania at (717) 787-9555 to RSVP or for more information. You may also RSVP via email at info@rural.palegislature.us.