Summary | Contact Your Legislator | News | Op-Eds
SUMMARY
Skill games are a huge topic of discussion in Harrisburg these days. Many of them are located in fraternal clubs, veterans' organizations, taverns, and small businesses across Pennsylvania. My office has heard from supporters from all walks of life on the importance of the revenue skill games provide. They are critical to helping many organizations pay staff, pay bills, maintain their establishments, and pay for donations that help their communities.
Many skill game terminals are manufactured right here in Pennsylvania, some in Lycoming County in the heart of the 23rd district. Ninety percent of the revenue they generate stays here, mainly in the communities where they are located.
Thousands of skill games exist throughout the state, and they cannot and should not be ignored. They are meeting a growing demand for this type of entertainment and with each passing day, Pennsylvania is missing out on the opportunity for significant additional revenue. It is time we recognize the benefits of this emerging industry and offer regulatory support, so this session I sponsored Senate Bill 706 – the Skill Video Gaming Act. This legislation establishes a taxing structure and regulatory framework for skill video games in the Commonwealth.
Read the bill and find out more HERE.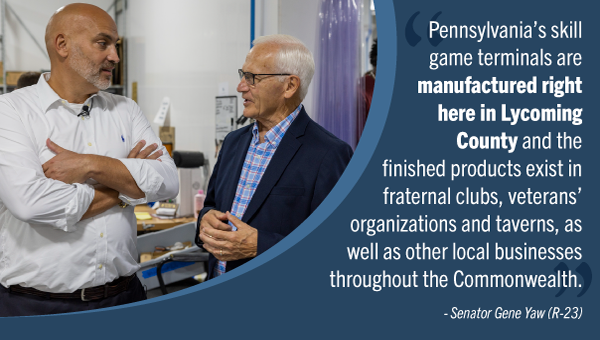 CONTACT YOUR LEGISLATORS
I'm working hard to garner support from my Senate colleagues for the Skill Video Gaming Act. So far, eight of my fellow senators, including Senators Dush, Argall, Rothman, Pennycuick, Laughlin, Vogel, Brewster, and Culver, have expressed their support by signing on as co-sponsors of the bill. But now, I need your help.
Please, if you are inclined, contact your local Senators and Representatives, tell them how skill games have helped your organization, and ask them to support Senate Bill 706. You can find your representatives by county or address HERE or you can easily fill out this form and I will personally pass your message along to your senator.
NEWS
October 4, 2023 – Yaw, Senate Committee Hear from Businesses Thriving Thanks to Skill Games
October 3, 2023 – Sen. Yaw Defends Small Businesses Against Greedy Casino Moguls
August 23, 2023 – Moving Beyond the False Rhetoric of Legal Skill Games
May 10, 2023 – Yaw Introduces Legislation to Regulate Legal Skill Video Games
April 25, 2023 – Supporters of Legal Skill Video Games Call for Passage of Yaw Bill at State Capitol
April 10, 2023 – Yaw to Unveil Pennsylvania Skill Game Regulation Legislation
August 29, 2022 – Yaw: Skill Games Sustain Veterans' Organizations, Social Clubs
OP-EDS
October 3, 2023 – David vs. Goliath
June 2, 2023 – Opinion: Skill games present a golden opportunity for Pennsylvania
April 14, 2022 – Skill Games Present a Golden Opportunity for Pennsylvania