Dear Friends,
Hello! Thank you for subscribing to my E-newsletter. I am honored to serve the 23rd Senate District and look forward to working with you toward building a better future for Pennsylvania!
This E-newsletter serves to keep you updated on what is happening throughout Bradford, Lycoming, Sullivan, Tioga and Union counties and what I am doing as your state senator in Harrisburg. I hope that you will find this E-newsletter helpful, and if you have any questions or concerns, please feel free to contact me.
Gene Yaw
State Senator
www.SenatorGeneYaw.com

*Click here to find the latest information on coronavirus from the Pennsylvania Department of Health and the Centers for Disease Control and Prevention.
2021-22 Legislative Session Kicks Off by Taking Oath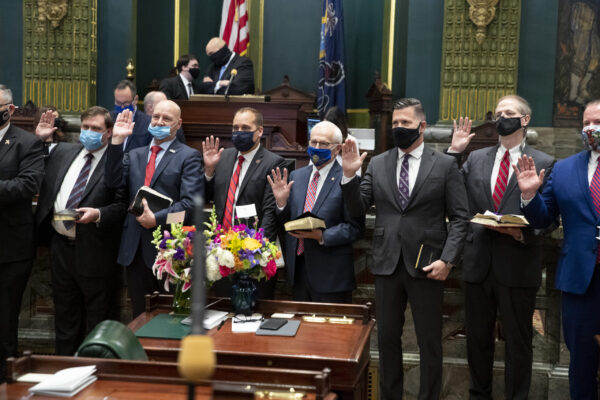 Senator Yaw takes the oath of office to serve the residents of the 23rd Senatorial District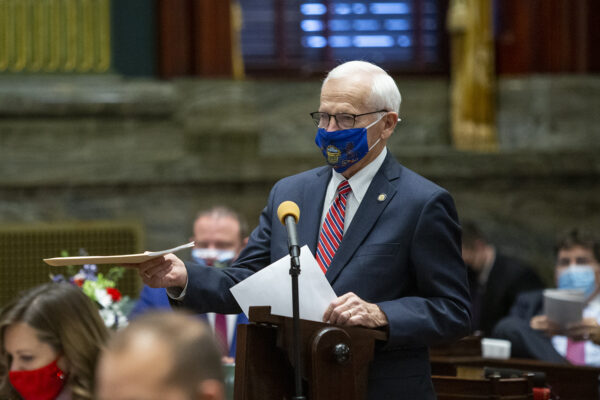 Senator Yaw offers a resolution establishing Senate Ethics Rules for the 2021-2022 legislative session
Last week, I was sworn into my fourth term serving the 23rd Senatorial District in the Pennsylvania Senate. I want to thank the voters for again placing trust in me to represent their interests in Harrisburg. Continuing to work on behalf of my constituents for another four years in the Senate is a tremendous privilege and honor.
There are many serious challenges facing our great state in the new legislative session and they will take dedicated commitment to address. I will continue to be faithful to that mission. We need to work together, within our own party and across party lines, to address these challenges. Together, we can continue to make our state a better place to live, work and raise our families.
Senator Yaw to Lead Environmental Resources & Energy Committee in 2021-2022 Session
Today, I was honored to be reappointed by Senate President Pro Tempore Jake Corman to serve as Chairman of the Pennsylvania Senate Environmental Resources and Energy Committee for the 2021-2022 Legislative Session.
The Committee has jurisdiction over the state's energy resources and development, including regulations and conservation efforts; public lands and their renewable resources; surface mining, coal, oil, and gas, and mineral leasing; air and water resources.
I look forward to working with my fellow senators to advance bipartisan solutions to strengthen our laws and regulations that will further protect Pennsylvania's air, rivers, streams and land for future generations.
TUNE IN: COVID-19 Vaccine Rollout in Rural Pennsylvania
The Center for Rural Pennsylvania Board of Directors, of which I chair, will hold a virtual public hearing on Wednesday, January 13, from 9 a.m. to 10 a.m., on the COVID-19 vaccines and more on how they will be distributed throughout rural Pennsylvania.
I am very grateful that the COVID-19 vaccines are being distributed to front-line health care workers and our more vulnerable residents in Pennsylvania. As the vaccines continue to be rolled out, we want to learn more about the planned distribution in rural Pennsylvania.
Presenters scheduled for the public hearing are: Pennsylvania Secretary of Health Dr. Rachel Levine; Dr. George Garrow, Chief Medical Officer, Primary Health Network (Sharon, PA); Mr. Steven Johnson, President, UPMC Susquehanna; and Dr. Cary Funk, Director of Science and Society Research, Pew Research Center.
TUNE IN on my Facebook Page tomorrow à https://www.facebook.com/SenatorGeneYaw
News from UPMC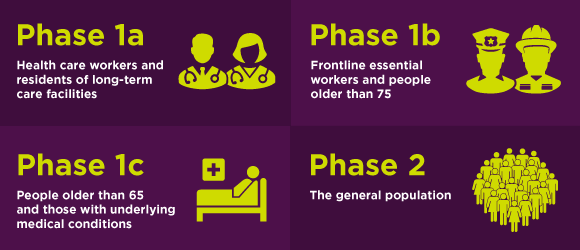 UPMC began distributing doses of the Pfizer/BioNTech COVID-19 vaccine to their frontline health care workers in December. The Pfizer/BioNTech vaccine requires two doses for full protection. This week, UPMC began to deliver the second dose of vaccine to their workers.
In late December, UPMC began to vaccinate the patients, residents, and staff of UPMC Senior Communities with the first doses of the Moderna vaccine. Their goal is to distribute the vaccine to all patients, residents, and staff of UPMC Senior Communities facilities by the end of January or early February.
UPMC continues to follow Pennsylvania's directives about vaccine distribution. Following Gov. Tom Wolf's orders last week, UPMC is developing a plan to distribute a designated portion of COVID-19 vaccines to non-UPMC health care workers in our communities.
Visit UPMC.com/COVID19 for updates on testing, treatment, the vaccine, and more.
Congratulations to Geovanni Swartley of Susquehanna County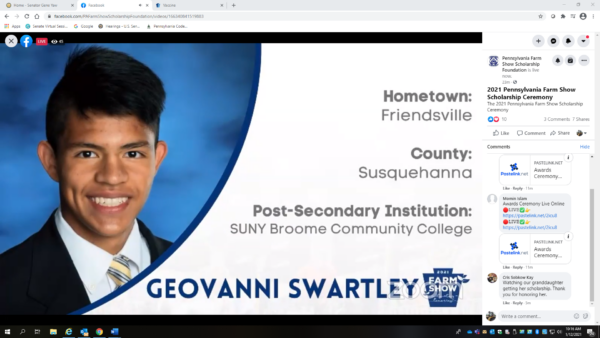 I am very pleased to congratulate my constituent, Geovanni Swartley, of Friendsville, Susquehanna County, who is a 2021 recipient of this year's Pennsylvania Farm Show Scholarship provided by the Pennsylvania Farm Show Scholarship Foundation. This year's scholarship ceremony was held virtually via Facebook and I was able to watch the presentation LIVE!
I am pleased to again congratulate Geovanni on his commitment to agriculture and education and I wish him all the best in his future endeavors.
In Case You Missed It…
Experience the Virtual PA Farm Show…The virtual 2021 #PAFarmShow runs January 9th-16th and has a diverse offering of live and pre-recorded events, hands-on activities, and demonstrations. [Read More]
Growing Greener Investments Awarded in Bradford, Lycoming Counties…Bradford and Lycoming counties have been awarded funding to clean up local waters through the Department of Environmental Protection's (DEP) Growing Greener program. [Read More]
Funding Awarded Locally for Job Training by Businesses Seeking Skilled Workers…$511,800 in PAsmart Next Generation Industry Partnership grants awarded to bolster workforce development in and around the 23rd Senatorial District. [Read More]
RGGI Proposal Would Drive Up Utility Bills, Force the Closure of PA Power Plants…The state Department of Environmental Protection's (DEP) Environmental Quality Board is still accepting public comments until January 14th on Gov. Wolf's unilateral proposal to have PA join the Regional Greenhouse Gas Initiative (RGGI). Pennsylvania would be the only major energy-producing state in this compact, and the resulting carbon tax on employers engaged in electric generation would cost thousands of jobs and drive up energy costs for households. Submit your comments! Comments can be submitted online or at the mailing address below. If commenting by email at RegComments@pa.gov, include a subject heading of "CO2 Budget Trading Program" and a return name and address. Comments can be submitted online: https://www.ahs.dep.pa.gov/eComment/.
Fishing/Hunting Licensing System Upgrade Jan 12th-14th…A scheduled upgrade to the Pennsylvania Automated Licensing System (PALS) for Pennsylvania Fish and Boat Commission and Pennsylvania Game Commission fishing and hunting licenses will occur over the next several weekdays. The system will undergo maintenance starting today and will resume this Friday, January 15.
Security Grant Applications Available Now for Nonprofit Groups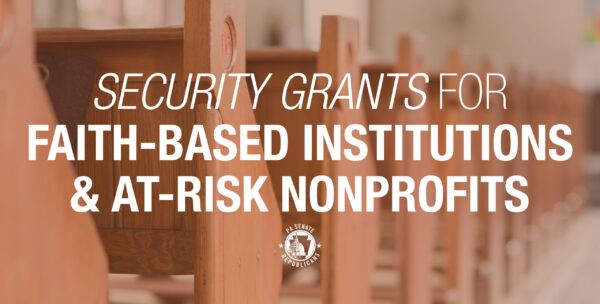 Nonprofit organizations that serve groups at the greatest risk of being targeted for hate crimes can apply now for grants to complete security enhancements. Applications for the Nonprofit Security Grant Fund Program are available through February 3rd.
Eligible uses of grants include safety and security planning, the purchase of security equipment and technology, security training, threat awareness and response training, threat assessments and other safety or security-related projects.