Dear Friends,
Hello! Thank you for subscribing to my E-newsletter. I am honored to serve the 23rd Senate District and look forward to working with you toward building a better future for Pennsylvania!
This E-newsletter serves to keep you updated on what is happening throughout Bradford, Lycoming, Sullivan, Tioga and Union counties and what I am doing as your state senator in Harrisburg. I hope that you will find this E-newsletter helpful, and if you have any questions or concerns, please feel free to contact me.
Gene Yaw
State Senator
www.SenatorGeneYaw.com

January 14, 2020
Lycoming County FACT:
Williamsport was the location of the Susquehanna log boom in 1850, and subsequently became the largest, single lumber center in the country during the 1870's.
---
Municipalities, Local Organizations Urged to Apply for State Recreation, Conservation Grants
Application Period Opens Wed., Jan. 15th
Counties, municipalities and municipal agencies, pre-qualified land trusts, non-profits and other eligible organizations interested in applying for conservation, recreation, trail, and riparian buffer grants through the Department of Conservation and Natural Resources (DCNR) may do so beginning January 15th.
In 2019, there was nearly $600,000 in Community Conservation Partnerships Program grants awarded throughout Bradford, Lycoming and Union counties. I strongly encourage eligible applicants in the five-county region I represent to apply for this funding as a way to improve and preserve our local recreational areas and further ensure that future generations have the opportunity to experience and enjoy their appeal.
An application webinar will be held on Wednesday, January 29th, 10AM-11:30AM. Participants will learn about eligible project activities, funding sources, matching requirements and strategies on how to create a competitive grant application. To sign up, applicants may visit DCNR's 'Calendar of Events' page on their website, https://events.dcnr.pa.gov/.
To read more, click here.
104th Pennsylvania Farm Show A Success!
The nation's largest indoor agricultural exposition concluded on Saturday for the 104th time – but not before celebrating many of our local residents living across Bradford, Lycoming, Sullivan, Susquehanna and Union counties with various recognitions and awards.
This year's show – themed "Imagine the Opportunities" – featured nearly 12,000 competitive exhibits (more than 5,200 of which were animal competitions), 300 commercial exhibits and hundreds of educational and entertaining events. New this year were youth showmanship competitions in Poultry, Dairy Cattle, Breeding Sheep, Goats and Alpaca categories and added categories to the craft beer and cider competitions. Cider winners included Deep Roots Hard Cider, Sugar Run, Bradford County (Best Dessert Cider). Local craft beer winners included: Trail Ale- New Trail Brewing Company, Williamsport, Lycoming County (Amber Lager), Snow Flyer – Rusty Rail Brewing Company, Mifflinburg, Union County (Porters), Last Raft Raspberry Wheat – Boom City Brewing Company, Williamsport, Lycoming County (Fruit, Herb, Vegetable).
New classes were also added this year at the Farm Show for potato candy, nut pies, fruit pies and Evercrisp apples food competitions; more rabbit competitions; a dog law enforcement area; and a special water fowl habitat area in the show's poultry section.
Several area residents took home awards including Aiden Bomgardner of Mifflinburg, Union County, who received a 2020 Pennsylvania Farm Show Scholarship from the Farm Show Scholarship Foundation. Aiden's father Daryl was one of the first recipients in 1994 to also receive a scholarship. Aiden noted that his 4-H and FFA experiences benefited his education, personal development and community. Being an officer, as well as public speaking and service experiences helped him become a leader in his high school and volunteer in his community!
Also receiving Farm Show recognition were Dean and Rebecca Jackson and their family who own and operate the third-generation dairy farm located near Columbia Cross Roads in Bradford County. Mt-Glen Farms is known for protecting the environment while raising high-quality dairy cattle. On Friday, January 10th, the Sand County Foundation announced Mt-Glen Farms has been selected for the 2019 Pennsylvania Leopold Conservation Award®. The Jackson's are only the second family in Pennsylvania to have received this recognition! Congratulations!
Senate Environmental Resources & Energy Committee Holds a 'Briefing on the Bay' during 2020 PA Farm Show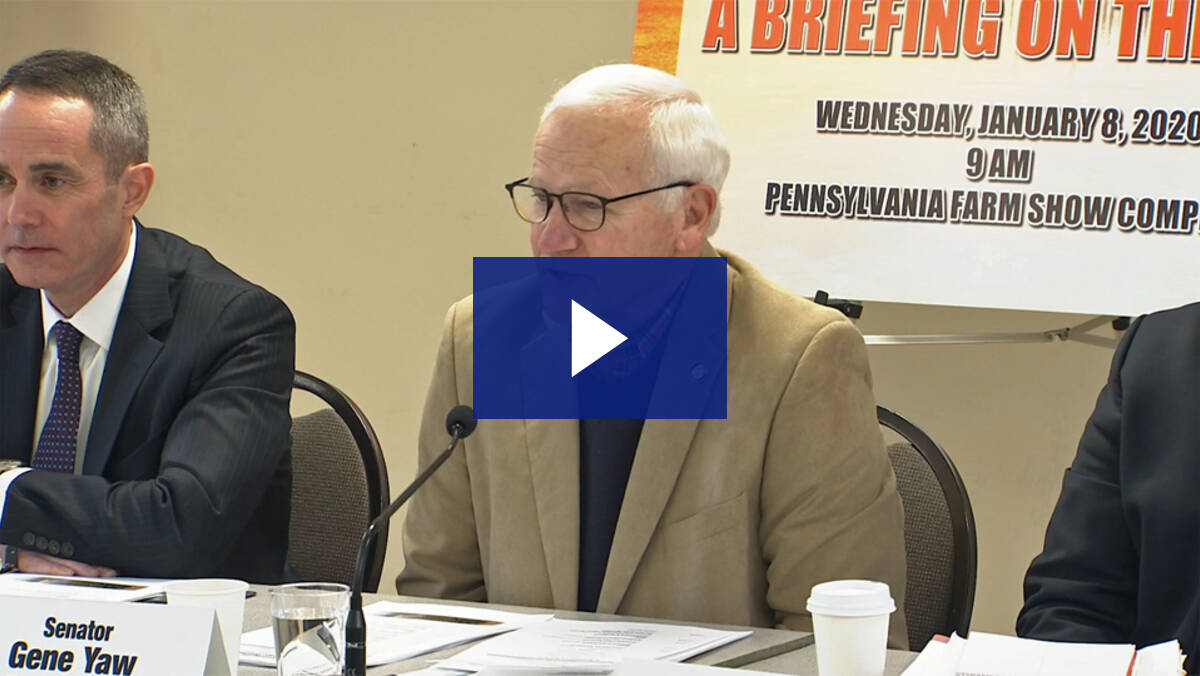 In 2010, the U.S. Environmental Protection Agency (EPA) established a regulatory "Total Maximum Daily Load" to reduce the amount of nitrogen, phosphorous, and sediment that Pennsylvania, five other states and the District of Columbia send into the Chesapeake Bay by 2025. Sources include wastewater treatment systems, urban stormwater, and agricultural runoff. These goals were reaffirmed by the Bay jurisdictions and EPA in the 2014 Chesapeake Bay Watershed Agreement.
To read more, click here.
Additional Grant Opportunities
PA Farm Vitality Planning Grant
The Department of Agriculture is pleased to announce the opening of the Farm Vitality Planning Grant Program, funded at $1 million, on January 8, 2020. This program is established as part of the Agricultural Business Development Center that was created by the PA Farm Bill. These grants will help recipients to create or obtain plans for business and management strategies, transition of ownership and operation, diversification, farm expansion, and maintaining the long-term economic viability of farms. To learn more, click here.
Webinar Regarding Violence Prevention Grant Funding
On Thursday, January 23, 2020 from 12PM-1PM, there will be a webinar to assist interested people with the 2020 Violence and Delinquency Prevention Program's upcoming grant funding announcement. The grant period is anticipated to open at the end of January. The Office of Juvenile Justice and Delinquency Prevention, part of the Pennsylvania Commission on Crime and Delinquency (PCCD), has announced the webinar for those interested in applying for funding. Interested parties are encouraged to preregister for the webinar, click here.
Fish & Boat Commission Accepting Applications For State Wildlife Grants
The Fish and Boat Commission is now accepting applications for State Wildlife Grants. The deadline for submissions is February 19. The priority topic for the project will help support Pennsylvania's amphibian and reptile Species of Greatest Conservation Need found in the 2015-2025 Pennsylvania Wildlife Action Plan. For more information and an application packet, visit the State Wildlife Grant Program webpage. The description of the 2019-2020 priority topic, application and budget file are listed under "SWG Call-for-Projects."
PennDOT Driver License, Photo Centers Closed for Martin Luther King Jr. Day Holiday
PennDOT this week announced that all driver license and photo centers, including its full-service center in Harrisburg, will be closed Saturday, January 18, through Monday, January 20, in observance of Martin Luther King Jr. Day.
Customers may still obtain a variety of driver and vehicle products and services, including all forms, publications and driver training manuals, online through PennDOT's Driver and Vehicle Services website, www.dmv.pa.gov.