Dear Friends,
Hello! Thank you for subscribing to my E-newsletter. I am honored to serve the 23rd Senate District and look forward to working with you toward building a better future for Pennsylvania!
This E-newsletter serves to keep you updated on what is happening throughout Bradford, Lycoming, Sullivan, Tioga and Union counties and what I am doing as your state senator in Harrisburg. I hope that you will find this E-newsletter helpful, and if you have any questions or concerns, please feel free to contact me.
Gene Yaw
State Senator
www.SenatorGeneYaw.com

Click here to find the latest information on coronavirus from the Pennsylvania Department of Health and the Centers for Disease Control and Prevention.
UPDATED – 11:30AM, Feb 1st, 2021
Senate Reconvenes This Week
(Feb. 1 Session Canceled)
Governor's Budget Address Tuesday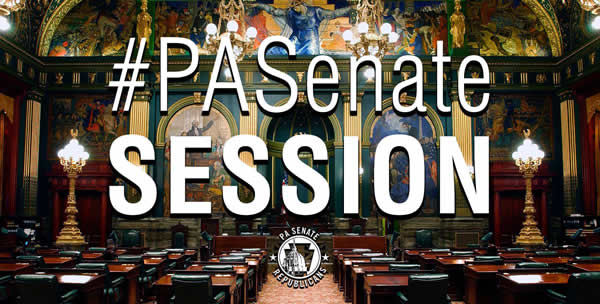 Due to the ongoing snow accumulation, the state Senate will not reconvene today, Feb 1. Session is still scheduled to reconvene tomorrow, Feb. 2.
Additionally, as a result of the COVID-19 pandemic, there will be no joint session this year to hear the Governor's Budget Address on Tuesday. Session is still scheduled to commence at 11AM, and the address will begin at 11:15AM. WATCH LIVE https://www.senatorgeneyaw.com/
A complete schedule of committee hearings and meetings is available here, and all of the meetings and floor activity will be streamed live at www.pasenategop.com.
TUNE IN: Public Hearing to Review Rural Aviation, American Airlines Commitment to Lycoming County & Surrounding Region
The Center for Rural Pennsylvania, which I chair, will hold a virtual public hearing on Thursday, February 4, beginning at 10AM, to examine rural aviation and the decision by American Airlines to drop flights from many smaller U.S. cities, including Williamsport.
Rural areas are at a disadvantage because transportation options are often limited. This has profound implications for rural communities, particularly now during the pandemic. Maintaining passenger flights to and from our rural airports is vital to economic recovery.
The public hearing will be held via Zoom Webinar.
Attendees are asked to please register in advance at https://zoom.us/webinar/register/WN_DEFFXmzZRSmiKHWDncb6yA.
In Case You Missed It…
COVID-19 is Changing the Way PA's State Budget Will Be Handled This Year… The legislature will not reconvene in a joint session this week. Instead, the Governor's recorded 2021-2022 Budget Address will be streamed in both Chambers. To preview, click here.
Help with Finding a Vaccine Provider Near You…The Pennsylvania Department of Health (DOH) is working to ensure all enrolled vaccine providers have information publicly available for those currently eligible to be vaccinated. The DOH map will be updated as more locations receive vaccine, click here.
Pennsylvania to Get More Doses of COVID Vaccine This Week…The federal government is set to allocate more COVID vaccine doses to the commonwealth. Pennsylvania has been receiving 140,000 doses a week for the first shot. That will increase starting this week to 160,000. Through January 30, Pennsylvania has been allocated 1.8 million doses of vaccine. 1.3 million of those doses have been received. On Thursday, February 4, the PA Senate Health & Human Services Committee AND Senate Aging & Youth Committee will hold a joint hearing on COVID-19 vaccine distribution.
TUNE IN LIVE at 10:45AM (Feb 4):
https://www.pasenategop.com/blog/joint-hearing-on-covid-19-vaccine-distribution-in-pennsylvania/
COVID-19 Relief Package Earns Senate Approval… The Senate took the first steps toward providing a new round of financial assistance to restaurants, schools, employers, and tenants impacted by the pandemic by passing a comprehensive $912 million COVID-19 relief bill last week. The relief package dedicates federal funding for rental and utility assistance, as well as non-public schools, career and technical centers, Intermediate Units, charter schools for the deaf and blind, and approved private schools. Funding is also included to support the redesign of the State System of Higher Education. In addition, the package allocates $145 million from the Workers' Compensation Security Fund to the COVID-19 Response Restricted Account to provide county block grants to assist the hospitality industry, including restaurants, bars and hotels.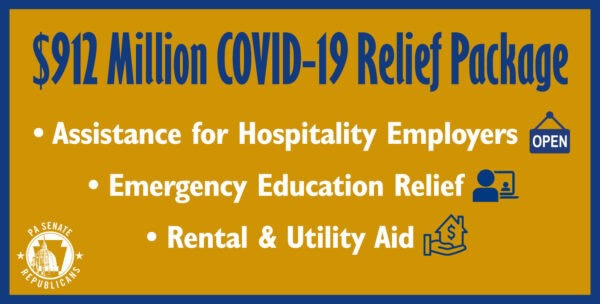 Scam Alert…The Pennsylvania Department of Labor & Industry (L&I) has become aware of multiple attempts by fraudsters to obtain individuals' personal and confidential information through fake Facebook pages and is reminding Pennsylvanians to never provide their information to anyone over social media. Comments by the legitimate L&I page also have a blue check box next to them indicating it as a verified page. If a comment or page does not have this check box, it is a fraudster posing as L&I.
L&I will not ask for individuals to send an email. The only email addresses for unemployment are:
Senate Votes to Strengthen State's Emergency Response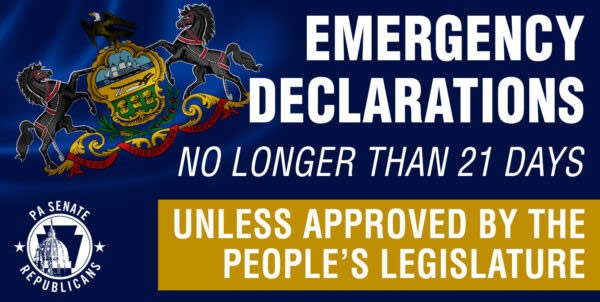 State government's efforts to respond to emergencies could be bolstered by a potential amendment to the Pennsylvania Constitution that would limit the length of future disaster declarations unless an extension is approved by lawmakers.
The bill, which was approved by the Senate last week, would ensure the governor does not have unilateral power to suspend laws, spend money without legislative approval and shutter employers indefinitely. Limiting the length of an emergency declaration would ensure greater cooperation between all branches of government during an emergency and restore the system of checks and balances that Pennsylvania was founded upon.
Because the measure would require an amendment to the Pennsylvania Constitution, the bill must be passed by the Senate and House of Representatives in two consecutive legislative sessions and be approved by voters via referendum. The bill was approved by the General Assembly during the last legislative session. If approved by the House of Representatives, the measure would appear on the ballot in the next election.
Legislation Advances to Enhance Penalties for Child Pornography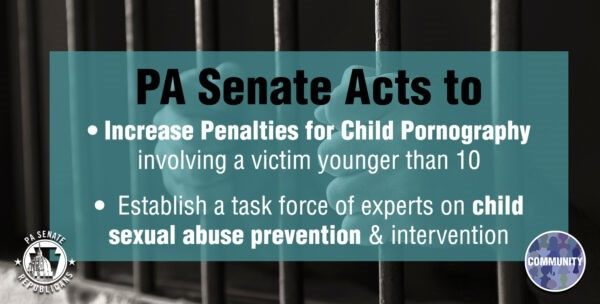 The Senate approved a bill last week that would crack down on individuals charged with possession of child pornography. The legislation would boost penalties in all cases of child pornography in which the child is under the age of 10 or prepubescent and provide sentencing enhancements for offenders who sexually abuse children who are known to them.
In addition, the bill would create a special task force to review all laws pertaining to child pornography and make recommendations to improve the investigation and prosecution of offenders.
Senator Yaw Honors SRBC on 50th Anniversary, Highlights Accomplishments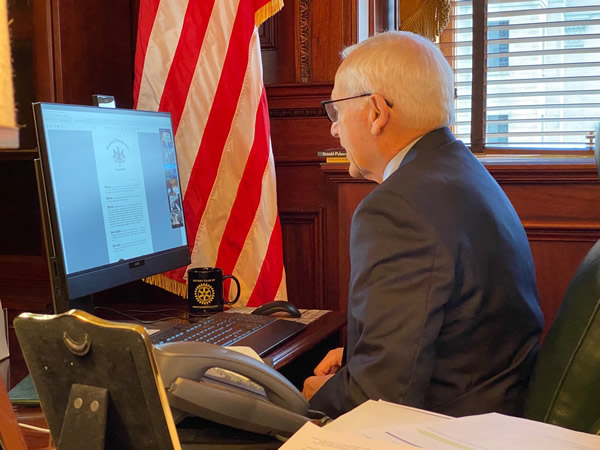 In celebration of the Susquehanna River Basin Commission's 50th Anniversary, I proudly presented a congratulatory Senate citation to members and staff of SRBC during a virtual ceremony on January 27, 2021. The Commission was officially created with the signing of the federal interstate river basin compact on January 23, 1971.
Over these past 50 years, commissioners and staff have advanced monitoring & restoration efforts, implemented beneficial new policies, upheld commitments to partners & the public, & maintained oversight of the basin's water resources.
Commission members noted the ability of the Commission to sustain its collaborative partnerships over the years between the states and federal and state agencies. Of importance is the fact that SRBC is uniquely the only agency that looks at and manages water availability throughout the river basin.
Applications Available for Recreation and Conservation Grants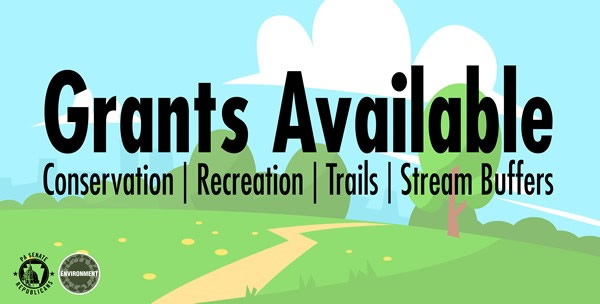 Local governments and conservation organizations can apply now for grants to support parks, recreation and conservation projects. The grants are funded through the Community Conservation Partnerships Program administered by the Department of Conservation and Natural Resources.
Applications can be submitted through 4 p.m. on April 14. Tutorials are available to help potential applicants learn how to apply.
Fish and Boat Commission Announces Photo Contest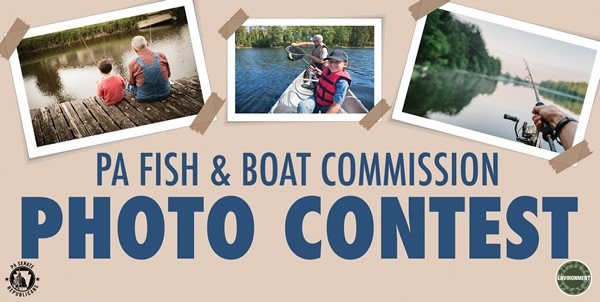 Have a special fishing or boating moment captured on camera? The Pennsylvania Fish and Boat Commission (PFBC) recently announced its 2021 photography contest that showcases the state's anglers, boaters, waterways and aquatic resources.
The deadline for entries is August 31. Contest rules, prize information and entry details are available on the PFBC website.