Dear Friends,
Hello! Thank you for subscribing to my E-newsletter. I am honored to serve the 23rd Senate District and look forward to working with you toward building a better future for Pennsylvania!
This E-newsletter serves to keep you updated on what is happening throughout Bradford, Lycoming, Sullivan, Tioga and Union counties and what I am doing as your state senator in Harrisburg. I hope that you will find this E-newsletter helpful, and if you have any questions or concerns, please feel free to contact me.
Gene Yaw
State Senator
www.SenatorGeneYaw.com

"Keep every promise you make, and only make promises you can keep."
Senator Yaw Responds to Governor's FY 2018-19 Budget Address
On Tuesday, February 6th, Governor Tom Wolf unveiled a proposed $33.2 billion General Fund Budget for Fiscal Year 2018-19 before a joint session of the Pennsylvania General Assembly. The budget proposal represents a $1.2 billion increase in spending from the current fiscal year.
This is just the beginning of the process. As with last year, the budget passed by the Senate won't be exactly the same as the governor's proposal. We'll make changes based on our review of the plan and what we hear during the budget hearings, with the ultimate goal being a fiscally responsible state budget passed in a timely manner.
During his remarks, the Governor announced a $50 million investment in job training and the launch of "PASmart," a realignment of workforce development from K-12 education through career programs. He intends to dedicate $40 million for STEM (Science, Technology, Engineering and Math) and computer science education, as well as $10 million to promote apprenticeships and industry partnerships.
To continue reading, click here.
To review the Governor's 2018-19 Budget Proposal, click here.
Pennsylvania Legislative Leaders Issue Statement on Congressional Map Redistricting Case
On Monday, February 5th, Senate & House Leaders issued the following statement regarding the ruling by the Supreme Court of the United States on Congressional Map Redistricting:
"Today Supreme Court Justice Alito denied our stay petition for the Congressional Map Redistricting case. We understood when requesting the stay that this is a rarely used remedy, but given the chaos caused by the state Supreme Court's decision to overturn the state's congressional map, we believed the request was necessary.
"It is astounding that fourteen days after the Pennsylvania Supreme Court ruled the map to be unconstitutional, the Justices have still not issued a majority opinion. This irresponsible approach handicapped Justice Alito by not providing him with more information, just as it has handicapped the Legislature.
"We still do not believe that there was a violation of the state Constitution, that the Pennsylvania Supreme Court can direct us to draw a new congressional map, or that the Pennsylvania Supreme Court has the authority to draw a new Congressional District Map under the Pennsylvania Constitution or United States Constitution.
"We will do our best to comply with the Pennsylvania Supreme Court's January 22nd order, but may be compelled to pursue further legal action in federal court."
Senator Yaw Welcomed District Intern During Capitol Visit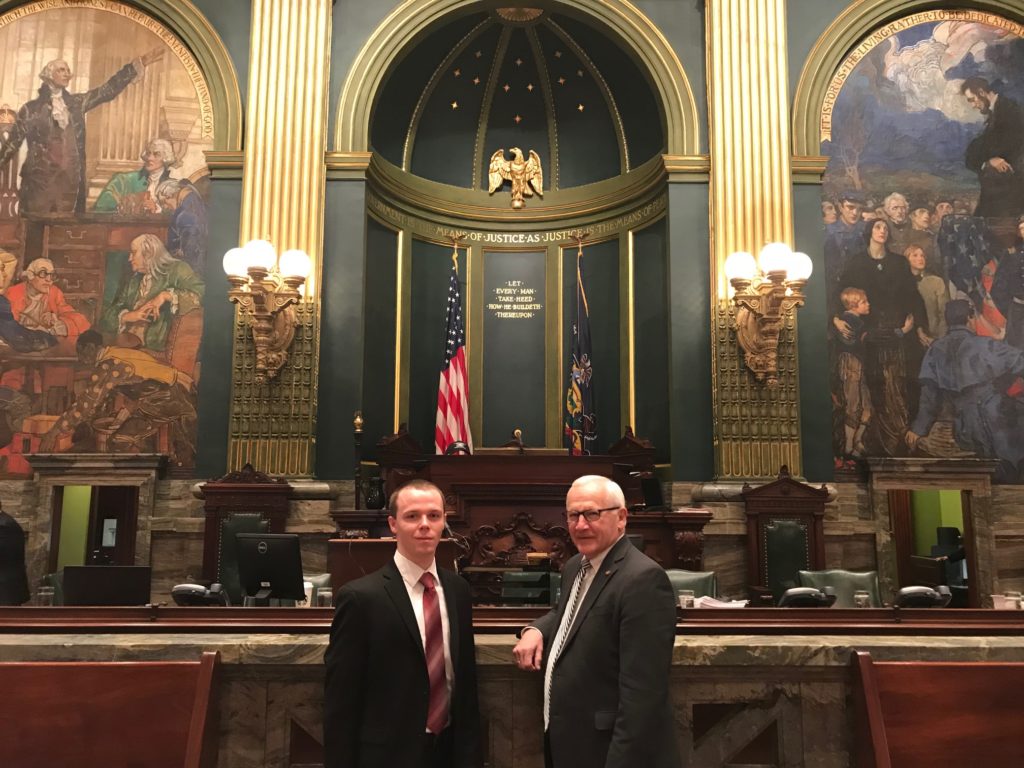 This week, I had the pleasure of welcoming my district office intern, Jacob Quasius, to the State Capitol Building.
Jacob is a senior at Lycoming College and is majoring in History with a triple minor in Political Science, Domestic Public Policy and Economics. He plans to attend Law School upon graduation.
Protection of Gun Rights for Medical Cannabis Users
Recently, I co-sponsored a Senate Resolution calling upon Congress to amend the Gun Control Act of 1968 to protect the gun rights of medical cannabis users.
Those who seek to use medical cannabis have been told their 2nd Amendment Rights may be restricted due to federal actions. Yet, those suffering from alcoholism and those involuntarily committed to treatment facilities for mental issues have no restrictions placed upon their 2nd Amendment Rights.
The federal Gun Control Act of 1968 was passed to regulate the firearms industry and firearms owners. In 1993, it was amended by the Brady Handgun Violence Prevention Act to include controlled substances. As cannabis is a Schedule I drug of the federal 1970 Controlled Substances Act, the federal Bureau of Alcohol, Tobacco, Firearms, and Explosives has issued guidance restricting the ownership of firearms and ammunition related to Schedule I drugs.
Senate Acts to Expand Public Employee Pension Forfeiture Act
Legislation to ensure that public employees who commit job-related felonies are stripped of their taxpayer-funded pension was approved by the Senate and sent to the House of Representatives for consideration.
Senate Bill 611 would require pension forfeiture if a public employee or public official is convicted, pleads guilty, or pleads no contest to any felony offense related to his or her employment.
Currently, the Public Employee Pension Forfeiture Act requires a public employee to forfeit his or her pension only for certain crimes listed in the act. In practice, this law allows public employees charged with a forfeiture crime to plead guilty to a different non-forfeiture crime in order to avoid pension forfeiture.
Senate Approves Framework for Growing Greener III Environmental Program
The Senate has approved legislation that would create a framework for the Growing Greener III program to better protect Pennsylvania's natural resources.
The original version of Senate Bill 799 creates a new nutrient trading program to help Pennsylvania meet federal pollution reduction goals and improve drinking water quality in the Chesapeake Bay watershed. The legislation was amended to add a proposal to authorize a new Growing Greener program to support critical environmental and quality of life projects in communities throughout the state.
Funding for the program has declined from approximately $200 million in the mid-2000s to $57 million last year. Senate Bill 799 would establish a framework to ensure the program will continue to fund vital environmental projects well into the future.
Senate Approves Proposal to Improve Special Emergency Response Times
Off-duty police officers who serve on Special Emergency Response Teams (SERTs) could respond to incidents quicker and more safely under legislation unanimously approved by the Senate.
Senate Bill 1015 would allow SERT officers to use flashing lights and sirens when using their private vehicles to respond to incidents, as volunteer firefighters are permitted to do.
Local officials estimate that the use of lights and sirens on personal vehicles could save 10 to 15 minutes in assembling a SERT team for incidents requiring special training, such as kidnappings, barricaded gunmen and hostage negotiations.
Other Bills Approved by the Senate
Senate Resolution 32 directs the Joint State Government Commission to study the use of youth courts in Pennsylvania's education and juvenile justice systems.
Senate Bill 52 establishes the National Guard Youth Challenge Program.
Senate Bill 234 lays the groundwork for counties and municipalities to create Property Assessed Clean Energy financing programs.
Senate Resolution 237 urges counties and local law enforcement, public safety and emergency services to work with the State Police to facilitate the rollout of the new P25 Pa-Star Net radio system.
Senate Bill 775 establishes the Pennsylvania Museum Preservation Fund.
Senate Bill 898 exempts municipal trucks from state bonding requirements when these vehicles are traveling in order to maintain local roads.
Senate Bill 1034 addresses Congressional redistricting.
House Bill 359 addresses penalties for hunters who mistakenly kill an animal. The bill returns to the House for concurrence on Senate amendments.
House Bill 1653 makes students enrolled in distance or online education programs eligible for state grants.
Local Residents Recognized by Quilts of Valor Foundation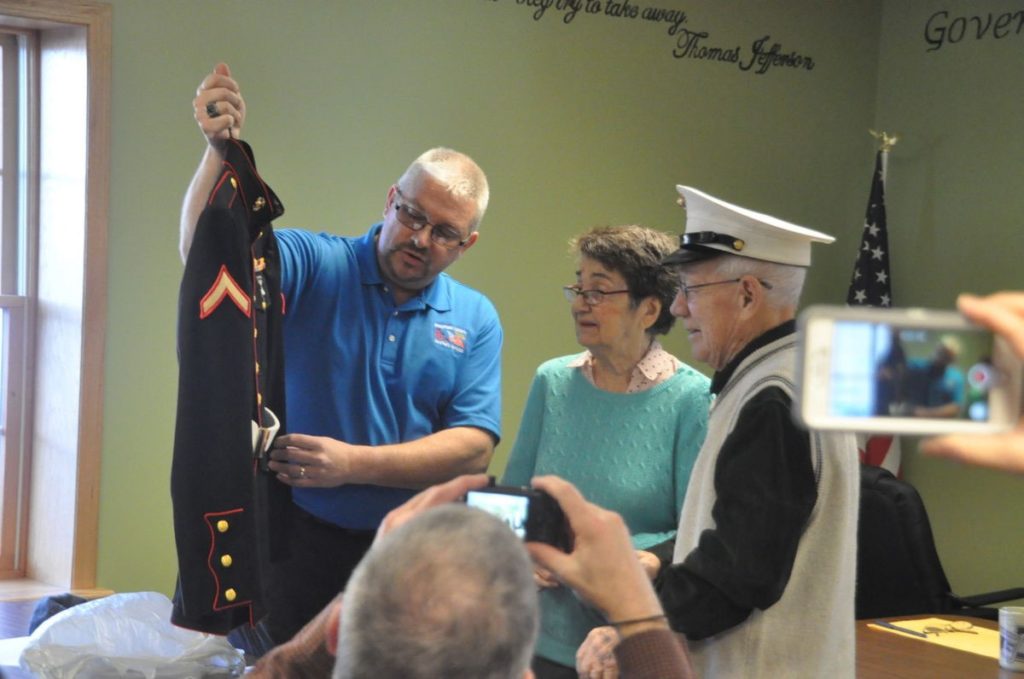 [Photo By: Matt Hicks, Towanda Daily Review – Bradford County Veterans Service Officer Pete Miller presents World War II veteran Charles Fullmer with new dress blues as part of a recognition ceremony, while Fullmer's wife Ellen, looks on.]
Three local veterans, Charles Fullmer (Bradford County), Jim Collins (Bradford County), and Chester Myers (Sullivan County), were recently recognized for their service by the Quilts of Valor Foundation.
Charles Fullmer, a World War II veteran, served four years as a photographic interpreter in the South Pacific with the Fleet Marine Force. Fullmer was presented with a white hat and dress blues by the Bradford County Veterans Service Office and a Quilt of Valor by the Quilts of Valor Foundation and Friendship Quilters of Towanda.
Jim Collins, also a World War II veteran, served from 1942-1946 with the U.S. Navy Seabees, where he installed power lines in Alaska during air assaults and directional antennas in Guam. Collins also received recognition by the Bradford County Veterans Service Office and the Quilts of Valor Foundation.
Chester Myers served active duty in the U.S. Army from 1957-1959, before serving from 1959-1963 in the reserves. Myers has been active in the Muncy Valley Fire Company since 1950. Myers received his Quilt of Valor after being nominated by Jack Craft of the Endless Mountains War Memorial Museum in Sonestown.
For more information about Quilts of Valor, click here.
On the Calendar
Lycoming County Agriculture Open House
February 21, 2018
8:00 AM – 12:00 PM
Lysock View Complex
542 County Farm Road
Montoursville, Pa 17754
If you are seeking information on programs that currently exist in Lycoming County to enhance your land or looking for more details on how state/federally funded government programs are being utilized within the county, please consider attending a 2018 "Agriculture Open House".
The event will be held on February 21, 2018 at the Lysock View Complex, 542 County Farm Road, in Montoursville. This is an excellent opportunity to speak one-on-one with the individuals that oversee the diverse agricultural programs available throughout the county.
Representatives and specialists will be available to discuss various program opportunities from the following agencies:
USDA –Farm Service Agency
USDA – Natural Resource Conservation Service
USDA – Rural Development
Pennsylvania Department of Agriculture
Lycoming County Conservation District
Penn State Cooperative Extension
Penn State Master Gardeners
Interested individuals are encouraged to visit the Service Center any time between the hours of 8:00 AM–12:00 PM. Persons with disabilities who require accommodations to attend or participate in this event should contact Michael Sherman at 570-433-3902 extension 2 or Federal Relay Service at 1-800-877-8339.
Chevron Invests $630K to Boost ShaleNET Programs
Chevron Appalachia is investing $630,000 in ShaleNET education programs at four Pennsylvania, West Virginia and Ohio community and technical colleges. Since 2014, Chevron has invested more than $2.1 million in ShaleNET programs at Westmoreland County Community College, Pennsylvania College of Technology, Pierpont Community and Technical College, and Stark State Community College.
At Penn College:
$100,000 will support scholarships for credit, noncredit, and incumbent workers. This helps to increase interest, engagement, and training of individuals in the energy and advanced manufacturing sectors.
$50,000 will establish a career counselor position to provide support and navigation of career expectations, entrance requirements, training completion, and help with job placement. This continues to be critical to the success of the program.
"Chevron's continued commitment ensures the long-term sustainability of our ShaleNET program. The funding shows a deep commitment toward training the existing workforce, those looking to enter the energy and manufacturing sectors, and students who are enrolled in the college's mechatronics engineering technology associate-degree major, with the end goal of providing employers a well-trained workforce." – Shannon Munro, Vice President for Workforce Development & Continuing Education at Penn College.
Upcoming Satellite Outreaches in Bradford County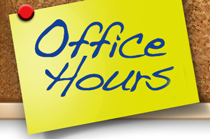 As a means to better serve the residents of the 23rd Senatorial District through increased outreach efforts, the hours and locations will provide better opportunities for area residents to meet directly with a member of the Senator's staff.
Satellite Hours and Locations:
Wednesday, February 21, 2018
10AM-12PM
Towanda Library
104 Main Street
Towanda, PA 18848
Thursday, February 22, 2018
3PM-5PM
Green Free Library
38 North Center St.
Canton, PA 17724
Satellite hours and locations will be announced monthly and can be viewed by visiting the Senator's website at www.senatorgeneyaw.com. Constituents are encouraged to visit any of the satellite locations during scheduled office hours. Walk-ins are welcome, but appointments are recommended.