Dear Friends,
Hello! Thank you for subscribing to my E-newsletter. I am honored to serve the 23rd Senate District and look forward to working with you toward building a better future for Pennsylvania!
This E-newsletter serves to keep you updated on what is happening throughout Bradford, Lycoming, Sullivan, Tioga and Union counties and what I am doing as your state senator in Harrisburg. I hope that you will find this E-newsletter helpful, and if you have any questions or concerns, please feel free to contact me.
Gene Yaw
State Senator
www.SenatorGeneYaw.com

Click here to find the latest information on coronavirus from the Pennsylvania Department of Health and the Centers for Disease Control and Prevention
Thank you!
*To the employees of PennDOT Districts 3-0 & 4-0, as well as all our local township and borough road crews across Bradford, Lycoming, Sullivan, Susquehanna and Union counties, I just want to thank all of you for your outstanding efforts to clear the roads of snow and ice over the past several months, so we all can travel safely. This winter has been especially burdensome. Please know we appreciate all of your good work!
-Gene Yaw & staff.
JUST IN: The Governor has announced revised and lifted mitigation restrictions that are effective statewide today.
The revised mitigations restrictions announced today include:
Revised maximum occupancy limits for indoor events to allow for 15% of maximum occupancy, regardless of venue size.
Revised maximum occupancy limits for outdoor events to allow for 20% of maximum occupancy, regardless of venue size.
Eliminate out-of-state travel restrictions.
Op-Ed: PennFuture's Proverbial Tales
Senator Gene Yaw (R-23)
Chairman, Senate Environmental Resources & Energy Committee
Last week, the group Citizens for Pennsylvania's Future, also known as "PennFuture," released a report entitled 'Buried Out of Sight: Uncovering Pennsylvania's Hidden Fossil Fuel Subsidies'.
This Harrisburg-based organization is dedicated to lobbying against Pennsylvania energy and responsible use of natural resources. Interestingly, PennFuture – a registered not-for-profit organization – also has a nearly 40 percent ownership interest in a for-profit company that invests in energy efficiency and renewables. This ownership interest can pay PennFuture up to nearly $200,000 annually and begs questions about their impartiality.
With respect to their report, it is worth highlighting some of the examples that PennFuture regards as a 'subsidy' for Pennsylvania's fossil fuel industry. Most of these 'subsidies' are in fact calls for higher taxes directly on Pennsylvania citizens – not businesses. For example, PennFuture considers these to be subsidies of Big Oil and Gas:
$1 Billion because Pennsylvania does not levy the 6 percent sales tax on the sale of gasoline and diesel. This calculation conveniently ignores that Pennsylvania imposes the highest liquid fuels tax in the nation in lieu of a sales tax. It is difficult to comprehend how not imposing a 6 percent sales tax on consumers at the pump – because Pennsylvania already has a separate gasoline tax – constitutes a subsidy for the fossil fuel industry. READ MORE
2021-22 State Budget, COVID-19 and Relief for Small Businesses Discussed During GSVCC Event
Recently, I was the featured speaker for a virtual legislative update with the Greater Susquehanna Valley Chamber of Commerce (GSVCC).
The event, titled "Rise & Shine: It's Budget Time" is part of a series of early morning briefings hosted virtually by the GSVCC Transportation and Governmental Affairs Committees. Registration was free and open to the general public.
During the discussion, I discussed a number of important matters including deliberations surrounding the 2021-22 state budget, as well as important workforce-related information provided by the Center for Rural Pennsylvania and the impact of COVID-19 on rural communities.
It is absolutely mind-boggling that Governor Wolf is proposing a massive increase of more than $3 billion that comes directly out of Pennsylvanians' paychecks at a time when many families and small employers are struggling just to get by. The Personal Income Tax hike would increase the amount of state tax paid out of many Pennsylvanians' paychecks by a staggering 46 percent. If you check your pay stub and find the line for state taxes, and you want to pay 46 percent more, then Governor Wolf's plan is for you. The entire approach of this budget shows how out of touch the governor is with main street and blue-collar workers. READ MORE
135th Annual Williamsport / Lycoming Chamber of Commerce Meeting Held

Senator Yaw virtually participating in the 135th Annual Williamsport / Lycoming Chamber of Commerce Meeting Tuesday held at Bald Birds Brewing in Jersey Shore. 2020 ended up being a year in our lifetime that we will not forget. This was the second pandemic that the Williamsport/Lycoming Chamber of Commerce has faced in its 135 years. There were no awards presented or a thorough review of all that the Chamber did to assist businesses through the challenges faced in 2020. Instead, the Chamber shared a video featuring small businesses in Lycoming County, highlighting their struggles and celebrating the manner in which they continue to drive forward in the face of this adversity.
Lawmakers Authorize Use of PA National Guard to Distribute COVID-19 Vaccine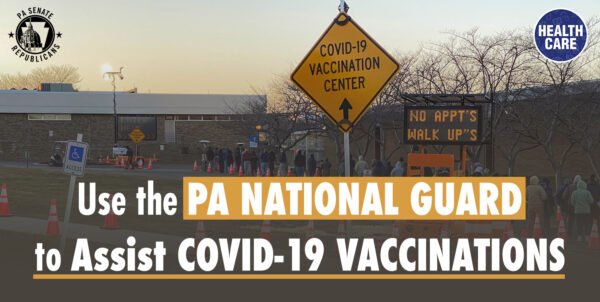 The Senate voted recently to authorize the use of the Pennsylvania National Guard to distribute the COVID-19 vaccine. The bill would allow the National Guard to operate under the guidance of the Pennsylvania Departments of Health and Human Services to help collect, secure and transport doses of the vaccine.
In addition, National Guard members who have the necessary training would be permitted to administer the vaccine to Pennsylvanians who want to receive it. The proposal could help improve Pennsylvania's troubled roll-out of the COVID-19 vaccine. The state currently ranks 46th in the nation in terms of the percentage of distributed vaccines that have been administered.
Senate Approves Bill to Generate More Private Donations to Support Veterans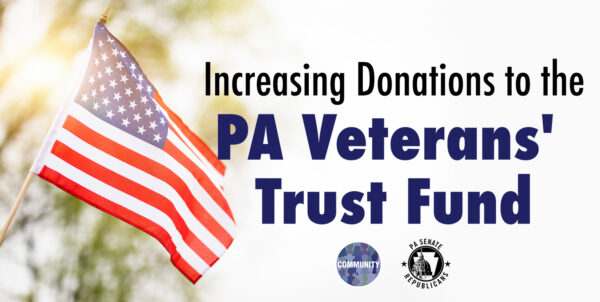 Pennsylvanians could donate more money to help veterans under a bill the Senate approved on Wednesday. The legislation would increase the donation amounts to the Veterans' Trust Fund when Pennsylvanians renew a driver's license, ID card or vehicle registration.
The bill would increase the donation amount from $3 to $5, or from $6 to $10 when applying for a two-year vehicle registration. All donations support grants to county directors of veterans' affairs, veterans' service organizations and other charitable organizations that provide assistance, shelter and living necessities to veterans and their families.
Legislation Would Create Medals of Commendation for Firefighters, Law Enforcement, EMS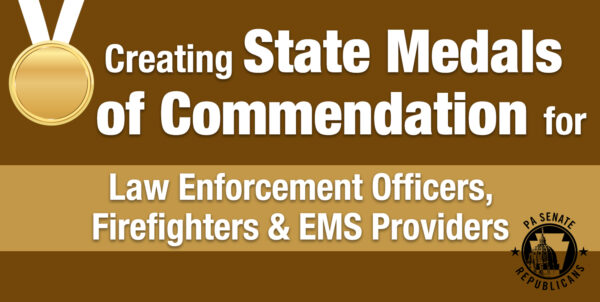 The Senate passed legislation this week that would create a new way to honor members of law enforcement, firefighters, and EMS personnel who demonstrate uncommon heroism in the line of duty. The bill would establish special medals of commendation to be awarded to members of these organizations who are injured or killed in the line of duty, or who demonstrate exceptional gallantry, heroism and bravery in the face of life-threatening circumstances.
The color of each medal – the Star of Valor, Heart and Medal of Ultimate Sacrifice – would coordinate with the respective program: blue for law enforcement, red for firefighters, and white for EMS personnel.
Senate Passes Bill to Boost Farmland Preservation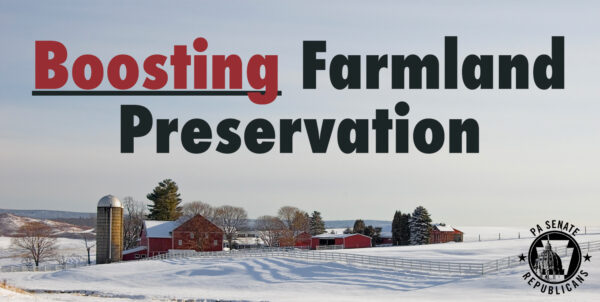 Pennsylvania's farmland preservation efforts could take a critical step forward under legislation approved by the Senate on Tuesday. The bill would help generate new funding for the program without placing additional burdens on taxpayers.
The legislation dedicates a portion of existing farmland preservation funding to private land trusts – groups that take stewardship over a property with the permission of the landowner. Land trusts would be required to provide matching funds, which would make more resources available to preserve farms.
Mixed Earners Unemployment Compensation Claimants Must File by March 12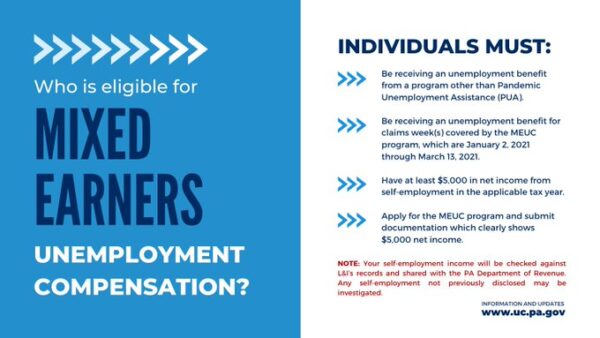 The Mixed Earners Unemployment Compensation program provides an additional $100 in weekly benefits for claimants who earned at least $5,000 in net income from self-employment. Claimants must submit acceptable documentation by March 12 to receive the extra benefits. The additional benefit applies from January 2 through March 13.
Pandemic Unemployment Assistance claimants are not eligible for the program. Details on the program, applicable tax years and documentation are available here.
In Case You Missed It…
Senate Committees Plan Hearing on the State of Education, One Year Into COVID-19…The Senate Education Committee and the Senate Health and Human Services Committee will hold a joint public hearing on Wednesday, March 3 at 10 a.m. to explore the many challenges schools have been forced to confront during the COVID-19 pandemic. The hearing will feature virtual testimony from participants and will be streamed live at www.pasenategop.com.
Senate, House Republican Leaders Decry Wolf's Prejudicial Language in Ballot Questions…Calling the questions politically charged and prejudicial, Senate and House Republican leaders decried the Wolf Administration's ballot language asking voters if the state constitution should be amended to limit future emergency declarations to 21 days unless extensions are approved by the General Assembly. READ MORE
Senate Committee Advances Measures to Support Workforce Development, Combat Opioid Crisis… The Senate Labor and Industry Committee approved several bills last week to promote workforce development and fight back against Pennsylvania's opioid epidemic. READ MORE
Senate, House State Government Committees to Hold Joint Hearing on Census… The Senate State Government Committee held a joint hearing with the House State Government Committee on Wednesday, February 24, 2021 on how the anticipated delays in the 2020 Census could impact Pennsylvania's redistricting and reapportionment process. READ MORE
Sen. Yaw Applauds Protection of Union County Farm for Agriculture Production… The Richard O. Grace, Michael and Jamie Noll Farm, a 105-acre crop operation in Mifflinburg, will be protected from future residential, commercial or industrial development. READ MORE
Congratulations Tom! Canton's Hojnowski honored with 2021 Northern Region Golden Owl award… On Feb. 22, Hojnowski was recognized with the 2021 Golden Owl Award, an award established by Nationwide in 2018 to honor top agricultural educators across the country. Read more in the Towanda Daily Review