Dear Friends,
Hello! Thank you for subscribing to my E-newsletter. I am honored to serve the 23rd Senate District and look forward to working with you toward building a better future for Pennsylvania!
This E-newsletter serves to keep you updated on what is happening throughout Bradford, Lycoming, Sullivan, Tioga and Union counties and what I am doing as your state senator in Harrisburg. I hope that you will find this E-newsletter helpful, and if you have any questions or concerns, please feel free to contact me.
Gene Yaw
State Senator
www.SenatorGeneYaw.com

DEADLINE APPROACHING
Municipal Leaders Grant & Resource Workshop Set for March 12th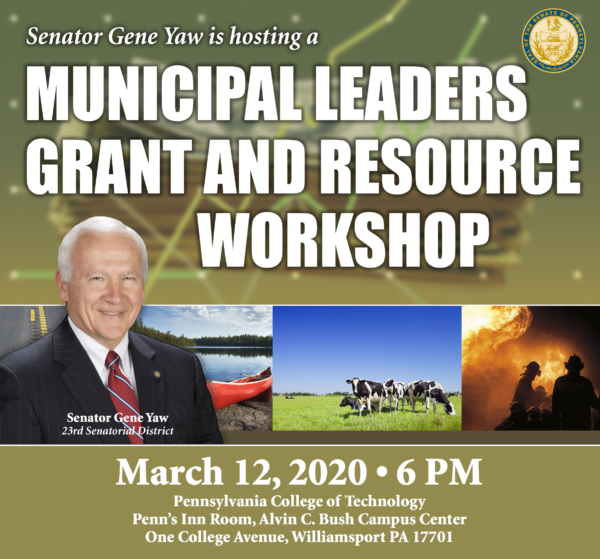 If you are an elected municipal government official or staff working in Bradford, Lycoming, Sullivan, Susquehanna or Union counties, I am inviting you to attend my "Municipal Leaders Grant and Resource Workshop," which will be held Thursday, March 12th in the Penn's Inn Room inside the Campus Center at Pennsylvania College of Technology in Williamsport. There is no cost for the event. Registration opens at 5:30PM with the program beginning at 6PM. Light refreshments will be provided. The event will feature discussion from several state agencies.
SIGN UP TODAY: https://www.senatorgeneyaw.com/funding-workshop/
Talking Chesapeake Bay, MS4 with PA Secretary of Agriculture Russell Redding
During Monday's PA Senate Budget hearing with the Pennsylvania Department of Agriculture, I questioned Sec. Redding about efforts to meet the EPA's Chesapeake Bay watershed requirements and the impact of MS4 on farmers.
Discussing Penn State University Ag Research & Ag Extension
Each year, Governor Wolf "zeros" out the budgets for research, promotion and education, just to name a few of the programs. This is a game the governor plays every year. He cuts or zeros out funding every year and the legislature then adds it back in. That is how the governor appears to get money to fund some of his social programs. For more on this, click here.
Additionally, during today's hearing, I inquired with PSU Dean Richard Roush on what farms need to do to reduce and/or improve sediment and nitrogen runoff, as well as how to encourage best practices to protect our waterways.
In the News ….
Democrat candidates continue to push a liberal agenda that includes a ban on natural gas development. Just a few important points to keep in mind before the candidates converge on Pennsylvania…..45% of the natural gas produced in Pennsylvania is produced in Bradford, Lycoming, Sullivan and Susquehanna counties; approximately 10% of all the natural gas produced in the United States is produced in these four counties; and Susquehanna County, if it were its own state, would be the 8th largest producing state in the nation. More to come on this……
Protecting your health…….The CDC continues to respond to an outbreak of respiratory disease commonly known as Coronavirus or COVID-19. This was first detected in China, but cases have been diagnosed worldwide, including here in the United States. Although there is currently no vaccine to prevent coronavirus disease 2019 (COVID-19), researchers are working on this. (www.cdc.gov). Please review the PA Dept. of Health website for information and regular updates.
Last month, the Roman Catholic Diocese of Harrisburg filed for bankruptcy under Chapter 11 of the United States Bankruptcy Code. This bankruptcy filing puts a mandate on victims of abuse who may still not have come forward. While no new lawsuits can be filed against the Diocese during this time, and any pending lawsuits must come to a halt, victims of abuse could still file a Proof of Claim, a legal filing asserting their right to receive payment. More information can be obtained by contacting an attorney for guidance.
Beginning March 18th, the Senate Environmental Resources & Energy Committee will take a closer look at the Regional Greenhouse Gas Initiative (RGGI). We will collect information on RGGI and the potential impacts on PA's diverse energy portfolio and the jobs it sustains. We expect to hear about the impacts on consumers, the utilization of Pennsylvania's diverse energy portfolio by current RGGI participants and the overall implementation of carbon reduction plans in the state.
TUNE-IN…..On March 3rd, beginning at 10AM, the Senate Appropriations Committee will hear from the State-Related Universities (Lincoln University, Pennsylvania State University, Temple University and University of Pittsburgh); as well as DCNR at 1PM and the Pennsylvania College of Technology, Thaddeus Stevens College & Community Colleges beginning at 3PM. Tune-in here.
…….on March 4th, the following agencies will join the Appropriations Committee for a budget discussion: DEP – 10AM; PA Professional Liability Joint Underwriting Association – 1PM; and Budget Office & Governor's Executive Office at 3PM.
Election Day Information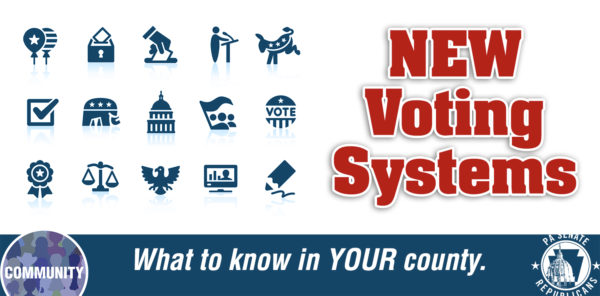 Ahead of the April 28 primary, voters can learn specifics about their county's voting system and how to use it. Choose your county and view a description of its voting system, along with photos and videos providing a step-by-step process of how to use the system. To learn more, click here.
DCED Opens Alternative and Clean Energy Program
The Alternative and Clean Energy Program provides financial assistance that will be used by eligible applicants for the utilization, development, and construction of alternative and clean energy projects in the Commonwealth.
DCED is currently accepting grant and loan applications from eligible applicants. Loans or combined grant and loan financing may not exceed $5,000,000 or 50% of the total project cost, whichever is less. Grant eligibility varies by project type.
Who Can Apply:
Municipalities
School Districts
Economic Development Organizations
Businesses
For full program guidelines and to apply, visit the DCED website.