Dear Friends,
Hello! Thank you for subscribing to my E-newsletter. I am honored to serve the 23rd Senate District and look forward to working with you toward building a better future for Pennsylvania!
This E-newsletter serves to keep you updated on what is happening throughout Bradford, Lycoming, Sullivan, Tioga and Union counties and what I am doing as your state senator in Harrisburg. I hope that you will find this E-newsletter helpful, and if you have any questions or concerns, please feel free to contact me.
Gene Yaw
State Senator
www.SenatorGeneYaw.com

March 15, 2019
"An early-morning walk is a blessing for the whole day."
-Henry David Thoreau
State Senate Returns to Voting Session Monday, March 18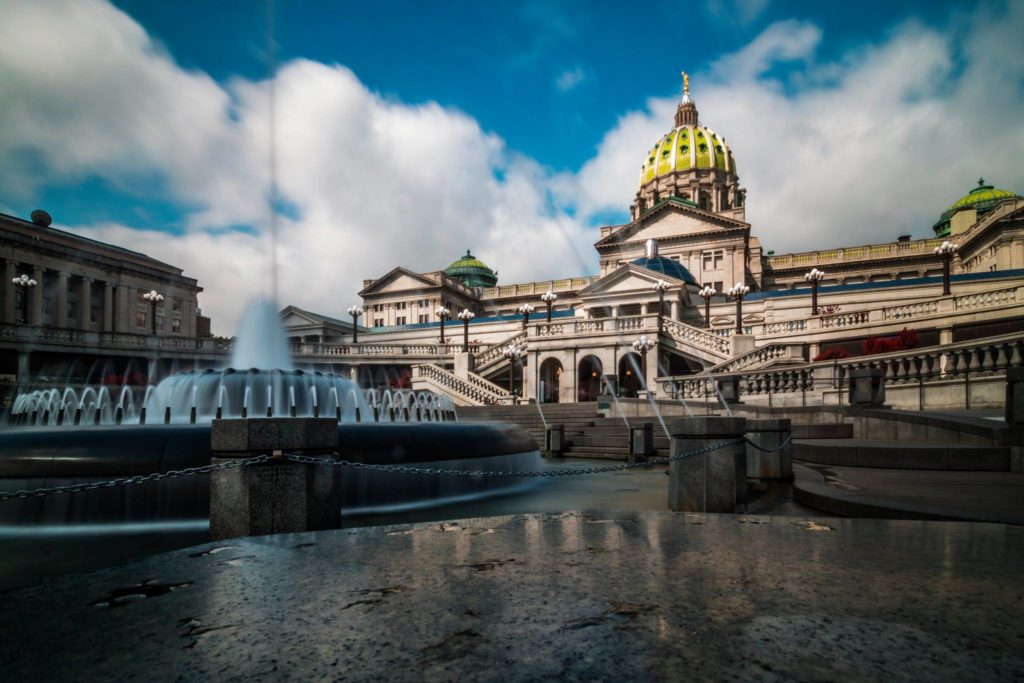 The state Senate will reconvene on Monday, March 18th at the State Capitol. The Senate's Legislative Calendar is updated each day the Senate is in Session. The calendar identifies bills and resolutions awaiting Senate floor actions. To preview the meetings and hearings, visit online.
Legislative Action This Week….
Separating PIAA Sports Playoffs for Public, Private Schools
I will be introducing legislation separating sports playoffs between traditional public schools (boundary schools) and private, parochial and charter schools (non-boundary schools). Under my legislation, boundary schools are defined as school districts which are governed by a board of school directors duly elected pursuant to the Public School Code of 1949 and the Pennsylvania Election Code.
This change addresses the competitive imbalance and unfairness which results from the ability of non-boundary schools to enroll students from anywhere in the state as well as from out of state. Boundary schools, on the other hand, are limited to students within the municipal boundaries of the school district.
While the PIAA has been aware of the inequities in its current system and undertaken some attempts to put fairness into its competition and playoffs systems, more needs to be done immediately.
Protections for Student Sexual Assault Victims
Legislation will soon be introduced in the state Senate that would mandate the expulsion of any student who is convicted or adjudicated delinquent of sexual assault against a student in the same K-12 school district, at the victim's request.
The legislation is being introduced in response to a situation in which a young woman was raped by her classmate. The assailant was charged and adjudicated for the crime, but when he returned from his sentence, the victim had to attend school with her attacker on a daily basis.
What We're Watching…
PPL Electric Utilities President Greg Dudkin & Pennsylvania Chamber of Business and Industry President and CEO Gene Barr in separate messages this week commented on state legislation that would alter Pennsylvania's Alternative Energy Portfolio Standards Act to require electric utilities to purchase 50 percent of customer demand from nuclear energy. Both noted that the legislation, as presently proposed, would impose greater costs on Pennsylvania residents and businesses, stifle private sector innovation in the energy sector and threaten the Commonwealth's role as leader in energy production and manufacturing.
Lt. Gov. John Fetterman continues his 67 county recreational marijuana 'listening tour'…The LG is gauging public opinion on the controversial issue. At the present time, I am opposed to any legalization for recreational use.
DEP announced today that it is conducting a five-year environmental surveillance of ticks to assess the risk of tickborne illnesses across Pennsylvania. The survey, which started in July 2018 in coordination with county governments, is part of the Pennsylvania Lyme Disease Task Force recommendations for combatting the growing incidence of Lyme and other tick-borne diseases. It is funded annually through the state budget.
In our region… PennDOT recently received environmental clearance from the Federal Highway Administration (FHWA) for the realignment of roughly two miles of the Central Susquehanna Valley Transportation (CSVT) Project's Southern Section. With environmental clearance issued, PennDOT must now complete final design, right-of-way acquisition, utility relocations and permitting prior to starting construction of the Southern Section. Based on the estimated time necessary to complete those activities, construction is expected to begin in 2022. The subsequent earthwork, bridge construction and paving is anticipated to be completed and the new highway opened to traffic by 2027.
Increased liquid fuels distribution to municipalities for local roads and bridges…. PennDOT has committed $500.7 million in liquid fuels payments to help certified municipalities maintain their roads and bridges. The March 1 distribution marked an $11.7 million, or 2.4 percent, increase over the $489 million distributed in 2018. Act 89 of 2013 made more funding available for locally owned roadways. Before the law, municipalities received $320.8 million in liquid fuels payments.
Touring ADS in Muncy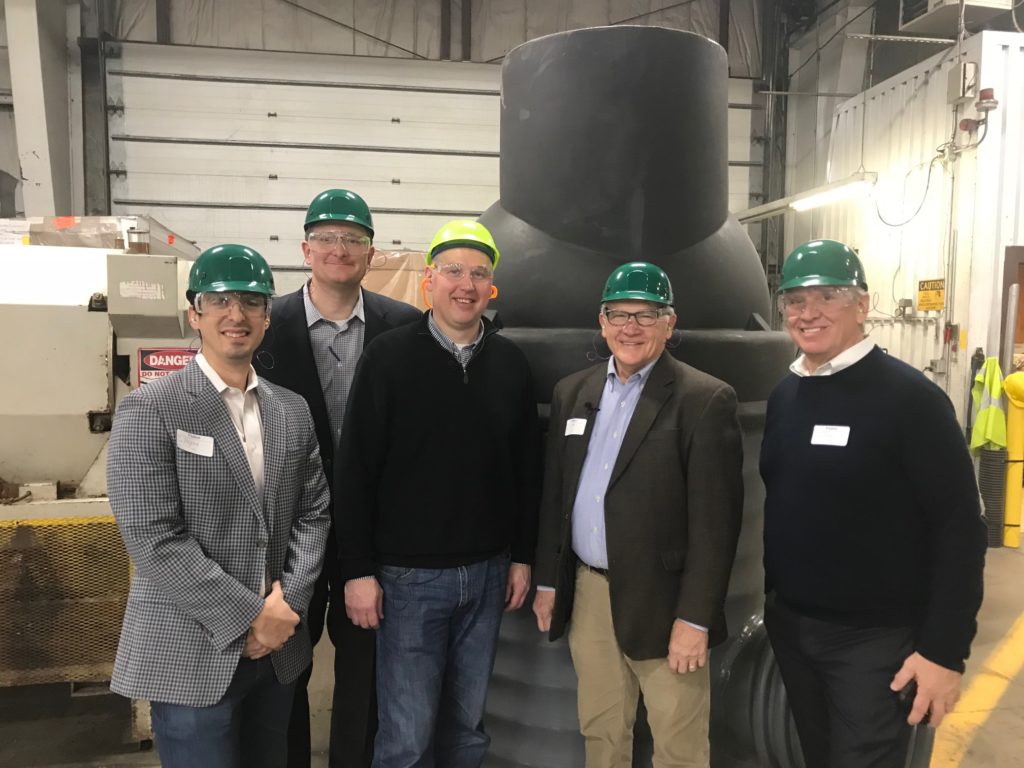 I recently visited Advanced Drainage Systems, Inc. (ADS) manufacturing plant in Muncy to speak with executives on fair and open competition for products used in federal and state projects. ADS manufactures high-density polyethylene (HDPE) and polypropylene (PP) pipe in diameters up to 60 inches for storm water drainage and sanitary sewer systems.
When open competition is allowed, material costs for public projects can drop dramatically and also provide the best possible product. Across the country, open competition could save $22.3 billion for storm water in pipe material costs during the next 10 years.
Additional information about ADS and its products can be found at www.ads-pipe.com.
Combatting Human Trafficking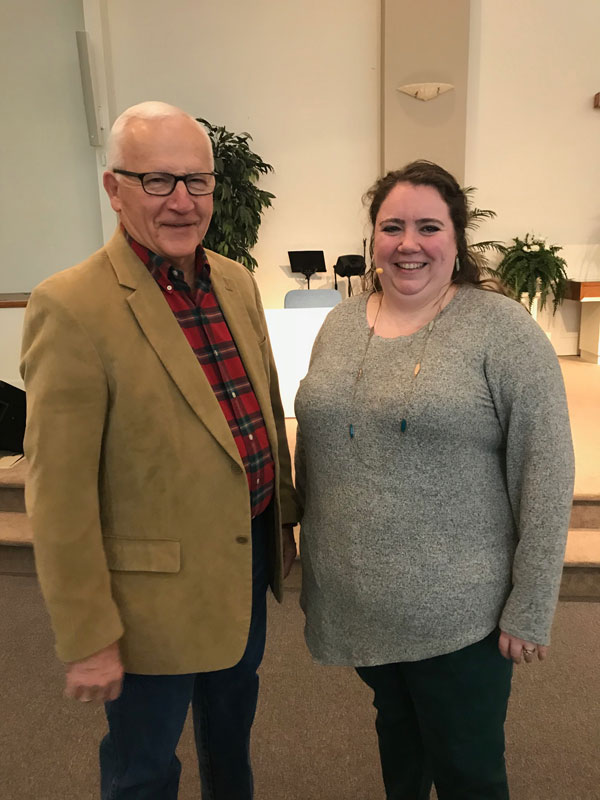 Senator Yaw joins Alana Opdahl, Program Director for Oasis of Hope, during the human trafficking seminar in Montoursville.
Although it sounds impossible to believe, human trafficking could be happening in our neighborhoods. It is considered to be one of the fastest growing criminal industries in the world. Over the weekend, I attended Oasis of Hope's seminar on Human Trafficking. Oasis of Hope exists to restore survivors' lives through faith based safe homes and to increase awareness of trafficking in America. To learn more about Oasis of Hope, visit their website at https://www.oasisofhopeusa.org/.
PCN to Air Three Days of Opioid Awareness Programming
NEXT WEEK: The Pennsylvania Cable Network (PCN) is airing three nights of FREE programs on opioid addiction and treatment with original programs and public affairs presentations. I will join PCN host Francine Shertzer for "On The Issues," a program that gives viewers a deeper understanding of topics being debated by lawmakers at the Capitol. Watch on cable, the PCN App, or online at pcntv.com.
7PM Call-In Program – Jennifer Smith, Drug & Alcohol Programs Secretary
8PM On The Issues – Senator Gene Yaw, Opioid Addiction Legislation
8:30PM Opioid Addiction & Treatment: Independence Blue Cross Foundation – Early intervention, quality opioid abuse treatment, and removing barriers to recovery
1:10AM Availability of Naloxone in State Parks & Forests – PA Conservation & Natural Resources Sec. Cindy Dunn, PA Health Sec. Rachel Levine, and Bureau of State Parks news conference.
"Battling Opioids" to Address Effects of Opiate Crisis on Pennsylvania's Children, April 11th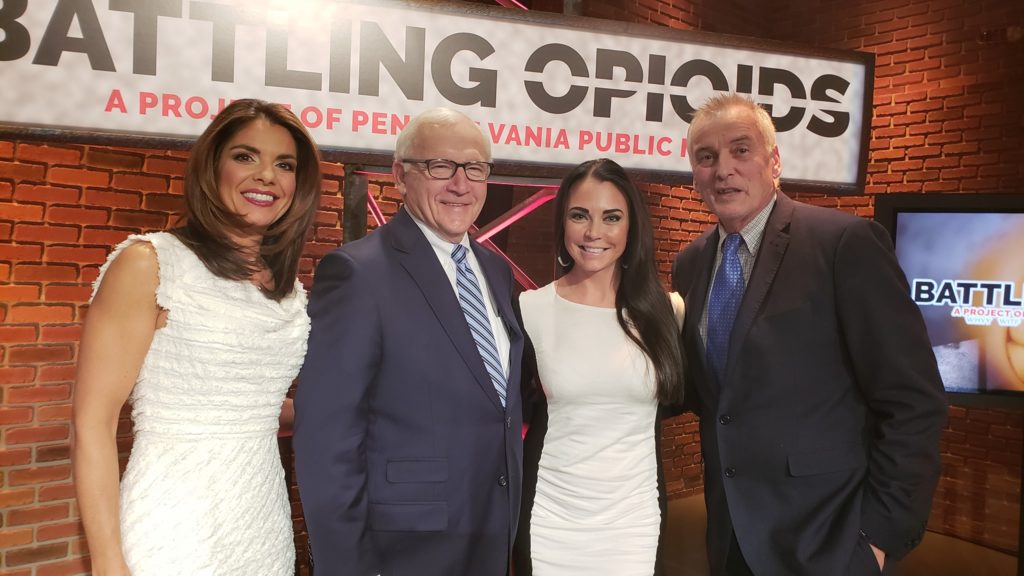 c
Senator Yaw sat down with WVIA's Paola Giangiacomo for the next segment in the "Battling Opioids" Series at WVIA studios in Pittston.
In the second program in an award-winning series, Pennsylvania's Public Media networks will focus on children and families in "Battling Opioids: Part 2," airing statewide at 8 p.m. on Thursday, April 11. The television program will feature a 30-minute newsmagazine of stories from across the Commonwealth followed by a panel discussion that addresses the profound impact of the ongoing crisis on children.
In Other News….
The deadline to apply for ATV and Snowmobile trail grants through DCNR is Friday, March 29 at 4PM. Eligible projects are planning, land acquisition, development, rehabilitation, maintenance, equipment purchase for maintenance or construction, and educational programs. There is no match requirement for this funding; however, applications that provide match funding will be given additional consideration. To learn more, click here.
Seven new PA specialty license plates authorized by the General Assembly are now available. Proceeds from a "Distracted Driving" plate will fund education campaigns on the dangers of distracted driving. "Honoring Women Veterans" plate sales will support programs for women veterans in Pennsylvania. Five other new military plates are available as well. To learn more, click here.
Groups posing as charitable organizations and using a tax deduction as bait, and unscrupulous tax preparers overstating deductions are part of the "Dirty Dozen" tax scams to look out for this tax season. The IRS lists more tax season scams to look out for. To learn more, click here.
Post of the Week: