Dear Friends,
Hello! Thank you for subscribing to my E-newsletter. I am honored to serve the 23rd Senate District and look forward to working with you toward building a better future for Pennsylvania!
This E-newsletter serves to keep you updated on what is happening throughout Bradford, Lycoming, Sullivan, Tioga and Union counties and what I am doing as your state senator in Harrisburg. I hope that you will find this E-newsletter helpful, and if you have any questions or concerns, please feel free to contact me.
Gene Yaw
State Senator
www.SenatorGeneYaw.com

"When you take care of your effort and intention, with a little bit of luck, outcome will follow."
Under the Dome: This Week
State Senate Convenes at 1PM – WATCH LIVE

Senate Judiciary Committee to Hold Public Hearings on Pending Criminal Justice Reforms
The Senate Judiciary Committee, of which I am a member, will hold a public hearing on March 19th to discuss a number of criminal justice reform measures that are pending before the Senate. The hearing will take place from 9:30AM to 1PM in North Office Building Hearing Room 1. The Judiciary Committee will also meet later in the day to consider the bills. A second hearing will take place on March 26th.
Since the enactment of criminal justice reforms in 2012, the Commonwealth has saved over $400 million and reduced our inmate population by more than 3,300 which was projected to continue to increase. We have also seen a reduction in crime during the same period. The Committee is not only looking into further cost savings, but also measures that improve justice such as expanding post-conviction DNA testing and compensation for the wrongfully convicted.
To watch LIVE, click here.
Public Hearing to Consider Nominations and Confirmations of Teresa Miller, Jennifer Smith and Rachel Levine
The Senate Health and Human Services Committee will hold a public hearing on March 19th to consider the nominations and confirmations of the Pennsylvania Department of Human Services Acting Secretary Teresa Miller; Department of Drug & Alcohol Programs Acting Secretary Jennifer Smith and the Department of Health Acting Secretary Rachel Levine. The hearing will begin at 10:30AM in Room 8-EB, North Office Building.
Public Hearing to Consider the Nomination of Jessica Altman for Commissioner of the Insurance Department
The Senate Banking and Insurance Committee, of which I am also a member, will hold a public hearing on Tuesday, March 20th to consider the nomination of Jessica Altman to serve as the Commissioner of the Pennsylvania Insurance Department. The hearing will begin at 10AM in Room 461.
Joint Public Hearing on Pipeline Safety
On Tuesday, March 2oth, I will join Senator Tommy Tomlinson, Chairman of the Senate Consumer Protection and Professional Licensure Committee for a joint public hearing with the Senate Environmental Resources and Energy Committee to discuss pipeline safety in Pennsylvania.
The hearing will begin promptly at 11AM in North Office Building Hearing Room 1 and can be viewed by visiting my website, click here. An agenda is also available on the site.
You're Invited: Telephone Town Hall Set for Today, 6PM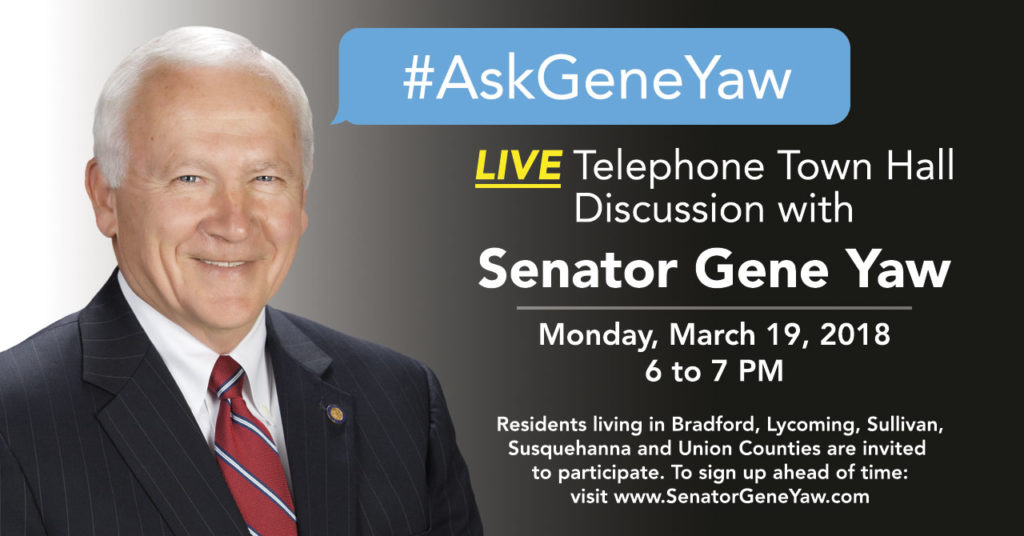 My Telephone Town Hall Discussion will take place today, beginning at 6PM. I am inviting residents living across Bradford, Lycoming, Sullivan, Susquehanna and Union counties to join the conversation to discuss Governor Wolf's 2018-19 proposed state budget, as well as other important state-related issues.
The telephone town hall format allows community residents to participate in a discussion on state issues without the need to travel throughout the region. Participants may ask questions or simply remain on their phone line to listen to the conversation. Residents can sign up for the event in advance by visiting my website at www.senatorgeneyaw.com. Twitter users can also tweet questions using the hashtag #AskGeneYaw.
For more information, residents may contact my office toll-free at 1-800-443-5772.
Unclaimed Property Returning at Historic Rate
$22,127,977.06 In Unclaimed Property Could be Claimed by Residents Throughout 23rd Senate District
A historic $254 million in unclaimed property was returned to its rightful owners during 2017, according to the Pennsylvania Treasury.
In fact, the agency saw a 34 percent increase in returned property between 2016 and 2017 and is encouraging everyone to search the Bureau of Unclaimed Property website. Those unable to access the website may contact the Bureau at 800-222-2046 to begin their search.
Uncashed checks join forgotten bank and savings accounts, certificates of deposit, and stocks as intangible unclaimed property. Abandoned safe deposit boxes and police evidence are considered tangible property as are items from institutions, such as colleges, hospitals, and nursing homes. Complete and mail your claim forms to the Bureau of Unclaimed Property, P.O. Box 1837, Harrisburg, PA 17105-1837.
PennDOT Accepting Applications for 2018-19 Multimodal Transportation Fund Round
PennDOT is now accepting applications for transportation improvements under the FY 2018-19 Multimodal Transportation Fund (MTF) round. This Program is intended to provide financial assistance to municipalities, councils of governments, school districts, businesses, economic development organizations, public transportation agencies, rail freight/passenger rail entities, and ports in order to improve transportation assets that enhance communities, pedestrian safety and transit revitalization.
To apply for funding, the applicant must submit an application for the PennDOT Multimodal Transportation Fund online at: https://spportal.dot.pa.gov/Planning/AppReg/MTF/Pages/default.aspx
Grants are available for projects with a total cost of $100,000 or more. Grants will not normally exceed $3,000,000. Financial assistance under the Multimodal Transportation Fund shall be matched by local funding in an amount not less than 30% of the amount awarded. Applications are due by 5 p.m. on March 30, 2018. PennDOT expects to announce grant recipients for the FY 2018-19 round sometime in late 2018.
For eligible sponsors interested in also applying to the PA Department of Community & Economic Development for the Multimodal Transportation Fund grants that it manages, see this link:
https://dced.pa.gov/programs/multimodal-transportation-fund/. The DCED Multimodal Fund round is open for applications until July 31, 2018.
Reminder: Upcoming Satellite Outreaches in Bradford County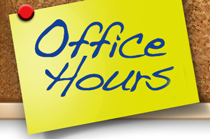 As a means to better serve the residents of the 23rd Senatorial District through increased outreach efforts, I have scheduled the following outreach hours and locations that will provide better opportunities for area residents to meet directly with a member of my staff.
Satellite Hours and Locations:
Wednesday, March 21, 2018
10AM-12PM
Towanda Library
104 Main Street
Towanda, PA 18848
Thursday, March 22, 2018
3PM-5PM
Green Free Library
38 North Center St.
Canton, PA 17724
Satellite hours and locations will be announced monthly and can be viewed by visiting my website at www.senatorgeneyaw.com.
Residents are encouraged to visit any of the satellite locations during scheduled office hours. Walk-ins are welcome, but appointments are recommended.