Dear Friends,
Hello! Thank you for subscribing to my E-newsletter. I am honored to serve the 23rd Senate District and look forward to working with you toward building a better future for Pennsylvania!
This E-newsletter serves to keep you updated on what is happening throughout Bradford, Lycoming, Sullivan, Tioga and Union counties and what I am doing as your state senator in Harrisburg. I hope that you will find this E-newsletter helpful, and if you have any questions or concerns, please feel free to contact me.
Gene Yaw
State Senator
www.SenatorGeneYaw.com

Click here to find the latest information on coronavirus from the Pennsylvania Department of Health and the Centers for Disease Control and Prevention
We Must 'Go Honest' to 'Go Green'
This week, the Wolf Administration announced an initiative intending to utilize seven new solar arrays in Columbia, Juniata, Montour, Northumberland, Snyder, and York counties to generate upward of 50 percent of state government's electricity, totaling 191-Megawatts (MW).
Don't misunderstand my position. Solar does have a role to play in our energy future, but it's time to stop pretending that it, along with wind energy, can provide the benefits of coal, oil and natural gas, with none of the negative effects.
I have said repeatedly, I favor a diverse energy portfolio. I am not against any energy source. What I am against is the failure to recognize what "clean" energy really entails. There is a manufacturing process, which is totally ignored. Further, the intermittent nature of wind and solar requires a duplicate generation system powered by coal, gas or nuclear.
I have two combined cycle gas fired power plants in my district, which produce 825 MW of electricity each for a total of 1,650 MW of electricity day and night irrespective of the weather conditions. The total acreage for both of these power plants is approximately 40 acres. To produce that much intermittent solar power, about 12,000 acres of panels would be required. Adding 191 MW of solar, as proposed by the Governors new plan, could likely occupy 1,337 acres of open farmland.
Senate Judiciary Committee Advances District Attorney Modernization Bill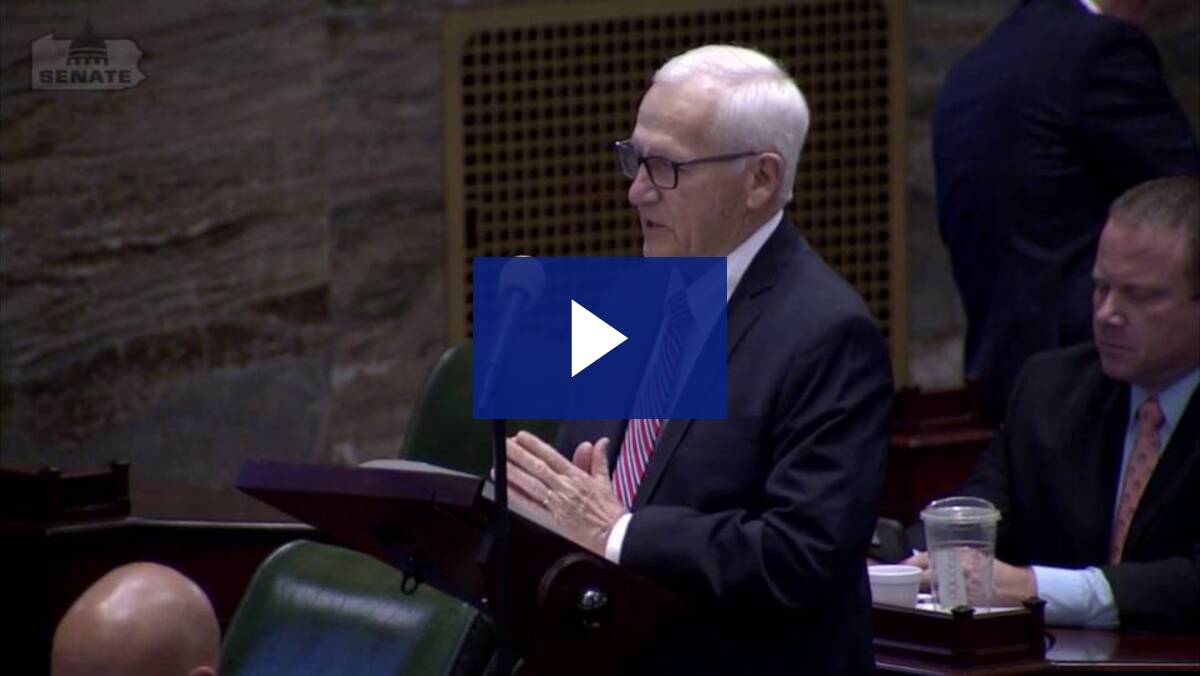 As we continue conversations about criminal justice reform, a new state Senate bill I sponsored would clarify the statutory requirements for individuals who hold the office of District Attorney in Pennsylvania.
My bill, Senate Bill 420, focuses on a District Attorney holding a valid license to practice law in the Commonwealth of Pennsylvania from the time of election throughout the term of office. On Tuesday, the Senate Judiciary Committee unanimously advanced the bill to the full Senate for consideration.
Area Municipalities Participate in Virtual Senate Grants Workshop
[L to R: Chris Yniquez & Joe Marsicano of the Pennsylvania Senate Republican Caucus 'Grants Team' recently facilitated a discussion with municipalities across the 23rd Senate District]
On Tuesday, March 18th, I hosted a grants workshop for municipalities and elected officials across Bradford, Lycoming, Sullivan, Susquehanna and Union counties. The workshop highlighted a number of potential state, federal and foundational grant opportunities that can be utilized by many of our communities. My office stands as a resource to any municipality who is looking to obtain state funding for projects.
Please reach out to my Williamsport District Office at 570-322-6457 if you would like an updated 2021 Municipal Leaders Grant & Resource Guide or a First Responders Funding & Resource Guide.
In the News…
After Wolf's Blunder, Senate Votes to Support Victims of Childhood Sexual Abuse…The Senate this week re-started the process to amend the Pennsylvania Constitution to allow victims of childhood sexual abuse to file lawsuits against their abusers even if the statute of limitations had expired. The resolution would address the issue after an egregious blunder by the Wolf Administration will prevent the amendment from appearing on the ballot in the spring primary election on May 18. Lawmakers approved a proposed Constitutional amendment that would create a two-year window for retroactive lawsuits for victims whose statute of limitations has already expired.
COVID-19 Restrictions Relaxed on Businesses, Gatherings Effective April 4… Governor Wolf finally announced that several restrictions on businesses and gatherings would be relaxed effective April 4. Some of the changes include: Increasing indoor dining capacity to 75 percent for restaurants that self-certify compliance; Allowing bar service and alcohol service without the purchase of food; Removing the curfew on serving alcoholic drinks; and increasing occupancy for gyms, entertainment facilities and personal services facilities. In addition, occupancy limits will be increased to 25 percent for indoor venues and 50 percent for outdoor venues, regardless of size.
Bipartisan Election Integrity Committee Meets to Gather State and Local Insights…The bipartisan Special Committee on Election Integrity and Reform held its second public hearing on Tuesday to gather testimony on the administration of the election from state and local officials, including representatives from the Department of State, county election officials and county commissioners. State residents are encouraged to submit their thoughts and comments through the online form.
Budget Hearings Focus on Job Creation, Broadband, Corrections Costs…The Senate Appropriations Committee continued to study Governor Wolf's 2021-2022 budget proposal on Monday with budget hearings with the Department of Community and Economic Development (DCED), the Department of Corrections and the Board of Probation and Parole. Budget hearings are scheduled to continue on April 6.
Personal Income Tax Filing Deadlines Extended to May 17…The deadline for taxpayers to file their state and federal personal income tax returns has been extended from April 15 to May 17. The extension provides additional time for taxpayers to navigate the difficulties stemming from the COVID-19 pandemic. The extension applies both to tax filing and payments.
Pennsylvania taxpayers can now file their state personal income tax returns online at mypath.pa.gov
A Candid Conversation About Energy, the Economy and the Environment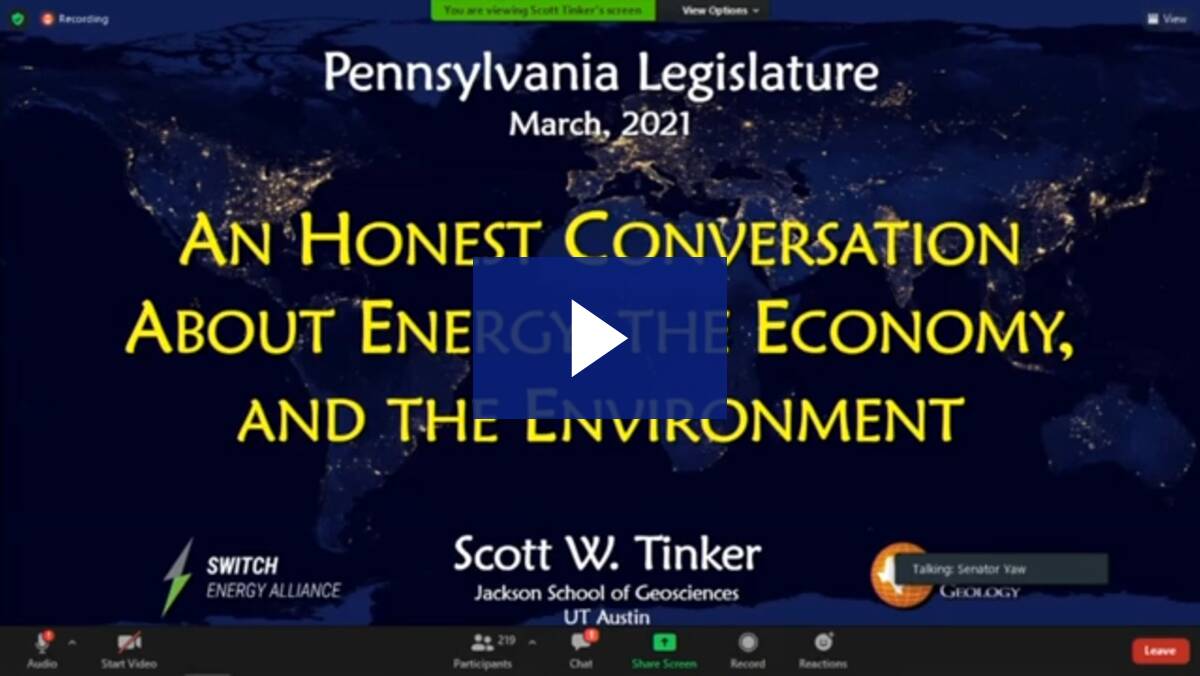 Without question, economies across the globe are directly linked to energy, including right here in Pennsylvania. Many times, when there is a spike in energy costs, the economy suffers. Wealth and the connection to affordable, reliable energy are also linked. Investment in the environment, depends on a healthy economy.
These 'energy realities' were the focus of a program I hosted this week with Dr. Scott W. Tinker. Dr. Tinker is the director of the 250-person Bureau of Economic Geology at The University of Texas. He is also the State Geologist of Texas. Considering the issues we face here in Pennsylvania, an understanding of the interrelationship of energy, economy and environment are invaluable.
CONGRATULATIONS LANCERS!
Loyalsock Headed to State Championship After Defeating Math, Civics and Sciences
The Loyalsock Township boys basketball team will face the Brookville Raiders on Saturday, March 27, 2021 for the PIAA Class AAA state championship after defeating Math, Civics and Sciences, 83-70, capturing the Eastern Region championship!
Tip-off for the championship game will be 2:30 PM at Giant Center in Hershey, PA. Tickets are limited and presale information has been distributed to families and staff. Unsold tickets will be made available for public sale on Friday, March 26th at 4:00 PM through TicketMaster.
What: PIAA Class AAA Boys Basketball Championship
When: Saturday, March 27, 2021 at 2:30 PM
Where: Giant Center – Hershey, PA
Who: Loyalsock Township Lancers (D4) vs. Brookville Raiders (D9)
Tickets: TicketMaster (public sale begins 3/26 at 4pm)
How to watch:
Cable – Pennsylvania Cable Network (PCN)
Streaming – Pennsylvania Cable Network (PCN Select account required)
Streaming – NFHS Network (NFHS Network subscription required)