Dear Friends,
Hello! Thank you for subscribing to my E-newsletter. I am honored to serve the 23rd Senate District and look forward to working with you toward building a better future for Pennsylvania!
This E-newsletter serves to keep you updated on what is happening throughout Bradford, Lycoming, Sullivan, Tioga and Union counties and what I am doing as your state senator in Harrisburg. I hope that you will find this E-newsletter helpful, and if you have any questions or concerns, please feel free to contact me.
Gene Yaw
State Senator
www.SenatorGeneYaw.com

"Courage is what it takes to stand up and speak.
Courage is also what it takes to sit down and listen."
Thank You for Participating in My Telephone Town Hall
I would like to thank everyone who took time out of their busy schedules on Monday to join me for my Telephone Town Hall Discussion. It was encouraging for me to learn that there were over 4,900 households across Bradford, Lycoming, Sullivan, Susquehanna and Union Counties listening and taking part in the program.
I took many questions from interested callers on topics ranging from school safety, to property tax reform efforts, to hunting on Sundays, to banning assault rifles, to concerns centered on the Pennsylvania Fish and Boat Commission and license fee increases, to natural gas companies and royalty payments, as well as the Governor's proposed 2018-19 budget.
While we may not agree on every topic, I will always speak honestly and hope you do the same. There are many important issues facing us, and at times compromise can be difficult, but I have always referenced an old quote by Ronald Reagan:
"The person who agrees with you 80 percent of the time is a friend and an ally – not a 20 percent traitor."
I appreciate the thoughtful questions that were asked, and I sincerely hope that you always reach out if there is ever any question or concern. If my office can be of assistance, please do not hesitate to contact me at 570-322-6457 (Williamsport) or 717-787-3280 (Harrisburg).
Again, thank you for participating in the discussion.
Senate State Government Committee to Hold Public Hearing on Redistricting Legislation
The Senate State Government Committee will hold a public hearing on a number of bills to change how Pennsylvania's redistricting process is conducted.
Senate Bill 22, Senate Bill 243, Senate Bill 464, and Senate Bill 767 are all proposed amendments to the Pennsylvania Constitution to change the process for how election lines are drawn.
Due to ongoing litigation involving the 2011 congressional maps, State Government hearings were postponed on the matter.
The Committee hopes the public hearing on possible redistricting changes will help to identify ways to better promote openness, transparency, and accountability.
The public hearing will be held at 9AM on Tuesday, March 27 in Hearing Room 1, North Office Building, Harrisburg.
Senate Confirms Department Heads
On Tuesday, March 20TH, the state Senate confirmed several executive nominations made by Gov. Tom Wolf. The Senate confirmed the nominations of Teresa Miller, as Secretary of the Department of Human Services, Dr. Rachel Levine, as Department of Health secretary, Jennifer Smith, as secretary of the Department of Drug and Alcohol Programs, and Jessica Altman, as Pennsylvania Insurance Commissioner.
State Senate Approves Bipartisan Crime Victims Package
On Wednesday, March 21st, the state Senate approved a package of bills strengthening protections for victims of crime and ensuring that victims and their families are treated with respect and dignity by the criminal justice system.
Six of the bills would strengthen and reform Pennsylvania's domestic violence laws, offer greater protections to victims of domestic violence and their children, and hold abusers accountable. Another measure, known as Marsy's Law, would establish a crime victims' bill of rights in the Pennsylvania Constitution to protect and expand the rights of victims of violent crime.
Senate Bill 313 makes it easier for domestic violence victims to remove the name of an abuser from a shared telephone plan. *Bill Heads to House of Representatives
Senate Bill 449 allows Magisterial District Judges to use a risk assessment tool when determining bail in domestic violence cases. (Tierne's Law) *Bill Heads to Governor
Senate Bill 500 ensures that law enforcement protection is available to a victim before or while PFA orders are being served. *Bill Heads to House of Representatives
Senate Bill 501 removes third-party safekeeping as an option for a domestic violence defendant ordered by the court to relinquish firearms. *Bill Heads to House of Representatives
Senate Bill 502 makes it easier for the court to extend a PFA order when an abuser is released from custody. *Bill Heads to House of Representatives
Senate Bill 919 allows domestic violence victims who live in public housing to be relocated to another unit. *Bill Heads to House of Representatives
Senate Bill 1011 amends the state Constitution to creating a crime victims' "Bill of Rights." (Marsy's Law) *Bill Heads to House of Representatives
Senate Veterans Affairs & Emergency Preparedness Committee Approves Constitutional Amendment to Expand Property Tax Relief for Disabled Veterans
On Wednesday, March 21st, the Senate Veterans Affairs & Emergency Preparedness Committee approved a constitutional amendment that would expand property tax relief for Pennsylvania's disabled veterans. Senate Bill 239, legislation that would expand the Property Tax Exemption Program for Disabled Veterans, passed the Committee unanimously.
Currently, an honorably discharged disabled veteran must be 100-percent disabled and have a financial need in order to receive a 100-percent exemption from property taxes. The proposed constitutional amendment would allow veterans determined to be at least 50-percent disabled to receive the tax exemption based on the extent of their disability.
Under that proposal, a 100-percent disabled veteran would continue to be completely exempt from paying property taxes. However, those considered to be 75-percent disabled would then be eligible for a 75-percent exemption and a 50-percent disabled veteran could receive a 50-percent exemption. All veterans – regardless of their disability level – would still have to qualify based on their financial need.
Senate Committees Hold Public Hearing on Pipeline Safety
On March 20th, the Senate Environmental Resources and Energy Committee and the Senate Consumer Protection and Professional Licensure Committee held a joint public hearing on pipeline safety. To view the complete hearing, along with the agenda and testimony, click here.
Senator Yaw Joins Bradford County FFA Students During State Legislative Leadership Conference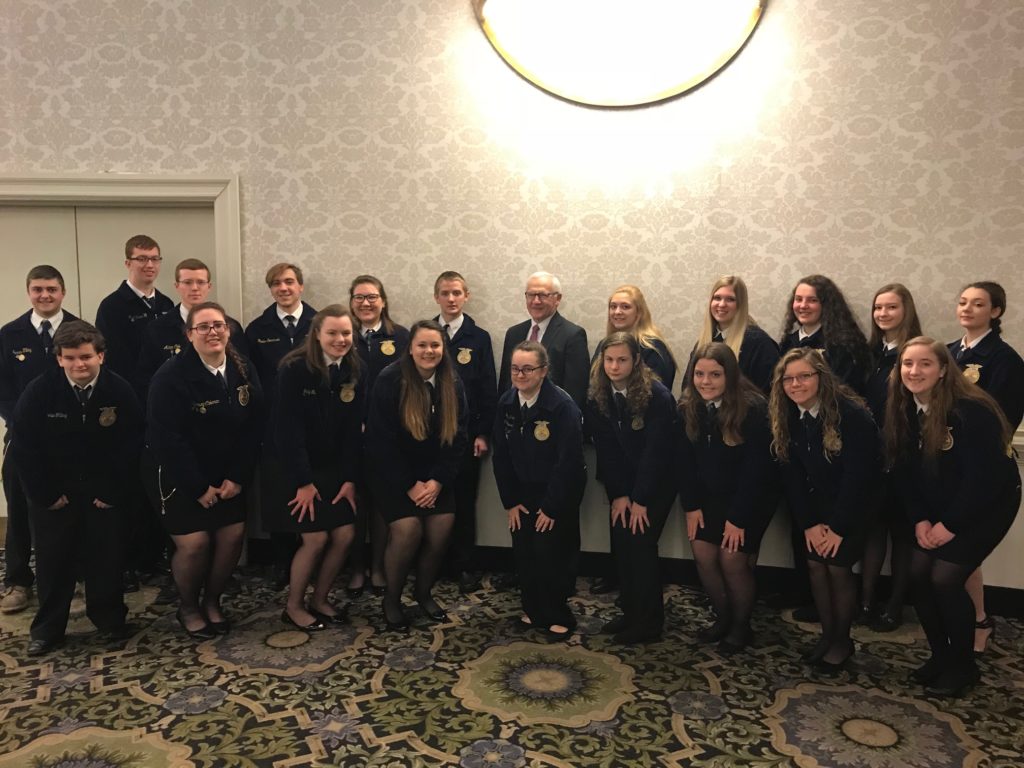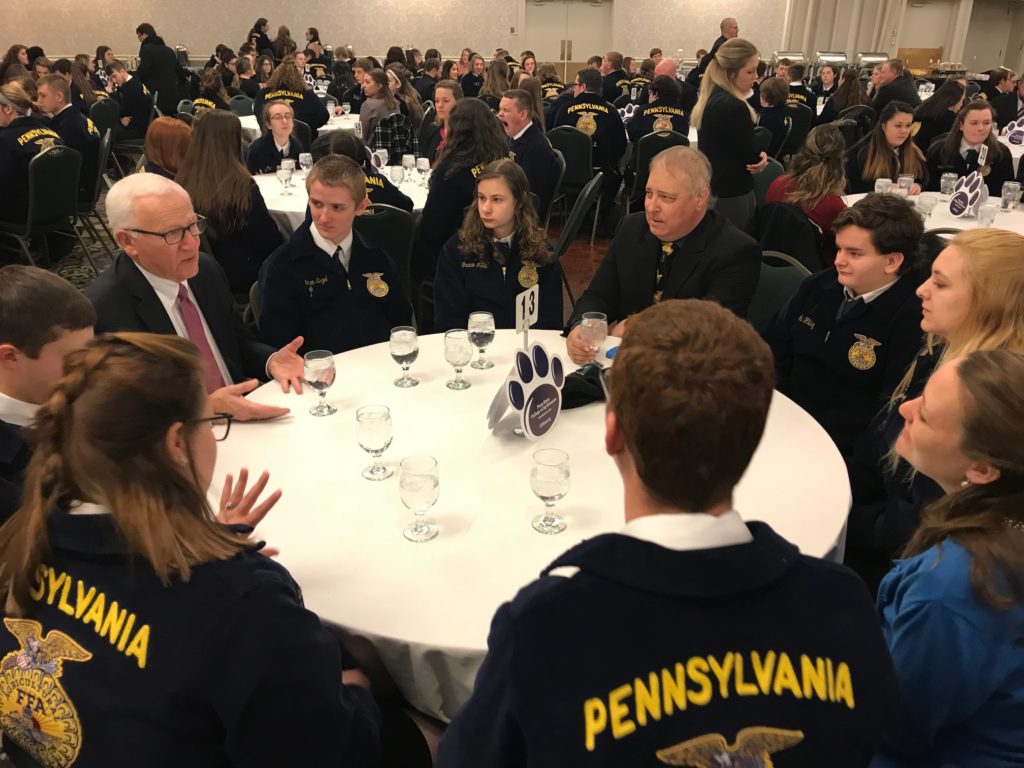 On Monday, March 19th, I joined Future Farmers of America (FFA) students from across Bradford County during the 31st Annual State Legislative Leadership Conference (SLLC) in Harrisburg.
FFA students representing Athens, Canton, Troy and Northeast Bradford schools were in attendance, along with their advisors. Approximately 450 students from across the state attend SLLC workshops focusing on the legislative process, parliamentary procedure and state government.
FFA helps thousands of young Pennsylvanians excel by providing opportunities to develop leadership skills and time-honored values of hard work, education, and community involvement. I applaud our Bradford County schools for recognizing the importance of the FFA as an organization and the importance of including agricultural education in their curriculum.
Senator Yaw, CBF Students Discuss Legislation to Save Hellbenders and Clean Water in PA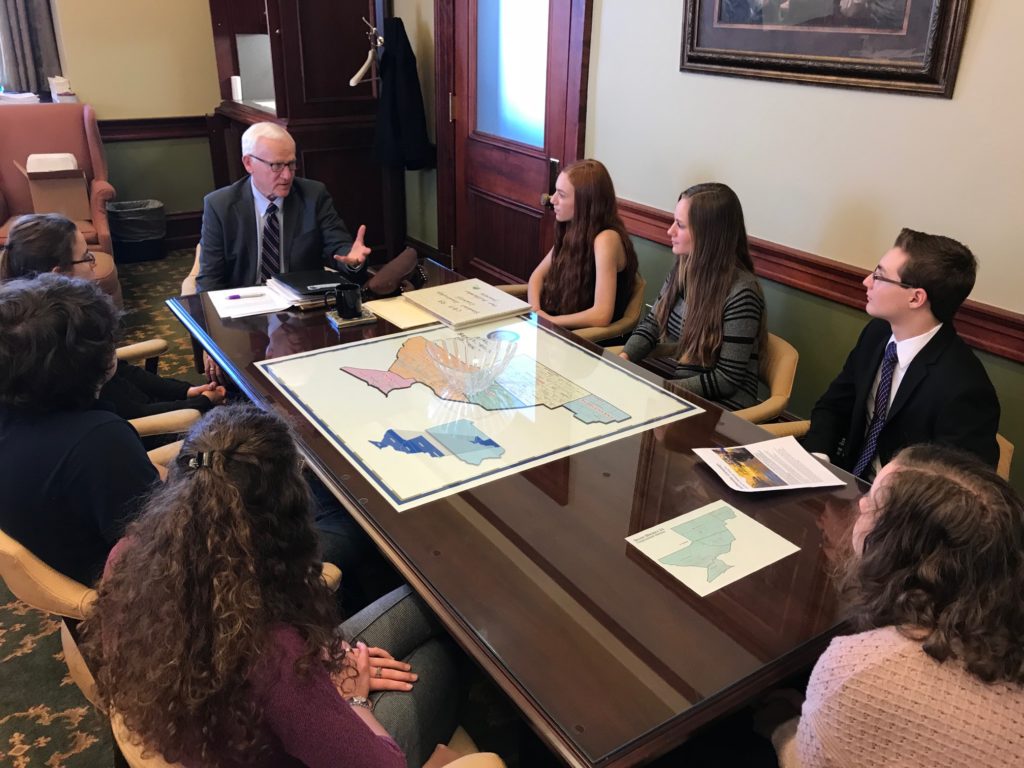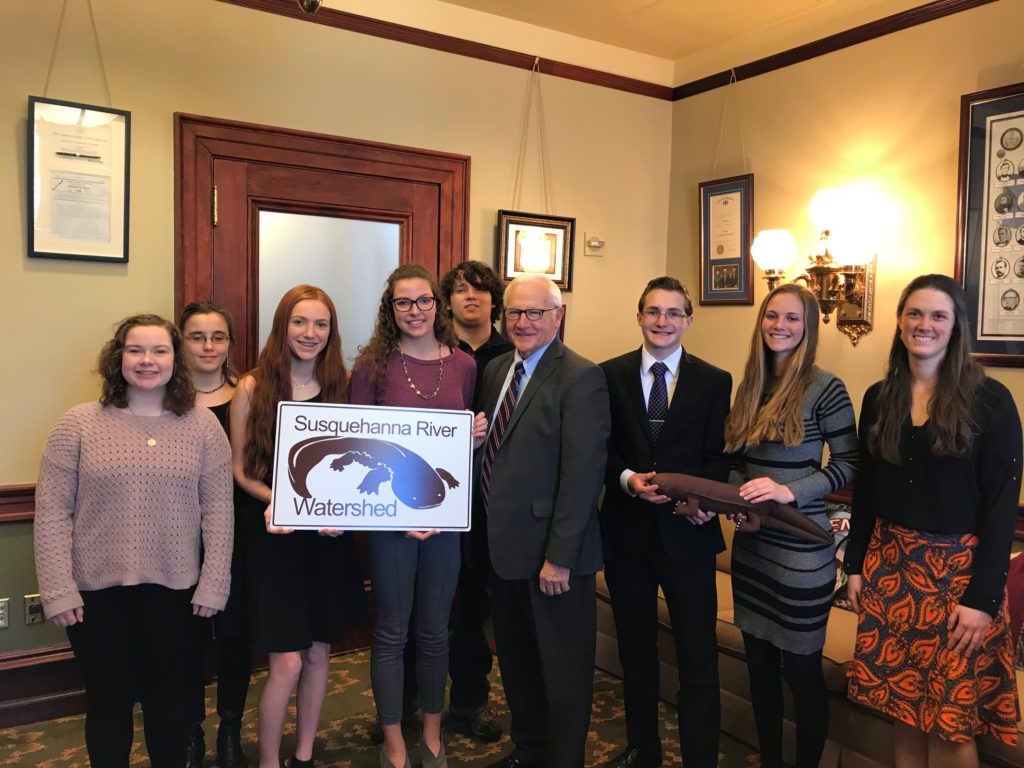 On March 19th, I sat down with students representing the Chesapeake Bay Foundation's (CBF) Student Leadership Council (SLC) to discuss Senate Bill 658, legislation to designate the Eastern hellbender as Pennsylvania's official state amphibian. The students have studied the hellbender extensively, wrote the first draft of Senate Bill 658, and are working for its passage.
The hellbender is North America's largest salamander. They are a natural barometer of water quality and they live where the water is clean. Much of what remains of a depleted hellbender population in Pennsylvania can be found in waters within the 23rd District, which includes Bradford, Lycoming, Sullivan, Susquehanna and Union counties.
The students are also collaborating with Dr. Peter Petokas, noted research associate at the Clean Water Institute at Lycoming College in Williamsport. Dr. Petokas has studied hellbenders for more than 10 years and has captured and microchipped over 3,000 of them.
Bill Prohibiting Sale of "Non-Rescue" Animals in Pet Stores Sponsored in Senate
Animal advocates and puppy mill survivors "Tilly" (bottom center) rescued by Main Line Animal Rescue and "Yankee" (far right) rescued by A Tail to Tell Puppy Mill Rescue visited my office this week to advocate for legislation that will prohibit the sale of dogs, cats, and rabbits in pet stores unless sourced from shelters and rescues. The legislation is being sponsored by Senator Guy Reschenthaler.
Remember to Steer Clear for Emergency Vehicles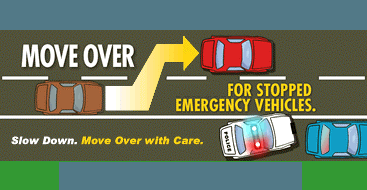 Whether it's a police stop, a tow truck picking up a disabled vehicle, or some other type of roadside emergency response, the Steer Clear Law requires motorists to ease off the gas pedal and move over to give emergency responders room to safely work.
According to PA Vehicle Code Law:
When approaching or passing an emergency response area, a person, unless otherwise directed by an emergency service responder, shall:
(1) pass in a lane not adjacent to that of the emergency response area, if possible; or
(2) if passing in a nonadjacent lane is impossible, illegal or unsafe, pass the emergency response area at a careful and prudent reduced speed reasonable for safely passing the emergency response area.
The penalty for violation is a flat fine of no more than $250 for the first offense and the fine doubles for a second offense. Fines are quadrupled to $1,000, for a third or subsequent offense.
Additionally, a motorist's driving privileges would be suspended if the violation results in serious bodily injury to or death of another person or if it is a driver's third or subsequent offense.
Please remember when you are traveling to move over or "Steer Clear" of emergency vehicles on the side of the road. We want everyone to make it home safely to their family.
Article submitted by Tara Schane, Community Traffic Safety Project Coordinator with the Highway Safety Network