Dear Friends,
Hello! Thank you for subscribing to my E-newsletter. I am honored to serve the 23rd Senate District and look forward to working with you toward building a better future for Pennsylvania!
This E-newsletter serves to keep you updated on what is happening throughout Bradford, Lycoming, Sullivan, Tioga and Union counties and what I am doing as your state senator in Harrisburg. I hope that you will find this E-newsletter helpful, and if you have any questions or concerns, please feel free to contact me.
Gene Yaw
State Senator
www.SenatorGeneYaw.com

"As you ascend, make sure that you bring other people along up with you."
State Senate Reconvenes
March 27th at 1PM
WATCH LIVE
POLL: Do you favor removing the prohibition on Sunday hunting in the Commonwealth of Pennsylvania?

The Sunday hunting debate has certainly had its share of controversy over the years. Pennsylvania is among 11 states that ban or place special restrictions on Sunday hunting.
While I personally do not oppose Sunday hunting, I certainly respect the views of those who I represent in rural Pennsylvania. I have heard both sides of the debate. On one side, there are those that argue it is necessary to preserve one day a week when people can be outside without running into hunters or hearing gunfire. Others say allowing Sunday hunting will have a positive impact on the sport, encouraging new or younger hunters to take up the tradition, thus allowing families to spend more time together given everyone's busy schedule. Further, it could add additional revenues to state coffers.
What's your opinion? I encourage you to take my poll on the issue, click here.
Senate Committees Hold Joint Hearing on Statewide Radio System
On Monday, March 26th, the Senate Communications & Technology Committee, the Law & Justice Committee and the Veterans Affairs & Emergency Preparedness Committee held a joint public hearing to review issues related to the statewide radio system.
Originally created in 1996, the purpose of the statewide radio system, or StarNet, was to replace the state's aging and incompatible systems with state-of-the art communications technology. The State Police is now taking the lead on implementing Project 25 (P25), which is a set of standards created through joint efforts with the Association of Public Safety Communications Officials (APCO) and is aimed at achieving inter-operability amongst state and local agencies.
Senate Appropriations Budget Hearing Scheduled for the Department of Health & Department of Human Services
While weather conditions did not cooperate with the previously scheduled March 7th Budget Hearing for the Department of Health & Department of Human Services, the hearing has been rescheduled for Tuesday, March 27th at 2PM in the North Office Building, Hearing Room 1 of the State Capitol Complex.
Groundbreaking Legislation Unveiled to Strengthen PA Anti-hazing Laws
On March 23rd, Senate Bill 1090, known as the Timothy J. Piazza Anti-hazing Law, was unveiled by Senate Majority Leader Jake Corman that will increase penalties for individuals involved in hazing; requiring schools to have policies and reporting procedures in place to stop hazing; and informing students and parents of what is happening on campus. The bill will also establish clear-cut parameters on hazing for organizations such as fraternities and sororities.
In 2017, there were four hazing-related deaths in the United States at fraternities. In a November 2017 study on hazing by NBC News, 75 percent of those surveyed believe that something should be done to stop hazing. However, only 56 percent believe that it can be eliminated from college campuses.
Sen. Yaw Recognizes Montgomery, Muncy Stock Market Challenge Winners
On Monday, March 26th, I recognized the Fall 2017 Stock Market Challenge Winners from Montgomery Jr./Sr. High School and Muncy Jr./Sr. High School in Lycoming County during a special ceremony at the State Capitol in Harrisburg.
The Stock Market Challenge is an award-winning educational program used in classrooms to help teach math, social studies, business, economics and language skills, while focusing on the importance of long term savings and investments. Thirty-eight of Pennsylvania's 67 counties participate in the program.
Montgomery captured their 6th consecutive State Championship in the Challenge, this year competing in the "Advanced High School Division," and Muncy captured the State Championship in the "High School Division."
To read more, click here.
Sen. Yaw Honors Muncy High School State Wrestling Champion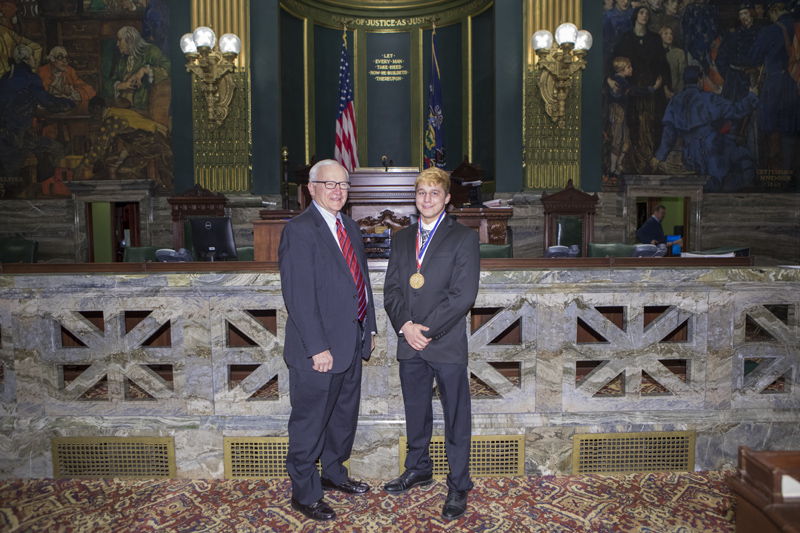 On March 26th, I also honored Muncy wrestler Joseph Klock at the State Capitol for winning the PIAA Class AA 132lb Wrestling Championship in Hershey this month. Joe's win makes him the 6th PIAA AA State Champion in Muncy school history.
I presented Joe with a Congratulatory Citation from the Senate.
On behalf of the entire Senate, I offer my congratulations to Joe, his Mom and Dad, Jerry and Pam, as well as Coach Denny Harer on their remarkable season and for bringing home the gold medal to a very proud Muncy community.
Mark Your Calendars
North Central PA Technology Briefing 2018
Date: April 6th – 8AM–12PM
Location: Pennsylvania College of Technology, Williamsport
Cost: Free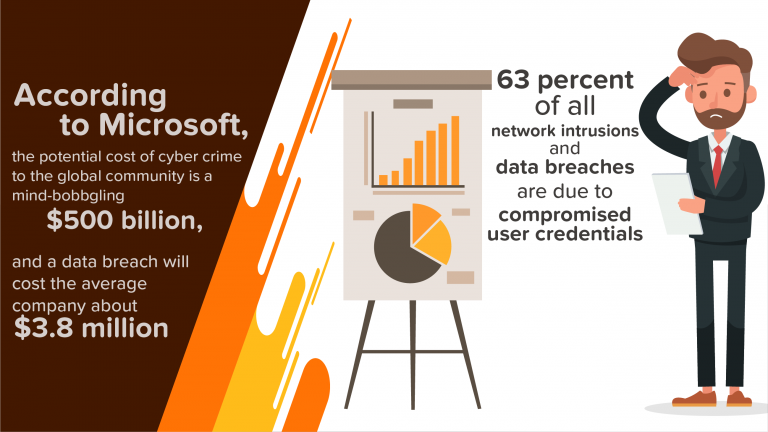 Regardless of its size, no organization is safe from a data breach. A breach can happen to any organization, at any time.
Even if your company is able to withstand a cyber attack, the damage has been done and your reputation could be ruined. Can your company afford to NOT have adequate security?
Industry Experts will be discussing the current state of cyber security concerns for small and mid-sized businesses as well as offering free assessment tools to guide you through the confusion of how to address this challenging business need.
To learn more, click here.
Lewisburg, Wyalusing Students Compete in State Poetry Out Loud Finals
Nicholas Jacobson of Lewisburg Area High School and Magdalena Poost of Wyalusing Valley Jr./Sr. High School recently competed in the State Finals of The 2018 Poetry Out Loud: National Recitation Contest. The Poetry Out Loud State Finals took place on Monday, March 5 at The State Museum of Pennsylvania's Auditorium in Harrisburg, Pennsylvania.
Nick and Maggie were two of 15 regional finalists out of nearly 6,500 high school students who participated in this year's competition. In total, 111 schools participated across the commonwealth.
The national contest encourages the nation's youth to learn about great poetry through memorization and recitation. More than 2.4 million high school students from more than 4,000 high schools across the United States have discovered the magic of beautiful language through Poetry Out Loud.
Brooke Halinar, a junior from Cornwall-Lebanon School District in Lebanon County became Pennsylvania's 2018 Poetry Out Loud state champion. She will represent Pennsylvania in the national contest in Washington, D.C. on April 23-25.
Rural Broadband Public Hearing Set for April 5
The Center for Rural Pennsylvania Board of Directors will hold a public hearing in Wellsboro, Pa., on Thursday, April 5th to hear from broadband service providers and consumers about the issues, challenges, and opportunities of delivering broadband services in rural Pennsylvania.
Broadband access means so much more than interactive gaming or connecting with your family and friends. Broadband access means connecting with your healthcare provider, completing a classroom assignment, and maintaining and expanding your business.
The public hearing will be held in the Red Room of the Penn Wells Hotel, 62 Main St., Wellsboro, Pa., 16901 and will begin at 9 AM.