Dear Friends,
Hello! Thank you for subscribing to my E-newsletter. I am honored to serve the 23rd Senate District and look forward to working with you toward building a better future for Pennsylvania!
This E-newsletter serves to keep you updated on what is happening throughout Bradford, Lycoming, Sullivan, Tioga and Union counties and what I am doing as your state senator in Harrisburg. I hope that you will find this E-newsletter helpful, and if you have any questions or concerns, please feel free to contact me.
Gene Yaw
State Senator
www.SenatorGeneYaw.com

March 27, 2019
"You know, farming looks mighty easy when your plow is a pencil, and you're a thousand miles from the corn field."
– Dwight D. Eisenhower
Under the Dome
Immunity Legislation Passes Senate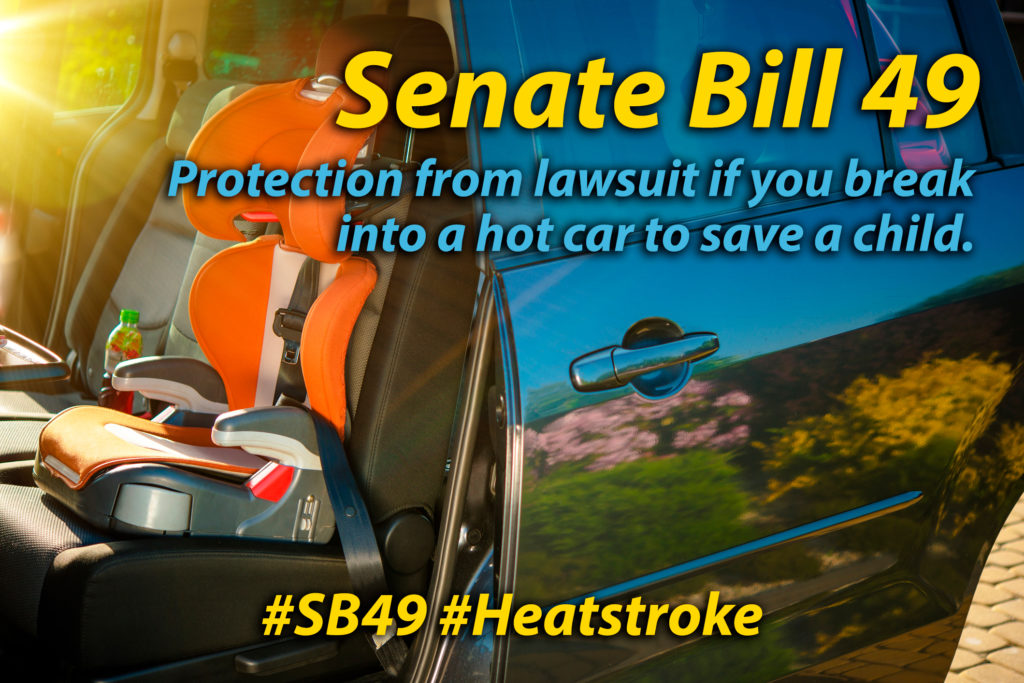 The state Senate on Monday unanimously approved legislation intended to save lives by providing immunity to individuals who attempt to rescue children who have been left unattended in hot cars. The law would bring Pennsylvania in line with 20 other states that give immunity to bystanders who help children locked in hot vehicles.
Senate Bill 49 is named in memory of the 49 children who died last year from vehicular heatstroke. It would extend current "Good Samaritan" laws to a person who breaks a window or forcible enters a parked and locked vehicle to save an unattended child's life.
Senate Committee Endorses Yaw Bill Limiting Opioid Prescriptions
Legislation limiting the amount of opioids that individuals may be prescribed won bipartisan approval today by the Senate Consumer Protection Committee.
Senate Bill 112 would limit the prescription for a controlled substance containing an opioid to a seven-day duration unless there is a medical emergency that puts the individual's health or safety at risk. The bill also includes exceptions for cases involving acute and chronic pain, cancer treatment or for palliative care or hospice care.
Bill to Expand CPR Training in Schools Approved
The Senate today unanimously passed legislation, Senate Bill 115, that would strengthen academic guidelines in schools for CPR training in grades nine through 12, while adding hands-only CPR instruction to Pennsylvania's education curriculum. If the bill becomes law, Pennsylvania would become the 39th state to enact similar CPR legislation.
This legislation is a top priority of the American Heart Association and the American Stroke Association, and is supported by the Pennsylvania State Education Association, and others.
Senate Panel Passes Bill Supporting Volunteer Fire Companies
The Senate Finance Committee approved legislation today that would allow volunteer fire companies to keep more of the money they bring in during fundraisers.
Senate Bill 83 would exempt volunteer fire companies from paying sales tax on food and beverages sold during fundraising events, such as chicken barbeques and pancake breakfasts. Under current law, volunteer fire companies pay the sales tax on all sales during these events. Exempting these events from the sales tax would mirror the approach the state takes toward similar fundraising efforts, such as school sports booster clubs.
For a list of other bills approved this week, click here.
Five Projects in the 23rd District Received CFA Funding on Tuesday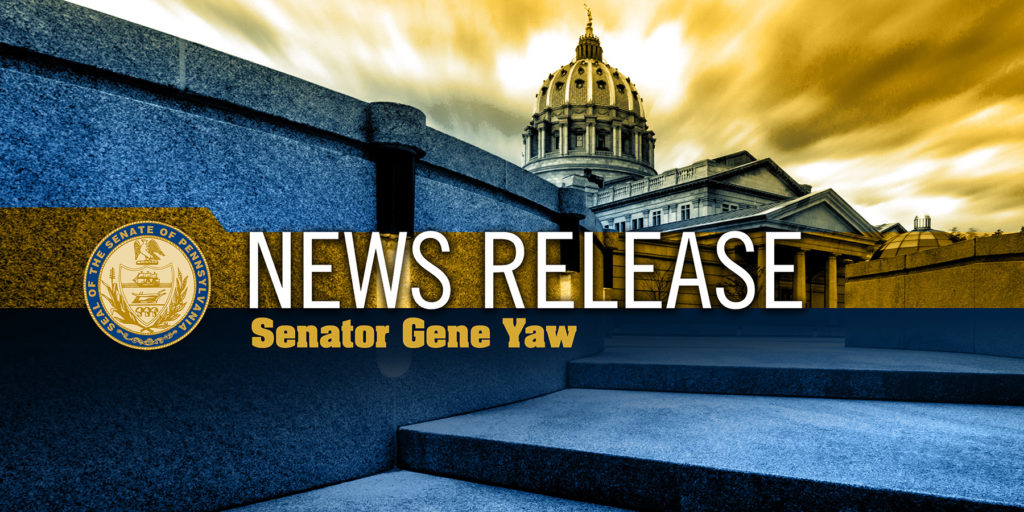 Warburton Farm, Sullivan County, will receive the first grant from a new state program aimed at improving the production, processing and distribution of dairy products throughout the state [Read More]
Leatherstocking Gas Company, LLC received funding for a pipeline project extending natural gas into Wyalusing Borough, Bradford County. [Read More]
Sayre Borough, Bradford County, has been awarded a $171,566 state grant from the Commonwealth Financing Authority (CFA) Multimodal Transportation Fund Program to support Phase II of the Diahoga Trail Project. [Read More]
River Valley Transit, Lycoming County, has secured a $621,416 grant through the Commonwealth Financing Authority (CFA) to fund streetscape and pedestrian safety improvements along East 4th Street in the City of Williamsport, Lycoming County. [Read More]
Hartleton Borough, Union County has secured a $251,000 grant through the Commonwealth Financing Authority (CFA) to help fund the resurfacing of Shirk Road in the Borough. [Read More]
What We're Watching…
During a Tuesday morning committee hearing, state senators discussed upgades to voting machines, as well as Senate Bill 48. SB 48 would delay the impending mass decertification of current voting machines until an appropriate plan between the Governor and the General Assembly is made.
In the Courts…..In a 6-1 ruling, the state Commonwealth Court recently upheld a judge's ruling that denied motions seeking to dismiss the case involving natural gas deduction / post production costs filed by Chesapeake Energy and Anadarko Petroleum. The suit also alleges the companies violated antitrust laws by agreeing not to compete against each other, which reduced competition and allowed them to keep royalty payments artificially low. Questions concerning the lawsuit can be directed to the Attorney General's website dedicated to the Natural Gas Royalty Lawsuit. You may also contact their office directly via telephone 717-787-4530 or email landowners@attorneygeneral.gov.
Sunday hunting debate continues…..Nearly 300 PA Farm Bureau (PFB) members from across the state were in Harrisburg this week for their annual legislative conference. A major concern of many PFB members is the expansion of Sunday hunting. It doesn't look like a shift in PFB policy will be happening anytime soon and PFB remains opposed to the idea. However, PFB members have established a set of criteria that would allow their organization to stay neutral in the debate. That criteria includes enforceable laws that serve as an adequate deterrent to trespassing; hunting on private property with written permission only and Sunday hunting for deer during certain days of hunting seasons.
Speaking of our agriculture community…..Legislation was announced today that would provide a tax credit for landowners who sell or lease land to "beginning farmers." Under Senate Bill 478, a landowner would receive a one-time tax credit totaling 5% of the sales price with a maximum credit of $32,000 or a 10% credit on the gross rental price with a maximum credit of $7,000 per year. The landowner, who rents property to a qualified beginning farmer, would be eligible for the tax credit for a maximum of three years.
Sixty-one Pennsylvania counties were informed this week that they are eligible to receive disaster relief assistance from the United States Department of Agriculture. Eligible primary counties include Lycoming and Susquehanna counties. Eligible contiguous counties include Bradford, Sullivan and Union counties. More information on USDA's disaster assistance program, including county lists and maps, can be found at http://disaster.fsa.usda.gov.
Keep on runnin'….Union County has been named the healthiest county in Pennsylvania for the fifth time since 2011, according to The Robert Wood Johnson Foundation 2019 County Health Rankings. Bradford County ranked 24th on the list, Lycoming came in 36th, Sullivan ranked 38th and Susquehanna County came in at 40.
2019 Afterschool and STEM Advocacy Day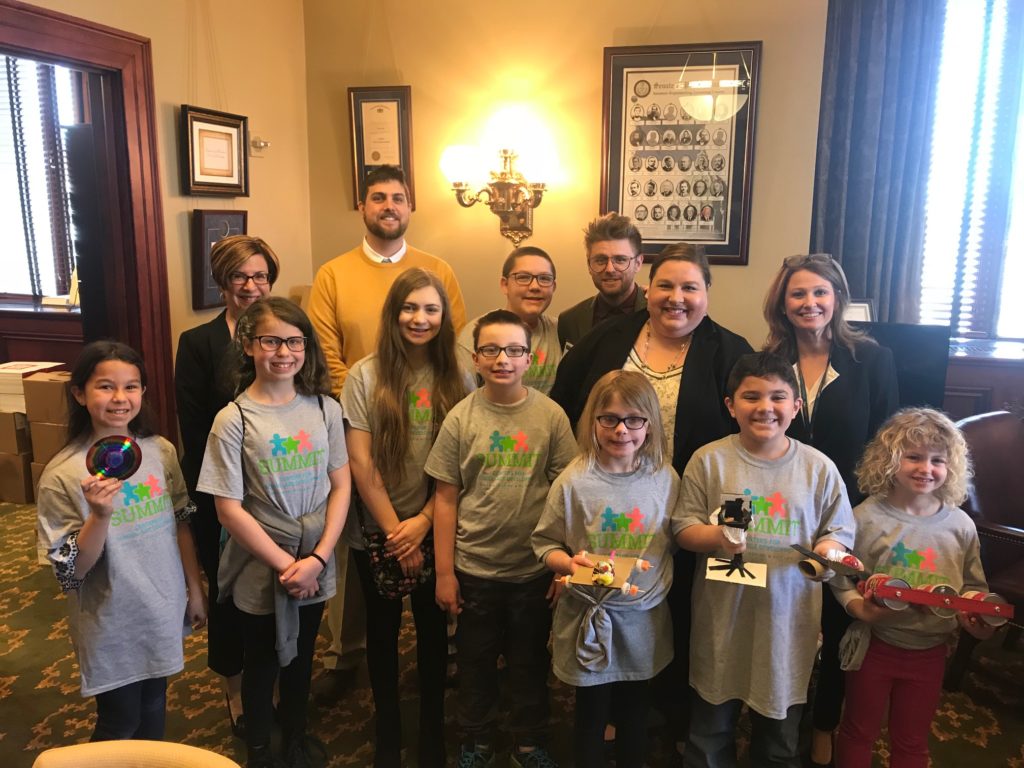 L to R:Front: Savannah Bonson, Caroline Scheckter, Skye Ritter, Timmy Hamilton, Sylvi Gaisior, Ryder Jones, Katey Kwiterovich; Back: Rita Zielonis, Ray Desmit; Quinn Stanford, Josh Wagner, Becky Namet, and Michelle Russell
The Pennsylvania Statewide Afterschool/Youth Development Network held their annual legislative advocacy day in Harrisburg today. Advocates including parents, program providers, youth, educators, faith-based leaders, community and business leaders from across the state will come together to highlight the importance of out-of-school time opportunities in our state.
While in the Capitol, the group stopped by my office to meet with my Chief of Staff, Rita Zielonis.
Children in Seat Belts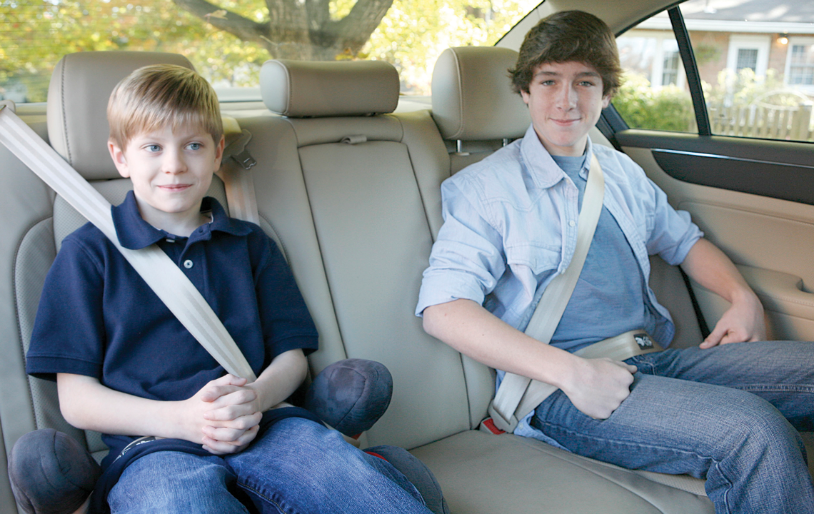 Article Submitted by Kimberly A. Smith | PennDOT District 3-0 Safety Press Officer
Once a child over 8 years-old reaches a height of 4'9", it may be time to move them out of a booster seat.
It is important to teach children the proper way to sit in a vehicle with a seat belt to ensure their safety in the event of a crash.
Make sure the child sits up straight with their back against the vehicle seat and their knees bent comfortably at the edge of the seat. If the child's legs stick straight out, they are not ready to be in a regular seat belt without a booster seat.
The shoulder belt should fit snugly against the chest and low on the hips. The shoulder belt should not be against the neck and the lap belt should not be across the stomach.
Never put a child who has not reached a height of 4'9" in a vehicle seat belt without using a proper child safety seat.
Never allow the child to tuck the shoulder belt behind their back or under their arm.
Lastly, children should remain in the back seat away from frontal air bags until they are at least 13 years in age.