Dear Friends,
Hello! Thank you for subscribing to my E-newsletter. I am honored to serve the 23rd Senate District and look forward to working with you toward building a better future for Pennsylvania!
This E-newsletter serves to keep you updated on what is happening throughout Bradford, Lycoming, Sullivan, Tioga and Union counties and what I am doing as your state senator in Harrisburg. I hope that you will find this E-newsletter helpful, and if you have any questions or concerns, please feel free to contact me.
Gene Yaw
State Senator
www.SenatorGeneYaw.com

Click here to find the latest information on coronavirus from the Pennsylvania Department of Health and the Centers for Disease Control and Prevention
Did You Know… China Supplies 80% of the World's Polysilicon, a Key Rare Earth Metal Necessary to Build Solar Panels?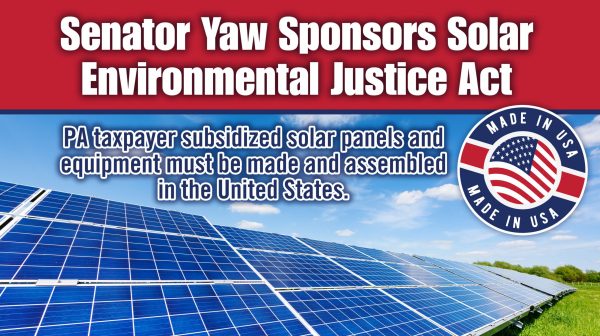 I will be sponsoring legislation to prohibit state taxpayer dollars or tax credits from being utilized to purchase solar panels and related components which are manufactured or assembled outside the United States. Currently, Communist China serves as a primary supplier of solar panels and components throughout the world, utilizing rare earth minerals that are mined without proper environmental standards and are often acquired through the use of forced child labor.
My bill will require that any solar panels or components purchased by the Commonwealth of Pennsylvania must be manufactured and assembled in the United States. Additionally, no state-authorized tax credits may be used for a project, which would utilize foreign-manufactured or assembled solar panels and components. This approach ensures that, at a minimum, Pennsylvania taxpayer dollars are not used to support foreign governments that do not respect environmental standards or basic civil rights.
Pennsylvania Expands and Accelerates Vaccine Schedule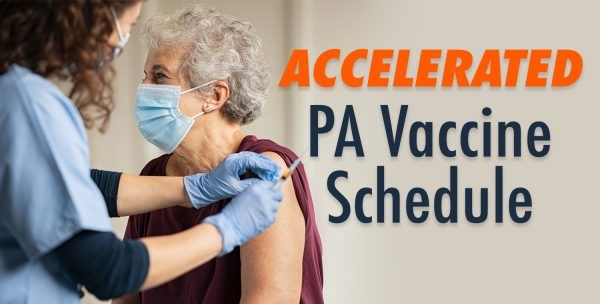 The COVID-19 Vaccine Task Force and the Pennsylvania Department of Health announced recently that the timetable for vaccine eligibility has been accelerated. As a result, state residents who work in law enforcement, grocery stores, the food and agriculture industries and firefighters are now eligible to receive the vaccine.
In addition, all residents in Phase 1B will be eligible to begin scheduling vaccination appointments on April 5, and all residents in Phase 1C can start scheduling appointments on April 12. A breakdown of individuals included in the various phases is available here.
All other state residents can start scheduling appointments to be vaccinated beginning on April 19.
In the News…
PA Senate budget hearings resume this week… The state Senate Appropriations Committee will resume the 2021-2022 state budget hearings tomorrow (April 6) at 10AM with Pennsylvania's state-related universities, the Department of Military and Veterans Affairs (at 1PM) and the Treasury Department (at 3PM). On Wednesday, the committee will hear from the Pennsylvania Liquor Control Board, the Office of Attorney General and the Office of Auditor General. On Thursday, the hearings will feature the Department of Labor and Industry and Department of Agriculture. All hearings are being held in the state Senate Chamber and will be LIVE streamed. [WATCH LIVE]
Prohibiting the requirement of vaccine passports in Pennsylvania…Legislation is being proposed in the state legislature that will prohibit the use of vaccine passports from being required by citizens to participate in routine activities within this Commonwealth. Requiring a vaccine passport for Pennsylvanians to live their lives day-to-day represents an extreme government intrusion into people's personal lives. For this reason, I will be supporting this legislation that will prohibit the need or use of a vaccine passport.
During National Limb Loss and Limb Difference Awareness Month in April, the PA Department of Military and Veterans Affairs (DMVA) wants to ensure veterans are aware about the agency's Amputee and Paralyzed Veterans Pension Program…Eligible Pennsylvania veterans may qualify to receive a pension of $150 per month. There are more than 2,000 veterans currently enrolled in the program. [READ MORE]
WalkWorks grants available for municipalities and planning commissions to advance street connectivity, sidewalk and trail infrastructure, bicycle and public transit and access… Grants will be offered to a limited number of municipalities and other governmental bodies. First webinar scheduled for April 9th. [READ MORE]
TUNE-IN: Senate Environmental Committee Convenes to Discuss the 'State of the Chesapeake Bay'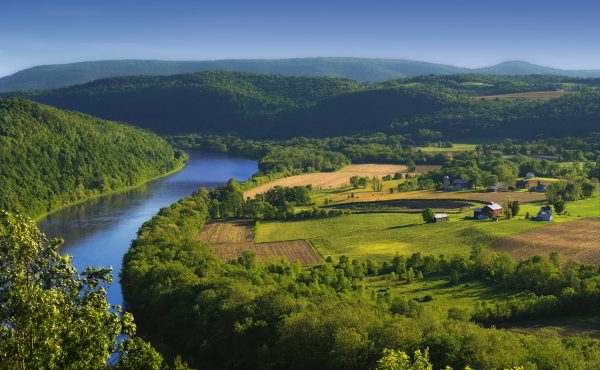 On Tuesday, April 6, 2021, beginning at 10AM, I will chair an informational briefing of the Pennsylvania Senate Environmental Resources and Energy Committee to examine the state of the Chesapeake Bay.
Since the states and EPA agreed to the Chesapeake Bay watershed restoration goals in 2010, much progress has been made towards improving the health of the watershed. We are at a critical juncture in Chesapeake Bay restoration and we must not slow in our efforts.
Presenters will include: Ann Swanson, Executive Director, Chesapeake Bay Commission; Marel King, Pennsylvania Director, Chesapeake Bay Commission and Jill Whitcomb, Director, Chesapeake Bay Program Office, Department of Environmental Protection.
TUNE-IN: Public Hearing on OMB's Proposed Change to Metropolitan Definition and Funding Implications for Pennsylvania
The Center for Rural Pennsylvania Board of Directors will hold a virtual public hearing on Wednesday, April 7, 2021 beginning at 10AM, to learn more about the possible funding implications for Pennsylvania if the federal Office of Management and Budget (OMB) changes its definition of metropolitan areas.
Over the past few months, the Center for Rural Pennsylvania has been meeting with federal, state, and local government and nonprofit representatives to learn more about the potential implications of OMB's proposed definition change. While the comment period for the proposed definition change has closed, we wanted to continue the conversation so that we'll have a better understanding of how a new definition may affect our communities if OMB proceeds with it plans.
This hearing will also give others an opportunity to provide information about how federal funds and resources to state and local governments and other entities may be affected in the future if other definitions are proposed.
New Guidance Will Help More Schools Return to In-Person Instruction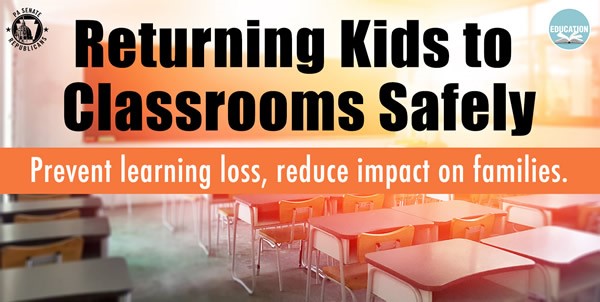 New guidance from the state Department of Health and Department of Education will make it easier for schools to return to in-person instruction in the near future. The updated recommendations on social distancing align with new guidelines from the Centers for Disease Control and Prevention that only require students to stay 3 feet apart, rather than the previous recommendation of 6 feet of separation.
The guidelines also include recommendations for how schools should handle confirmed cases of COVID-19, including shorter closures in certain cases. The new guidance goes into effect on April 5.
The Senate Education Committee and the Senate Health and Human Services Committee held a hearing last month that included testimony from teachers, superintendents, students, parents and other key stakeholders about the importance of returning to in-person instruction.
Share Your Experience Voting by Mail or In Person in 2020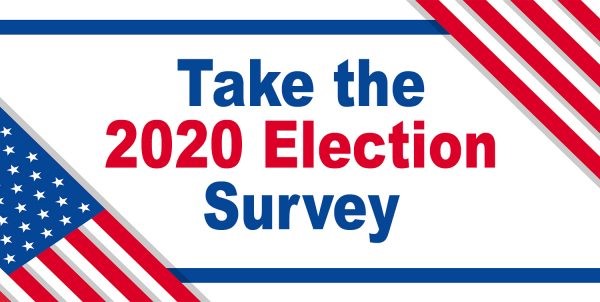 The bipartisan Senate Special Committee on Election Integrity and Reform is inviting Pennsylvania voters to share their experiences from the 2020 election by taking an election survey. The information will be reviewed by the committee and will be used in consideration of future election reform measures.
The panel held two hearings last month to gather input from local and state election officials, county commissioners on the administration of the 2020 election, and to review best practices in other states that allow mail-in voting.
Summer Camps Set to Resume This Year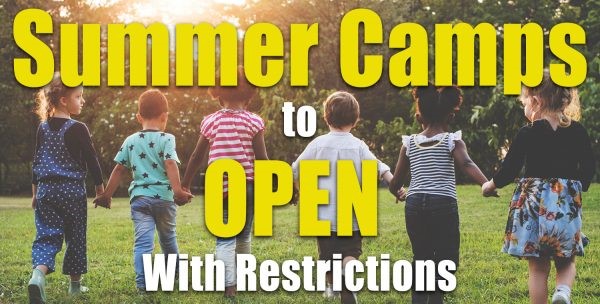 The Pennsylvania Department of Health released new guidance that will allow summer camps to resume this year at up to 75 percent of maximum occupancy. Camps and other congregate activities were prohibited last summer due to the COVID-19 pandemic.
Youth and summer camps are encouraged to follow the Centers for Disease Control and Prevention's recommendations to protect the health and safety of participants and staff.
Deadline to Submit Comments on State Transportation Plan is April 14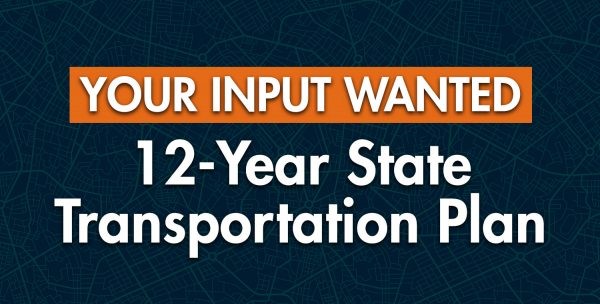 Every two years, PennDOT updates its 12-Year Program to prioritize infrastructure projects and ensure the state's transportation needs are met. The Pennsylvania State Transportation Commission is seeking input from members of the public regarding improvements not only for motorists, but also for recreation, public transit and other modes of transportation.
State residents can submit feedback on the plan during the public comment period, which is open through April 14.