Dear Friends,
Hello! Thank you for subscribing to my E-newsletter. I am honored to serve the 23rd Senate District and look forward to working with you toward building a better future for Pennsylvania!
This E-newsletter serves to keep you updated on what is happening throughout Bradford, Lycoming, Sullivan, Tioga and Union counties and what I am doing as your state senator in Harrisburg. I hope that you will find this E-newsletter helpful, and if you have any questions or concerns, please feel free to contact me.
Gene Yaw
State Senator
www.SenatorGeneYaw.com

April 22, 2019
"April hath put a spirit of youth in everything."
– William Shakespeare
Celebrating "Earth Day" 2019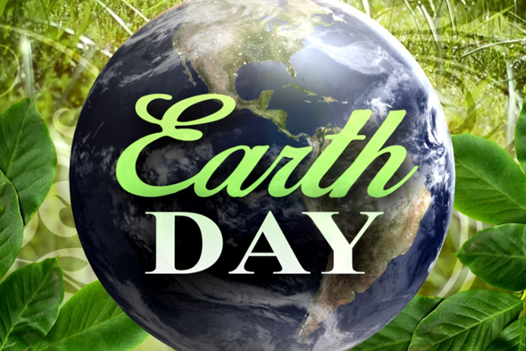 While the principles of Earth Day should be practiced every day, it is an important reminder that each of us must do our part to make our environment a better place for future generations. Whether simply picking up litter, recycling or conserving water, there are countless ways we all can set an example on how to be better stewards of the environment. As Chair of the Senate Environmental Resources and Energy Committee, and as a member of the Chesapeake Bay Commission, I am committed to encouraging these initiatives. I am especially pleased that this week Pennsylvania will also be designating a new state symbol and visible sign of clean water in our state. The uniqueness of the Eastern Hellbender species and its contribution to aquatic biological diversity are adequate justification for the species to be designated as the Pennsylvania "State Amphibian." The rapid decline of the hellbender throughout its geographic range is strong evidence that the species deserves substantial State and Federal protections, as well as support for conservation projects to restore the salamander to its historic range.
Nominations of DCNR / DEP Secretary's to be Considered by Senate Committee April 30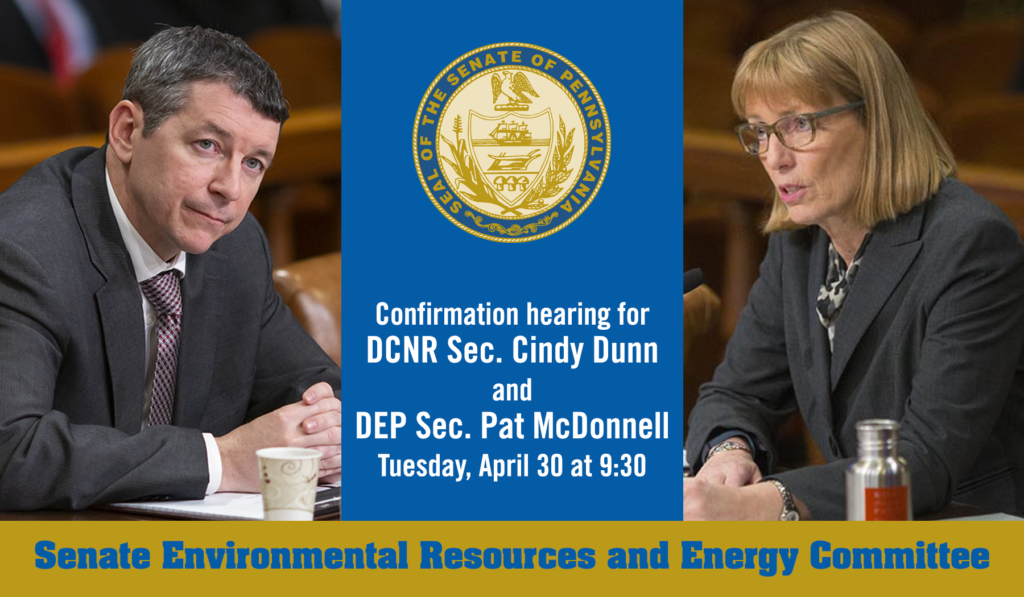 The Senate Environmental Resources and Energy Committee, of which I Chair, will hold a voting meeting on Tuesday, April 30th, 2019 at 9:30AM in Room 461 of the Main Capitol Building. The purpose of the voting meeting is to consider the following nominations:
Ms. Cindy Adams Dunn to be Secretary of the Department of Conservation and Natural Resources (DCNR);
Mr. Patrick McDonnell to be Secretary of the Department of Environmental Protection (DEP).
The Committee meeting will be webcast live on the committee's website, and an archived video will be available shortly after the hearing is complete.
Bill Establishes Franchise Store System for Wine and Spirit Sales in Pennsylvania
This week, I introduced legislation creating a franchise store system for the sale of wine and spirits in Pennsylvania.
The goal of Senate Bill 548 is to expand consumer convenience, improve the long-term, financial position of the Pennsylvania Liquor Control Board (PLCB) and generate significant new revenues for the Commonwealth.
This legislation will maintain the over 600 PLCB retail outlets, retain the existing jobs and allow the PLCB to continue to control the wholesale distribution of spirits and wine. I believe this proposal builds off the incremental steps taken in Act 39 of 2016 to expand wine sales in the Commonwealth. To read more, click here.
Legislation Would Establish Family and Medical Leave Program
Legislation will soon be introduced in the state Senate, referred as the "The Family Care Act," to establish a statewide Family and Medical Leave Insurance Program.
Under "The Family Care Act," all working individuals would make small contributions from their weekly earnings to the leave program, which would be administered by the Department of Labor & Industry. Workers can then utilize the fund when they need it – to care for themselves or a close family member in the event of a serious health condition, to care for a new child, or to care for a member of the military in qualifying circumstances. Leave benefits will be calculated on a graduated scale to make sure the program is accessible to all workers, regardless of how much they earn.
Student-Crafted Hellbender Bill to be Signed by Governor
WATCH LIVE: Governor Wolf / Senator Yaw
Press Conference
Tuesday, April 23 – 11AM
[CLICK HERE]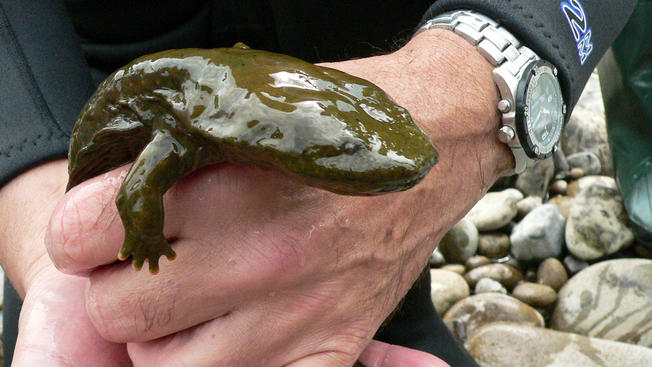 A legislative proposal championed by the Chesapeake Bay Foundation's (CBF) Pennsylvania Student Leadership Council and Lycoming College's Clean Water Institute was overwhelmingly approved last week by the House of Representatives.
The House approvedSenate Bill 9, by a vote of 191-6, which designates the Eastern Hellbender as the first official "State Amphibian" of Pennsylvania.
CBF's Pennsylvania Student Leadership Council, consisting of high school students, invested many hours studying the Eastern Hellbender and the problems the amphibian is facing within the state. With assistance from Lycoming College in Williamsport, the students drafted the legislation during the 2017-2018 Legislative Session, meeting with elected officials to outline why they felt it should be the state amphibian. Yaw agreed to reintroduce the measure in the new legislative session. To read more, click here.
Central Pennsylvania State of Israel Bonds Annual Banquet Held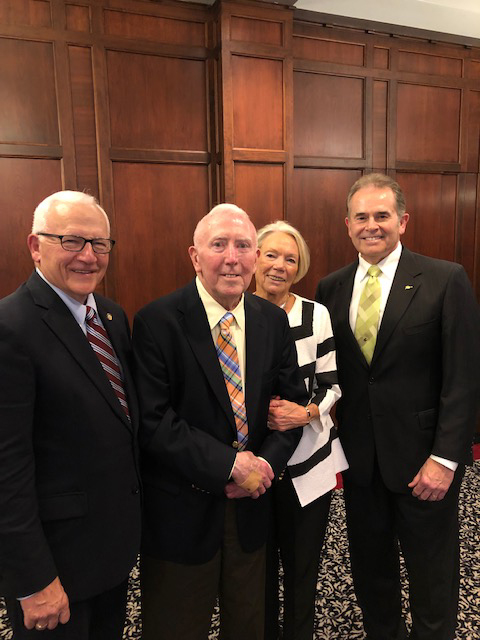 It was an honor for me to present congratulatory Senate Citations recently during the Israel Bonds Awards Dinner at the Community Arts Center in Williamsport. The Citations were presented to Timothy and Ruthanne Crotty who were honored with one of two Yitzhak Rabin Awards during the dinner having excelled in service to the local community. Also, Glenn T. Smith, who recently retired as president and CEO of AAA North Penn, received the Yitzhak Rabin for his work as an advocate to advance and improve transportation. Congratulations!
In Other News…
Monday is the deadline to register to vote in the May 21 primary election. You can register online, by mail, in person at your county voter registration office, or at PennDOT and some other government agencies. Requirements include being a resident of the election district in which you plan to vote for at least 30 days before the primary.
Note: The upcoming 12th Congressional District election is a "General Election" to choose a congressman. Many think this election is similar to a "Primary Election" based on the time when it is being held. It is not a primary election. Candidates have already been chosen by their respective party.
Talking Severance Tax, Other Legislative Issues During UpStreamPA2019 Conference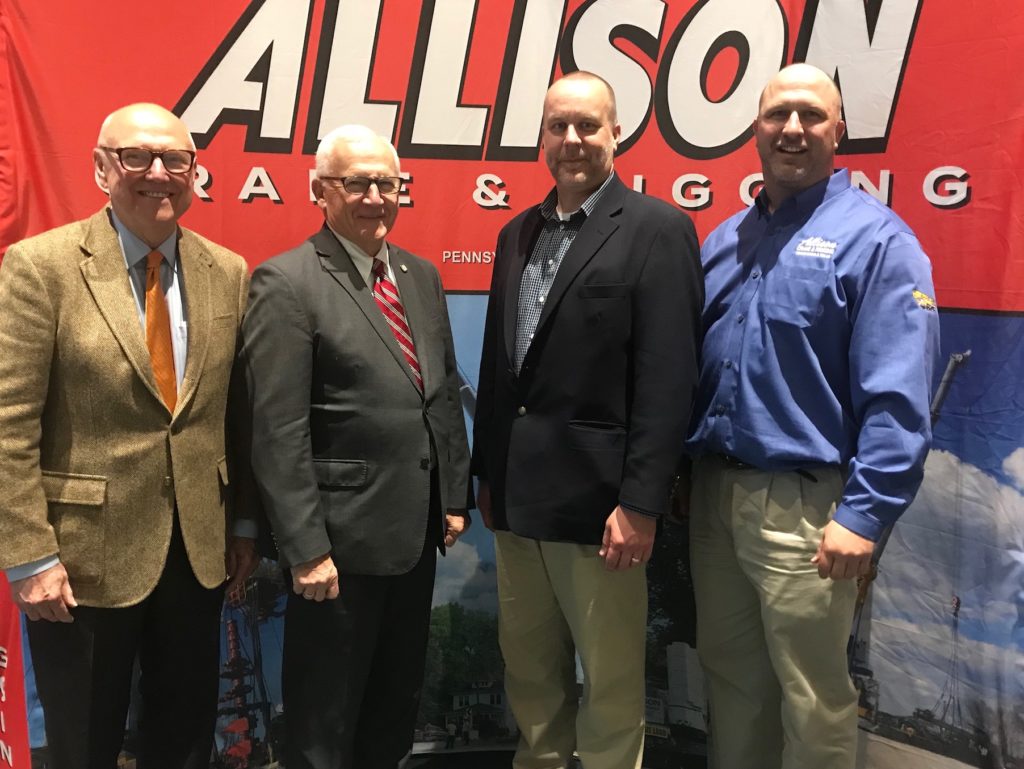 (Left to Right) Joseph Barone, President, Shale Directories.com; Senator Gene Yaw; Matt Henderson, Henderson Consulting; and Joseph Palko, Project and Business Development Manager, Allison Crane & Rigging Heavy Hall pose for a photo during the UpStreamPA 2019 Conference in State College.
I was honored to provide the luncheon keynote last Wednesday during the 5th Annual UpStreamPA Conference in State College.
The annual event brought together over 100 key upstream companies and experts in the oil and gas field. The conference provides attendees with the opportunity to learn about upstream development expected for the Appalachian Basin over the next several years.
During the forum, I noted several issues presently being discussed in Harrisburg including a severance tax on natural gas development, legislation adding nuclear energy to the state's Alternative Energy Portfolio Standards (AEPS), environmental permitting issues, and the transportation of fracked gas to surrounding states. To read more, click here.
DEP Accepting Alternative Fuel Incentive Vehicle Grants Starting April 26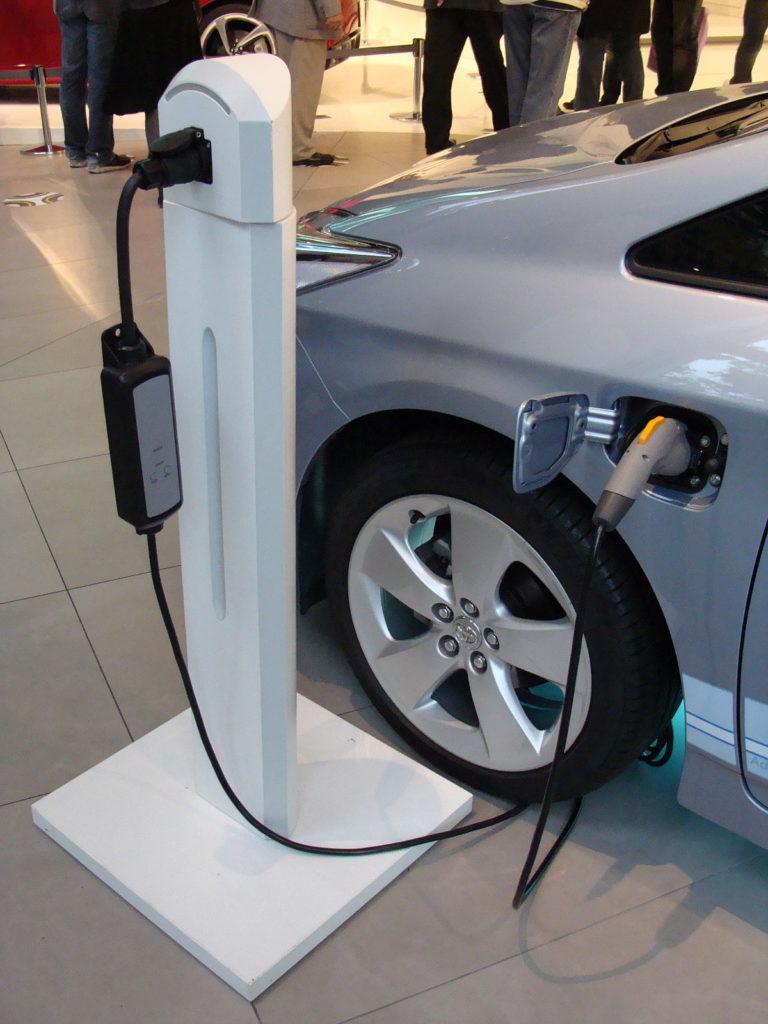 The Department of Environmental Protection will begin accepting applications for its Alternative Fuels Incentive Vehicle Grants on April 26th and will continue to accept applications through December 13th.
The AFIG Program helps to create new markets for alternative fuels in Pennsylvania which enhances energy security. An investment is being made not only in alternative fuels, but the deployment of alternative fuel vehicles, fleets, and technologies. Alternative Fuel Incentive Grant projects promote and build markets for advanced, renewable and alternative energy transportation technologies. To learn more, click here.