Dear Friends,
Hello! Thank you for subscribing to my E-newsletter. I am honored to serve the 23rd Senate District and look forward to working with you toward building a better future for Pennsylvania!
This E-newsletter serves to keep you updated on what is happening throughout Bradford, Lycoming, Sullivan, Tioga and Union counties and what I am doing as your state senator in Harrisburg. I hope that you will find this E-newsletter helpful, and if you have any questions or concerns, please feel free to contact me.
Gene Yaw
State Senator
www.SenatorGeneYaw.com

April 28, 2020
---
News for you…
This week, I joined with my Senate colleagues in asking Pennsylvania's Auditor General to shed light on the process used by the PA Department of Community and Economic Development (DCED) to determine 'essential' vs. 'non-essential' businesses, as well as provide a complete listing of all businesses that were granted waivers since the COVID-19 pandemic began. Over these past several weeks, countless local businesses have reached out to my office for assistance with DCED. There's been a lack of transparency that has left thousands of business owners in different industries across PA in the dark.
Last week, Governor Wolf outlined his plans to slowly reopen the state, region by region, in the weeks and months to come. The plan is targeted to begin in areas with the lowest rate of infection, including the north central and northwest regions, on May 8th. As a result, today I joined with our local Senate and House delegation to urge Governor Wolf to reclassify Susquehanna County as he eases these restrictions. Susquehanna County has seen less case density than others in the northeast, which is why we are seeking that the county be reclassified in the north central region.
Starting Friday, May 1st, golf courses, marinas, guided fishing trips and privately owned campgrounds may reopen statewide and are required to follow updated life-sustaining business guidance and FAQ issued by the Wolf Administration to include specifics for how these outdoor recreational industries can resume activities while prioritizing public health and safety. Campgrounds in state parks will remain closed through Thursday, May 14.
As the construction industry prepares to resume work on Friday, the Wolf Administration has issued guidance for all construction businesses and employees to mitigate the spread of COVID-19.
PA hospitals may resume elective surgeries under new DOH guidance….the Pennsylvania Department of Health said Monday that hospitals and outpatient centers may resume elective surgeries if they can show they won't jeopardize patient safety or their ability to respond to a sudden spike in COVID-19 patients. The Administration had ordered hospitals to postpone elective procedures last month in an effort to preserve hospital capacity and medical supplies.
Central PA Food Bank Teaming Up with Agriculture to Provide Charitable Boxes of Farm Fresh Food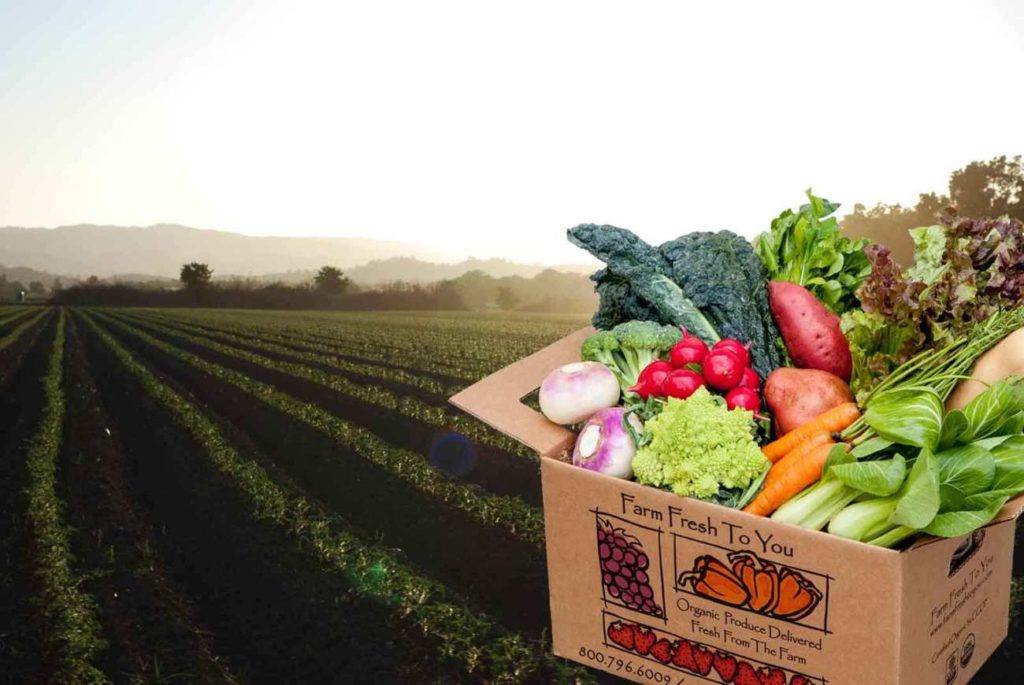 The "Farmers to Families Food Box Program" will procure fresh produce, dairy products, and meats like chicken and pork from domestic farms and box them to distribute to families in need through regional food banks. The USDA program will procure an estimated $100 million per month in fresh fruits and vegetables, $100 million per month in a variety of dairy products, and $100 million per month in meat products nationwide.
The Central Pennsylvania Food Bank is seeking eligible farms, food producers, food processors, and other food industry businesses to participate in the program. Learn more, click here.
WATCH LIVE:
Senate Committee to Hold Public Hearing on Primary Election Issues Related to COVID-19
On Thursday, April 30th, the Senate State Government Committee will be holding a virtual public hearing to discuss Primary Election issues related to the pandemic. In addition to moving Pennsylvania's 2020 Primary Election to June 2, we gave counties more flexibility in running elections during this unprecedented time while ensuring security and accuracy.
This hearing of the Senate State Government Committee will be held at 10AM in the Senate Chamber. The meeting will be live-streamed at www.pasen.gov.
Deadline Extended to Apply for PHEAA State Grants Until May 15; Loan Forbearance Available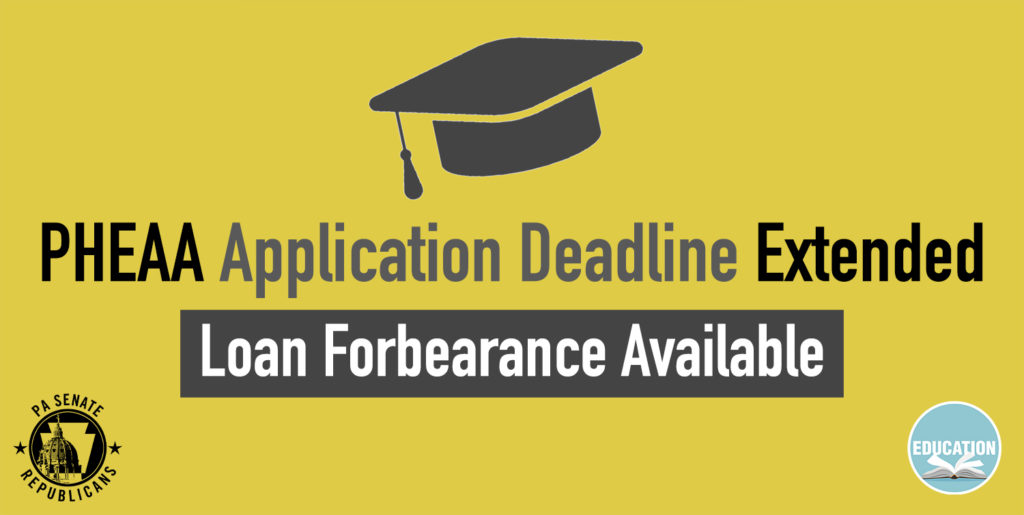 In response to disruptions caused by the COVID-19 pandemic, the Pennsylvania Higher Education Assistance Agency (PHEAA) has extended the deadline for college students to apply for state grants from May 1 to May 15 for the 2020-21 academic year. The new deadline applies both to renewals and first-time applicants.
More information on how to apply for state grants and how the coronavirus will impact state grant and special loan programs is available on PHEAA's website.
In addition, the agency recently offered a three-month forbearance on all PHEAA-owned private loans for borrowers affected by COVID-19. More details are available here. Borrowers must contact their loan servicer, American Education Services (AES), in order to request this forbearance. The AES COVID-19 webpage includes more information about options for borrowers to postpone payments for both federal and private student loans.
SEDA-COG Offers Area Businesses New Loan Program for Lycoming, Union & Surrounding Counties
Businesses impacted by the COVID-19 crisis in 11 central Pennsylvania counties now have another funding option – a new loan program established by SEDA-Council of Governments (SEDA-COG).
No payments are due in the first six months for the new SEDA-COG EDA COVID-19 Loan Fund. There is a limited pool of funds available – $400,000 – so interested businesses should apply now. Funds are available until they are exhausted. The loans are for businesses in SEDA-COG's region of Centre, Clinton, Columbia, Juniata, Lycoming, Mifflin, Montour, Northumberland, Perry, Snyder, and Union counties.
For more information, visit https://seda-cog.org/covid-19/ or contact SEDA-COG's Business Finance Department at cwca@seda-cog.org.
UGI Energy Services Supports Food Banks, Helps Fight Hunger
I know that the coronavirus pandemic is an overwhelming and stressful time for everyone, so I'm going to highlight some positive things that are happening within our communities.
This month UGI Energy Services (UGIES) provided $40,000 to several local food banks, including the Central PA Food Bank. The company worked with the food banks to establish virtual food drives for employees to make contributions to programs in areas where they live and where UGIES operates. UGIES has also partnered with the American Red Cross to create the "Powered to do More" program as part of its SleevesUp – ArmsOut campaign to challenge employees to donate blood or blood components at local Red Cross locations.
Thank you to UGI Energy Services for your steadfast support of our community!
Mental Health Resources Available for Pennsylvanians in Need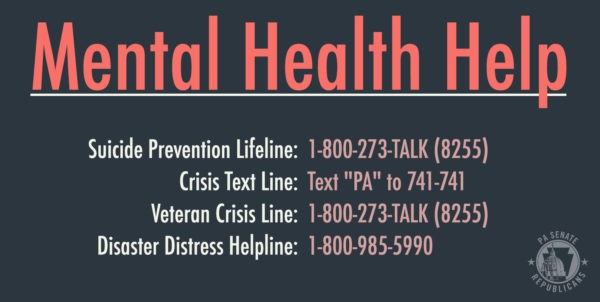 The coronavirus public health emergency has created a great deal of stress and anxiety throughout the state. A number of mental health resources are available to help Pennsylvanians who are struggling during these challenging times.
An overview of mental health resources for state residents is available here. Resources are also available through the Crisis Text Line by texting "PA" to 741-741.