Dear Friends,
Hello! Thank you for subscribing to my E-newsletter. I am honored to serve the 23rd Senate District and look forward to working with you toward building a better future for Pennsylvania!
This E-newsletter serves to keep you updated on what is happening throughout Bradford, Lycoming, Sullivan, Tioga and Union counties and what I am doing as your state senator in Harrisburg. I hope that you will find this E-newsletter helpful, and if you have any questions or concerns, please feel free to contact me.
Gene Yaw
State Senator
www.SenatorGeneYaw.com

PA Senate Response to COVID-19: A Round-up
The COVID-19 public health emergency has presented Pennsylvania with unprecedented medical and economic challenges, claiming more than 2,300 lives and upending millions more. The Pennsylvania Senate has been meeting via teleconference technology to provide the tools to protect public health, deliver a lifeline to those forced out of work, and complete the urgent task of safely reopening the commonwealth.
Some of the key measures approved by the Senate:
Our work on this emergency won't end until all Pennsylvanians can work and move about freely. You can follow our efforts during Senate session here and committee activity here. I will keep you informed of additional legislative action in these email updates.
Stay-At-Home Order Lifted for 24 PA Counties Effective May 8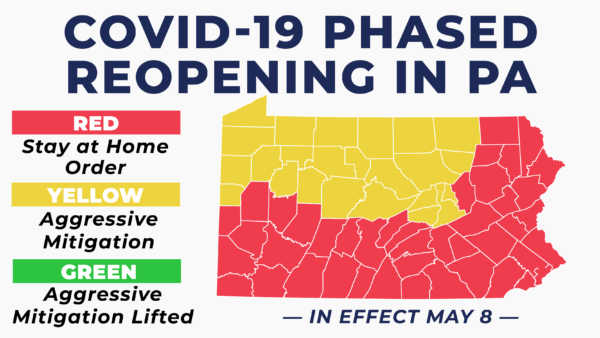 Although Governor Wolf's stay-at-home order for COVID-19 currently remains in effect for all counties in Pennsylvania, 24 counties will see these restrictions lifted beginning on May 8. Counties in northwest and northcentral Pennsylvania will move to the yellow phase of reopening, which allows businesses with in-person operations to open under strict health guidelines and business safety orders.
Counties moving to the yellow phase include: Bradford, Cameron, Centre, Clarion, Clearfield, Clinton, Crawford, Elk, Erie, Forest, Jefferson, Lawrence, Lycoming, McKean, Mercer, Montour, Northumberland, Potter, Snyder, Sullivan, Tioga, Union, Venango, and Warren.
More information about current plans to reopen Pennsylvania is outlined here.
While the governor's action is a small step in the right direction, I believe employers and small businesses in more counties could continue to operate safely with the proper guidance of the Centers for Disease Control. I will continue to fight to see more counties and industries opened safely as soon as possible.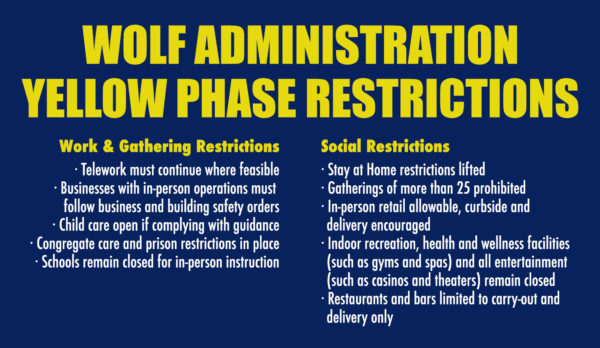 Senate Hearings Scheduled This Week to Examine COVID-19 Response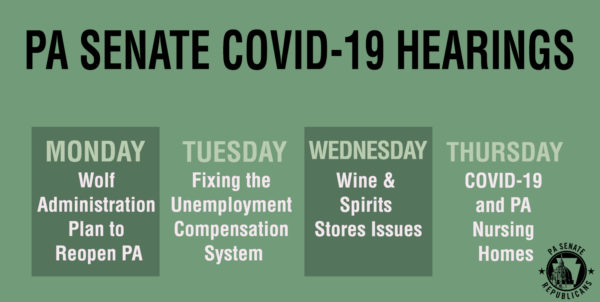 A series of four hearings is scheduled this week to examine various aspects of the Wolf Administration's response to COVID-19. Committee members will question administration officials directly via remote technology, and the hearings will be streamed live at www.pasenategop.com.
Monday 10 a.m.: The Senate Local Government Committee and the Senate Health and Human Services Committee takes a closer look at Governor Wolf's approach to reopening Pennsylvania.
Tuesday 1 p.m.: The Senate Labor and Industry Committee and Senate Communications and Technology Committee examines some of the serious issues plaguing Pennsylvania's Unemployment Compensation system.
Wednesday 10 a.m.: The Senate Law and Justice Committee examines troubles with state Wine & Spirits shops during the COVID-19 pandemic.
Thursday 10:30 a.m.: The Senate Aging and Youth Committee discusses nursing homes and the challenges they face during COVID-19.
Video and details from the hearings will be available here.
Important Update for UC Applicants Who Have Not Received PINs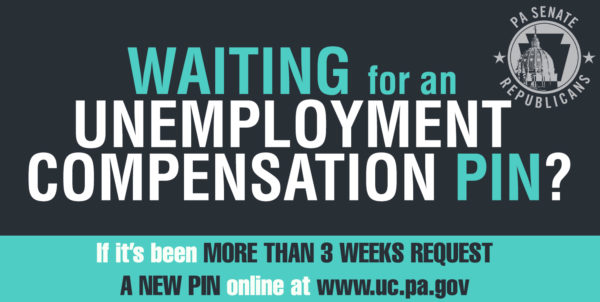 Many workers who are trying to file for unemployment benefits have reported long delays in receiving a PIN. The Office of Unemployment Compensation is advising claimants that if they do not receive a PIN within three weeks, they should complete a PIN Reset Request online.
Once applicants receive their PIN, they can file for all missed weeks dating back to the first missed week of work. More information on the Unemployment Compensation system is available here.
If you're self-employed, an independent contractor, gig worker, or someone not normally eligible for regular unemployment compensation (UC) and haven't yet applied for benefits under Pennsylvania's Pandemic Unemployment Assistance (PUA) program, the Department of Labor & Industry (L&I) is reminding you to submit your application at www.uc.pa.gov/PUA.
L&I's new PUA website, which launched its application phase April 18, is expected to be fully operational by the end of next week or earlier. Individuals who already applied can soon file their weekly claims for which they should be paid approximately two to three days later if there are no issues to resolve. Eligible Pennsylvanians who already submitted their applications have taken that important first step which puts them in a position to file weekly claims as soon as the system is fully active.
PUA applicants will soon be able to file for all weeks, including those dating back to the first week of unemployment. If approved, you will receive in one lump sum the backdated payments to January 27, 2020 or the first week you were unable to work due to COVID-19 (whichever of the two dates is later.)
Additionally, when you begin receiving PUA payments, you will automatically receive an extra $600 per week through the Federal Pandemic Unemployment Compensation (FPUC) program. FPUC payments are made separately from your regular PUA payments, and should generally be in your account a week after you receive your PUA payment. FPUC benefits are for the week ending April 4, 2020 through the week ending July 25, 2020. These payments will also be paid in one lump sum for any backdated weeks.
Even if you soon return to work as part of Pennsylvania's yellow phase reopening, you will still be able to claim and receive backpay if your PUA application is approved. Individuals who return to work part time must report their weekly earnings when claiming weekly benefits, and those who return full time may simply stop filing. Claims can be reopened at a later date if your employment situation changes.
Expiration Dates Extended for PennDOT Driver Licenses, ID Cards and Learner's Permits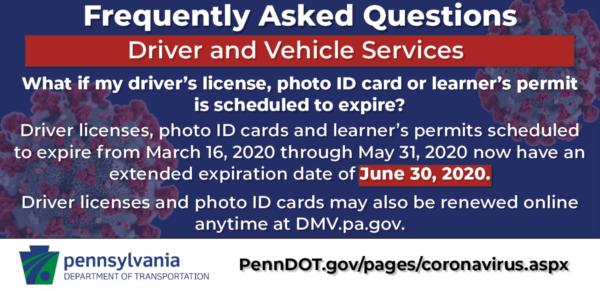 PennDOT announced last week that Pennsylvanians who have an expiring driver license, photo identification card or learner's permit will have more time to renew them. Any of these items scheduled to expire from March 16, 2020 through May 31, 2020, are now extended through June 30, 2020.
PennDOT's Driver License Centers and Photo License Centers remain closed due to the COVID-19 public health emergency. However, many services can still be completed online.
Farmers Markets Prepared to Safely Open Amid COVID-19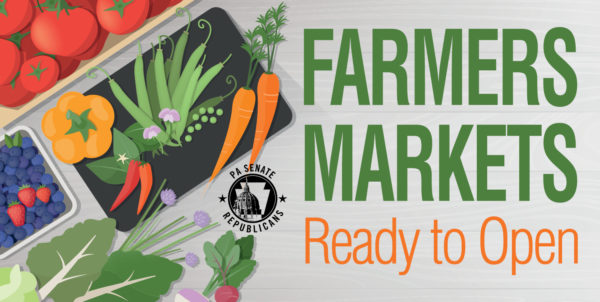 Farmers markets, like grocery stores, offer life-sustaining food and essentials and have been provided guidance from the Department of Agriculture on ways to safely operate and minimize risks during the COVID-19 public health crisis.
The guidance also offers farms the opportunity to open an on-farm stand to sell raw produce, eggs, or shelf stable packaged foods such as jams, jellies, or baked goods without additional food safety licenses. More information about Pennsylvania's farm markets is available at pafarm.com.
PennDOT Construction Projects Resume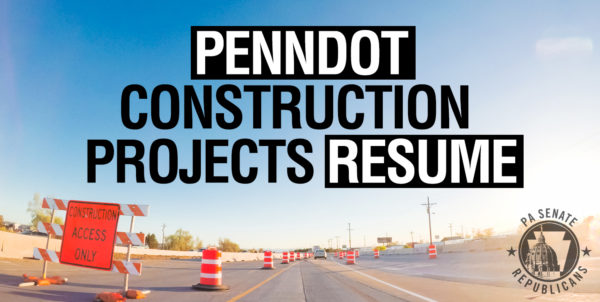 As part of the governor's announcement that construction projects could resume in Pennsylvania on May 1, PennDOT highway and bridge projects will also be allowed to continue with new safety precautions in place to prevent the spread of COVID-19.
Additional details about PennDOT construction projects are available at PennDOT.gov.
Limited Opening of State Park and Forest Facilities Scheduled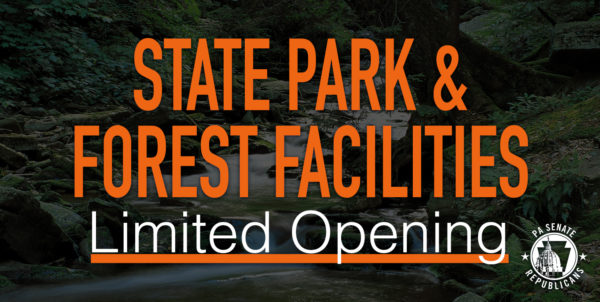 As the warmer spring weather sends more Pennsylvanians looking for safe recreation opportunities, a limited number of state park and forest facilities are scheduled to reopen in the days and weeks ahead.
The reopenings include at least one restroom in day-use areas in state parks, forests and marinas effective May 8; all nine marinas in state parks effective May 8 unless otherwise designated; and all three public golf courses in the system. State park facilities in counties in the yellow phase of reopening will also be open to the public beginning on May 15. More