Dear Friends,
Hello! Thank you for subscribing to my E-newsletter. I am honored to serve the 23rd Senate District and look forward to working with you toward building a better future for Pennsylvania!
This E-newsletter serves to keep you updated on what is happening throughout Bradford, Lycoming, Sullivan, Tioga and Union counties and what I am doing as your state senator in Harrisburg. I hope that you will find this E-newsletter helpful, and if you have any questions or concerns, please feel free to contact me.
Gene Yaw
State Senator
www.SenatorGeneYaw.com

"A mother is your first friend, your best friend, your forever friend." – Unknown
Recognizing Montgomery High School Stock Market Challenge Winners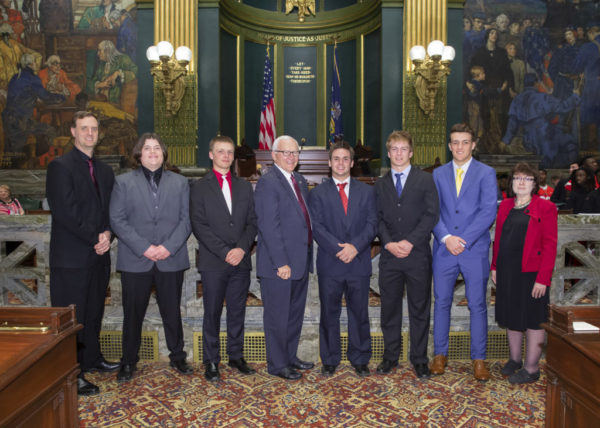 (L to R) Ryan Monoski, Advisor; Brennan Bailey; Kalen Guyer; Gage Yohn; Rhyle Strausbaugh; Brayden Strouse and Carolyn Shirk of the Pennsylvania Council on Financial Literacy
This week, I had the privilege of recognizing the Fall 2018 Stock Market Challenge Winners from Montgomery Jr./Sr. High School in Lycoming County during a special ceremony at the State Capitol.
The Pennsylvania Council on Financial Literacy's Stock Market Challenge is an award-winning educational program used in classrooms to help teach math, social studies, business, economics and language skills, while focusing on the importance of long term savings and investments. Thirty-eight of Pennsylvania's 67 counties participate in the program.
Montgomery captured their 7th consecutive state championship in the Challenge this year competing in the "Advanced High School Division."
To read more, click here.
Senate Passes Package of "Farming First" Bills to Support PA Agriculture
Agriculture is the backbone of Pennsylvania's economy and an important part of our heritage. The Senate approved seven bills this week that will support our farmers and help future generations of leaders in agriculture get started in the industry.
The Farming First package includes bills that will help landowners transfer property to beginning farmers; give farmers more flexibility in how they manage their land; ease transportation restrictions on large farm equipment and exempt milk haulers from weather-related travel bans; give farmers more options to generate revenue through agritourism and agritainment activities; and bring together leaders in agriculture to explore new ways to address financial challenges in Pennsylvania's dairy industry.
More details about the package of agriculture bills is available, click here.
The #SpottedLanternfly could ruin more than just THIS glass of wine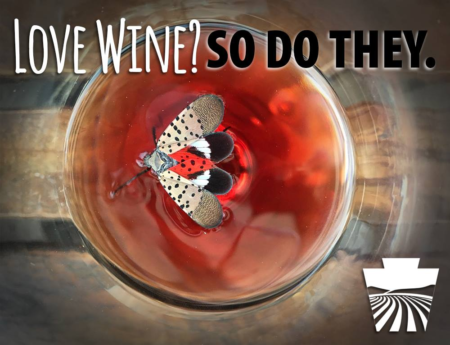 Learn more about what you can do to stop this #BadBug: https://buff.ly/2KBn1ph
Senate Approves Legislation to Boost Interest in Career and Technical Education
The Senate approved bipartisan legislation this week that would help generate more interest in Pennsylvania's career and technical education programs.
Senate Bill 89 would remove references to "vocational-technical schools" in the Public School Code and replace them with "career and technical schools" to help remove the negative stigma associated with these institutions.
In many schools and communities, there is an unfair, decades-old bias against vocational-technical schools, despite the fact that these schools help prepare students for rewarding, good-paying careers. The goal of the bill is help students and parents understand the real value of these programs as they consider which educational and career paths they want to pursue.
Senate Approves Measure Giving Schools Option to Utilize Flexible Instructional Days
A bill that would give school districts the option to implement flexible instructional days in the event of a school closure was recently approved by the state Senate.
Senate Bill 440 makes permanent a pilot program that the Pennsylvania Department of Education opened up to a dozen school districts across the commonwealth. The pilot program is set to expire later this year.
The legislation paves the way for any public school entity to use up to five flexible instructional days in special instances such as weather-related closures, building or infrastructure problems, or if threats are made against buildings.
Senator Yaw, Members of Task Force on Lead Exposure Discuss Legislative Report and Recommendations
On Tuesday, I joined legislative members of the Task Force on Lead Exposure to discuss legislative recommendations that were part of the 'Lead Exposure Risks and Response in Pennsylvania: Report of the Advisory Committee and Task Force on Lead Exposure.'
Lead contamination in schools and in public drinking water supplies is a real threat across our state and our nation. It's unfortunate that schools, a place where our children spend much of their time, can have unsafe levels of lead in their water supply. The bill is one more step we can take to protect our children and school employees from potential health hazards.
To read more, click here.
Joining Penn College, Others to Dedicate Wellsboro Instructional Facility
Gathered during dedication ceremonies for the new Penn College at Wellsboro facility are (from left) Steven P. Johnson, president of UPMC Susquehanna; Davie Jane Gilmour, president of Pennsylvania College of Technology; Sen. Yaw, chairman of the Penn College Board of Directors; and Janie Hilfiger, president, UPMC Susquehanna Soldiers + Sailors and UPMC Cole. [Photo credit: Cindy Davis Meixel]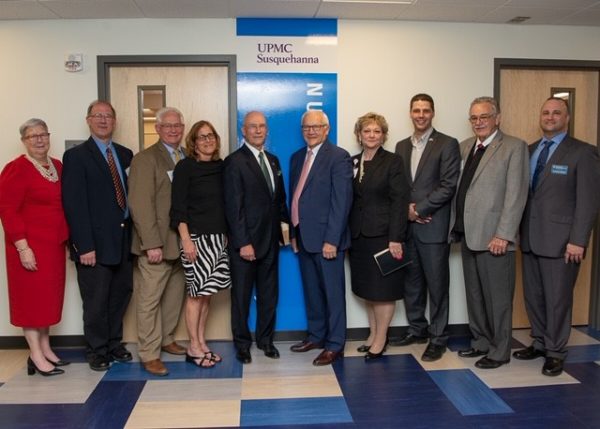 Commemorating a far-reaching gift are (from left) PCT President Davie Jane Gilmour; Tioga County Commissioners Mark C. Hamilton and Erick J. Coolidge; Deb Rudy, field representative for Sen. Joe Scarnati; Steve Johnson, President of UPMC Susquehanna; Sen. Yaw, chairman of the college board of directors; Janie Hilfiger, president, UPMC Susquehanna Soldiers + Sailors and UPMC Cole; state Rep. Clinton D. Owlett; Tioga County Commissioner Roger C. Bunn; and Jason P. Zielewicz, director of workforce development at Wellsboro. [Photo credit: Cindy Davis Meixel]
A facility gifted to Pennsylvania College of Technology by UPMC Susquehanna is serving a new purpose as a site for instruction in practical nursing, medical assistant and other health care careers, as well as customized training for business and industry.
The 8,400-square-foot Penn College at Wellsboro facility, located at 22 Walnut St., was formally dedicated Thursday in ceremonies that included members of the Penn College community, representatives of UPMC, and many others. I was honored to attend the dedication.
Loyalsock, Montgomery Students Participate in Annual PAECT Showcase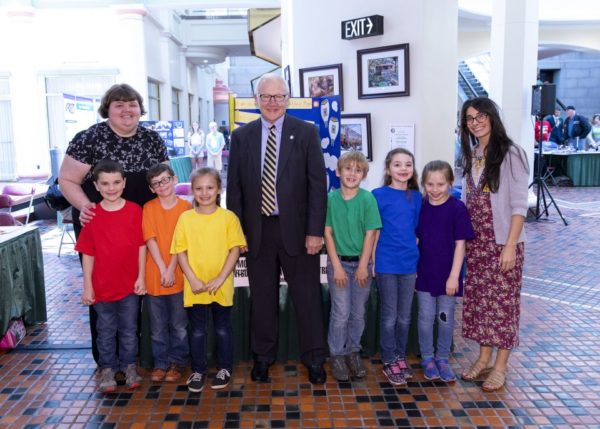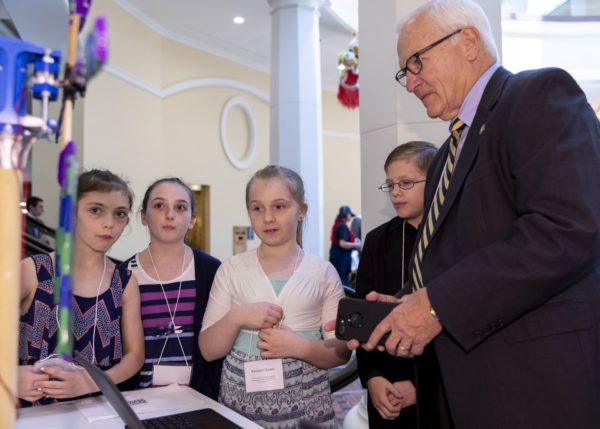 To view more photos, click here.
Student from Loyalsock and Montgomery School Districts participated in the Pennsylvania Association for Educational Communications and Technology (PAECT) 27th Annual PAECT Student Technology Showcase this week in Harrisburg. The showcase, located in the East Rotunda of the Capitol Building, is held annually to present legislators and the public with the opportunity to learn how teachers are integrating technology into K-12 classrooms across the Commonwealth. The students demonstrated engaging projects that utilized mobile devices, video, graphic design and robotics, animation and more.