Dear Friends,
Hello! Thank you for subscribing to my E-newsletter. I am honored to serve the 23rd Senate District and look forward to working with you toward building a better future for Pennsylvania!
This E-newsletter serves to keep you updated on what is happening throughout Bradford, Lycoming, Sullivan, Tioga and Union counties and what I am doing as your state senator in Harrisburg. I hope that you will find this E-newsletter helpful, and if you have any questions or concerns, please feel free to contact me.
Gene Yaw
State Senator
www.SenatorGeneYaw.com

Click here to find the latest information on coronavirus from the Pennsylvania Department of Health and the Centers for Disease Control and Prevention
SIGN UP: First Responders, Municipal 'COSTARS' Workshop Set for Thursday, May 13
On Thursday, May 13th at 11AM, I am inviting local municipal leaders, first responders and community representatives to a free virtual workshop to discuss Procurement Options for Municipal and Emergency Leaders.
Guests from the PA Department of General Services will discuss the COSTARS program, which is a cooperative purchasing program that can be utilized by municipalities and first responder organizations across Bradford, Lycoming, Sullivan, Susquehanna and Union counties. Staff will also discuss federal programs that may be available to municipal and emergency organizations.
I hope you or a community representative can participate!
Please click on the link below and register. The virtual ZOOM link will be sent one day prior to the event. If you have any additional questions or concerns, please contact Gerald A. "Arnie" Kriner in my Williamsport District Office at 570-322-6457 or gkriner@pasen.gov.
To register, please click here:
https://redesign.senatorgeneyaw.com/procurement-options/
Natural Gas Expansion Project Underway in Bradford County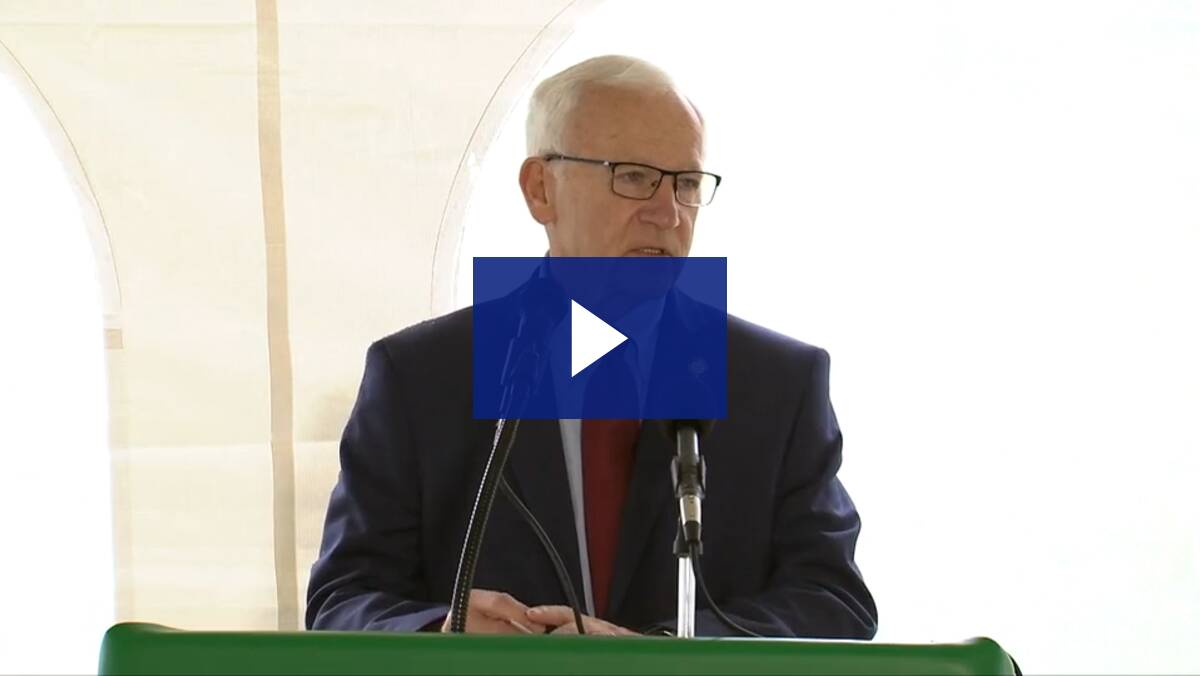 Leatherstocking Gas Co. and the Wyalusing Area School District hosted a ground-breaking ceremony on May 5 to celebrate the beginning of a project that will bring natural gas service to the district, Wyalusing Borough and parts of Wyalusing Township.
Part of the funding utilized PA's Pipeline Investment Program (PIPE), which the PA Legislature established in 2016 to extend the last mile of pipeline to anchor tenants. This project is a win-win-win for Bradford County taxpayers. Jobs, cost savings and investment in the region, not to mention it reinforces the state's commitment to using low-cost, abundant natural gas for our communities.
Senator Yaw joined Wyalusing Area School District students, teachers and members of the WASD Administration, as well as local government officials and employees from Leatherstocking and Corning Natural Gas for a groundbreaking ceremony to extend natural gas service to the school district, borough and township. Funding was received through Pennsylvania's Pipeline Investment Program (PIPE), created by the Legislature in 2016
Pictured L to R: Sen. Yaw; Mike German, President & CEO, Leatherstocking Gas; and Congressman Fred Keller
Sen. Yaw talks with Wyalusing Borough Mayor Suky Burgess during the groundbreaking ceremony at Wyalusing Area School District
This Week…
The state Senate returns to voting session this week, and several committee meetings and hearings are planned.
The Senate Appropriations Committee will consider my legislation, Senate Bill 251, which will establish best management practices for the use of fertilizer. Pennsylvania's Fertilizer Act was first passed in 1956 and has not been substantially modernized since. The updates I am proposing, in consultation with industry and state agencies, will unquestionably reduce the environmental impact of fertilizer applied to lawn and turf areas, while ensuring that the land will be able to receive adequate nutrients. Homeowners investing in lawn care services have no way to know if the employees applying fertilizer to their yards are properly trained, and the Department of Agriculture has no authority to investigate irresponsible or illegal applications. This bill will change that.
Additionally, the Senate Environmental Resources & Energy Committee and the Senate Local Government Committee will hold a joint committee hearing on Tuesday, May 11, to discuss Senate Bill 275, which would bar cities or towns from restricting types of energy sources in housing and commercial developments. Across the country, local officials are barring the use of heating oil, propane and natural gas for residents. They are also urging restaurants and homeowners to get rid of appliances that use such fuel sources. The sad outcome is that this is creating higher energy costs. The hearing will be held at 10 a.m. in the Senate Chamber and will be live streamed on the Committee webpage: https://environmental.pasenategop.com/
The Environmental Committee will also join with the Senate Agriculture and Rural Affairs Committee for a committee hearing on Wednesday, May 12, to discuss Senate Bill 284 (Bonding of Solar and Wind Installations). Across Pennsylvania, homeowners and municipalities are faced with solar farms popping up on open land, posing environmental or other public impacts if not handled appropriately.
The hearing will be held at 9 a.m. in the Senate Chamber and will be live streamed on the Environmental Resources & Energy Committee webpage: https://environmental.pasenategop.com/
Pennsylvanians Can Vote for a Better Emergency Declaration Process
This primary election, voters have the opportunity to decide two proposed amendments to the Pennsylvania Constitution that would improve the way the state responds to future emergencies.
A YES at the ballot box means voters favor:
Protecting the education of our children;
Supporting small employers in our local communities;
Prohibiting discrimination; and
Providing funding for fire companies.
The Wolf Administration has been widely criticized for wording the emergency response questions in a way that is deeply confusing and prejudicial. It's important that voters understand what the proposed amendments would accomplish.
Senate Approves Legislation Permitting Essential Family Caregiver Nursing Home Visits During Emergencies
The Senate approved legislation to allow a family member or other designated person to visit and care for a long-term care facility resident during a disaster emergency involving a communicable disease. During the COVID-19 pandemic, many residents of such facilities had been denied the ability to see and receive care from their loved ones, causing traumatic distress.
The legislation allows long-term care facilities to designate Essential Family Caregivers for regular visits. A participating facility must follow necessary health precautions outlined by federal and state governments.
Touring Benton Foundry
For nearly 100 years, spanning three generations, Benton Foundry in Columbia County has produced gray iron and ductile iron parts. Today, with a diversified base, the foundry serves more than 400 customers. I had the opportunity to tour this facility, which employs dozens of residents from Lycoming and surrounding counties. The list of customers who buy iron castings from the Benton Foundry is long and prestigious. It includes NASA, John Deere and Disney, just to name a few.
Senator Yaw talks with Benton Foundry Vice President Tim Brown
Senate Approves Program to Train Next Generation of PA Firefighters
The Senate approved creation of a pilot program to train high school students interested in firefighting and help alleviate the pressing need for volunteer firefighters in Pennsylvania. According to the bipartisan SR 6 report on the serious problems facing volunteer fire companies, Pennsylvania is experiencing a severe shortage of volunteer firefighters. The current number of volunteers is down to less than 15 percent of the number in the 1970s.
The legislation creates a pilot program for Pennsylvania community colleges and universities to give interested high school students training in firefighting. The goal is to demonstrate that students receiving training will show an interest in becoming the next generation of firefighters. The bill requires a follow-up study to measure the program's success.
Grant May Offer No-Cost Home Repairs for Sullivan County Homeowners
Sullivan County has designated Community Development Block Grant (CDBG) funds for Owner-Occupied Housing Rehabilitation work. Homeowners who live in their home full-time are encouraged to apply now to get on the waiting list.
Homeowners can receive up to $50,000 for rehabilitation improvements and up to an additional $25,000 to reduce and stabilize lead-based paint.
Eligible repairs include structural, roofing, plumbing, electrical, heating/furnace, window replacement, radon and lead-based paint mitigation, and energy-related improvements. Also included are modifications for mobility-impaired residents.
The county will provide up to $75,000 as a no-interest loan, which will be forgiven if the property is not sold or transferred for at least five years after the rehabilitation is complete.
SEDA-Council of Governments (SEDA-COG) assists the homeowner through the whole process, said Teri Provost, director of the agency's Housing Rehabilitation program.
Interested homeowners may call SEDA-COG's Stacy Anderson at 800-326-9310, ext. 7215, to discuss qualifications and eligibility requirements, or visit www.seda-cog.org.
Job Fair Set in Troy, May 19