Dear Friends,
Hello! Thank you for subscribing to my E-newsletter. I am honored to serve the 23rd Senate District and look forward to working with you toward building a better future for Pennsylvania!
This E-newsletter serves to keep you updated on what is happening throughout Bradford, Lycoming, Sullivan, Tioga and Union counties and what I am doing as your state senator in Harrisburg. I hope that you will find this E-newsletter helpful, and if you have any questions or concerns, please feel free to contact me.
Gene Yaw
State Senator
www.SenatorGeneYaw.com

May 17, 2019
"Stand straight, walk proud, have a little faith."
-Garth Brooks
Visiting Bradford County Veteran's Memorial Park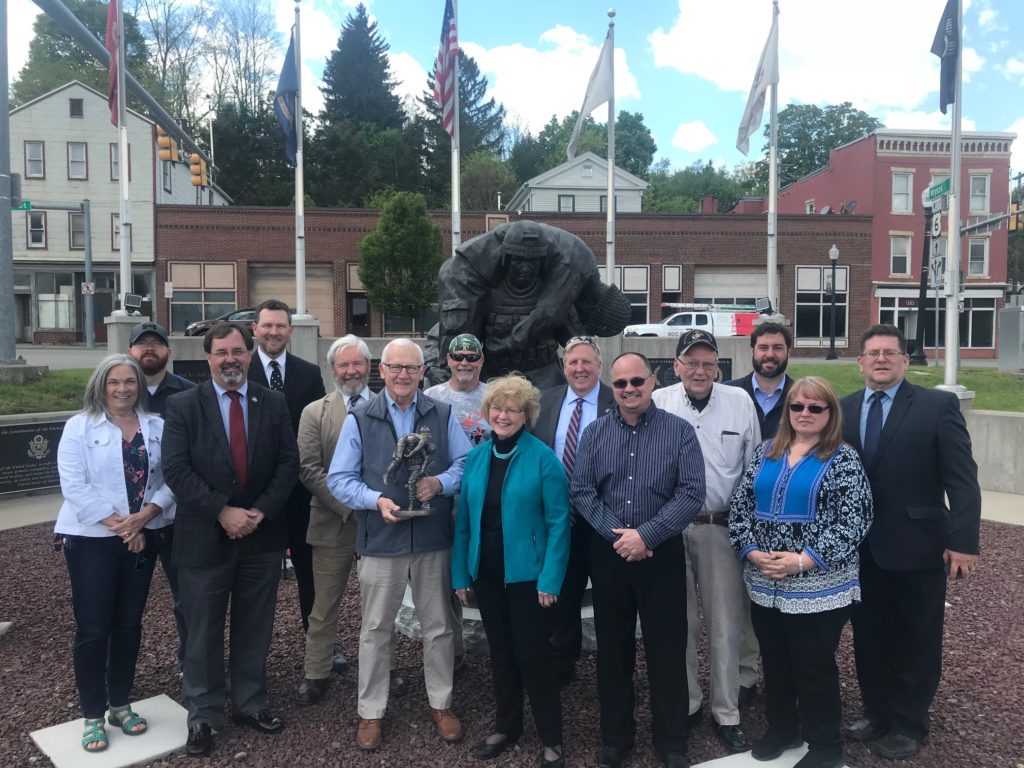 On Thursday, May 16, I was honored to stand with members of the Bradford County Veteran's Memorial Park in Towanda, as well as elected officials, to pay tribute to this fine community memorial.
Last year, the state was able to help fund the expansion and improvement of the existing memorial, including the construction of a rotunda housing a unique bronze statue known as "The Quintessential Soldier." The supporting legs of the rotunda will also honor each of the five branches of the military.
The Bradford County Veteran's Memorial is a fine tribute to all of the brave men and women from Bradford County who selflessly served our great Nation. This site honors their lives in a way that few other tributes can, and I was honored to help fund the completion of a monument to these brave heroes.
A partnership between the Bradford County Veterans Memorial Park Association and the Borough of Towanda, the memorial project stands as a stonework honorarium focusing on those who have served from 1775 to the present day.
Young Family Honored with Century Farm Award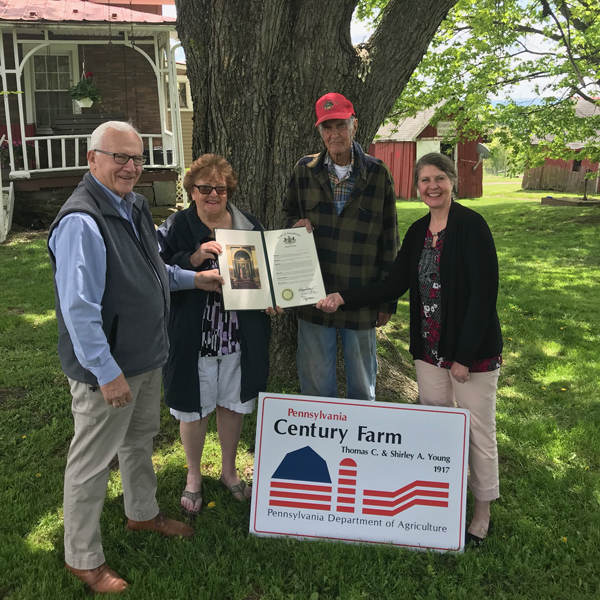 Thomas and Shirley Young of Troy were recently recognized with a Century Farm Award by the Pennsylvania Department of Agriculture. While I could not make the event hosted by the Bradford/Sullivan County Farm Bureau, I made it a point to stop by their home and present them with a congratulatory Senate Citation this week, which I sponsored.
Thomas and Shirley have had the farm in their family since Sept. 22, 1917. Congratulations!
Touring Local, Family-Owned Businesses in Bradford County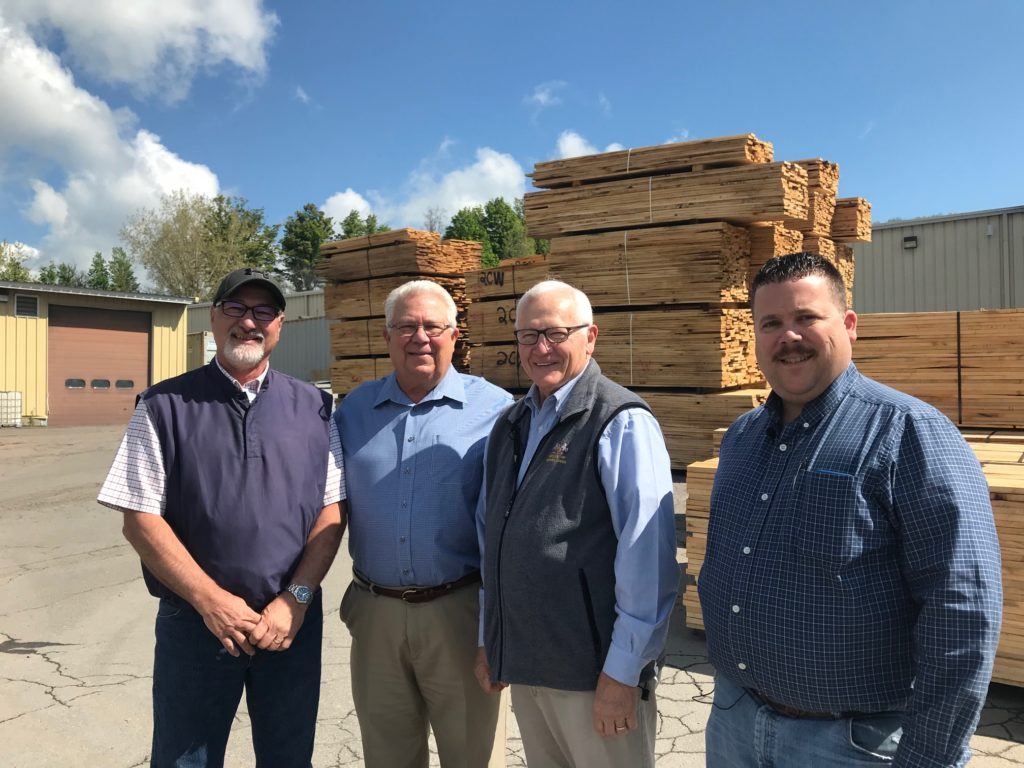 L to R: Norm Steffy, Vice President of Cummings Lumber Co.; Roy Cummings Jr.; Sen. Yaw and Scott Cummings, President, Cummings Lumber Co.
On Thursday, I had the opportunity to visit three family-owned businesses in Bradford County – Cummings Lumber Co. Inc; Barefoot Pellet Co. and Barefoot Brand Flooring all located in Troy.
<
L to R: Scott Cummings, President, Cummings Lumber Co.; Sen. Yaw; Roy Cummings Jr. and Mike Davison, Plant Manager at Barefoot Pellet Co.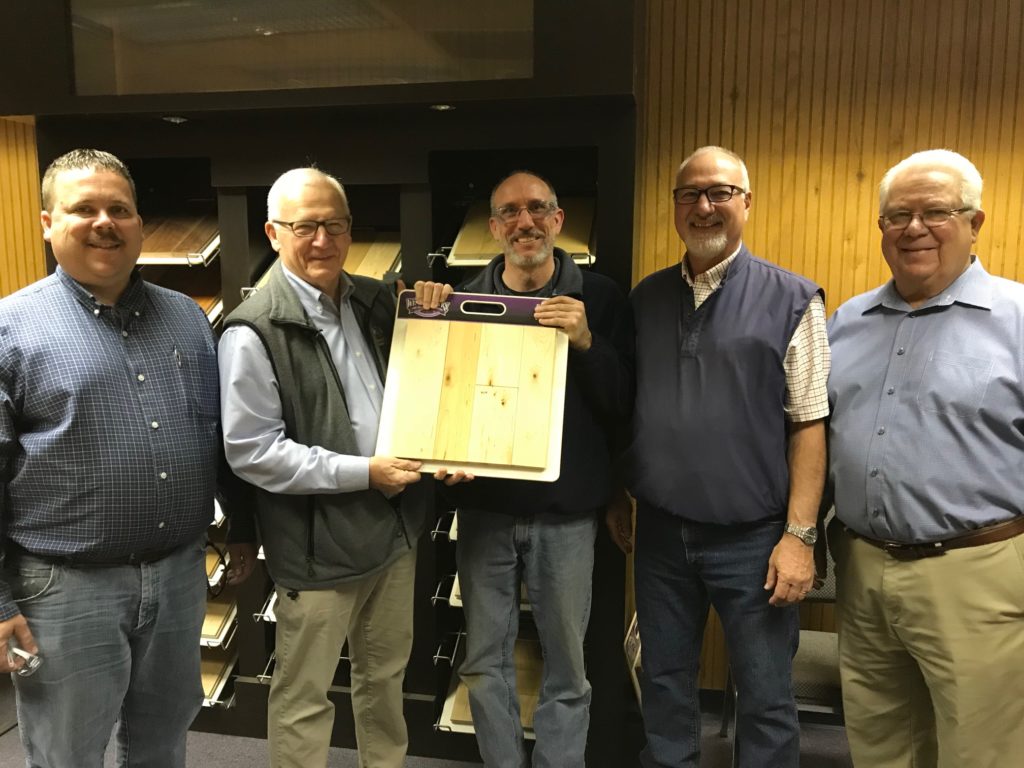 L to R: Scott Cummings, President, Cummings Lumber Co.; Sen. Yaw; Steven White, Plant Manager, Barefoot Brand Flooring; Norm Steffy, Vice President, Cummings Lumber Co. and Roy Cummings Jr.
What We're Watching….
*The state Senate will return to voting Session on Monday, June 3 at 1PM. For a list of Committee meetings / hearings, click here.
Preparing for state budget talks….Pennsylvania's Independent Fiscal Office (IFO) will release its Initial Revenue Estimate on Monday, May 20, 2019. The report will contain revisions to the FY 2018-19 estimate as well as an initial estimate for FY 2019-20. A public briefing will take place at 11:00 am on May 20th in the Rachel Carson Office Building, Harrisburg.
USDA is making available up to $40 million in technical and financial assistance to help eligible conservation partners voluntarily protect, restore and enhance critical wetlands on agricultural lands. Restored wetlands improve water quality downstream and improve wildlife habitat, while also providing flood prevention and recreational benefits to communities. For more information, click here.
With Memorial Day weekend less than two weeks away, the Pennsylvania State Police (PSP) and Pennsylvania Department of Transportation (PennDOT) encourage drivers to be safe on the roads. The agencies will work with municipal police departments and other safety partners across the commonwealth to participate in the national "Click It or Ticket" seat belt enforcement and education initiative from May 13 through June 2, 2019.
Penn College Tour Enlightens Senate Committee Chairs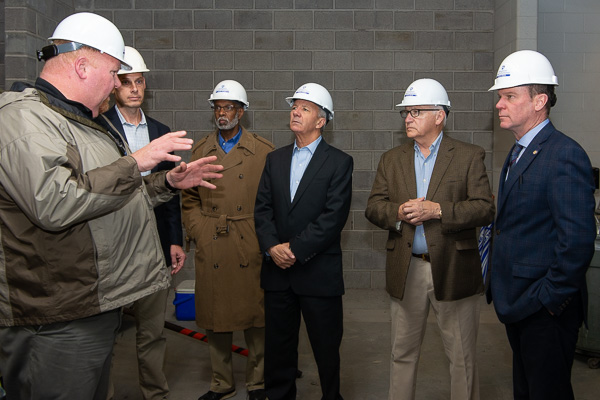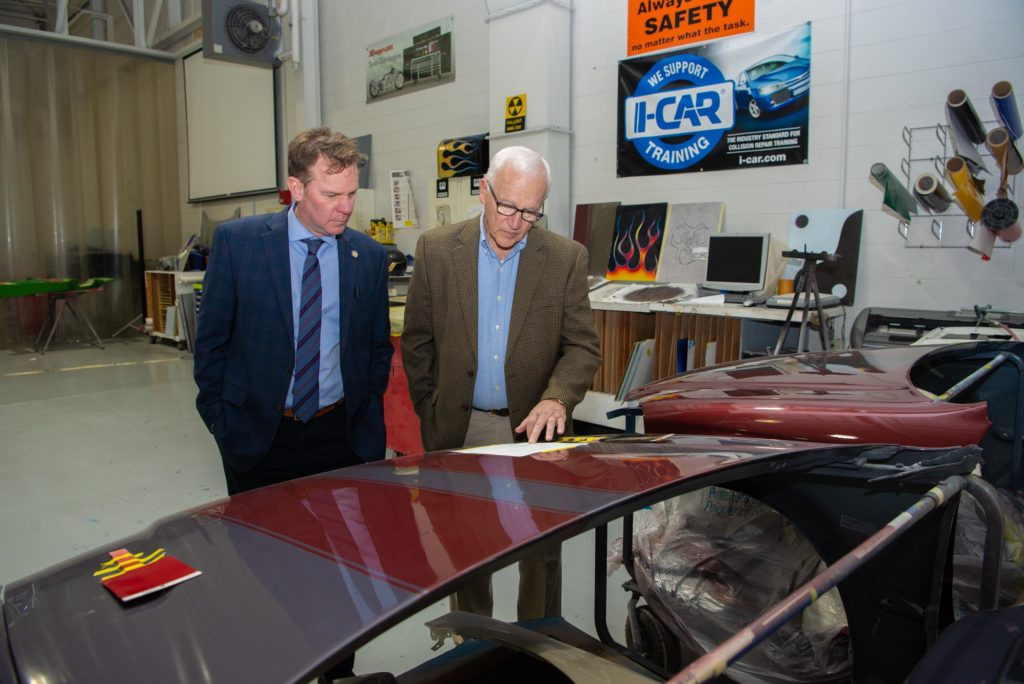 Sen. Dan Laughlin and Sen. Gene Yaw
A bipartisan group of state Senators recently received a follow-up look at Penn College during a trip to the main campus this week.
Touring a number of instructional labs with me were Sen. Art Haywood of the Health and Human Services Committee; Sen. Thomas H. Killion of the Community, Economic and Recreational Development Committee; Sen. Daniel Laughlin of the Game and Fisheries Committee; and Sen. Sharif Street of the Banking and Insurance Committee.
In Other News….
The Appalachian Regional Commission is now accepting applications for the inaugural class of the Appalachian Leadership Institute, a new leadership and economic development training opportunity for community leaders who currently live and/or work in Appalachia. The Appalachian Leadership Institute is an extensive nine-month program focusing on skill-building, seminars, best practice reviews, field visits, mentoring, and networking. The curriculum will be anchored by six multi-day seminars around the region, followed by a capstone graduation in Washington, DC. Click here to learn more and apply by June 1.
May marks the start of the busiest household moving season. The PA Public Utility Commission has tips for hiring a licensed mover, including your rights and responsibilities, how to file a complaint, etc. One tip: check delivered items for missing or damaged goods prior to signing the delivery receipt. More here:
USDA Encourages Rural Communities To Apply For Stormwater, Water Infrastructure Funding
USDA is providing the funding through the Water and Waste Disposal Loan and Grant program. It can be used to finance drinking water, stormwater drainage (including green infrastructure that follows best management practices) and waste disposal systems for rural communities with 10,000 or fewer residents.
Eligible rural communities and water districts can apply online for funding to maintain, modernize or build water and wastewater systems.
Applications are being accepted on a continuing basis for this funding.
Visit the USDA/PA Water & Waste Disposal Loan & Grant Program In PA webpage for more information. Questions should be directed to Curt Coccodrille, State Director, 359 East Park Drive, Suite 4 in Harrisburg, call 717-237-2299 or other program contacts.