Dear Friends,
Hello! Thank you for subscribing to my E-newsletter. I am honored to serve the 23rd Senate District and look forward to working with you toward building a better future for Pennsylvania!
This E-newsletter serves to keep you updated on what is happening throughout Bradford, Lycoming, Sullivan, Tioga and Union counties and what I am doing as your state senator in Harrisburg. I hope that you will find this E-newsletter helpful, and if you have any questions or concerns, please feel free to contact me.
Gene Yaw
State Senator
www.SenatorGeneYaw.com

Click here to find the latest information on coronavirus from the Pennsylvania Department of Health and the Centers for Disease Control and Prevention
Primary Election Day is Tuesday: Emergency Declaration Questions on the Primary Election Ballot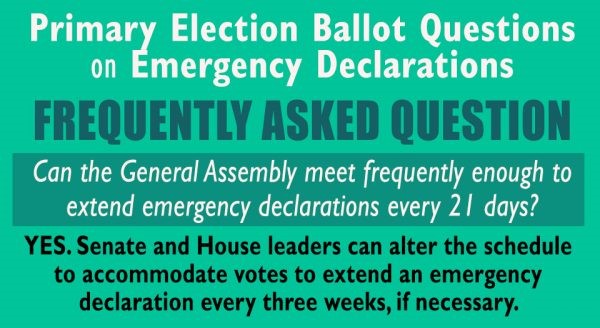 As I've reported to you in previous updates, the May 18 primary election features two proposed constitutional amendments to improve Pennsylvania's emergency declaration process. There has been a great deal of confusion about what the amendments would accomplish.
Here are some answers to frequently asked questions:
Will voting YES on the amendments immediately end the current emergency declaration?
No. Voting YES would only give lawmakers the opportunity to collaborate with the Executive Branch to avoid many of the negative consequences we have seen as a result of Governor Wolf's unilateral actions.
If I vote YES on the ballot questions, is the General Assembly able to meet quickly enough to respond to emergencies?
Absolutely. The PA General Assembly proved its ability to move quickly after the governor's COVID-19 shutdown orders, becoming the nation's first legislature to meet virtually. Lawmakers quickly delayed the primary election, authorized small business assistance, enacted local government emergency provisions, removed school mandates and ensured healthcare workers had PPE.
Can the General Assembly meet frequently enough to extend emergency declarations every 21 days?
Yes. Senate and House leaders can alter the schedule to accommodate votes to extend an emergency declaration every three weeks, if necessary.
Would the state risk losing federal money for food assistance and other emergency funding if the amendments are approved?
No. Legislative leaders intend to work with the governor cooperatively and in the best interests of the people of Pennsylvania to preserve access to federal emergency relief funding, while protecting lives and livelihoods.
Will these amendments apply only to the current governor?
No. This would apply to all future governors, Republicans and Democrats.
You can find more information, including ballot wording and opinions from around the state, here.
PA Senate Votes on Education, Nursing and Breast Cancer Measures
In addition to passing my legislation, Senate Bill 251, which will require all professional fertilizer applicators to be certified in proper application techniques and best management practices, the state Senate last week approved several other important measures.
The Senate approved legislation that would offer parents the option to allow their children to repeat a grade level due to the learning disruptions created by COVID-19. Senate Bill 664 would give parents the power to make the decision on whether their child should advance to the next grade level. In current practice, the decision on whether to hold a student back is made solely by the child's school and teacher.
The PA Senate adopted a plan that will allow thousands of Pennsylvanians to retain eligibility for PACE and PACENET, the state's prescription drug assistance programs that provide life-sustaining medications to 257,000 seniors. Eligibility for the programs are based on income. The Social Security cost-of-living adjustment (COLA) for 2021 is estimated to result in almost 5,100 PACE and PACENET cardholders exceeding the income eligibility limits, meaning those seniors will lose their benefits. Senate Bill 323 extends the current moratorium on increases in income due to a Social Security COLA for PACE and PACENET enrollees for two additional years until Dec. 31, 2023, benefitting 17,800 seniors.
Additionally, the Senate unanimously passed legislation that would give individuals renewing either their vehicle registration or driver's license an option to donate to the Pennsylvania Breast Cancer Coalition. Senate Bill 445, also known as 'Breast Cancer Checkoff' legislation, will mirror similar processes set in statute, which allow individuals renewing registrations or a driver's license to include an optional $5 donation to the Pennsylvania Breast Cancer Coalition.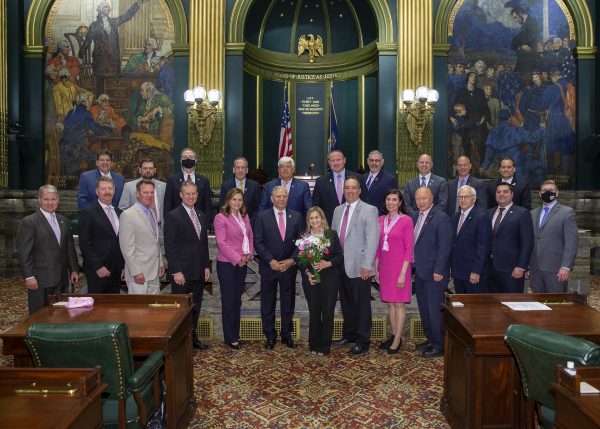 [Sen. Yaw and Senate Republican colleagues pose for a picture in the Senate Chamber Wednesday following a vote that will dedicate additional funding to breast cancer research.]
Committees Discuss Bill to Bond Solar and Wind Installations, Protecting Property Owners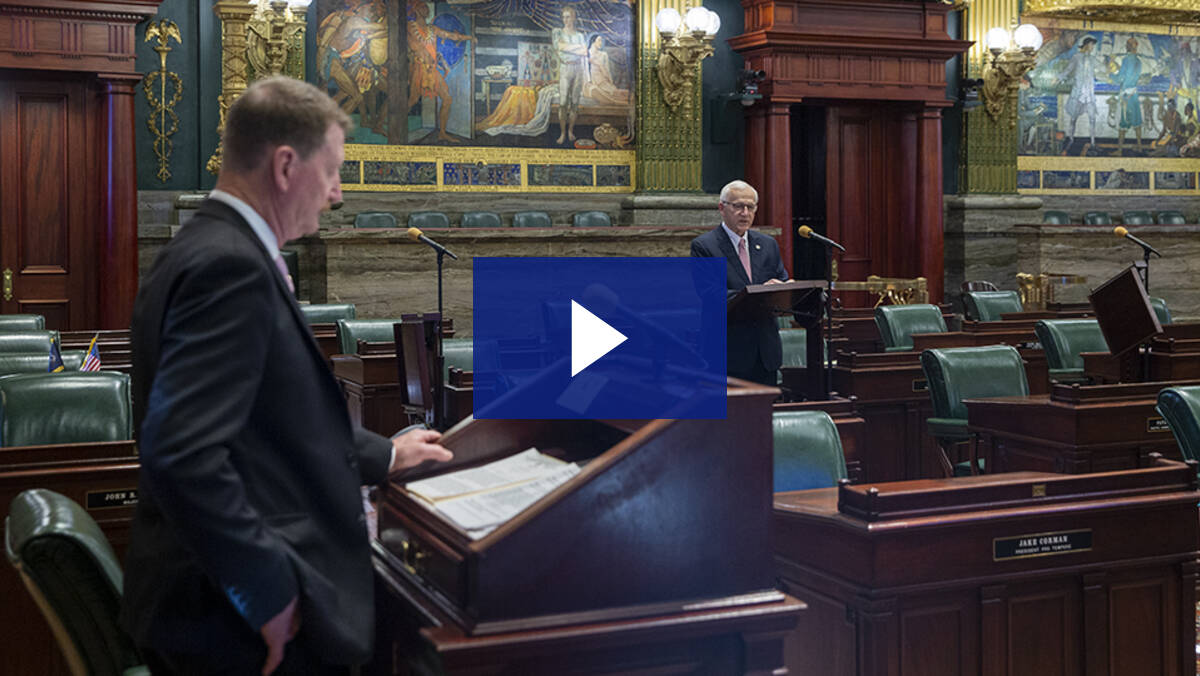 I recently introduced legislation, Senate Bill 284, that would establish bonding requirements for project developers who seek to install or operate commercial wind or solar electric generation and other renewable energy facilities in Pennsylvania. This is not a new concept as coal, natural gas, solid waste and a host of other industries are required to post financial guarantees for their activities. This requirement would not apply to homes and businesses which host solar facilities that generate electricity for their own use.
While wind and solar may use renewable energy sources to generate electricity, the components they utilize to do so are not. Often, they include rare earth metals and other hazardous materials which pose environmental or public health hazard if not handled appropriately. Wind and solar facilities have a finite life span, and many across the United States are coming to the end of their useful life. Establishing reasonable bonding amounts will help to address challenges as to how to properly decommission a site or handle associated waste.
TUNE IN: Public Hearing on the Current Status and Needs of Long-Term Care Facilities One Year after COVID-19
On May 20th, at 11AM, the Senate Aging and Youth Committee will be holding a public hearing to discuss the current status and needs of long-term care facilities one year after COVID-19.
Those expected to testify include Zach Shamberg, President/CEO, Pennsylvania Health Care Association; Anne Henry, Senior Vice President & Chief Government Affairs Officer, LeadingAge PA and Margie Zelenak, Executive Director, Pennsylvania Assisted Living Association.
PA Set to Transition to New Unemployment Compensation System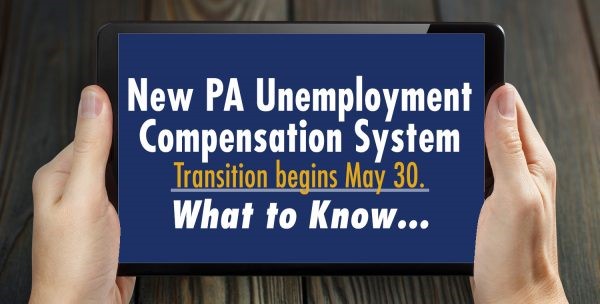 The Pennsylvania Department of Labor and Industry's Unemployment Compensation system is finally ready to move on from outdated technology and will transition to a new system May 30-June 7, with the new system going live June 8.
The system will be offline for several days during next month's transition from an outdated, 40-year-old system to a modern software solution, but department officials say the planned timeline has been positioned to allow most individuals to file their biweekly claims as scheduled.
Find out about disruptions this will cause, and access user guides and virtual workshops, here. The website was recently updated to include videos relating to the Keystone ID function. The following link will direct claimants to that site: Resources (pa.gov).
No Answers from Administration on Data Breach Affecting 72,000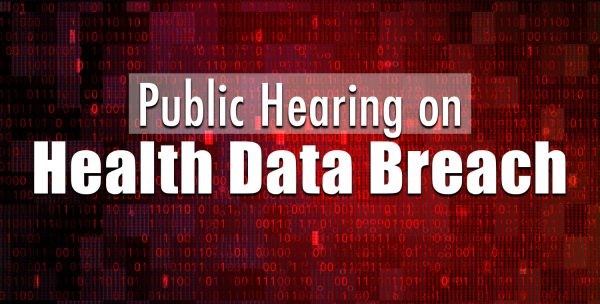 The Senate Communications and Technology Committee convened a public hearing last week to seek answers about a massive data breach of personal health data impacting more than 72,000 Pennsylvanians.
After initially agreeing to testify, Department of Health public officials said they would not testify nor answer questions from members. The committee also invited the third-party vendor that was awarded the $22.9 million state contract for COVID-19 contact tracing, but the company did not participate.
The committee conducted the hearing to read questions into the record and announced it will evaluate all legal options to get answers for impacted citizens.