Dear Friends,
Hello! Thank you for subscribing to my E-newsletter. I am honored to serve the 23rd Senate District and look forward to working with you toward building a better future for Pennsylvania!
This E-newsletter serves to keep you updated on what is happening throughout Bradford, Lycoming, Sullivan, Tioga and Union counties and what I am doing as your state senator in Harrisburg. I hope that you will find this E-newsletter helpful, and if you have any questions or concerns, please feel free to contact me.
Gene Yaw
State Senator
www.SenatorGeneYaw.com

"Values will get you through hard times and good times. They are the things that give meaning and purpose to what you do."
Senate Session Reconvenes May 21st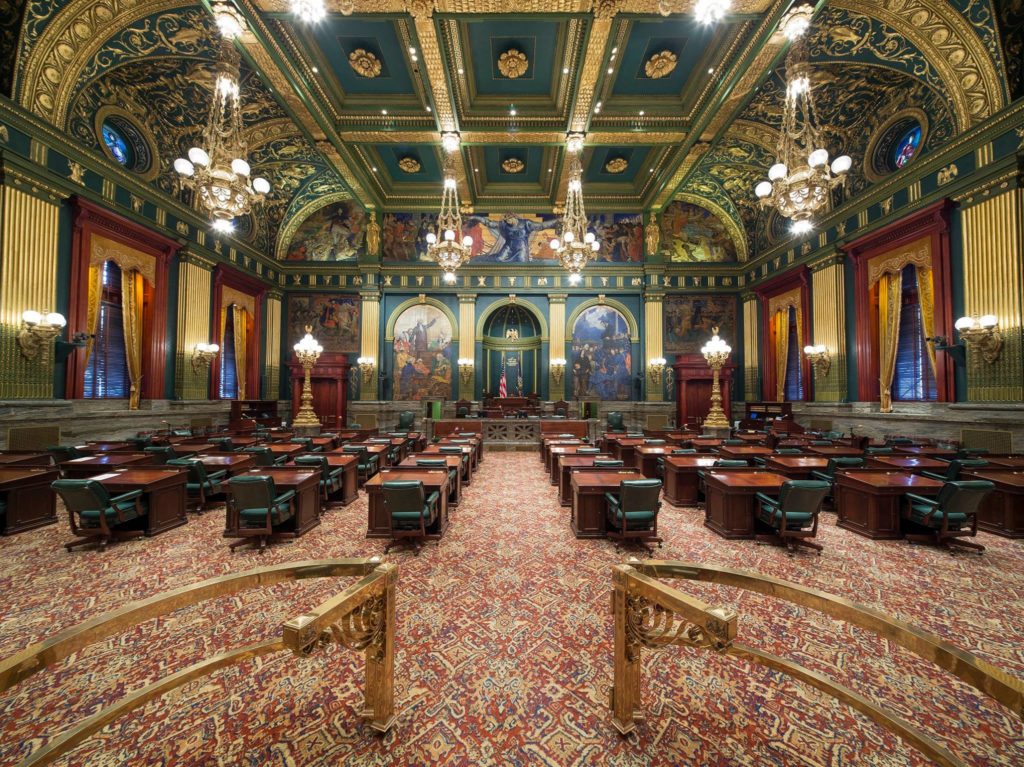 The state Senate will reconvene on Monday, May 21st, 2018 at 1PM. For a look at Monday's Calendar, click here.
Sunshined committee meetings/hearings can be viewed by clicking here.
Legislative Action to Address School Safety, Security, and Emergency Preparedness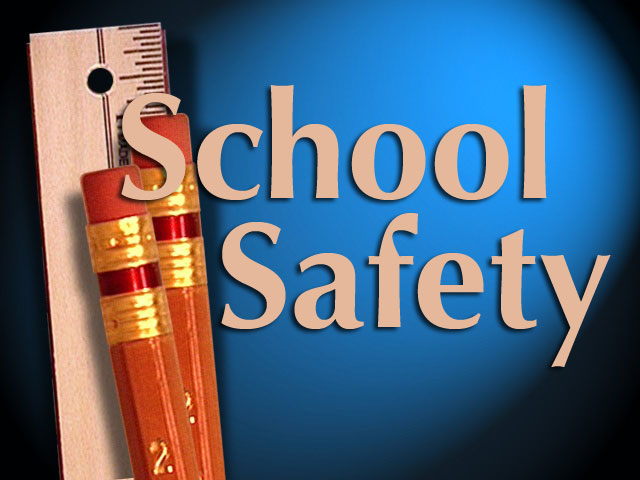 Friday's Santa Fe High School shooting and the February 14th shooting at Marjory Stoneman Douglas High School in Parkland, Florida, have sparked a renewed debate on gun reform and school safety.
The state Senate "Task Force on School Safety" is pushing for passage of several state-related bills intended to enhance school security and response plans. We anticipate moving forward with various initiatives to increase the safety of our schools, while promoting an environment that continues to be conducive for learning.
A few of the measures being considered by the Senate include:
TUNE IN: Senate Subcommittee on Health and Human Services Meeting to Discuss School Safety, Mental Health Services
May 23rd, 2018 at 1:30PM
Hearing Room 1, North Office Building
Watch Live
Visiting The Wall That Heals
On May 9th, I joined area veterans, their families and state officials in Harrisburg for the opening ceremony of The Wall That Heals, a 375-foot-long replica of the Vietnam Veterans Memorial located in Washington, D.C.
The memorial is dedicated to the 58,318 men and women who died during the conflict. The 53-foot trailer that carries The Wall That Heals transforms to become a mobile Education Center. The exterior of the trailer features a timeline of "The War and The Wall" and provides additional information about the Vietnam Veterans Memorial in Washington, D.C. Additional exhibits give visitors a better understanding of the legacy of the Vietnam Veterans Memorial and the collection of items left at The Wall.
Honoring Penn College President Dr. Davie Jane Gilmour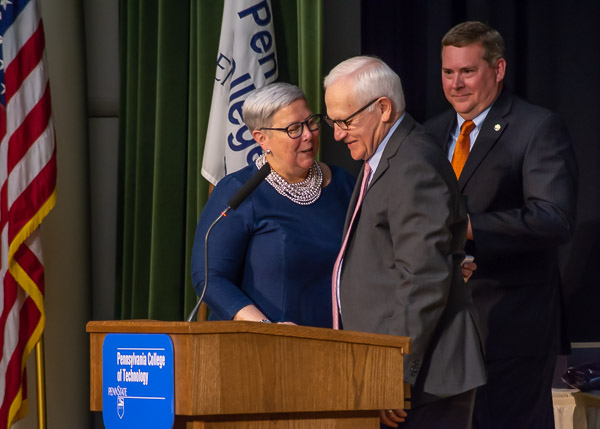 On May 10th, I had the privilege of recognizing Dr. Davie Jane Gilmour, President of the Pennsylvania College of Technology in Williamsport. President Gilmour recently celebrated her 20th anniversary as president and 40th anniversary of being a proud Penn College employee. Congratulations and Thank You Dr. Gilmour!
Lyme Disease Preventative Precautions Urged

The return of warmer temperatures brings the return of the Deer Tick and fears of acquiring Lyme Disease. I have heard first-hand from family, friends, and residents all across the 23rd Senate District about the impact Lyme disease has had on their lives and the lives of their loved ones. That is why I am happy to support SB 100 & HB 174, legislation that ensures patients have access to available and emerging diagnostics and treatment options for Lyme disease and related tick-borne diseases.
Take precautions when outside: Wear light-colored clothing; spray tick repellent on clothing; wear long pants; tuck pants legs into your socks; stay on the trail; execute a thorough inspection of your children and yourself; conduct a flea check of all accompanying dogs; shower after completing the above tips; and launder and dry clothing in an electric dryer on high heat.
Government Seminar Held for Area High School Students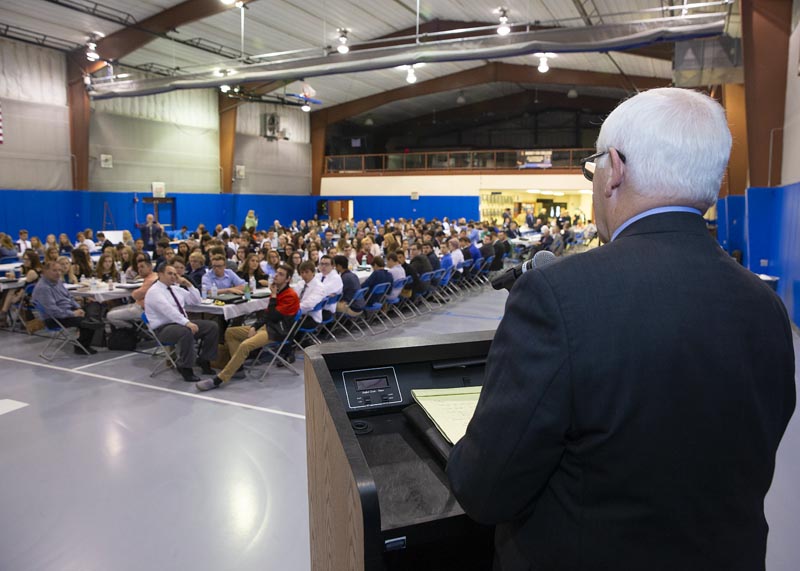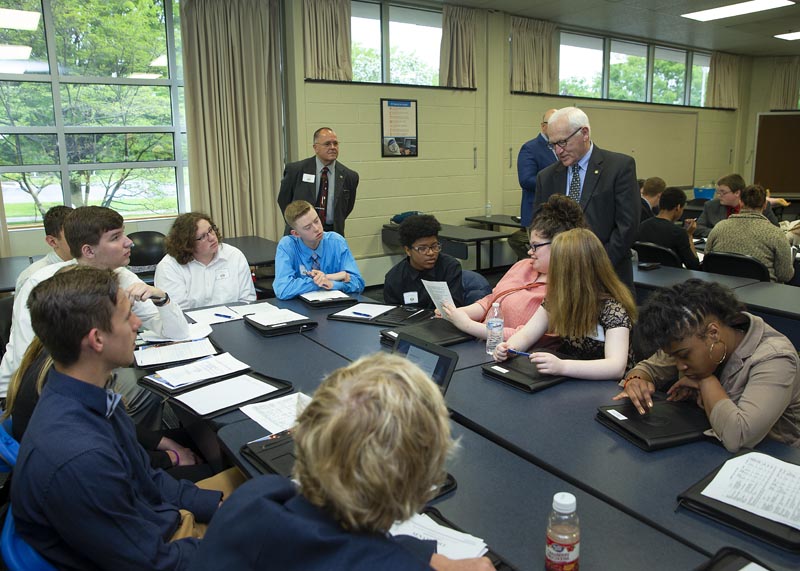 On May 17th, a total of 240 students from 17 school districts in Bradford, Lycoming and Union counties converged on Pennsylvania College of Technology's campus to participate in my annual Student Government Seminar. The seminar gives high school students the opportunity to be "Senators for a Day" and debate important issues, develop legislation and vote on "mock bills" in an open session.
The largest Senate-organized student government seminar in Pennsylvania, the event hosts teachers; local, state and federal government officials; lobbyists and special interests; and members of the media, in addition to the student representatives.
"Choose PA Dairy" Campaign Will Highlight Benefits of Locally-Sourced Milk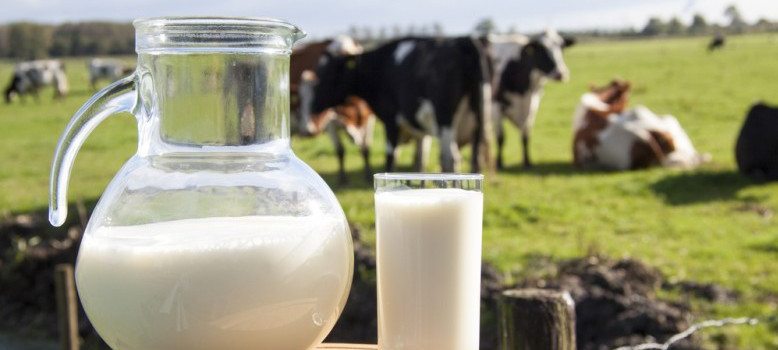 On May 19th, Pennsylvania Agriculture Secretary Russell Redding kicked-off "Choose PA Dairy: Goodness that Matters," a campaign to support Pennsylvania's dairy industry by educating consumers on how to find and buy locally-produced milk, and why it matters to Pennsylvania's economy and the health of its residents.
Choose PA Dairy is a campaign managed by the Pennsylvania Department of Agriculture in partnership with the Center for Dairy Excellence, Pennsylvania Dairymen's Association, PA Preferred, American Dairy Association Northeast, and Professional Dairy Managers of Pennsylvania.
Find brands that locally source their milk, a map of PA Preferred and other Pennsylvania-based milk processors, and other consumer information at www.choosepadairy.com. Find more resources and information about supporting Pennsylvania's dairy industry at www.agriculture.pa.gov.
Visiting the Lewisburg Children's Museum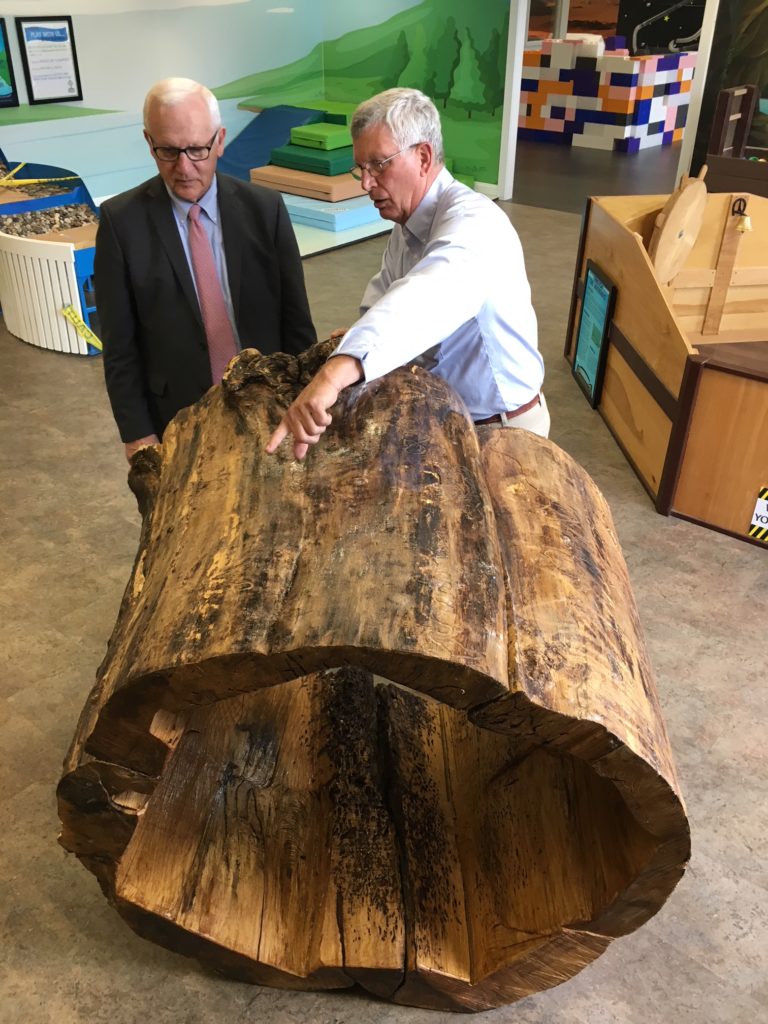 On May 1oth, I stopped by the Lewisburg Children's Museum to check out its nine themed rooms and 20 interactive exhibits that benefit children all across the Susquehanna Valley. The museum staff have done an outstanding job repurposing sections of the former Lewisburg Area High School into something beneficial for children and the entire community. Thank you to Executive Director Abby Gulden-Luthi and Keith Smalley for the tour!
For more information on the Lewisburg Children's Museum, click here.
'Growing Greener Plus' Grant Program Now Open
Growing Greener Plus, Pennsylvania's most widely recognized environmental grant program, opened May 14th with more than $20 million available to municipalities and nonprofit organizations for projects to improve water quality in their community or statewide.
Grants are available for projects addressing nonpoint source pollution from farms, urban stormwater runoff, and acid mine drainage (AMD) at abandoned coal mine sites. Projects may be small or large, addressing an individual site or creating an initiative for an entire watershed, for multiple counties, or statewide.
County and municipal governments, county conservation districts, watershed organizations, and other organizations that work to protect and restore Pennsylvania's environment are eligible to apply.
For more information, visit Growing Greener Plus.
St. John Neumann Students Receive EITC Scholarships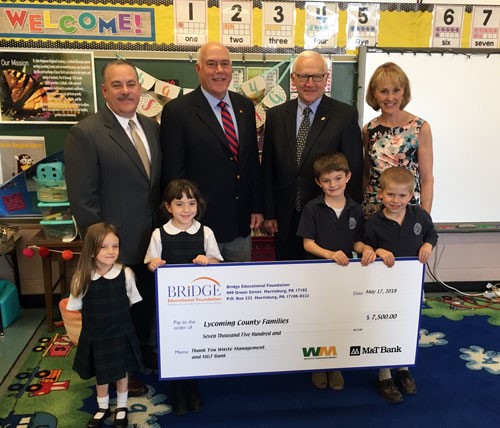 On May 17th, in conjunction with the Bridge Educational Foundation, state Rep. Jeff Wheeland and I joined M&T Bank's Jerry Girardi, Waste Management's Judy Archibald, and students from St. John Neumann Regional Academy to award $7,500 in Pennsylvania Educational Improvement Tax Credit (EITC) tuition scholarships.
The scholarships are an example of the success of the Bridge Educational Foundation and Pennsylvania's EITC program. These public-private partnerships strengthen our educational programs, while expanding academic opportunities for children all across our state.