Dear Friends,
Hello! Thank you for subscribing to my E-newsletter. I am honored to serve the 23rd Senate District and look forward to working with you toward building a better future for Pennsylvania!
This E-newsletter serves to keep you updated on what is happening throughout Bradford, Lycoming, Sullivan, Tioga and Union counties and what I am doing as your state senator in Harrisburg. I hope that you will find this E-newsletter helpful, and if you have any questions or concerns, please feel free to contact me.
Gene Yaw
State Senator
www.SenatorGeneYaw.com

*Click here to find the latest information on coronavirus from the Pennsylvania Department of Health and the Centers for Disease Control and Prevention.
Honoring America's Heroes on Memorial Day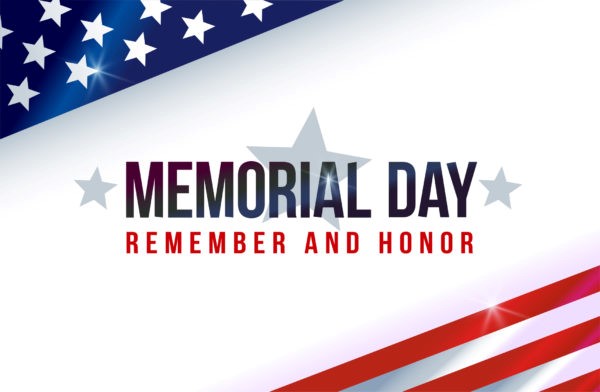 This Memorial Day, I encourage all community residents to pause and reflect on the service and sacrifice of the heroes who answered freedom's call and paid the ultimate price so others could live under better conditions. We are forever in their debt.
'Think About Energy' Webinar: Pennsylvania Budget & Economic Policy Discussion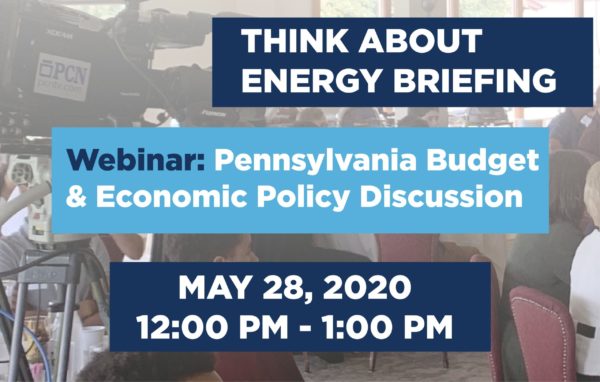 I'm happyto join with my colleague Sen. John Yudichak and PA Chamber of Business and Industry CEO Gene Barr to participate in the upcoming 'Think About Energy' discussion on Thursday May 28, 2020 from 12PM – 1PM. It will be a timely discussion on the Pennsylvania Budget, safely reopening the economy and how to position our manufacturing and business community for success. George Stark, External Affairs Director for Cabot Oil & Gas Corporation, will moderate this informative discussion as the Pennsylvania budget process continues and the Commonwealth tries to position itself to emerge stronger from the COVID-19 pandemic. Join in the conversation, click here.
Governor Wolf Vetoes Bills Designed to Help 200,000 Pennsylvanians Get Back to Work Safely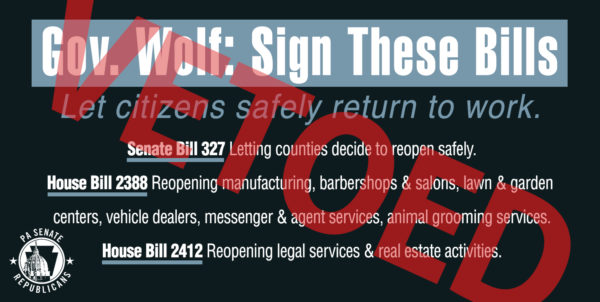 A package of bills to help more Pennsylvanians get back to work safely and responsibly was vetoed by Governor Wolf this week. Despite the fact that the bills included numerous safety measures to protect the health of workers and customers, more than 200,000 state residents will remain out of work due to the governor's vetoes.
Senate Bill 327 would have given county governments the option to develop and implement individual plans to mitigate the spread of COVID-19 and allow residents to return to work safely under guidelines from the U.S. Centers for Disease Control and state Department of Health.
House Bill 2388 would have required the Department of Community and Economic Development to issue waivers to the governor's business closure order to vehicle dealers, lawn and garden centers, cosmetology salons, barber shops, messenger and agent services, animal grooming services and manufacturing operations.
House Bill 2412 would have required waivers be issued to allow legal services and real estate sales activities to resume. The governor reversed course on the real estate industry just hours after his veto, allowing limited sales. Under the new guidance, real estate activities can resume if proper precautions are taken, including minimizing in-person contact, staggering scheduling and limiting time spent in the property for face-to-face conversations.
Although the governor's actions are a bitter disappointment for many state residents who want to get back to work safely, I will continue the fight to allow Pennsylvania workers to once again start earning a paycheck to provide for their families.
In the News…
Pennsylvanians who have an expired Unemployment Compensation claim or have exhausted their benefits under an existing claim can receive an additional 13 weeks of payments through the new Pandemic Emergency Unemployment Compensation program. The extended benefits will be available through December 26 for claimants who have exhausted regular benefits. [ Read More ]
Nursing homes and other long-term care facilities have been a hotbed of activity for COVID-19, and a Senate hearing last week found that these organizations have not been prioritized by the Wolf Administration for testing and Personal Protective Equipment. I voted on a bill that would provide critical financial support – $507 million – to long-term care facilities, as well as first responders – $31 million – who risk exposure to the virus every day.
This week, I joined with Rep. Garth Everett and applauded passage of his legislation, HB 2506 and HB 2513, by the PA House. Together, the bills would allow restaurants that are in counties deemed by the Wolf administration to be in the "yellow phase" to reopen safely and allow more customers to patronize their businesses. I look forward to championing these bills now in the Senate. [ Read More ]
Beginning tomorrow (Friday, May 22), a dozen new counties, including Susquehanna County, will move to the "yellow phase" of reopening, bringing the total number of counties in the yellow phase to 49. The yellow phase allows businesses with in-person operations to open under strict health guidelines and building safety orders to reduce the risk of infection.
Under the Paycheck Protection Program (PPP) created by the CARES Act, loans may be forgiven if borrowers use the proceeds to maintain their payrolls and pay other specified expenses. The U.S. Treasury Department and Small Business Administration (SBA) recently released the application form and instructions for loan forgiveness. [ Read More ]
The Commonwealth Financing Authority recently extended the deadline to apply for grants funded by Act 13 drilling impact fees for watershed restoration, abandoned mine drainage abatement, baseline water quality data, orphaned or abandoned well plugging, sewage facilities, flood mitigation programs and recreation. The new deadline for applications is July 31. [ Read More ]
May 24 (Sunday) is one of PA Fish and Boat Commission's two Fish-for-Free days during which a fishing license is not required. Anglers must still follow all other rules and regulations. More information is available at www.fishandboat.com.
New Law Allows Property Tax/Rent Rebates to Arrive Early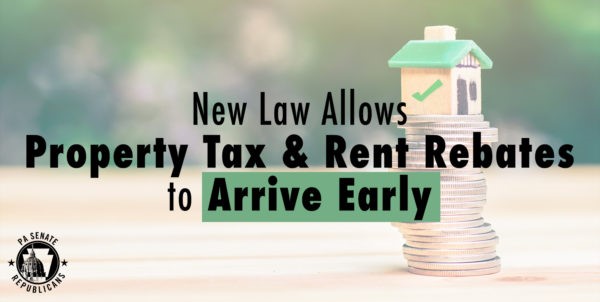 Low-income seniors and individuals with disabilities face unique challenges during the COVID-19 public health emergency. I supported a new law passed by the Senate last week that will allow these individuals to receive property tax and rent rebates sooner than the previously scheduled date of July 1.
The state's Property Tax/Rent Rebate program provides rebates of up to $650 on property taxes or rent paid in 2019. Supplemental rebates for qualifying homeowners can boost rebates to $975. Instead of the Department of Revenue paying out a large number of rebates on July 1, the new law ensures rebates will be processed on a first-in, first-out basis beginning this week.
Applicants can check the status of their Property Tax/Rent Rebate here or by calling 1-888-222-9190.
LIHEAP Recovery Crisis Program Opened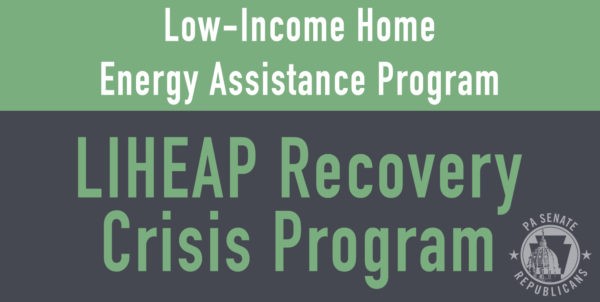 Low-income families who are struggling with energy costs during the COVID-19 pandemic may qualify for assistance from the new Low-Income Home Energy Assistance Program (LIHEAP) Recovery Crisis Program. The application period has opened and will run through August 31, or until all available funding for the program is spent.
The program will offer a crisis benefit and a supplemental payment made directly to utility companies or fuel providers to help offset costs for home utilities. Funding is available for homeowners and renters who meet income guidelines and maximum benefit will be $800 per household.
Income limits, application information and more information are available here.
Two Public Input Hearings Scheduled on UGI Utilities Rate Increase