Dear Friends,
Hello! Thank you for subscribing to my E-newsletter. I am honored to serve the 23rd Senate District and look forward to working with you toward building a better future for Pennsylvania!
This E-newsletter serves to keep you updated on what is happening throughout Bradford, Lycoming, Sullivan, Tioga and Union counties and what I am doing as your state senator in Harrisburg. I hope that you will find this E-newsletter helpful, and if you have any questions or concerns, please feel free to contact me.
Gene Yaw
State Senator
www.SenatorGeneYaw.com

Click here to find the latest information on coronavirus from the Pennsylvania Department of Health and the Centers for Disease Control and Prevention
Updates
Yaw bill to prevent PA municipalities from banning access to certain utilities, like natural gas, was approved today and moves to the full House of Representatives for consideration.
Senate State Government Committee approves Yaw measure providing for the election of President Judge in counties with three or more judges.
The Center for Rural Pennsylvania examines region's need for rural broadband expansion.
ATV Regional Trail Connector Pilot Area in Potter, Tioga, Clinton, and Lycoming counties to open May 27.
Endless Mountains War Memorial Museum to hold open house, tribute May 28.
The U.S. Department of Transportation has announced that the application process is now open for communities to apply for $1 billion to help ensure safe streets and roads.
Police to conduct DUI enforcement during Memorial Day weekend.
Pennsylvania Rural Electric Association Recognizes Local Cooperatives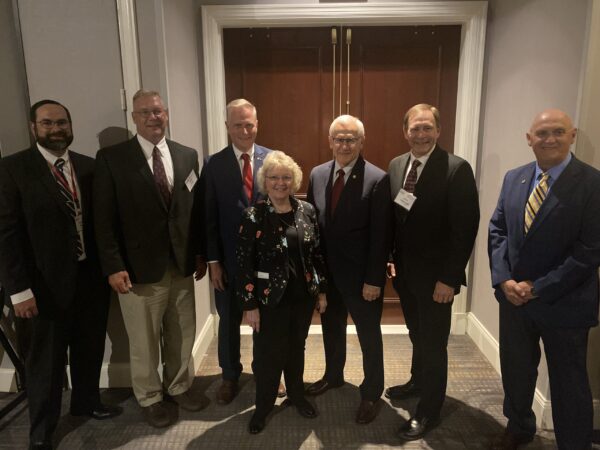 [Congressman Fred Keller, Sen. Yaw and Rep. Tina Pickett pictured with Claverack Rural Electric Cooperative, Inc Board Members]
Since 1942, the Pennsylvania Rural Electric Association (PREA) has served as the unified voice for electric cooperatives in Pennsylvania and New Jersey. These member-owned entities provide power and other services within their respective service territories. During an event this week, I spoke with several of the Cooperatives that serve the majority of my Senatorial District.
Claverack Rural Electric Cooperative, Inc serves a 2,250 square mile area in eight counties, including Bradford, Lackawanna, Luzerne, Lycoming, Sullivan, Susquehanna, Tioga and Wyoming. They maintain over 2,800 miles of lines and poles and provide power to over 19,000 meters.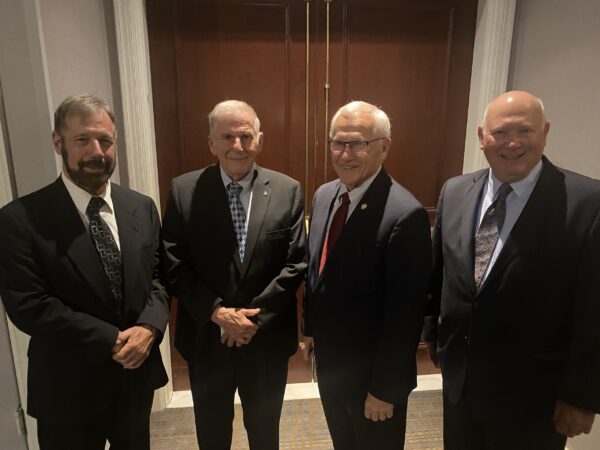 [Sen. Yaw pictured with Tri-County Rural Electric Cooperative, Inc. Board Members]
Tri-County Rural Electric Cooperative, Inc delivers electricity to nearly 17,000 members in seven Pennsylvania counties, including Tioga, Potter, Bradford, Lycoming, McKean, Cameron and Clinton, across a service territory that encompasses 5,000 square miles.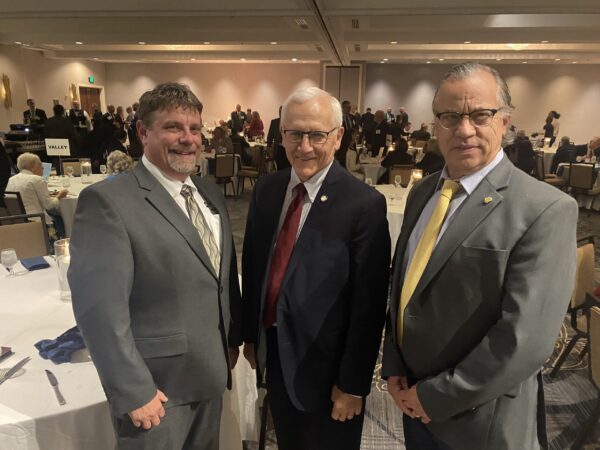 [Sen. Yaw pictured with Sullivan County Rural Electric Cooperative, Inc. Board Members]
The Sullivan County Rural Electric Cooperative serves over 6,000 meters in its service area. There are approximately 3,200 members in Sullivan County, 200 in southern Bradford County, and 2,700 in Lycoming County.
Today, 14 electric cooperatives in Pennsylvania and New Jersey supply electricity to more than 230,000 rural households, businesses and industries, representing more than 600,000 consumers. The 13 cooperatives in Pennsylvania own and maintain about 12.5 percent of the electric distribution lines in the state, covering nearly one-third of the Commonwealth's land area in 42 counties.
Yaw Commends Trailblazing Pennsylvania College of Technology Graduates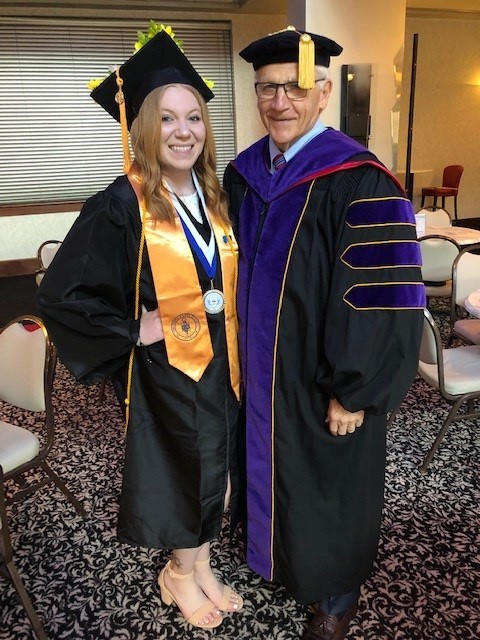 [Sen. Yaw pictured with student speaker Caila Nicole Flanagan during the recent Penn College commencement ceremony at the Community Arts Center in Williamsport.]
I extended congratulations recently to many Penn College graduates, including three who exemplify the school's resourceful and engineering spirit. Caila Nicole Flanagan, Franchesca Cheyenne Ybarra and Charlee Marshall each earned bachelor's degrees during commencement ceremonies that honored the last of 750 students who graduated this spring.
These bright young women represent the best of Penn College's legacy as an institution that has uplifted its community and trained tomorrow's workforce for more than a century. Caila, Franchesca and Charlee will each blaze trails, just as they have during their time at Penn College, and I wish them nothing but success." READ MORE
Court Halts Governor Wolf's Bridge Tolls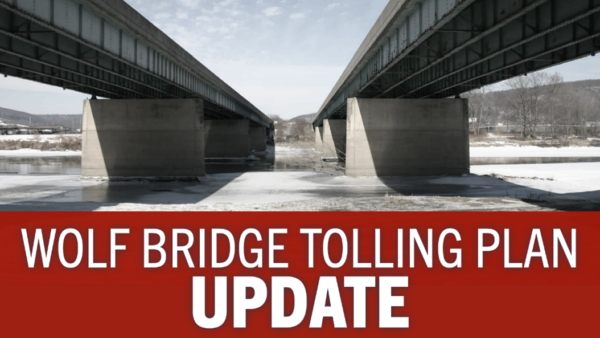 After widespread condemnation of the Wolf Administration's unilateral plan to place a new tax on PA drivers by tolling nine bridges across the state, the Commonwealth Court took action to stop his executive overreach.
Under the Governor's plan—without the support of the House or the Senate—tolls would be levied on the Lenhartsville Bridge on I-78 and bridges that cross the Lehigh River on I-80 that could cost the average commuter an additional $1,000 per year, in addition to the terrible increase in gas prices which have hit us all so hard. Read more about this news here.
Help Available for Historical Records Care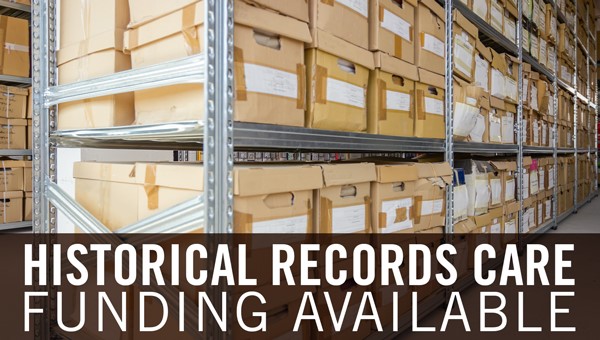 Area historical societies, libraries and other records repositories can apply now for state grants to improve the preservation of historically valuable records.
The Historical & Archival Records Care grant program provides funding assistance for surveying, inventorying, preserving, arranging and describing historical records significant to Pennsylvania, as well as for records reformatting and equipment.
The competitive grant program is administered by the Pennsylvania Historical and Museum Commission, the official history agency of Pennsylvania. The application deadline is Aug. 1.
Tips for Cars and Motorcycles Sharing the Road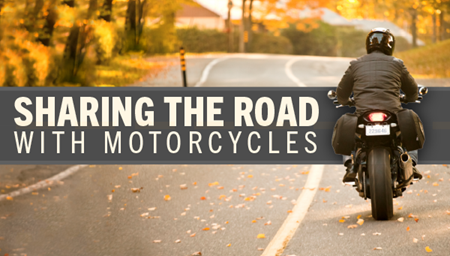 As warmer weather brings more motorcycles to our roadways, it's a good time to consider some safety tips for sharing the road:
Be aware that motorcycles are small and may be difficult to see. Check mirrors and blind spots before changing lanes and at intersections.
Allow more following distance, at least four seconds of distance between a motorcycle and your vehicle.
Remember that motorcycles have the same rights and privileges as any vehicle on the roadway.
Allow a motorcyclist a full lane width as the motorcyclist needs the room to maneuver safely in all types of road conditions.
There were 3,578 crashes involving motorcycles on Pennsylvania roadways in 2021, resulting in 226 fatalities, an increase in both from 2020. For more information on motorcycle safety, visit the PennDOT website.
Spring Spraying Information on State Game Lands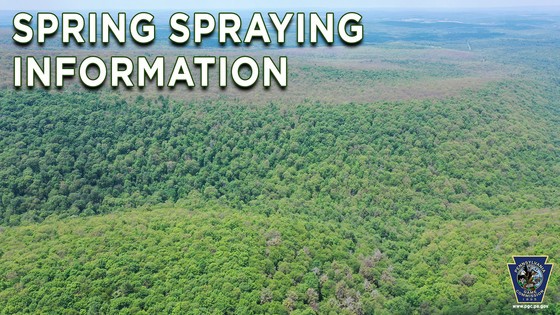 The Pennsylvania Game Commission is currently conducting aerial spraying operations, to protect wildlife habitat and control spongy moths, on more than 62,000 acres of state game lands this spring.
Spongy moths, (formerly known as gypsy moths), are a destructive, invasive pest, that prefers oak trees, which are also the most reliable food source for wildlife. In areas where spongy moth populations have been rampant, complete defoliation of trees may be observed.
Click here for more information on spongy moths and the Game Commission's spraying program, including an up-to-date map of the status of this year's spraying.
Honoring America's Heroes on Memorial Day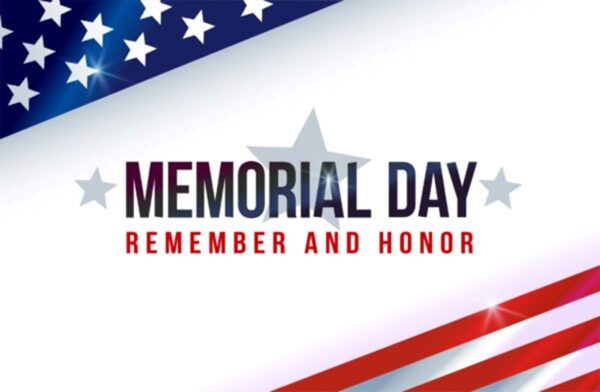 This Memorial Day, I encourage all community residents to pause and reflect on the service and sacrifice of the heroes who answered freedom's call and paid the ultimate price so others could live under better conditions. We are forever in their debt.