Dear Friends,
Hello! Thank you for subscribing to my E-newsletter. I am honored to serve the 23rd Senate District and look forward to working with you toward building a better future for Pennsylvania!
This E-newsletter serves to keep you updated on what is happening throughout Bradford, Lycoming, Sullivan, Tioga and Union counties and what I am doing as your state senator in Harrisburg. I hope that you will find this E-newsletter helpful, and if you have any questions or concerns, please feel free to contact me.
Gene Yaw
State Senator
www.SenatorGeneYaw.com

"The only way to achieve the impossible is to believe the impossible."
Senate Reconvenes Monday, June 11th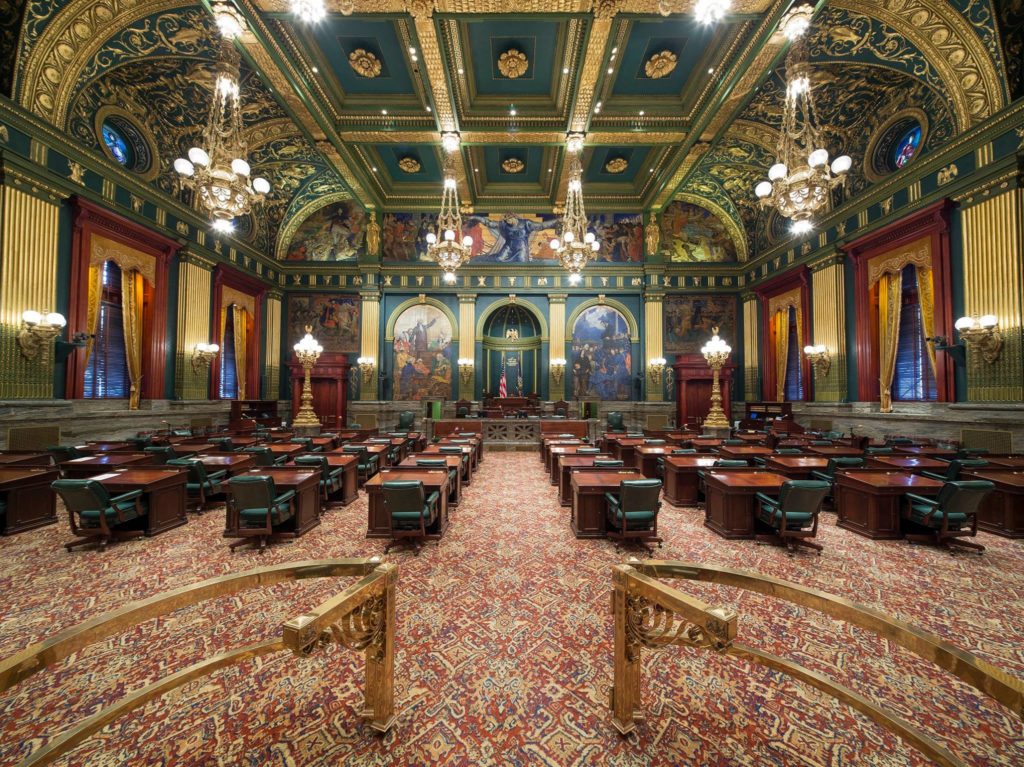 The state Senate will reconvene on Monday, June 11th, 2018 at 1PM. For a look at Monday's Calendar, click here.
Sunshined committee meetings/hearings can be viewed by clicking here.
Senate Approves Creation of School Threat Reporting System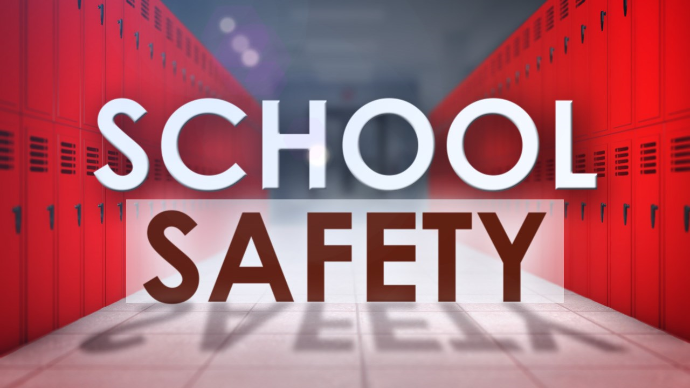 On Wednesday, June 6th, the Senate unanimously approved a bill that would help reduce school violence by creating a new school threat reporting system.
The Safe2Say Program would allow any individual to anonymously report threats regarding unsafe, potentially harmful, dangerous, violent or criminal activities in schools.
Under Senate Bill 1142, the Attorney General would be tasked with administering the system and ensuring the information is sent to the appropriate law enforcement agency and school officials for further investigation.
In the vast majority of school shootings, warning signs reported by students, teachers and law enforcement were ignored until it was too late. This system will give all members of the community a way to help report potentially dangerous situations before innocent lives are lost.
2018 Chamber Day at the Capitol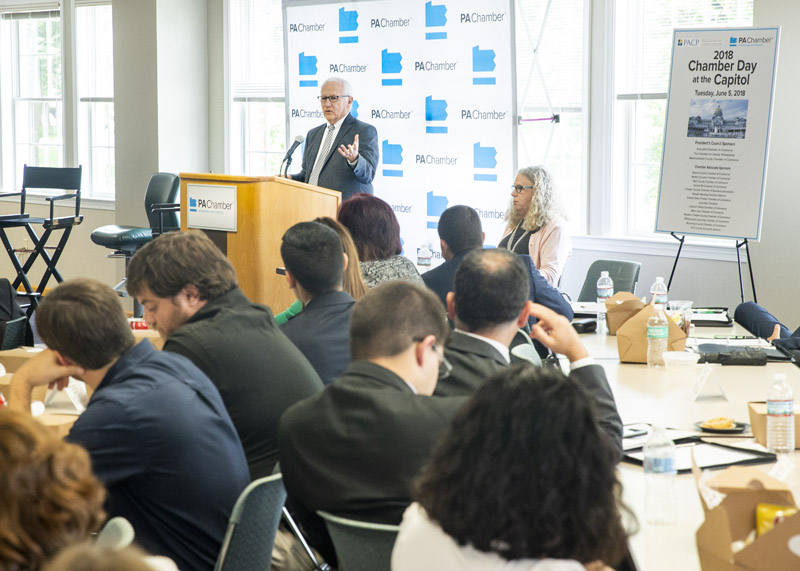 On Tuesday, I joined Pennsylvania's Secretary of Health – Dr. Rachel Levine – to discuss the state's opioid crisis during "Chamber Day at the Capitol," a program sponsored by the Pennsylvania Association of Chamber Professionals (PACP) and the Pennsylvania Chamber of Business and Industry.
"Coding at the Capitol"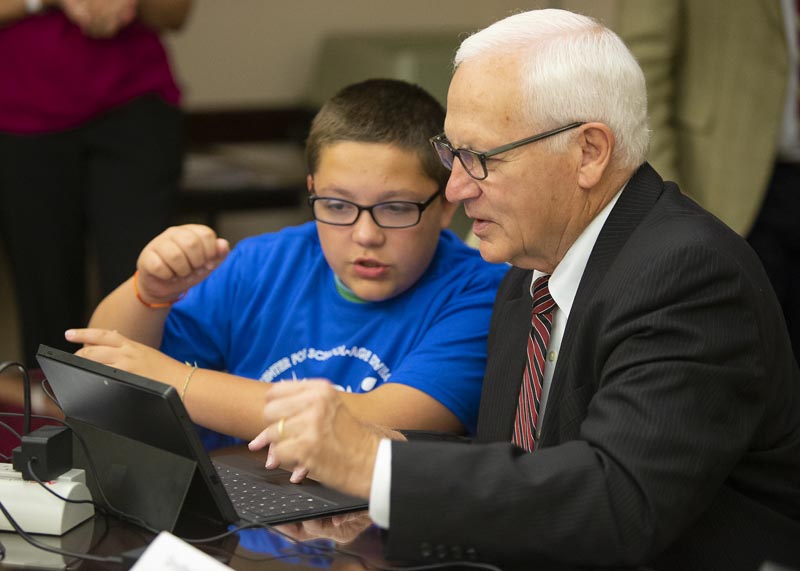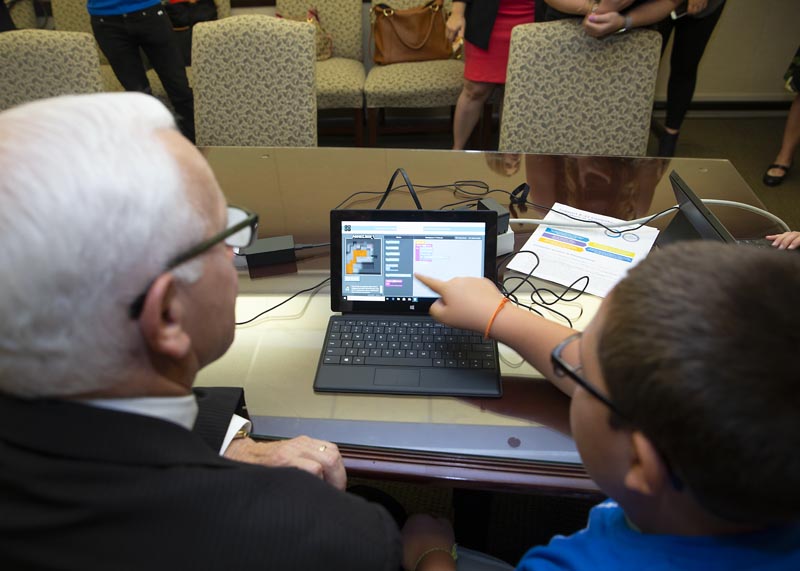 On Wednesday, I had the opportunity to visit with some very bright elementary school students from Lewisburg for "Coding in the Capitol Day", a day to demonstrate how to write a line of code, as well as discuss computer science programs across the Commonwealth.
Senate Approves Bill Ensuring EMS Reimbursements for Service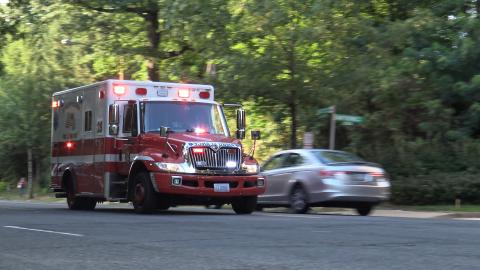 On Wednesday, the Senate also approved legislation that will require insurance companies and Medicaid to reimburse emergency medical services agencies for services provided when transport to a hospital does not take place, but care is rendered.
Senate Bill 1003 will ensure that EMS agencies are properly reimbursed for their services when called out to provide care. Currently, insurance companies and Medicaid are only required to reimburse EMS organizations for services when they include transportation to a hospital.
Rallying to Protect Child Victims of Human Trafficking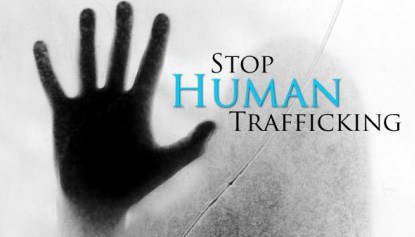 Advocates and fellow legislators rallied at the State Capitol on Tuesday calling for the passage of Senate Bill 554, "Safe Harbor" legislation that will protect the child victims of human trafficking from criminal prosecution. The bill, which I cosponsored, passed the Senate unanimously in April of 2017.
Thousands of children are coerced into sexual servitude each year, and have been charged with crimes such as prostitution and drug trafficking. The Safe Harbor bill would divert exploited children from the criminal justice system, and recognize them as victims of human trafficking, not criminals.
The legislation will require law enforcement to report any encounter with a minor who has been subject to sexual exploitation. The legislation will provide safe, long-term housing, education, life-skills training, and counseling to the children who have been exploited.
Sen. Yaw Resolution Designates June 3-9, 2018 as "Chesapeake Bay Awareness Week" in Pennsylvania
On Monday, June 4th, the Senate unanimously approved a resolution I sponsored designating the week of June 3rd through June 9th as "Chesapeake Bay Awareness Week" in Pennsylvania.
The designation is meant to encourage all Pennsylvanians "to commemorate Chesapeake Bay Awareness Week with events, activities, and educational programs designed to raise awareness of the importance of the Chesapeake Bay to the Commonwealth, the region, and the United States.
The Chesapeake Bay is the largest and most productive estuary in the United States, spanning six states and the District of Columbia. It is fed by 50 major tributaries, including the Susquehanna River, which is the largest tributary into the bay. The Susquehanna River contributes about half of the Bay's fresh water.
Highlighting Pedestrian Safety
With warm weather finally here, many of us enjoy going outside for some fresh air and exercise. Whether you are just taking a stroll around the block or training for an upcoming 5k, it is important to keep pedestrian safety in mind.
In Pennsylvania during 2017, there were 4,086 reportable pedestrian crashes resulting in 150 fatalities and 455 suspected serious injuries.
Follow these safety tips to avoid a pedestrian crash:
Unplug – don't be a distracted walker;
Make eye contact – don't walk until traffic stops;
Be bright – wear reflective clothing at night;
Never jaywalk – use crosswalks and intersections;
Stay alert all the way across the intersection;
Watch for turning vehicles of all kinds.
Kim Smith, PennDOT District 3 Safety Press Officer