Dear Friends,
Hello! Thank you for subscribing to my E-newsletter. I am honored to serve the 23rd Senate District and look forward to working with you toward building a better future for Pennsylvania!
This E-newsletter serves to keep you updated on what is happening throughout Bradford, Lycoming, Sullivan, Tioga and Union counties and what I am doing as your state senator in Harrisburg. I hope that you will find this E-newsletter helpful, and if you have any questions or concerns, please feel free to contact me.
Gene Yaw
State Senator
www.SenatorGeneYaw.com

POLL: Protesters, Officials Call for Police to be Defunded
Protesters and officials across the nation are calling for police departments to be defunded and for the money to instead shift towards social programs. Just this week, my office has started to receive messages from residents living in our region who support efforts to defund police departments.
Do you agree with these efforts, including legislation that would defund or dismantle our police departments?
( )Yes
( )No
( )Unsure
Penn College President Discusses Impact of COVID-19 on Higher Education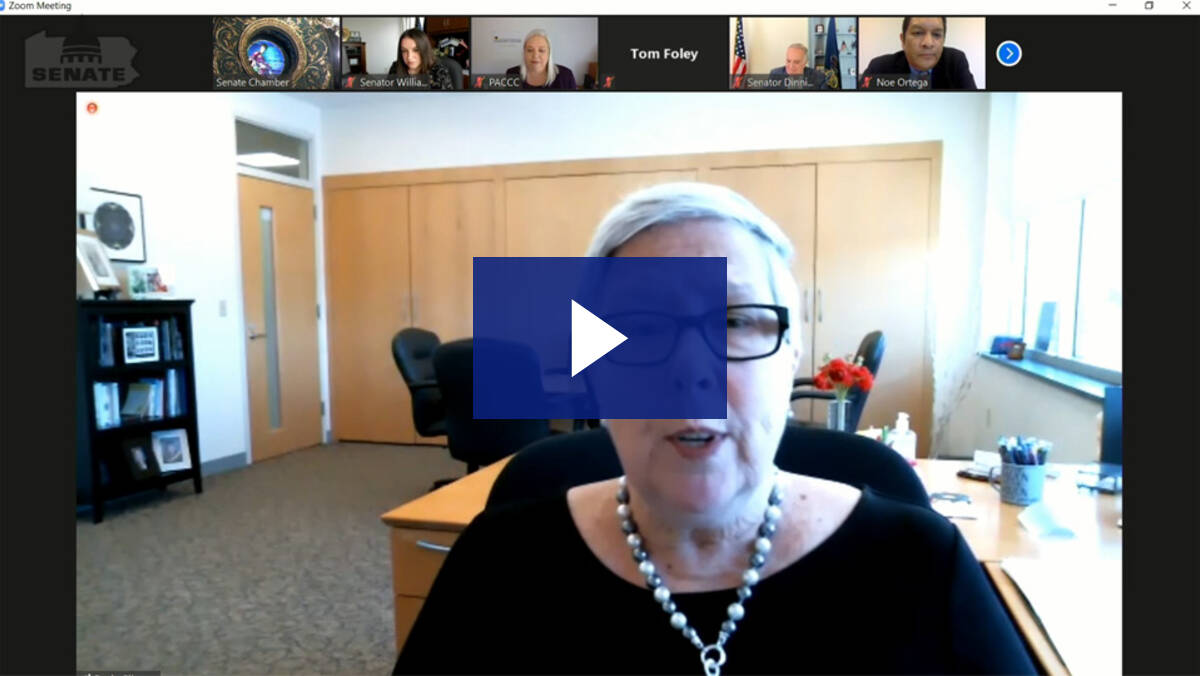 During a hearing of the Senate Education Committee today, Dr. Davie Jane Gilmour, President of the Pennsylvania College of Technology, provided comments on the impact of COVID-19 on Higher Education. During the discussion, Dr. Gilmour highlighted the challenge of technology education moving from in-person, hands-on instruction, to one of remote delivery. But, she added, "during the challenging times this spring, the irony was never lost on us that across our 100 certificate, associate, bachelor's and master's degree programs, all were directly aligned to essential, life-sustaining services, and that more than 80% of our graduates remained in Pennsylvania, largely working in fields considered essential during pandemic."
PSATS, PA Builders Association Among Groups Endorsing New Law
Legislation I sponsored amending Act 537 (PA Sewage Facilities Act) to provide for the expanded use of alternate on-lot sewage systems for planning purposes throughout the Commonwealth was signed into law on Friday. Senate Bill 1030, now Act 34 of 2020, will streamline the process by which innovative, effective and better treatment technologies are used and made available to Pennsylvania residents and businesses.
Allowing for alternate on-lot systems in the planning process will widen the area to which development can take place and save valuable acreage that could otherwise be used for agriculture or other purposes. Undoubtedly, it will improve water quality in streams and rivers by using systems that have a proven performance record, and, in many cases, are superior to some conventional systems. Read more
In the News
During the coronavirus pandemic, Governor Wolf crafted a plan to release nonviolent and medically vulnerable prisoners from state corrections facilities. Original estimates indicated that 1,500 to 1,800 prisoners could be released as a result of this plan. For reasons that are not yet clear, fewer than 150 were ultimately granted this reprieve. Some have speculated that the strict criteria required for release is the cause of this discrepancy. You can read more here.
Resolution to End PA COVID-19 Disaster Declaration Moves Forward…
Senate Bill 1166 and House Resolution 836 were both approved yesterday by the Senate Veterans Affairs and Emergency Preparedness Committee. Today, HR 836 received a final vote from the Senate. This Resolution would end the executive order to shut down businesses, which Governor Wolf first issued on March 19. In the near future, SB 1166 will also receive a vote. This bill would change the state's Constitution to alter the way in which emergency declarations are implemented and extended after being declared by the governor, giving the Legislature the ability to nullify an attempt by the governor to renew his emergency declaration after the initial 30-day period.
All nursing homes in Pennsylvania are now required to complete initial baseline testing for COVID-19 by July 24 after Governor Wolf issued a universal testing order. Additionally, the department issued updated testing guidance to all long-term care facilities (LTCFs) through the Health Alert Network (HAN).Many individuals living in LTCF's continue to receive federal stimulus payments as part of the Coronavirus Aid, Relief, and Economic Security (CARES) Act. They are reminded that these checks belong to them, not the facilities where they live. The economic payment is not considered income for the purposes of Medical Assistance eligibility. Residents may direct their concerns or complaints to the Assisted Living Complaint Hotline at 877-401-8835.
In recent weeks, the state Legislature developed a $225 million statewide grant program to support small businesses that were impacted by the COVID-19 pandemic and mandated business closures. The funding was allocated through the recently enacted state budget, which included $2.6 billion in federal stimulus funds through the CARES Act. The Department of Community and Economic Development (DCED) is finalizing guidelines and anticipates the opening of applications this week.
Funding to address community 'blight' is also available…DCED has also announced up to $300K to eligible applicants across the state for blight remediation, including hazard mitigation. Municipalities, Redevelopment Authorities, Economic Development Organizations and more are eligible. Click here for more information.
Updated Guidelines Available for Dental Practices During COVID-19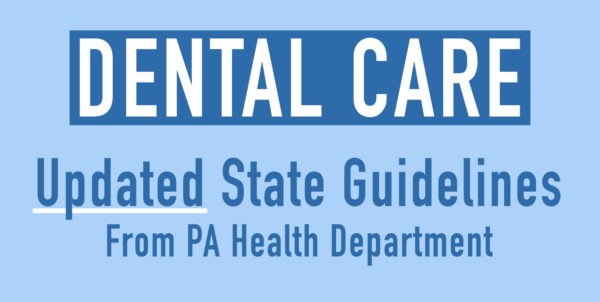 The Department of Health recently provided updated guidance for dental practices during the COVID-19 pandemic. The new guidance provides examples of the kind of services that can be provided based on the prevalence of the virus in local communities. In communities with minimal community transmission, most routine primary and specialty care can resume, while care is still limited in areas with large-scale community transmission.
The guidance encourages dental health care professionals to continue screening patients for symptoms of COVID-19, maintaining the appropriate amount of personal protective equipment and following the recommendations of the U.S. Centers for Disease Control.
Preliminary Guidelines Set for Students to Return to School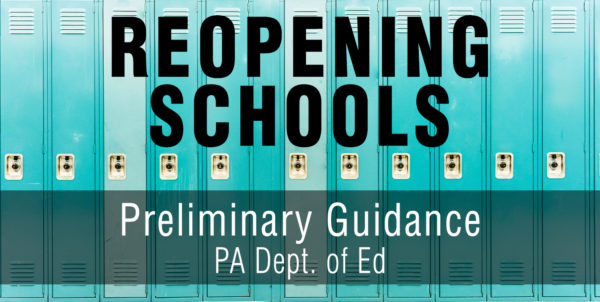 The Pennsylvania Department of Education announced new guidelines for elementary, secondary and post-secondary schools to reopen in the near future. K-12 schools can begin reopening as early as July, and colleges, trade schools and other post-secondary schools can begin offering classes again as soon as Friday.
Schools will be required to develop health and safety plans that reflect the unique needs of local districts, including steps to protect students and staff at higher risk of severe illness, training for staff and faculty, monitoring students and staff for symptoms, developing policies and hygiene practices to protect against infection, and ensuring proper distancing of desks and seating.
The U.S. Centers for Disease Control has also offered interim guidance for schools and child care to open safely.
Two More Lycoming County Recycling Drop Off Site Locations Reopened to the Public

Recycling drop-off sites have reopened at Montoursville Borough (located behind the Borough Office Building in Indian park) and Old Lycoming Township (located at 1240 Princeton Avenue, Williamsport, PA 17701).
Please be aware that collection procedures have changed. To better accommodate the inbound recyclables and help with its transportation, more materials will be combined:
FIBER/PAPERS which are magazines, newspapers, chipboard, office paper junk mail, and cardboard that has been broken down are all acceptable into one container.
PLASTICS BOTTLES 1&2/METAL CANS which are plastic bottles/jars #1&2 only, tin/steel cans, and aluminum cans are all acceptable into one container.
GLASS BOTTLES/JARS are still acceptable and are still separated by color (clear/brown/green).