Dear Friends,
Hello! Thank you for subscribing to my E-newsletter. I am honored to serve the 23rd Senate District and look forward to working with you toward building a better future for Pennsylvania!
This E-newsletter serves to keep you updated on what is happening throughout Bradford, Lycoming, Sullivan, Tioga and Union counties and what I am doing as your state senator in Harrisburg. I hope that you will find this E-newsletter helpful, and if you have any questions or concerns, please feel free to contact me.
Gene Yaw
State Senator
www.SenatorGeneYaw.com

Click here to find the latest information on coronavirus from the Pennsylvania Department of Health and the Centers for Disease Control and Prevention
Senate, House Approve 2021-2022 State Budget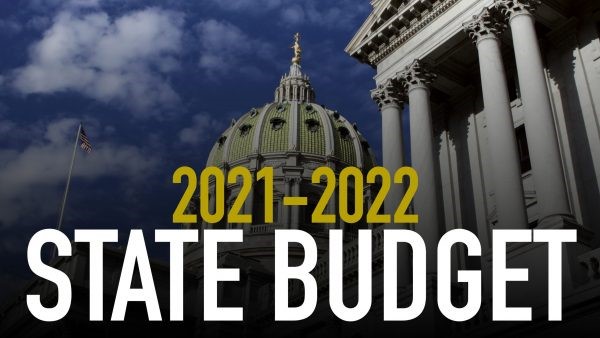 The Senate approved a $40.8 billion General Fund Budget for Fiscal Year 2021-22 last week that supports Pennsylvania's economic recovery from the COVID-19 pandemic, while providing a financial safety net for the future. Senate Bill 255 now goes to the governor's desk for enactment into law.
The fiscally responsible budget does not include any of the tax increases proposed by the governor in February — including a 46% Personal Income Tax hike. In addition, the final budget restores what the governor cut in funding for health care and agricultural programs and services.
While Pennsylvania is on pace to end the current fiscal year with $2.5 billion in surplus revenue, Senate Republicans cautioned that the revenue projections for the current fiscal year were made as Pennsylvania was coping with the financial devastation caused by the global pandemic and the governor's business closure orders.
Senate Passes Plan for Voter Verification Constitutional Amendment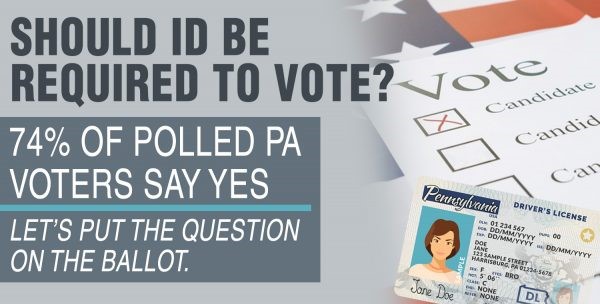 The Senate also approved a plan last week to allow voters to decide if the Pennsylvania Constitution should be amended to require identification each time a voter casts a ballot.
Currently, voters are required to show identification only the first time they vote at a polling place. The proposed constitutional amendment asks voters to decide if some form of verification should be required every time a ballot is cast, including when voting by mail.
A recent poll by Franklin & Marshall College found 74% of Pennsylvanians favored requirements that all voters show a photo ID and only 25% opposed. Nationally, that number climbs to 80% in support of some sort of identification to vote and drops to 18% opposed, according to a Monmouth University poll.
With Gov. Tom Wolf's refusal to consider legislation that asks voters to provide verification every time they vote, the Senate passed a bill to place the issue on the ballot as a proposed constitutional amendment so voters can decide. Unlike a piece of legislation, constitutional amendments do not need the governor's approval.
A Special Tribute in Bradford County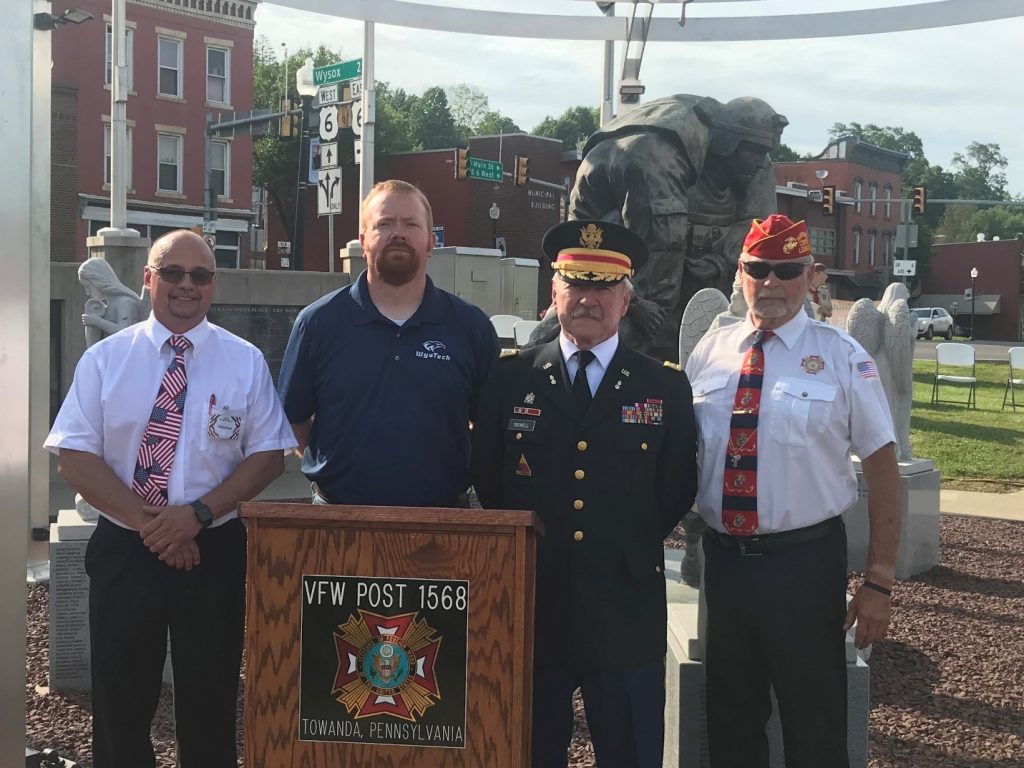 L to R: Dr. Tim Hoffman, BCVMA CEO; Chris Boggs, George Crowell, and Roy Shrimp
On Saturday, June 26th, the Bradford County Veteran's Memorial Park Association held a celebration of what is the vision and perseverance of resident Joe Doherty. As stated during the memorial, Joe was tenacious and persistent toward the goal of a new Veteran's Memorial.
Joe did a lot of leg work in the process of this project from acceptance of the idea, to finding a location, and finding resources to complete the project. I have worked closely with Joe and am proud to not only honor his vision, but to also have a part in the completion of the project, which has been 10 years in the making.
Many volunteers are needed for a project of this complexity and I appreciate all the work of those who contributed their time and talents to bring it to fruition.
Senate Judiciary Committee Advances Nomination, Constitutional Carry Bill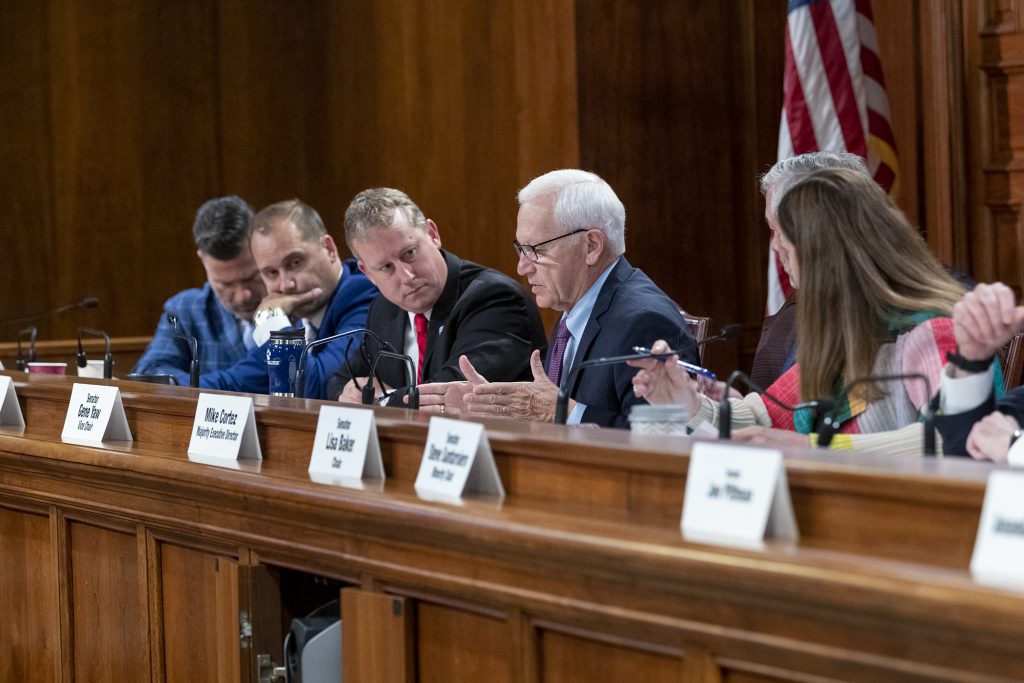 The Senate Judiciary Committee held a hearing to consider the nomination of Marcus Brown for appointment as a member of the Pennsylvania Parole Board. The committee advanced his nomination with a favorable recommendation on Thursday.
The committee also considered the following bills:
SR 146 – Aument – A Resolution directing the Legislative Budget and Finance Committee (LBFC) to conduct a study of the current liability limitations under 42 Pa.C.S. § 8528 and issue a report of its findings and recommendations to the Senate.
SB 565 – Dush – Amends Chapter 61 of Title 18, Uniform Firearms Act, by eliminating the need to obtain a license to carry a firearm in any vehicle or to carry a concealed firearm. It provides for an optional concealed carry license and retains the sportsman's firearm permit.
Senate Sends Bill to Rein in Health Secretary's Power, Ban Vaccine Passports to Governor's Desk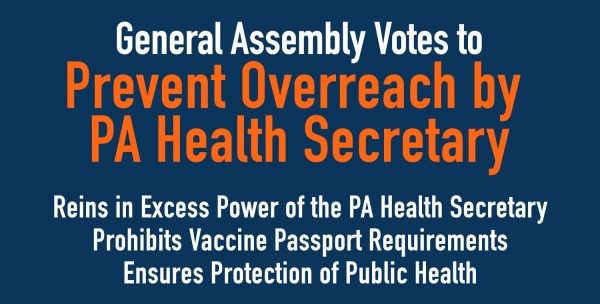 The Senate gave final approval of legislation that prevents the excess use of power by the state Secretary of Health and prohibits vaccine passport requirements while ensuring the protection of public health.
The measure prohibits the Secretary of Health from mandating those who have not been exposed or in close contact with the exposed to wear a mask, stay at home or be socially distant. It also prevents the secretary from using the same laws to force business closures.
It also prohibits the state, as well as counties, municipalities, school districts and colleges that are subsidized by state taxpayers from requiring proof of vaccination. The measure will now go to Gov. Wolf's desk. He will have 10 days to sign the bill into law, veto it or allow the bill to become law without his signature.
Bill to Expand Senior Access to Prescription Drugs Approved by Senate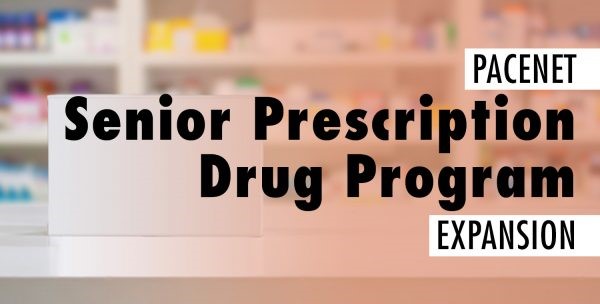 Legislation to expand senior access to prescription drugs received Senate approval and was sent to the House of Representatives for consideration.
The measure:
Expands the income eligibility of the PACENET senior prescription drug program by $6,000 for both individuals and married couples;
Removes the requirement that a PACENET cardholder pay a monthly premium; and
Provides the department with discretion to have cardholders enrolled in a Medicare Part D plan that meets their prescription needs.
The anticipated savings from enrolling eligible PACENET individuals in Medicare Part D plans will provide enough funding to cover the cost of the income expansion.
Measure Offering Optional Year of Education Due to COVID-19 Goes to the Governor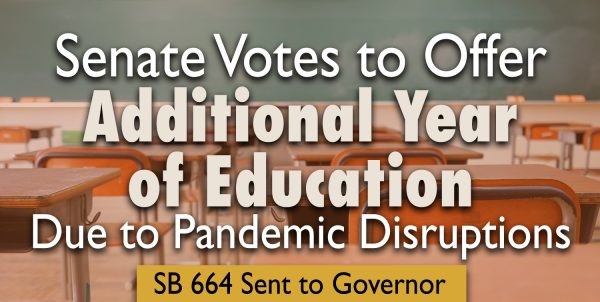 Parents would have the option to allow their children to repeat a grade level due to learning disruptions caused by COVID-19 under a bill approved by the Senate and sent to the governor.
In current practice, the decision on whether to hold a student back is made solely by the child's school and teacher. The bill would only apply to the 2021-22 school year to address learning gaps related to the pandemic.
Senate Bill 664 would also give parents the option to extend enrollment in special education programs for an extra year due to COVID-19. This provision would prevent students with special needs from aging out of the system at age 21 after missing out on much of the specialized attention they need due to COVID-19 disruptions.
Gov. Wolf will have 10 days to sign the bill into law, veto it or allow it to become law without his signature.
Fourth of July Safety Message
Submitted by Kimberly A. Smith | Safety Press Officer
PA Department of Transportation, District 3-0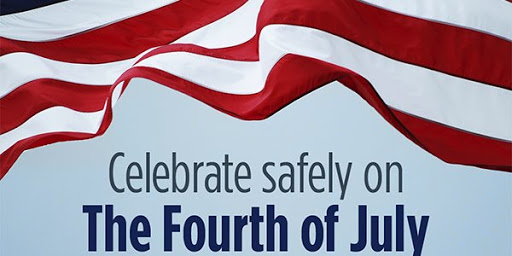 This Fourth of July, local and state law enforcement agencies will be working tirelessly to spread the word about the dangers of drunk driving and the remind all drivers: If you plan to drink alcohol, plan ahead for a sober driver.
According to PennDOT data, last year during the Independence Day Holiday week, there were 2,591 crashes in Pennsylvania, resulting in 41 fatalities. Alcohol-impaired driving was a factor in 266 of those crashes, resulting in 13 fatalities. Additionally, drugged-impaired driving was a factor in 96 of those crashes, resulting in 5 fatalities.
Although it is illegal to drive when impaired by alcohol, in 2019, one person was killed every 52 minutes in a drunk driving crash on our nation's roads according to the National Highway Traffic Safety Administration (NHTSA).
This Fourth of July, commit to only driving when you are 100 percent sober. If you are the designated driver, take that role seriously and do not consume alcohol, not even one drink. If you see a drunk driver on the road, call 9-1-1.
To learn more about impaired driving and other traffic safety topics, visit penndot.gov/safety.