Dear Friends,
Hello! Thank you for subscribing to my E-newsletter. I am honored to serve the 23rd Senate District and look forward to working with you toward building a better future for Pennsylvania!
This E-newsletter serves to keep you updated on what is happening throughout Bradford, Lycoming, Sullivan, Tioga and Union counties and what I am doing as your state senator in Harrisburg. I hope that you will find this E-newsletter helpful, and if you have any questions or concerns, please feel free to contact me.
Gene Yaw
State Senator
www.SenatorGeneYaw.com

Click here to find the latest information on coronavirus from the Pennsylvania Department of Health and the Centers for Disease Control and Prevention
Updates
The Supreme Court ruled Thursday that the Constitution provides a right to carry a gun outside the home, issuing a major decision on the meaning of the Second Amendment.
Sen. Yaw bill limiting firefighter exposure to PFAS, safeguarding environment passes House committee.
Celebrating community investments at ribbon cutting for Hufnagle Park in Lewisburg.
Application Deadline is August 12th for DCED's HOME Investment Partnerships Program.
PennDOT license, photo centers closed over holiday.
JUST IN: Central Susquehanna Valley Transportation (CSVT) Project's Ribbon Cutting & Groundbreaking Ceremony Held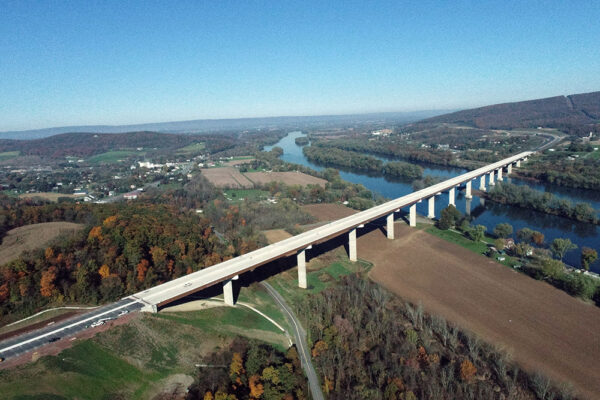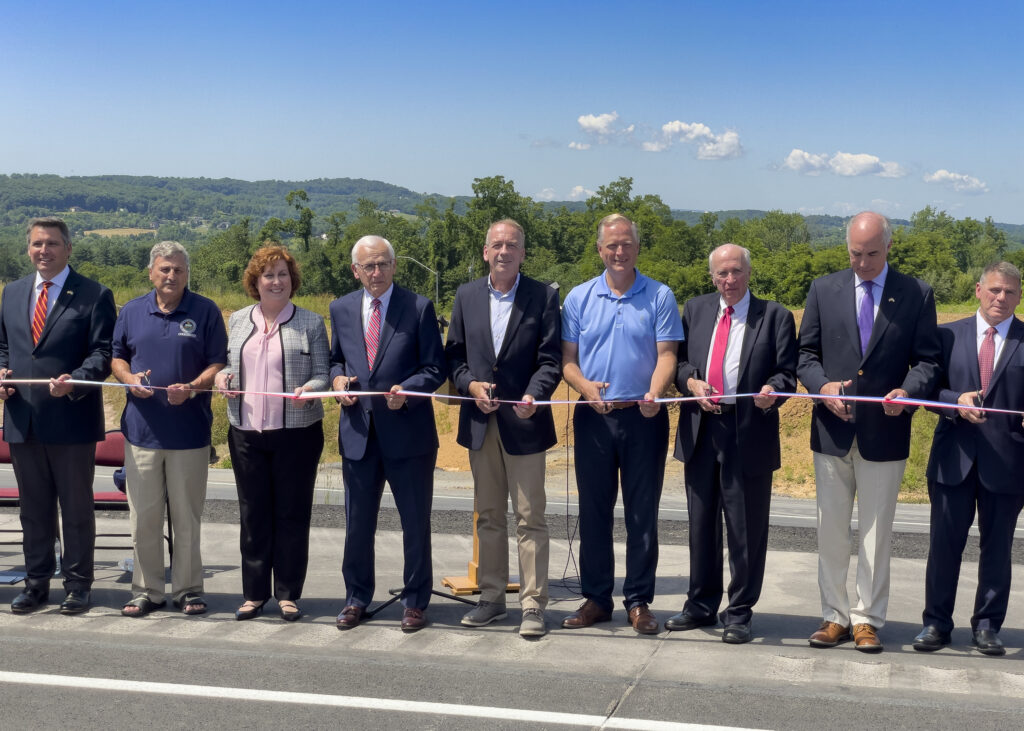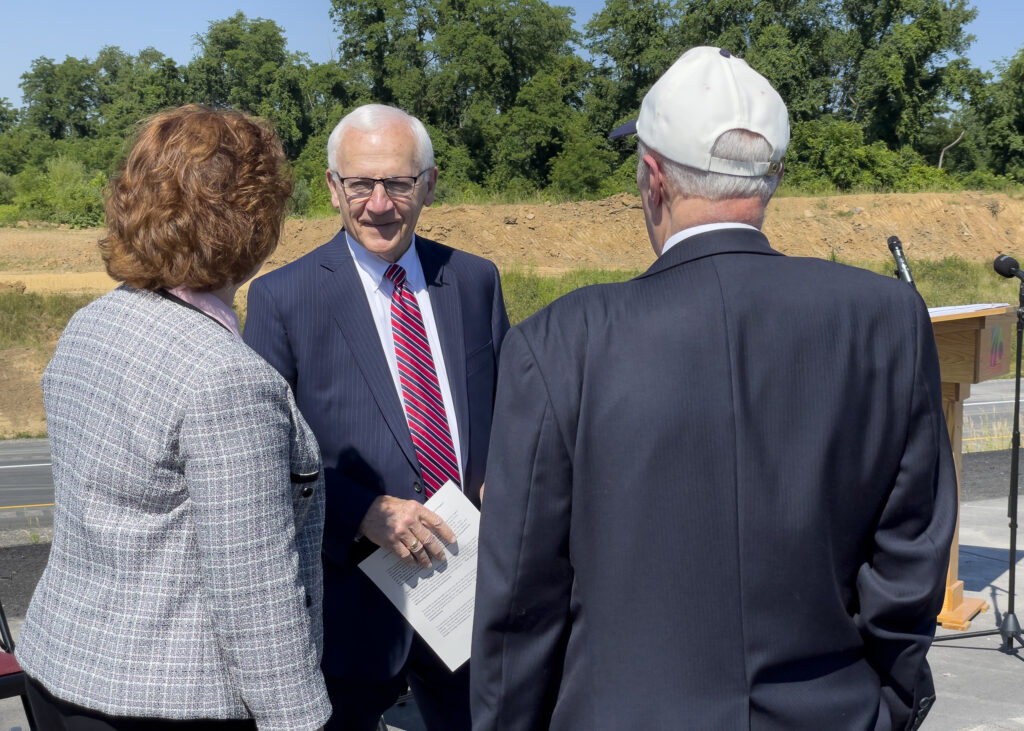 Today, I participated in the Central Susquehanna Valley Transportation (CSVT) Project's Ribbon Cutting & Groundbreaking Ceremony in Point Township.
The CSVT project has been in the works since the Route 15 corridor study was completed in 1959. It wasn't until the passage of Act 89 in 2013 that funding became available to complete the project.
The importance of the CSVT project cannot be overstated. It represents the largest single economic development initiative in the history of the Susquehanna Valley. It will be highly beneficial for our region, as well as the thousands of motorists who travel this roadway each day, providing vastly improved border to border connectivity.
The CSVT Project is divided into the Northern and Southern Sections. The Northern Section connects Route 147 south of Montandon in Northumberland County to Route 15 south of Winfield in Union County. The Southern Section will connect with the Northern Section south of Winfield and proceeds to the existing Routes 11/15 interchange just north of Selinsgrove in Snyder County. The Southern Section also includes an interchange/connector to Route 61 (Veterans Memorial Bridge) and Routes 11/15 in Shamokin Dam.
Bills to Limit Exposure of Sexually Explicit Content in PA Schools Receive Senate Votes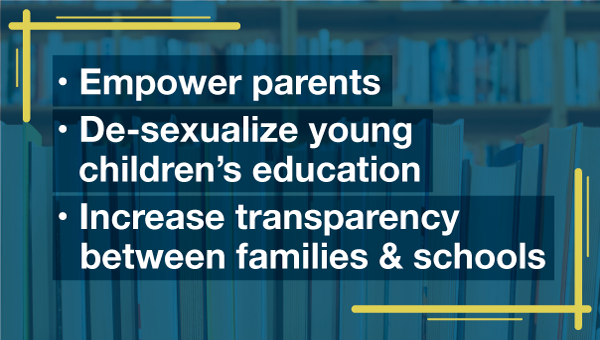 Two bills that would give parents a voice in discussions of gender identity and sexual orientation in Pennsylvania schools advanced out of the Senate Education Committee.
Senate Bill 1277, which was also approved by the full Senate today, would require districts to identify sexually explicit content in school curriculum and materials and notify parents that their child's coursework includes such content. Senate Bill 1278 would prohibit classroom instruction on gender identity and sexual orientation for pre-kindergarten through fifth-grade students, consistent with the timeline for when the existing academic standards on general sex education begins in sixth grade.
The proposals are in response to concerns of parents that age-inappropriate conversations about these sensitive topics are occurring prematurely and without parental knowledge in elementary school classrooms around the state.
Legislation Preparing Students for Tomorrow's Jobs Approved by Senate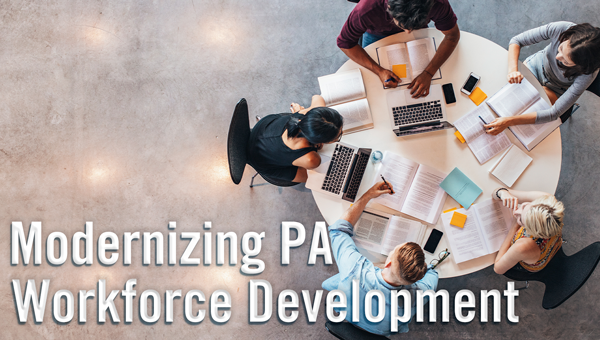 The Senate approved legislation to improve workforce development initiatives and better prepare Pennsylvania students for jobs that will be in demand after they graduate.
House Bill 723 would bring state law in compliance with the federal requirements of the Workforce Innovation and Opportunity Act by updating state and local workforce development board membership requirements and making other changes. The state and federal acts work in concert to help train individuals for family sustaining jobs.
This bill also requires the state Department of Labor and Industry to collect data on emerging and projected future employment sectors in Pennsylvania and send it to educational institutions. Schools would be required to use the information to develop career education programs and for providing career guidance to students. The amended bill will return to the House of Representatives for consideration.
Happy 105th Birthday, Dorothy!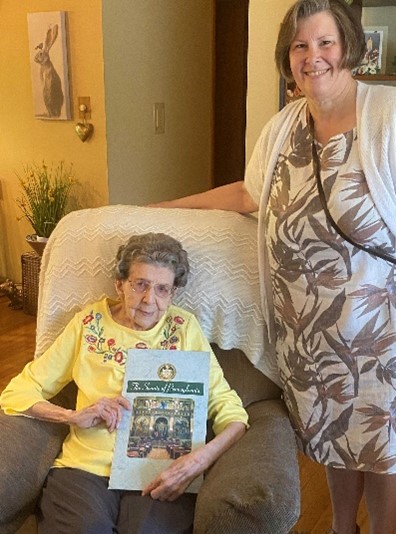 [Janenne Goliash of my staff presents Dorothy Geiger with a Senate Citation]
On June 18th, 2022, Dorothy Geiger of Sayre celebrated her 105 Birthday! I was happy to sponsor a celebratory congratulatory citation honoring this milestone. Dorothy was born in Rhode Island but as a small child traveled to Maryland to live with family. Dorothy remembers working long hours in produce fields during the Great Depression to help the family and for the canneries that were plentiful in Maryland. As fate would have it, Dorothy met her husband who had traveled to the area to find work from Allentown. After they married, the Depression soon led them to try to find a better life forcing the move from Maryland. Dorothy's father-in-law was working for the Lehigh Railroad in Sayre so they made the move to the Valley and as they say, the rest is history.
The biggest testament to Dorothy was the statement from her daughter, "I don't know anyone who is a better friend to all who know her, as well as to her community." Dorothy attributes her longevity to hard work. Not only did she work hard growing up, while in Sayre both she and her husband worked for Blue Swan Mills and had a garden an acre large. In her later years she was a companion and caregiver to others and still maintained her independence. Happy Birthday Dorothy!
Senate Acts to Reduce PA Lyme Disease Cases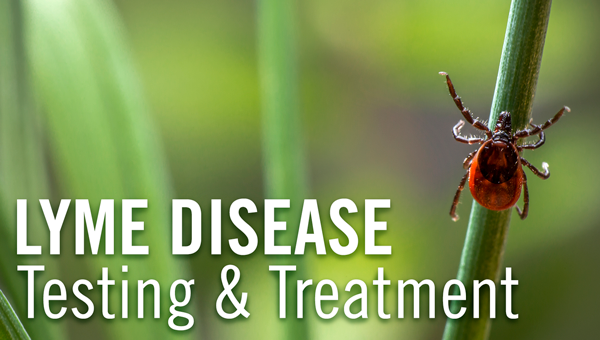 With Pennsylvania leading the nation in the incidence of Lyme disease, the Senate approved legislation to require insurance coverage for testing and treatment, and raise awareness of tickborne diseases.
Senate Bill 1188 also requires the Department of Health to work with the Tick Research Lab of Pennsylvania at East Stroudsburg University to develop an electronic database to better track possible cases and provide access to the latest research. The measure will be sent to the House of Representatives for consideration.
Early diagnosis is crucial to preventing the persistent symptoms of Lyme and other tick-borne diseases. Left untreated or improperly treated, Lyme disease can lead to debilitating symptoms, which include fevers, arthritis, joint aches and more. If treated within the first 30 days, 10% or fewer patients will progress to severe symptoms.
Bill to Curb Welfare Abuse Passed by Senate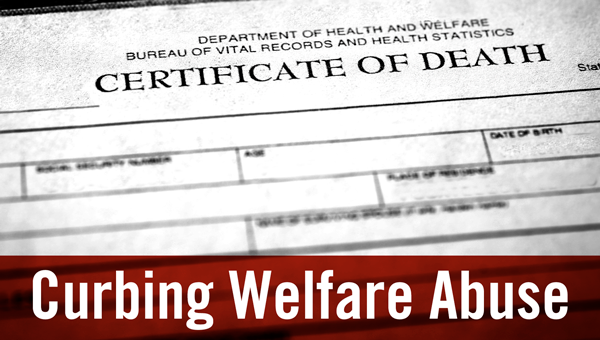 A bill to halt wasteful spending in the Medical Assistance and Supplemental Nutrition Assistance (SNAP) programs was approved by the Senate and sent to the House of Representatives for consideration.
Senate Bill 1124 requires the Department of Human Services to check death certificates with the Bureau of Vital Statistics so that the payments can be halted immediately when a recipient's death is recorded.
An audit by former Auditor General Eugene DePasquale found that the Pennsylvania Department of Human Services paid benefits to 2,324 dead people. In one case, $800 in benefits intended for a woman who passed away was used by another individual for a shopping spree.
Regional Transportation Projects Open to Review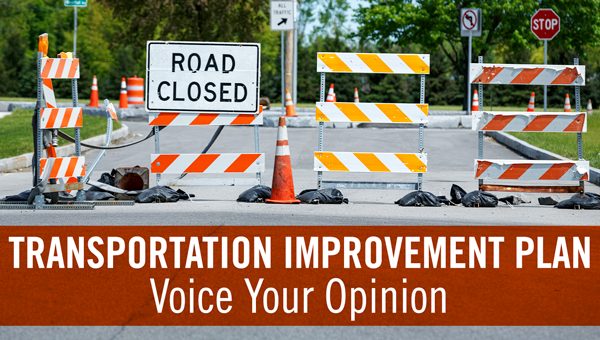 Pennsylvanians have until June 30th to participate in a comment period on the draft 2023 Statewide Transportation Improvement Program (STIP).
The draft 2023 STIP reflects the first four years of the 12-Year Program. It lists prioritized projects identified for federal, state, local and private funding in each federal fiscal year between 2023 and 2027.
The draft 2023 STIP can be viewed on the Talk PA Transportation website. Citizens can view projects by county and comment by filling out the online comment form or emailing RA-PennDOTSTC@pa.gov. You can also call PennDOT at 717-783-2262 from 7:30 a.m. to 4 p.m.
Older Mobile Phone Services Shutting Down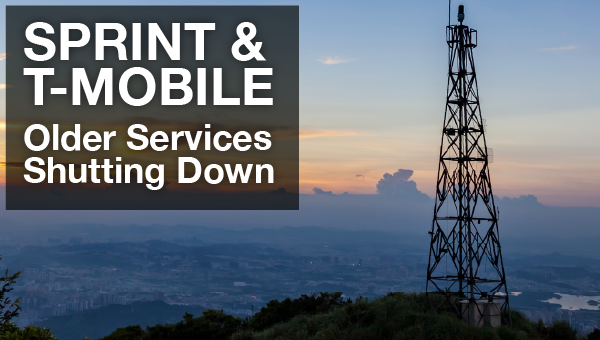 Mobile carriers are shutting down 3G and other older services to make room for 5G and other more advanced network services.
The Federal Communications Commission says T-Mobile's 3G UMTS and Sprint 4G LTE services will be shut down by the end of June and Verizon's 3G by Dec. 31.
If your device uses the 3G wireless spectrum, you will not be able to make 911 calls on the device after the 3G phase out occurs. In addition to older mobile devices, some home security systems, life/medical alert systems, vehicle SOS services, and other tablets that rely on 3G are also impacted. More information and help can be found here.
National Dairy Month and PA Dairy Farmers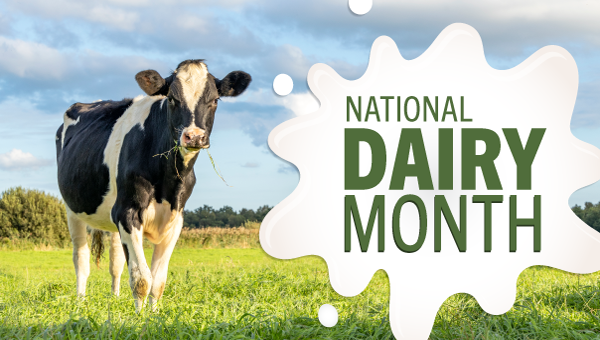 Pennsylvania is second only to Wisconsin in the number of dairy farms in America, with 5,200 throughout the state.
The commonwealth's 474,000 cows produce more than 10 billion pounds of milk annually. Pennsylvania dairy production is critical to our commonwealth and nation, and keeping it strong is a top priority.