Dear Friends,
Hello! Thank you for subscribing to my E-newsletter. I am honored to serve the 23rd Senate District and look forward to working with you toward building a better future for Pennsylvania!
This E-newsletter serves to keep you updated on what is happening throughout Bradford, Lycoming, Sullivan, Tioga and Union counties and what I am doing as your state senator in Harrisburg. I hope that you will find this E-newsletter helpful, and if you have any questions or concerns, please feel free to contact me.
Gene Yaw
State Senator
www.SenatorGeneYaw.com

"In the beginner's mind, there are many possibilities; in the expert's mind, there are few."
Lycoming College Gateway Project Groundbreaking Ceremony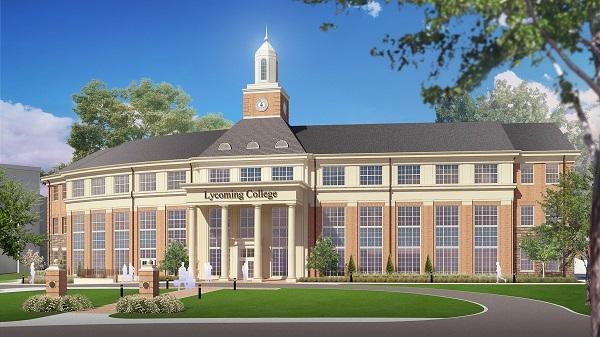 This morning, Monday, July 9th, I will be participating in a groundbreaking ceremony to celebrate this historic transformation of Lycoming College's campus in Williamsport.
Beginning at 11AM, you can watch a LIVE stream of the Gateway Project Groundbreaking Ceremony, click here.
The Gateway project is exciting not only for Lycoming College, but for the commercial, cultural and residential development opportunities and the potential to revitalize the Old City and East Third Street corridor. A public private partnership like this stands to have a lasting impact on the College and the City of Williamsport, as well as the local economy, well into the future.
Yaw Bill Adding Protective Fencing on Overpasses Signed Into Law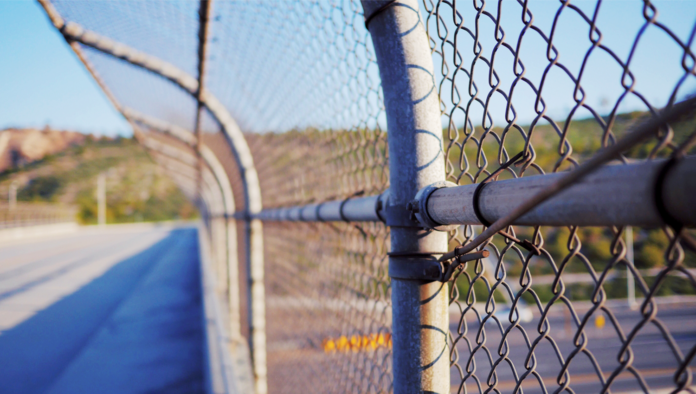 On June 28th, legislation I sponsored, Senate Bill 564 – now Act 65 of 2018 requiring the installation of protective fencing over Interstate highways – was signed into law by Governor Tom Wolf.
I introduced this bill at the request of Randy Budd, husband of Sharon Budd of Uniontown, Ohio. In 2014, Randy, Sharon and their daughter were traveling through my Senate District on Interstate 80 when a rock plunged from an overpass, smashed through the windshield of their vehicle and struck Sharon in the face. Randy later contacted me and asked that I introduce a bill mirroring Ohio's recent law to require added fencing on overpasses. It is my hope that this new Pennsylvania state law will prevent future tragedies from occurring.
Touring Keystone Center of Integrative Wellness

[Pictured L to R: Nurse Kathleen Dunkelberger, Senator Yaw and Pharmacist Gerald Knepp]
Last week, I had the opportunity to tour Keystone Center of Integrative Wellness, a new medical marijuana dispensary located in Williamsport. Owners Krista Krebs and Mary Pat Julius are part of a team of professionals with extensive backgrounds in the social and human services, management, security, and pharmacy domains. They are also a designated "Woman Owned Business."
In June of this year, KCIW began taking appointments for consultations providing access to high quality, pharmaceutical-grade medical marijuana treatments that are carefully tailored and monitored for each patient.
Improving Broadband Deployment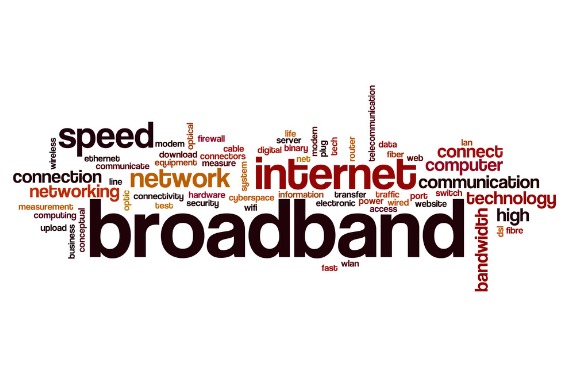 The Center for Rural Pennsylvania, a bipartisan, bicameral legislative research agency of the General Assembly, which I chair is currently sponsoring research, Broadband Availability and Access in Rural Pennsylvania, to analyze and assess broadband availability in Pennsylvania.
You can help the Center, along with Penn State University researchers, map broadband access in Pennsylvania, by taking the broadband test, click here.
The test results will help PSU researcher's measure actual internet speeds. The test will also provide participants with information about their broadband connection.
Bradford County Satellite Office Hours Scheduled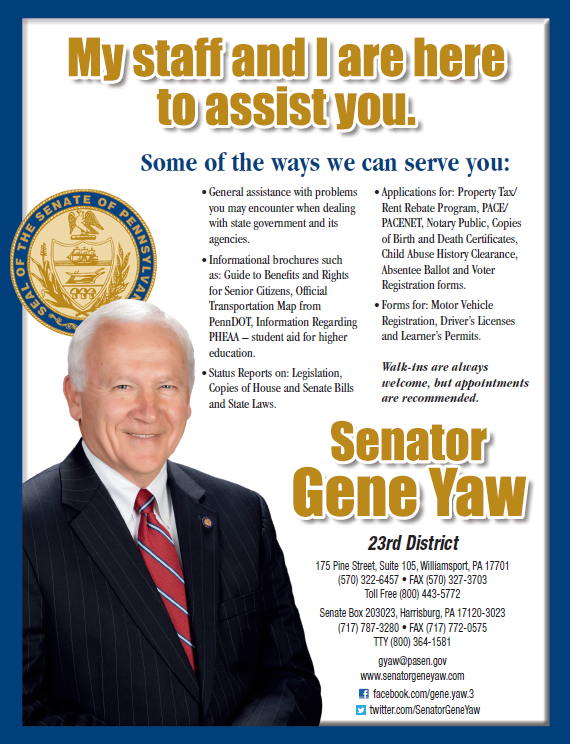 During the month of July, I encourage residents living in Bradford County to take advantage of satellite office hours that have been scheduled.
We offer this service each month as a way of bringing state government closer to you. A member of my staff will be on location to answer your questions and help you with state government issues, and, if needed, assist with state-related forms and paperwork.
July Satellite Hours will be held at the following locations:
Thursday, July 12, 2018
3PM-5PM
Wyalusing Library
115 Church Street
Wyalusing, PA 18853
Wednesday, July 18, 2018
10AM-12PM
Towanda Library
104 Main Street
Towanda, PA 18848
Thursday, July 26, 2018
3PM-5PM
Green Free Library
38 North Center St.
Canton, PA 17724
Satellite hours and locations will be announced monthly and can be viewed by visiting my website at www.senatorgeneyaw.com. Walk-ins are welcome, but appointments are recommended by calling (800) 443-5772.
Road Safety Precautions Urged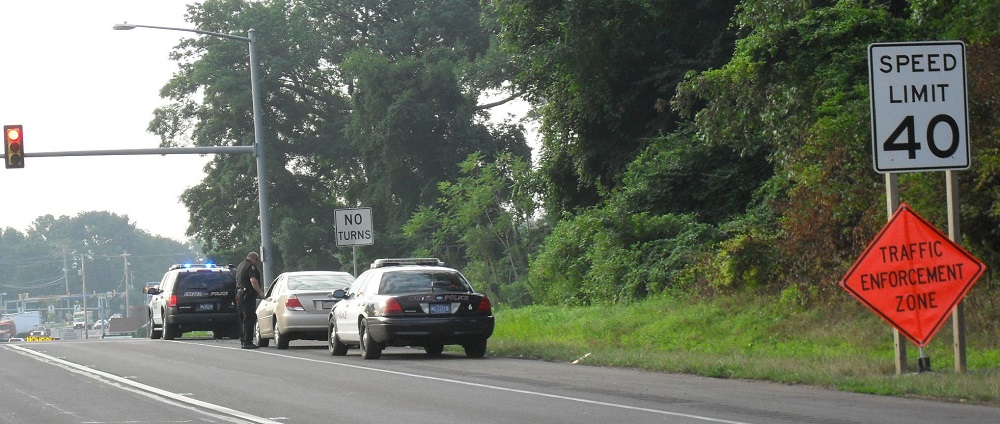 This summer, a record number of motorists will drive across Pennsylvania as a strong economy and growing consumer confidence give more individuals motivation to travel.
Often times, my office is contacted by area residents who would like to see new state transportation laws enacted or encourage the enforcement of existing transportation laws. I'd like to highlight a few of the related topics fielded by my office.
"Keep right, pass left"
One of the biggest pet peeves of drivers today is seeing others drivers use the left lane to cruise in when the right lane is open. Pennsylvania's "Keep Right, Pass Left" highway slogan wasn't only created for safety, but it is the law! It should be noted that there are exceptions to use the left lane, whether allowing other vehicles to merge, to avoid an emergency vehicle or a road obstruction.
Violations of the "Keep Right, Pass Left" Law fall under two separate section of Title 75, Pennsylvania's Vehicle Code, Section 3301 and 3303.
"Turn on your headlights"
Simple concept, if you turn on the windshield wipers, turn on the headlights.
Title 75, Section 4302 contains the requirements for lighted lamps, including Subsection (3) Any time when the vehicle's windshield wipers are in continuous or intermittent use due to precipitation or atmospheric moisture, including rain, snow, sleet or mist.
"Be prepared to encounter farm equipment."
From spring planting season through the autumn harvest, PennDOT urges drivers to be prepared to encounter farm equipment and animal-drawn vehicles on Pennsylvania roadways.
While cruising at 55 miles per hour and coming upon a tractor moving at 15 miles per hour, in only five seconds, an automobile will cover the length of a football field. Driving farm equipment requires safely staying on the roadway and watching for oncoming traffic while on a noisy piece of equipment.
The Horse and Buggy Driver's Manual also provides critical safety information to motorists and tourists unfamiliar with horse and buggy encounters, as well as the buggy operator.
"Remove your vehicle registration sticker"
Effective December 31st, 2016, PennDOT no longer issues Vehicle Registration stickers. While PennDOT does not require you to remove the sticker, if it's no longer in use, it may be good to remove the sticker altogether, especially if traveling out of state. Find out more about the Elimination of Registration Stickers
"Drive cautiously in work zone areas"
Pennsylvania's work zone safety laws are designed to protect both highway workers and motorists. Each year when the weather improves, Pennsylvanians and travelers through the state can anticipate seeing many work zones. While PennDOT and its industry partners are busy improving the 40,000 miles of roadway and 25,000 bridges in its care, motorists are urged to keep safety in mind.
"Turn around, don't drown"
Flooding is the most common natural disaster in Pennsylvania, and ignoring flood warning signs to Turn Around, Don't Drown is dangerous and illegal. Two feet of rushing water can carry away vehicles, including SUVs and pickups. Six inches of water can cause loss of control and stalling. If your vehicle stalls, abandon it immediately and seek higher ground.
"Child safety is paramount"
Avoiding Backover Tragedies – According to KidsandCars.com, 50 children are backed over by vehicles every week in the US because a driver could not see them. Two of these children will die. Children age 5 and under are at the most risk. Be mindful of your surroundings!
Car Seats – Not for Sleeping Outside the Car – Car seats are essential for your child's safety and it is the law. But did you know that it is dangerous to allow your sleeping baby to remain in the car seat after you have arrived at your destination?
To avoid such a tragedy, experts recommend infants should only sleep in cribs and should not be left unsupervised in car seats, swings, and other devices whether asleep or awake. While the car seat is in use, the harness straps should always be buckled, a loose strap is a strangulation risk. (*Information submitted by Kim Smith, PennDOT District 3 Safety Press Officer)
Always check the backseat – The best way for parents to avoid leaving children in a hot car is to always check the back seat of your vehicle before walking away. Car temperatures can rise more than 20 degrees in 10 minutes and death occurs when a child's body temperature reaches 107. Tip: Keep a stuffed animal or other memento in your child's car seat when it's empty, and move it to the front seat as a visual reminder when your child is in the back seat.
2017 Property Tax/Rent Rebates Distributions Underway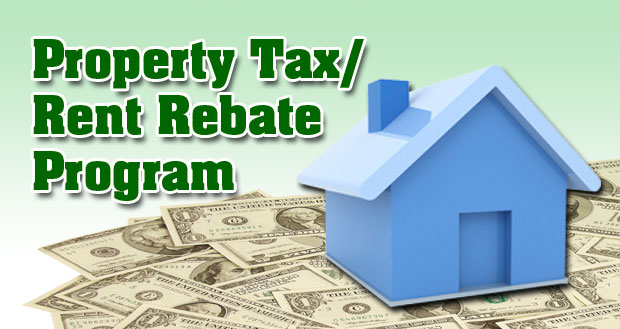 Last week, the Department of Revenue announced approximately 425,000 older homeowners, renters and people with disabilities across Pennsylvania will be issued rebates totaling $201 million starting July 2nd through the Property Tax/Rent Rebate Program.
Claimants who already applied for rebates may check the status of claims online at www.revenue.pa.gov by clicking on the "Where's My Property Tax/Rent Rebate?" link. Claimants may also call, toll-free, 1-888-PATAXES to check the status of their rebates.
It costs nothing to apply for a rebate, and applicants are reminded that free assistance is available at hundreds of locations across the state, including in my Williamsport District Office, 175 Pine Street, Suite 105, Department of Revenue district offices, local Area Agencies on Aging and senior centers.
Keystone Community Grant Program Opens

Over the years, many communities in the 23rd Senate District have benefited from Keystone Community Grants.
The PA Department of Community and Economic Development (DCED) has announced it will be accepting applications for 2018/19 Keystone Communities grants from July 2nd to August 31st. Grants help promote community growth and revitalization through public-private partnerships. It's open to local governments, redevelopment authorities, nonprofits, business improvement districts and more.
For more information, click here.