Dear Friends,
Hello! Thank you for subscribing to my E-newsletter. I am honored to serve the 23rd Senate District and look forward to working with you toward building a better future for Pennsylvania!
This E-newsletter serves to keep you updated on what is happening throughout Bradford, Lycoming, Sullivan, Tioga and Union counties and what I am doing as your state senator in Harrisburg. I hope that you will find this E-newsletter helpful, and if you have any questions or concerns, please feel free to contact me.
Gene Yaw
State Senator
www.SenatorGeneYaw.com

*Click here to find the latest information on coronavirus from the Pennsylvania Department of Health and the Centers for Disease Control and Prevention.
Poll: How do you feel about Governor Wolf's handling of COVID-19 in PA?
Answer my poll here.
DEADLINE FRIDAY: Applications Being Accepted for Game Commission Board – District 5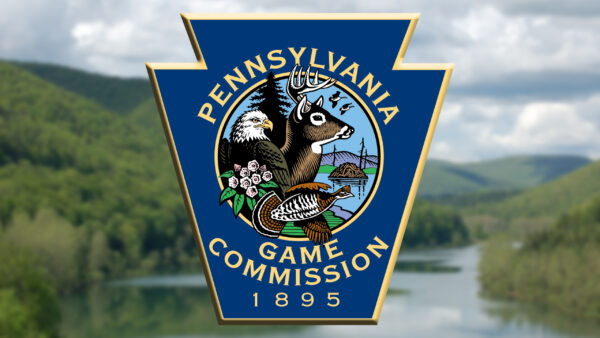 The deadline to apply for the Pennsylvania Game Commission's Board of Directors District 5 seat is this Friday, July 31st. District 5 includes the counties of Bradford, Columbia, Lycoming, Montour, Northumberland, Sullivan, Tioga and Union. The district is currently represented with distinction by Commissioner Charles E. Fox, whose term expires October 15, 2020. Commissioners are eligible to serve three four-year terms, but must participate in a competitive process with other interested candidates to gain a second or subsequent term.
In addition to sending a letter to the Governor's Council (Attn: Robb Miller – robmille@pa.gov), I'm encouraging anyone interested in volunteering to serve on the board to send me a letter of intent and their professional resume. They can be emailed to me at gyaw@pasen.gov or mailed to Senate Box 203023, State Capitol Building, Harrisburg, PA 17120.
Per the Game Code, applicants must be well-informed about wildlife conservation and restoration and be residents of the district. Commissioners receive no compensation for their service but are reimbursed for travel expenses.
General Assembly Passes Constitutional Amendment Reforming Judicial Election Process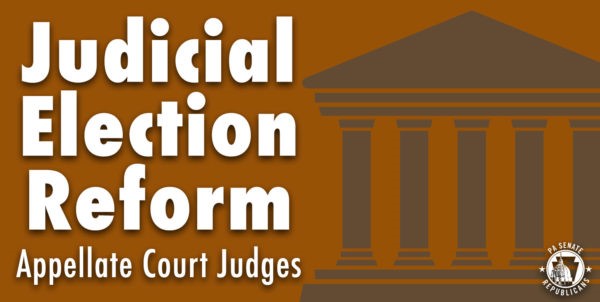 The Senate approved a potential amendment to the Pennsylvania Constitution recently. The bill would divide the Supreme Court, Superior Court and Commonwealth Court into judicial districts to ensure a broader range of regional interests are represented on Pennsylvania's highest courts.
Since judges are currently elected on a statewide basis, the majority come from the state's two most populous counties, resulting in most of the state being underrepresented on the state's highest courts. Dividing the state into judicial districts will end the current system of disproportionate representation and ensure the perspectives of all regions of the state are reflected in the makeup of the judicial branch.
The Senate and the House of Representatives have each approved the bill, which does not require the governor's signature. As a constitutional amendment, the legislation must be approved again in the next legislative session before being put on the ballot for voters to decide.
In the News….
Gov. Wolf Allows Transparency Bill to Become Law…. The state legislature recently approved HB 2463 sending it to the Governor's desk. The legislation would ensure Pennsylvanians can continue to access public records during a disaster declaration. The Governor has been widely criticized for failing to provide any sense of transparency during the public health emergency, including ignoring a subpoena for information related to his confusing and inconsistent waiver process for businesses that wished to remain open during the pandemic.
Gov. Wolf's refusal to release Lebanon County's CARES money is an 'incredible insult,'… Gov. Tom Wolf's refusal to release federal CARES Act aid to Lebanon County over a decision by its commissioners to defy his COVID-19 restrictions is an "incredible insult" to its residents, the county's state legislators contended. The Governor does not have the authority to withhold funding that has been appropriated through legislation approved by the General Assembly and agreed to and signed into law by that same Governor. [ Read More ]
PA legislators are sponsoring legislation to protect state monuments. The legislation would prioritize the prosecution of any action relating to vandalizing monuments. As noted by the sponsor…. "In no society, should the vandalism of historic monuments, memorials, markers and statues become acceptable. Unfortunately, this type of behavior is occurring across our country, without effective state-level legislation being in place to discourage such actions."
Last week, I penned a letter to DEP Secretary Patrick McDonnell concerning the impartiality of ICF International, Inc., a Fairfax, Virginia-based global consulting and technology services company, employed by DEP to study Pennsylvania's potential participation in the Regional Greenhouse Gas Initiative (RGGI). On July 9th, a letter was circulated to members of the state's Environmental Quality Board (EQB) by businesses supporting DEP's proposed RGGI regulations. One of the signatories to that support letter was ICF, the company which DEP has hired to do the modeling to provide an evaluation of the RGGI proposal. Undoubtedly, this raises serious ethical issues as well as questions of transparency. [ Read More ]
PennDOT is seeking motorists' input on traffic safety and driving behaviors through its annual online Highway Safety Survey found at www.PennDOT.gov/Safety. The survey is available on PennDOT's website through August 17 and should take about five minutes to complete. All responses, including the "comments" fields, are anonymous.
Call PPL for Billing Assistance
If you are struggling to pay your electric bill, PPL Electric Utilities has programs that can help.
The following options are available regardless of your income:
Set up a flexible payment agreement so you can pay down your balance over time.
Sign up for budget billing. PPL averages your electric use over the entire year to smooth out your monthly bill and make your payments more predictable.
Change the due date of your bill to better align with your finances! Select a date that fits your schedule.
Depending on your current income, you may also qualify for an assistance programs:
OnTrack offers debt forgiveness and a lower fixed monthly payment.
Operation HELP is a PPL fuel fund for customers in need. This year, PPL has increased the income limit to be able to help more customers.
LIHEAP (Low Income Home Energy Assistance Program), is a federal program that provides cash grants for home heating bills and emergencies. Because of the pandemic, LIHEAP has an extended application period through Aug. 31.
The most important step is always the first one. Go online to learn about the available programs and apply at pplelectric.com/billhelp or call (1-800-342-5775).
Senate Votes for New Tool to Crack Down on Blight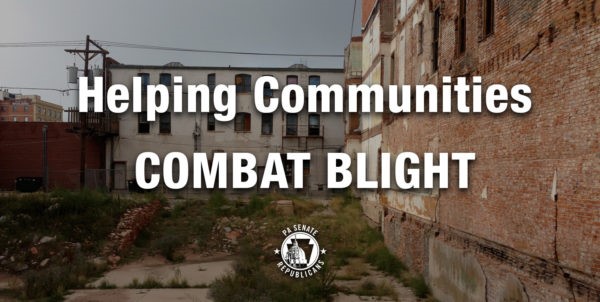 Municipalities would have a new tool to crack down on dangerous abandoned and dilapidated properties under a bill approved by the state Senate. The bill would allow municipalities to file condemnation orders on the properties with the county recorder of deeds.
The order would be considered a lien on the property and its validity would not be impacted by upset, judiciary, or repository sale of the property. Under current law, anytime a condemned property's ownership changes hands, local officials must expend significant time repeating their code enforcement process. This bill closes that loophole and allows municipalities to take the appropriate steps to remove these dangerous eyesores from our communities.
Athens, Mifflinburg Students Named "No Excuses Billboard Design Contest" Winners
Contest Aims to Reduce Teen Driver Crashes, Fatalities and Injuries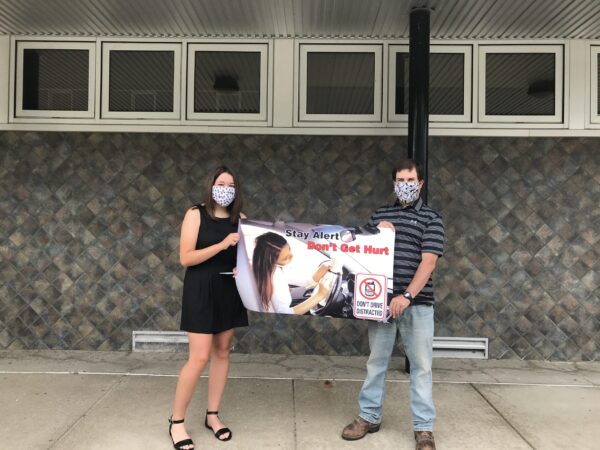 The Highway Safety Network (HSN), Athens Area High School and State Farm Insurance recently held a press conference at Athens Area High School to announce the regional winner of the "No Excuses Billboard Design Contest" – a youth driven campaign developed to impact the #1 cause of death for teens: motor vehicle crashes.
Karlee Bartlow, an Athens Area High School freshman, was recognized for her winning design "Stay Alert, Don't Get Hurt" a billboard featuring a distracted driver. Karlee was awarded a $500 scholarship for her efforts and an additional $500 for her school. Karlee's design will be displayed on a billboard in Bradford County during National Teen Driver Safety Week in October.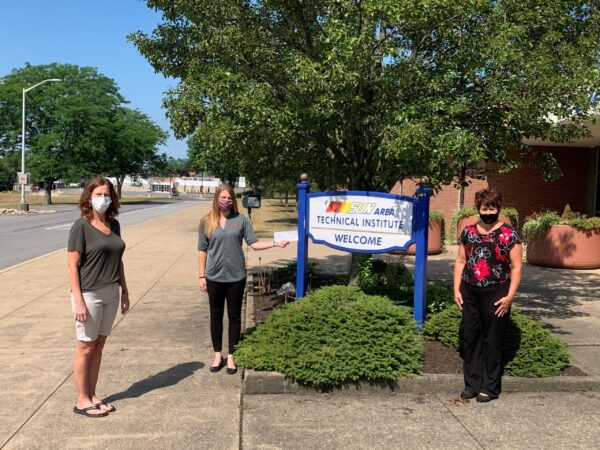 …….and on Tuesday, the Highway Safety Network (HSN), SUN Area Technical Institute (SUN Tech) and State Farm Insurance announced the regional second-place winner of the "No Excuses Billboard Design Contest."
Billie Gene Moran, a SUN Tech senior attending through Mifflinburg School District, was recognized for her design "Don't Text and Drive" a billboard featuring a banned cell phone and a distracted driving crash statistic. Billie Gene was awarded a $250 scholarship for her efforts and an additional $250 for SUN Tech.
According to PennDOT data, in 2018, there were 6,453 crashes involving 16- or 17-year-old drivers resulting in 26 fatalities. Of all drivers represented in crashes, the young driver and the older driver are two groups that stand out. Young drivers (ages 16-21) are the least experienced drivers and they are also prone to overzealous driving performance, perhaps due to their youth and peer pressure.
For more information about teen driver safety, visit penndot.gov/safety.