Dear Friends,
Hello! Thank you for subscribing to my E-newsletter. I am honored to serve the 23rd Senate District and look forward to working with you toward building a better future for Pennsylvania!
This E-newsletter serves to keep you updated on what is happening throughout Bradford, Lycoming, Sullivan, Tioga and Union counties and what I am doing as your state senator in Harrisburg. I hope that you will find this E-newsletter helpful, and if you have any questions or concerns, please feel free to contact me.
Gene Yaw
State Senator
www.SenatorGeneYaw.com

"Rise above the storm and you will find the sunshine."
---
BREAKING NEWS
Ritz-Craft Custom Homes to Open Third Manufacturing Plant in Mifflinburg

Great news for our region! As announced today, Ritz-Craft Corporation of PA, Inc., a manufacturer of modular housing, will expand into a third manufacturing plant in Mifflinburg, Union County, creating more than 120 new jobs and retaining 338 existing employees.
Ritz-Craft will increase its production capacity by more than 80 percent by reviving a dormant facility through a nearly $1,000,000 investment into renovations, upgrades, new equipment and tooling. The company had shuttered two of its three Mifflinburg manufacturing facilities during the 2008 economic downtown. Ritz-Craft reopened a second plant in 2015. The revival of the third plant will enable the company to continue to expand its place in the market while providing jobs to more than 550 area residents.
Ritz-Craft received a funding proposal from the Department of Community and Economic Development (DCED) for $120,000 in Job Creation Tax Credits to be distributed upon creation of the new jobs and a $50,000 Pennsylvania First Grant. The company was also encouraged to apply for low-interest loans through the Pennsylvania Industrial Development Authority.
Ritz-Craft, headquartered in Mifflinburg, builds off-site systems built modular housing. The company is one of the largest family owned modular and manufactured home builders in America.
---
Bucknell's SBDC Celebrates 40th Anniversary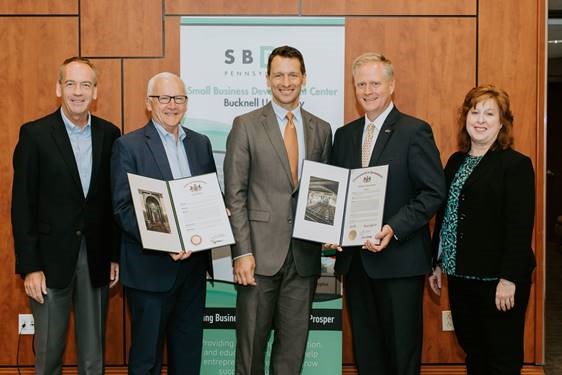 [Pictured Left to Right: Sen. John Gordner, Senator Gene Yaw, Steve Stumbris-SBDC Director, Rep. Fred Keller and Rep. Lynda Schlegel Culver]
The Small Business Development Center (SBDC) at Bucknell University recently celebrated its 40th anniversary helping entrepreneurs start, expand and improve their businesses in and around the Susquehanna Valley.
I was pleased to join more than 100 business persons along with university administrators, staff and students during a celebratory event to recognize the Bucknell SBDC on their outstanding milestone.
Visting the Troy Fair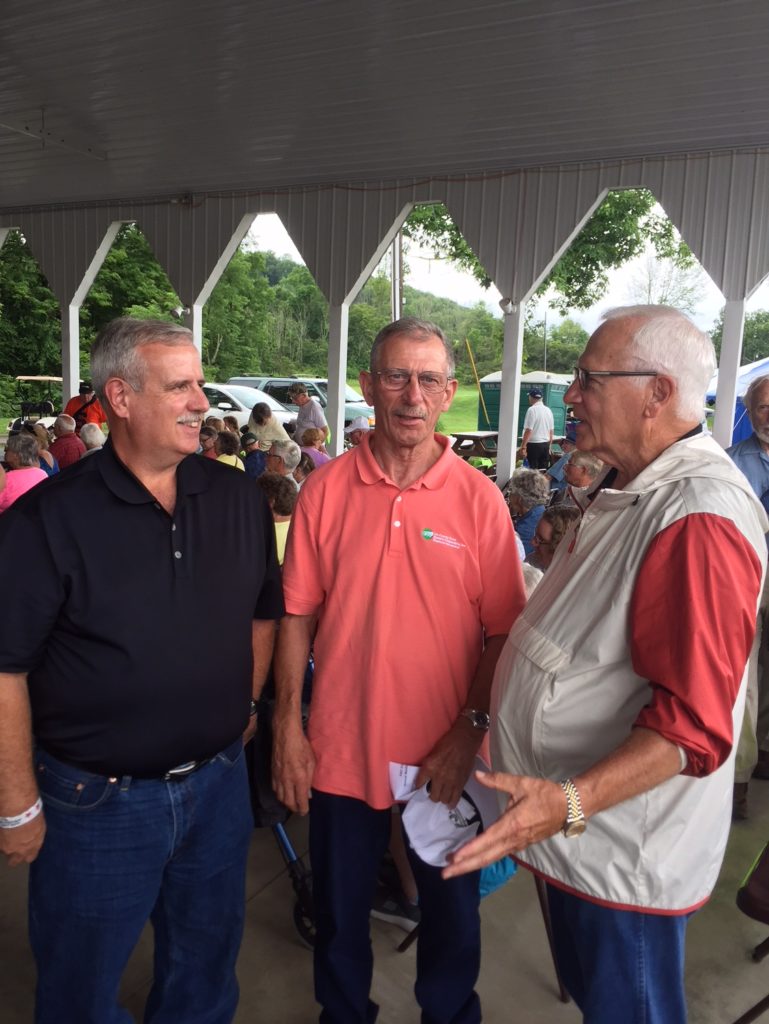 [Senator Yaw talks with Duane Huffman of Lycoming County and Elwin Caseman of Bradford County]
Heavy rains hit the area last week, but it didn't keep fair goers from attending the 143rd Troy Fair in Bradford County. While there, I had the opportunity to also attend the Tri-County REC Annual Meeting and chat with many of the attendees, including Troy's 2018 Fair Queen and Bradford County Dairy royalty.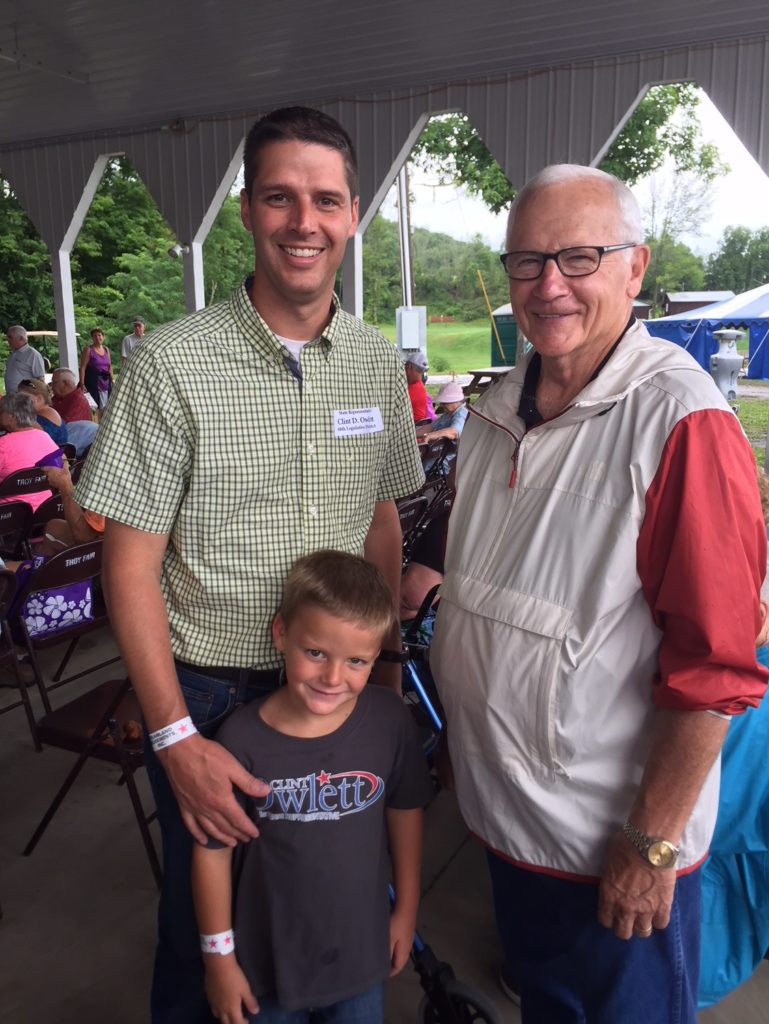 [Senator Yaw with state Rep. Clint Owlett and his son]
Last Opportunity for Persian Gulf Conflict Bonus for Veterans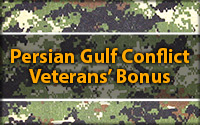 Eligible veterans who served on active duty in the Persian Gulf Theater of Operations from Aug. 2, 1990 to Aug. 31, 1991, have until Aug. 31, 2018, to apply for a special one-time payment to honor their service and sacrifice.
The bonus program, administered by the Pennsylvania Department of Military and Veterans Affairs (DMVA), pays $75 per month for qualifying, active-duty service members up to a $525 maximum. For personnel whose death was related to illness or injury received in the line of duty in Operations Desert Shield or Desert Storm, there is an additional $5,000 available to the surviving family. Service members who were declared prisoners of war may also be eligible for an additional $5,000.
For detailed instructions on how to apply, click here.
PennDOT Winter Employment Application Period Opens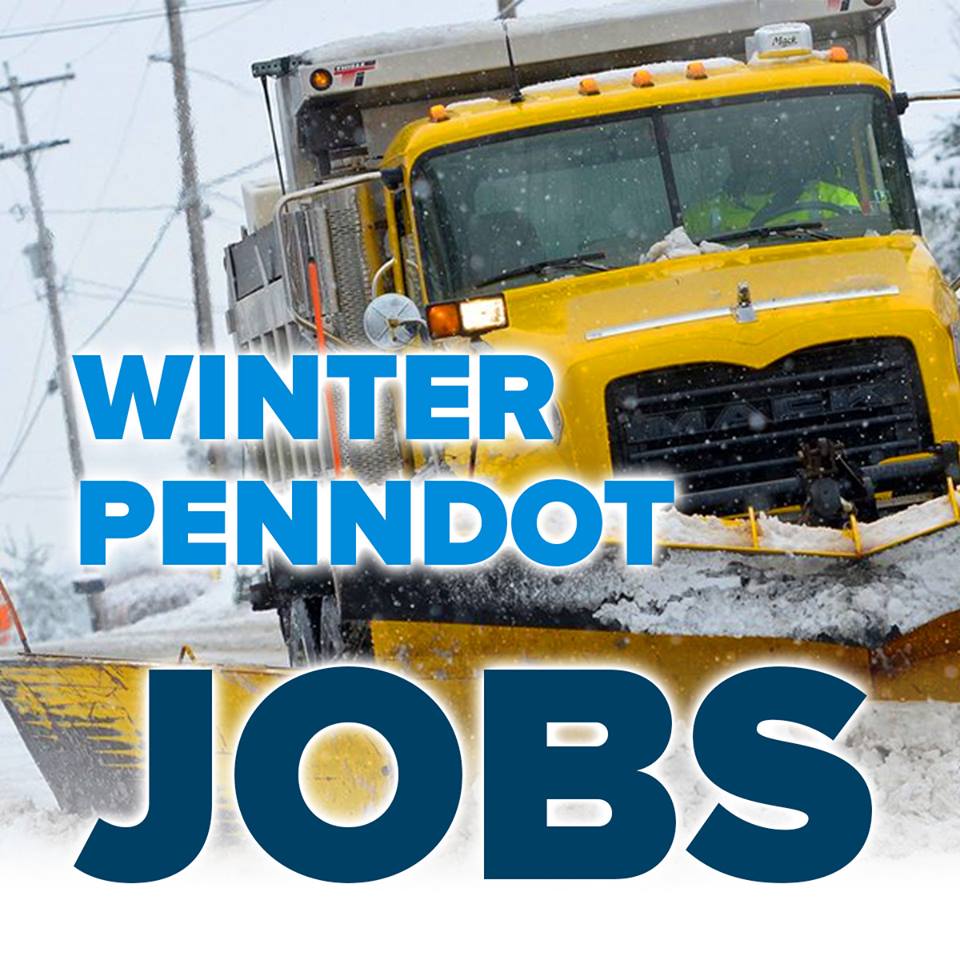 PennDOT is hiring for its annual Winter Maintenance Program (WMP), where a winter could become a career. While WMP positions are temporary, joining PennDOT's workforce provides employees with potential advancement opportunities into full-time, permanent positions.
Opportunities exist in various counties throughout the Commonwealth for Transportation Equipment Operators, Diesel and Auto Mechanics, Clerks/Radio Dispatchers, Tradesman Helpers, Welders, Semi-Skilled Laborers, Custodial Workers and Stock Clerks. Opportunities are based on operational needs, so there may not be open positions for each job title in every county.
Interested applicants may visit www.employment.pa.gov. Once there, they can click "Open Jobs" and view the PennDOT Winter Maintenance Program posting.
Grants Available for Pollution Prevention, Energy Efficiency, Environmental Protection Projects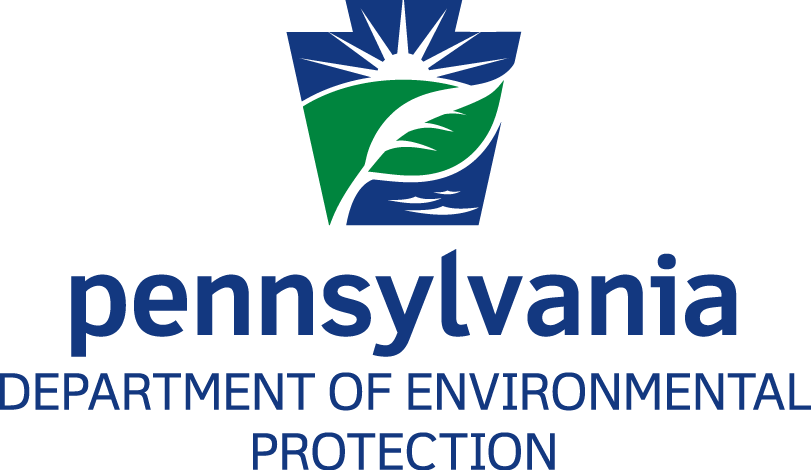 Small businesses and, for the first time, farmers, can now apply for state Small Business Advantage grants to undertake pollution prevention, energy efficiency and natural resource protection projects.
Natural resource protection projects include the opportunity to plant riparian buffers, install streambank fencing to keep livestock out of streams, and agricultural storm water management projects, with the goal of reducing sediment and nutrient loads in our waterways.
Applications will be considered on a first-come, first-served basis, and will be accepted until fiscal year 2018-19 funds are exhausted, or April 12, 2019, whichever occurs first.
For more information, click here.