Dear Friends,
Hello! Thank you for subscribing to my E-newsletter. I am honored to serve the 23rd Senate District and look forward to working with you toward building a better future for Pennsylvania!
This E-newsletter serves to keep you updated on what is happening throughout Bradford, Lycoming, Sullivan, Tioga and Union counties and what I am doing as your state senator in Harrisburg. I hope that you will find this E-newsletter helpful, and if you have any questions or concerns, please feel free to contact me.
Gene Yaw
State Senator
www.SenatorGeneYaw.com

*Click here to find the latest information on coronavirus from the Pennsylvania Department of Health and the Centers for Disease Control and Prevention.
Federal Bipartisan Bureau of Prison Reform Caucus Launched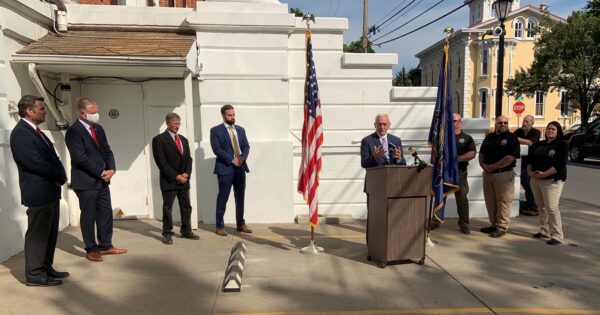 On Friday, August 14th, I joined Congressman Fred Keller, area elected officials and representatives of our federal prison to applaud the creation of the Bureau of Prisons (BOP) Reform Caucus, which will improve BOP accountability and transparency, address systemic issues within the system and ensure the health and safety of corrections officers, staff, inmates and the communities surrounding the prisons. I was pleased to lend my support to this worthwhile effort.
The recent COVID-19 outbreak at the Lewisburg Federal Penitentiary and several cases at the three-prison Allenwood complex are proof that the policies BOP set in place to mitigate the spread of the disease have failed. The Caucus will provide for more sharing of ideas to solve problems and better manage the federal prisons.
JUST IN: Over $2.5 Million Awarded for Housing, Rental Programs in Region
A number of organizations (attached) across the 23rd Senatorial District last week received funding through the Pennsylvania Housing Finance Agency's (PHFA) Low Income Housing Tax Credits (LIHTC) and Pennsylvania Housing Affordability and Rehabilitation Enhancement (PHARE) program to provide affordable housing options to area residents in need.
When we crafted the PHARE program, our goal was to direct a portion of the natural gas drilling fees back to communities in my district to help expand affordable housing opportunities now and for years to come. Today, almost 10 years since the program was created, it still serves to assist residents with funding and resources to obtain affordable housing, particularly in this difficult time.
To read more, click here.
Senate Action to Address COVID-19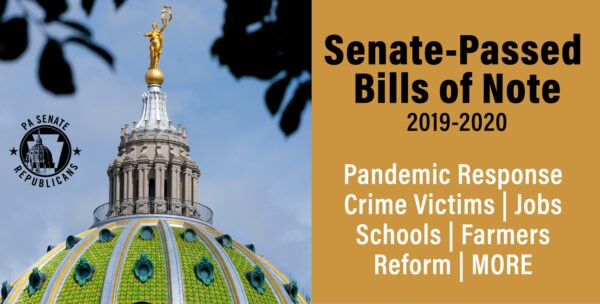 Like the lives of all Pennsylvanians, the work of the Senate was upended by the COVID-19 pandemic. However, in the months since the virus first came to our commonwealth, the Senate has approved nearly two dozen bills to bolster the state's response to the pandemic.
A new summary of bills and laws approved during the 2019-20 Legislative Session highlights the steps the Senate has taken to address COVID-19 while working to prevent government overreach during this crisis.
The summary also includes measures the Senate passed to reform state government, protect crime victims, improve public safety, bolster education, create jobs, assist farmers, strengthen health care, address the opioid crisis and support our veterans and first responders.
In the News
PIAA meets with Gov. Wolf's staff, so what's next? ……On Friday, PIAA Executive Director Bob Lombardi met with representatives of Gov. Tom Wolf's staff and said that not much has changed since the Governor made his decision to suspend all school sports until 2021; however, he noted it was just a recommendation and that local schools should decide. Another meeting is planned for this Friday. The PIAA recently sent a letter to Governor Wolf outlining the need for students to return to sports this fall with proper health and safety provisions in place. I have heard from many local parents, coaches and students on this issue, and I will continue to advocate for school sports to resume safely this fall. [Read Williamsport Sun Gazette: Hey governor, it's time to let youths engage in fall sports ]
The U.S. Census Bureau began making follow-up visits this week to households that did not respond to the 2020 Census questionnaire by mail, phone or online. The door-to-door visits will help ensure a complete and accurate count, which is critical since the results will determine how billions of dollars are allocated to communities. Census takers must have a valid government ID badge with their photo, a U.S. Department of Commerce watermark and an expiration date on the badge. They are also required to wear a mask and practice social distancing. The public may contact their regional census center to speak with a Census Bureau representative to confirm a census taker's identity.
Households can still respond online at www.2020census.gov, by phone at 844-330-2020, or by completing and mailing back the paper questionnaire they received earlier this year. [Read: Sunbury Daily Item: File Census before there's a knock at your door ]
Legislative Corner
Next week, the Senate Environmental Resources and Energy Committee, which I chair, will head to Pittsburgh for a public hearing on the Regional Greenhouse Gas Initiative (RGGI). The hearing will further examine the economic and employment impacts of Pennsylvania's participation in RGGI. WATCH LIVE
In recent weeks, I have sponsored a cosponsored a number of bills in the state Senate. A few include:
Legislation to establish an Animal Welfare Task Force, which will evaluate our current animal welfare laws. The task force will develop a comprehensive, evidence-based strategic plan through a collaboration between veterinarians, doctors, state agencies. Ultimately, it will promote the health and well-being of Pennsylvania residents, companion animals and the environment.
Legislation creating a sister program to the recently passed Conservation Excellence Grant Program (part of the PA Farm Bill) to establish an Agricultural Conservation Assistance Program. While the Conservation Excellence Grant Program is more specific to Tier 1, Tier 2 and Tier 3 counties in the Chesapeake Bay Watershed, the Agricultural Conservation Assistance Program will provide for local conservation districts throughout the Commonwealth to directly receive and manage funding for agricultural conservation projects determined by local officials to significantly improve local water quality.
Additionally, I recently co-sponsored legislation that would make several targeted changes to Pennsylvania's Tax Code, allowing small businesses to benefit from tax relief during this difficult time. Read about the COVID-19 Small Business Tax Relief Package
Application Period Opens for Second Round of COVID-19 Small Business Grants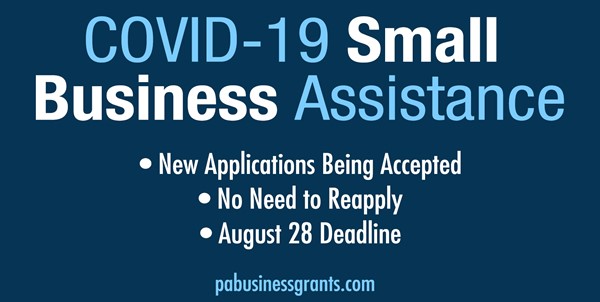 Small businesses that have been financially impacted by the COVID-19 pandemic may qualify for funding through the COVID-19 Relief PA Statewide Small Business Assistance program. The application period for the second round of funding is open now through August 28.
The program provides grants ranging from $5,000 to $50,000 and is open to businesses that generate at least 51 percent of their revenues in Pennsylvania. Businesses must also have had 25 or fewer full-time employees prior to February 15 and have annual revenue of $1 million or less prior to the pandemic. Grants must be used for losses or expenses related to COVID-19, such as payroll, rent/mortgage, utilities or expenses related to new measures to protect the health of employees and customers.
Businesses that applied during the first round of funding do not need to apply again.
Other Noteworthy Grant Opportunities
Energy: The Pennsylvania Energy Development Authority (PEDA) is offering an opportunity to apply for a PEDA Restart Grant to assist with the completion of eligible energy projects disrupted due to the coronavirus (COVID-19) pandemic response. PEDA will offer approximately $2 million for individual awards not to exceed $250,000 for advanced energy projects including the development and deployment of innovative and efficient technologies; the generation of alternative energy or the production of alternative fuels; or the implementation of energy efficiency/demand side projects. Businesses conducting manufacturing or production operations related to alternative energy projects in this Commonwealth are also eligible.
The PEDA Restart Grant guidelines and application instructions are available on the Department of Environmental Protection's webpage at www.dep.pa.gov (select "Businesses," then "Energy," then "Energy Programs Office," then "Financial Options," then "PEDA") or by contacting the Energy Programs Office at (717) 783-8411.
Agriculture: Thousands of Pennsylvania farmers are eligible to receive relief payments through USDA's Coronavirus Food Assistance Program (or CFAP). And there's a good chance YOU may be one of them if you produced certain commodities (including dairy, wool, some types of livestock and many crops). But don't wait to apply. The deadline for the program, which is designed to help farmers weather the market volatility brought on by the COVID-19 pandemic, is coming up September 11th.
Low Income Heating: On August 14, the Department of Human Services reminded residents the deadline to apply for Low-Income Home Energy Recovery Crisis Assistance (LIHEAP) is August 31st. LIHEAP helps with home energy bills, ensuring continuity of utility and other energy services for low-income Pennsylvanians. Assistance is available for both renters and homeowners. Applications for LIHEAP Recovery Crisis are available online at www.compass.state.pa.us. Those who prefer to submit paper applications can print from the website or request an application by phone at 1-800-692-7462 and mail it to their local County Assistance Office (CAO) or place it in a CAO's secure drop box, if available.
Fire and EMS: Fire and EMS personnel often face distressing situations as part of the job, and their resources have been stretched further than ever before due to the added costs and responsibilities during the COVID-19 pandemic. A new law that the Senate passed last month makes new mental health resources available to first responders to ensure these critical members of our communities can cope with the stress related to their life-saving work. In addition, four new courses are now available through the State Fire Commissioner's online training portal. The courses cover topics such as coping with a bad call, supporting fellow first responders and managing job responsibilities during a pandemic.
Railroad Industry: Pennsylvania has one of the strongest railroad systems in the nation, and this network has kept goods moving efficiently throughout the pandemic. Grants are available now to ensure that network is maintained. Applications for the Rail Freight Assistance Program are open now through August 29th.
FAQ Available on School Closures and Unemployment Compensation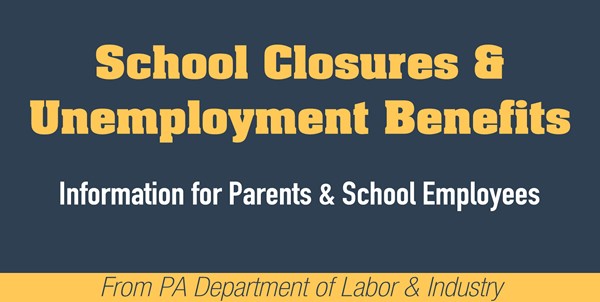 Plans by some school districts to adopt hybrid in-school/online learning schedules have prompted questions about Unemployment Compensation eligibility for parents who need to stay home with their children.
Although eligibility varies based on the facts of each individual claim, the Department of Labor has created a Frequently Asked Questions (FAQ) page to provide broad information on this issue for parents and school employees.