Dear Friends,
Hello! Thank you for subscribing to my E-newsletter. I am honored to serve the 23rd Senate District and look forward to working with you toward building a better future for Pennsylvania!
This E-newsletter serves to keep you updated on what is happening throughout Bradford, Lycoming, Sullivan, Tioga and Union counties and what I am doing as your state senator in Harrisburg. I hope that you will find this E-newsletter helpful, and if you have any questions or concerns, please feel free to contact me.
Gene Yaw
State Senator
www.SenatorGeneYaw.com

August 27, 2018
"Be happy for this moment. This moment is your life."
PennDOT Flood-Recovery Efforts Continue in North Central Pennsylvania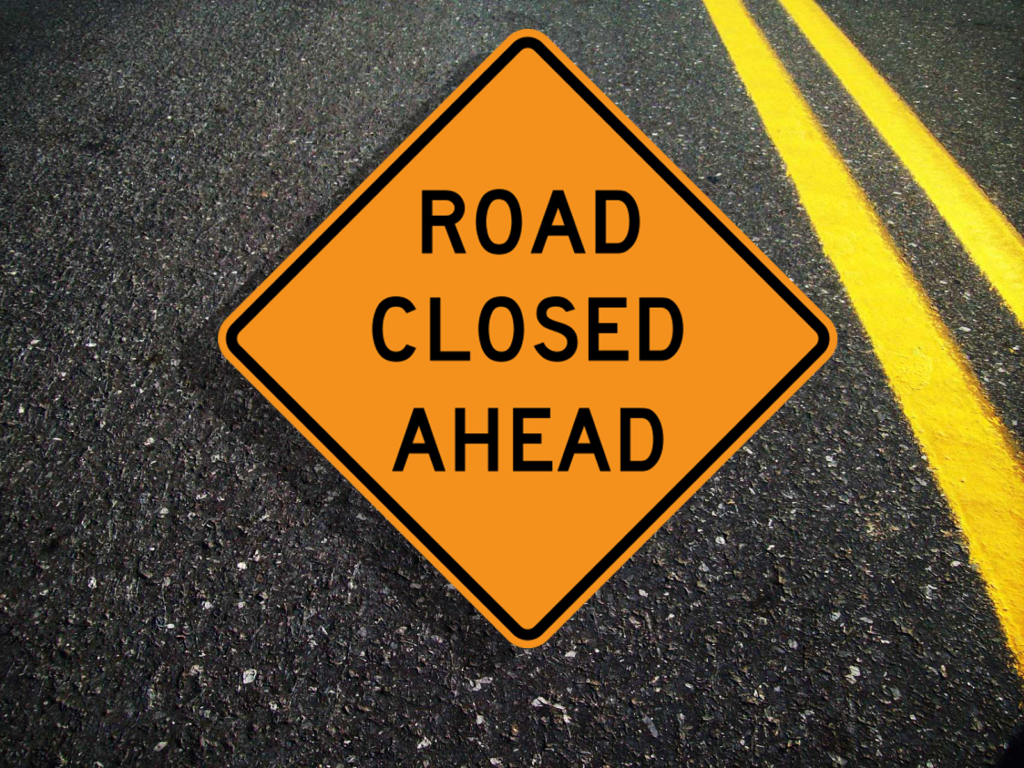 PennDOT continues with recovery efforts related to flooding that occurred since late July in District 3's northcentral region.
PennDOT crews have completed damage assessments and bridge inspections, as well as short-term repairs. There is more work to do, however, and numerous roads in the district remain closed.
Several contracts have been initiated for emergency projects related to recent flooding.
In Lycoming County, a $790,000 contract to stabilize the embankment along Route 87 just north of Route 973 in Plunketts Creek Township and a $81,500 contract to stabilize Route 220 and prevent the stream from jumping the embankment near Glen Mawr were started. This work is associated with flooding that occurred on July 25.
The three roads damaged during the August 13-14 flooding are now open – Route 220 in New Albany, Bradford County, Route 4049 (Central Road/Elk Grove Road) in Sugarloaf Township, Columbia County, and Route 44 in Anthony Township, Montour County. Additional work is planned to permanently restore Route 220 and Route 4049.
Work continues on Route 2002 (Main Street) in the Nordmont area of Sullivan County, and on Route 187 in Terry and Asylum townships in Bradford County.
More than 60 plans for contracts will be advertised within the next few weeks for repairs related to the flooding.
To read more, click here.
Mark Your Calendars for our Annual Senior Expo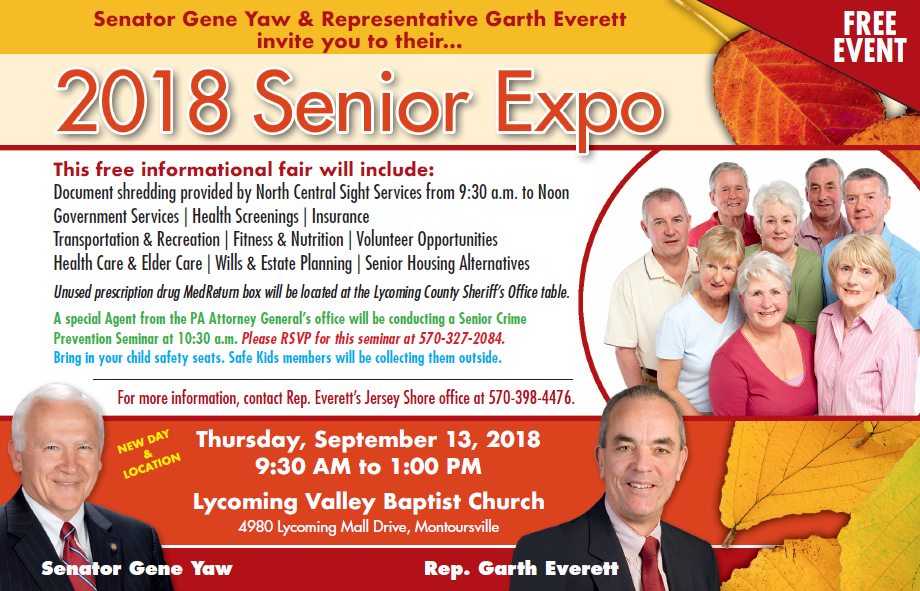 Thursday, Sept. 13, from 9:30 a.m. to 1 p.m.
Lycoming Valley Baptist Church, 4980 Lycoming Mall Drive, Montoursville
More than 80 vendors will be in attendance, including representatives from the Office of Attorney General, who will be providing presentations on consumer protection and scams related to senior citizens. The Lycoming County Sheriff's Office will also be in attendance for the collection of unused prescription medications.
Touring the Eagles Mere Auto Museum
COMING UP: Sen. Yaw's "A Conversation w/ Senator Gene Yaw" will feature a behind the scenes tour of the Eagles Mere Auto Museum located in Sullivan County.
The Auto Museum houses two floors of over 75 classic cars, 50's & 60's vehicles, and represents an era when the United States dominated the auto manufacturing industry. The excitement in the '50s was captured by lower, longer and sleeker automobiles, which left boxy conservative ancestors in the dust. The cars were also flashier – with tail fins, chrome, and unique paint colors. In the '60s, it was all about muscle: engine power, heft, and speed.
Stay tuned for an exciting show featuring this hidden gem!
Application Period Opens in September for Volunteer Fire Company, EMS Grants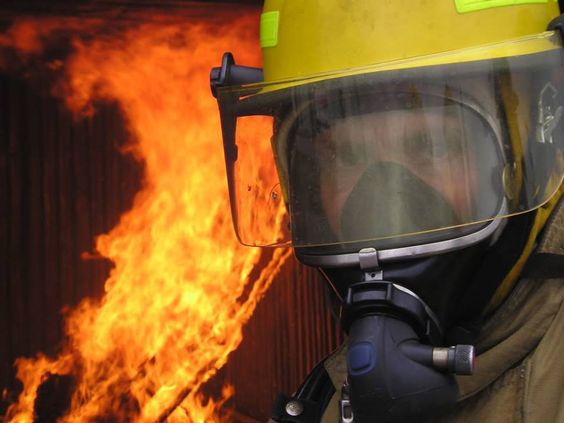 Volunteer fire and EMS companies can apply for state grants for construction projects, equipment purchases, training and debt reduction beginning next month. The application period for the Fire Company and Emergency Medical Service Grant Program is expected to open in September.
More details on the program, including application guidelines, are available online at www.osfc.pa.gov.
Drive Sober Or Get Pulled Over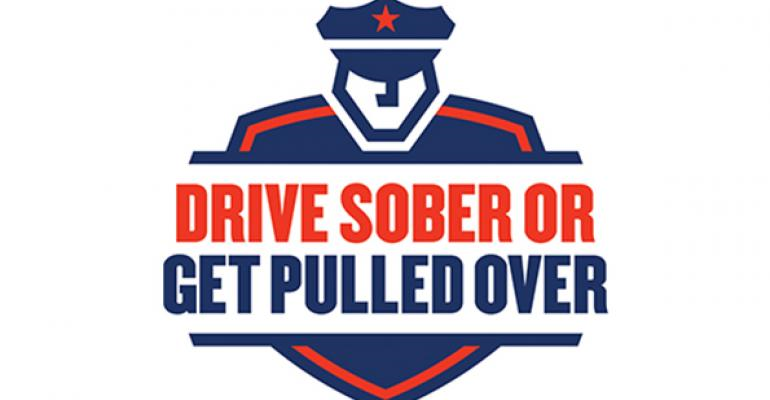 According to the National Highway Traffic Safety Administration (NHTSA), the Labor Day (Monday, September 3rd) holiday is one of the most dangerous holidays on our roads. State and local law enforcement will be making a special effort from August 15th – September 3rd to ensure individuals "Drive Sober or Get Pulled Over."
Share the startling statistics below with your loved ones to ensure they're driving sober:
2 in 3: On average, two in three people will be involved in a drunk driving crash in their lifetime.
29 people: Every day in America, another 29 people die as a result of drunk driving crashes.
2 minutes: Every two minutes, a person is injured in a drunk driving crash.
80 times: An average drunk driver has driven drunk 80 times before first arrest.
Secure your ride home before you start drinking. Utilize available apps, such as "Uber" and "Lyft", to get home safely.
Don't be another statistic.
https://www.atspa.org/articles
[Submitted by Deborah Erdman RN MSN CCRN TCRN Injury Prevention Coordinator GMC]
Williamsport Domestic Violence Shirts Available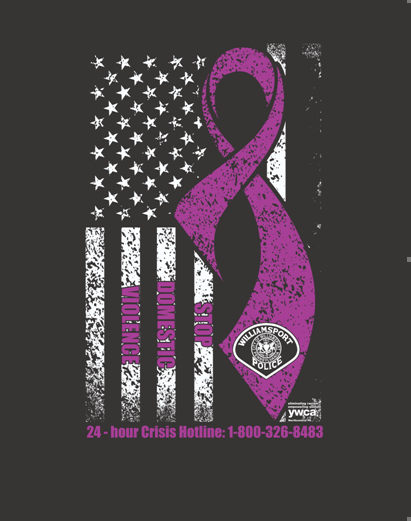 The Williamsport Bureau of Police and Wise Options/ YWCA Northcentral PA have teamed up to do a tee shirt fundraiser to benefit victims of domestic violence. For more information, click here.
Domestic violence and abuse can happen to anyone, yet the problem is often overlooked, excused, or denied. If you recognize yourself or someone you know suffering from abuse, reach out now. There is help available.
National Domestic Violence Hotline
1-800-799-7233 (SAFE)
1-800-787-3224 (TTY for the Deaf)
Pennsylvania Coalition Against Domestic Violence
Among the services provided to domestic violence victims are: crisis intervention; counseling; accompaniment to police, medical, and court facilities; and temporary emergency shelter for victims and their dependent children. Prevention and educational programs are provided to lessen the risk of domestic violence in the community at large.
1-800-932-4632 (in Pennsylvania)
1-800-537-2238 (national)