Dear Friends,
Hello! Thank you for subscribing to my E-newsletter. I am honored to serve the 23rd Senate District and look forward to working with you toward building a better future for Pennsylvania!
This E-newsletter serves to keep you updated on what is happening throughout Bradford, Lycoming, Sullivan, Tioga and Union counties and what I am doing as your state senator in Harrisburg. I hope that you will find this E-newsletter helpful, and if you have any questions or concerns, please feel free to contact me.
Gene Yaw
State Senator
www.SenatorGeneYaw.com

Save the Date!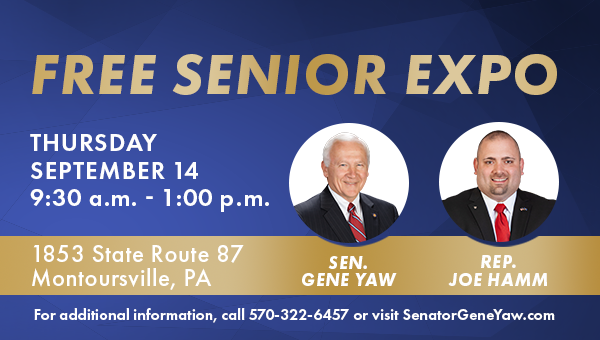 Our FREE Senior Expo is just a few weeks away!
Join us on September 14th at Community Baptist Church.
This event includes door prizes, health screenings, and refreshments. Over 75 exhibitors from government agencies and non-profit organizations will be on hand!
On the Horizon…
The Senate convenes this week to work on finalizing the 2023-24 state budget. Watch LIVE on Wednesday, August 30th at 1p.m.
The Senate State Government Committee will meet on Wednesday to consider Senate Bill 224, legislation to move up the date of the Presidential Primary. Look for updates in next week's E-Newsletter!
The Sullivan County Fair begins this week! Rides for all ages, carnival food, games, and events. Schedule of events, ticketing, and more information HERE.
Pennsylvania takes action to address nursing shortage. Starting September 5th, registered nurses (RNs) and licensed practical nurses (LPNs) who hold a multistate license through the interstate Nurse Licensure Compact (NLC) will be permitted to practice in PA. More information on licensure and guidance available HERE.
The Pennsylvania Department of Transportation (PennDOT) announced all driver license and photo centers will be closed Saturday, September 2nd through Monday, September 4th in observance of the Labor Day holiday.
ICYMI…
My Latest Op-Ed: Moving Beyond the False Rhetoric of Legal Skill Games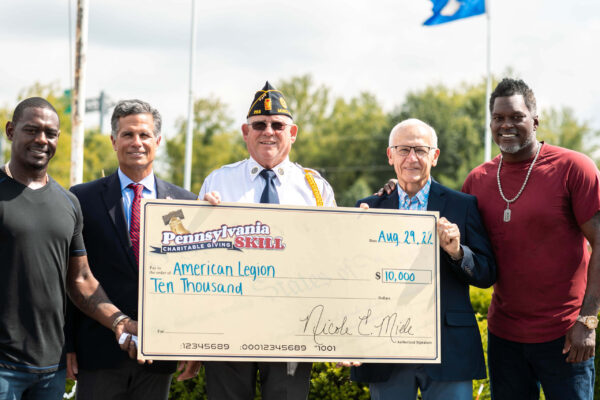 These days, it's easy to put a spin on something and pedal it as if it is the undisputed truth.
Take legal skill games, for example. Fear-mongering arguments pushed by the Pennsylvania Lottery and casino industry take great efforts to ignore both the facts and the law.
A recent Pennlive editorial claimed, "Gambling in Pennsylvania needs the strong oversight only casinos can guarantee." PennLive's Editorial Board apparently is of the opinion that the lottery should be run by casinos.
What I hope might finally put an end to the false narratives is legislation I have introduced to regulate and tax skill games – establishing stringent rules for operating the games, generating an estimated $250 million annually in state taxes and ridding Pennsylvania of the growing scourge of illegal video gambling terminals…. READ MORE
Face the State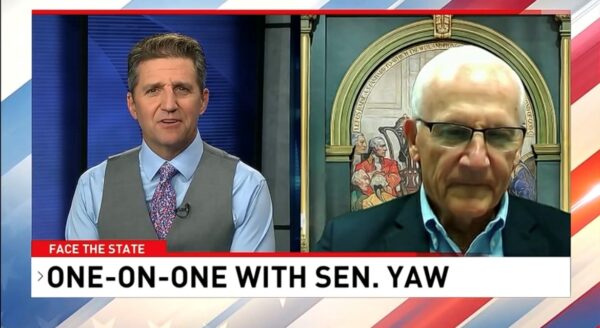 Last week I sat down with Face the State's Joel Smith on CBS 21, WHP Harrisburg to talk energy, grid reliability, and the recent PJM Board of Managers meeting.
Catch our full conversation starting at the 7-minute mark HERE.
Multimodal Transportation Funding for Tioga, Union Counties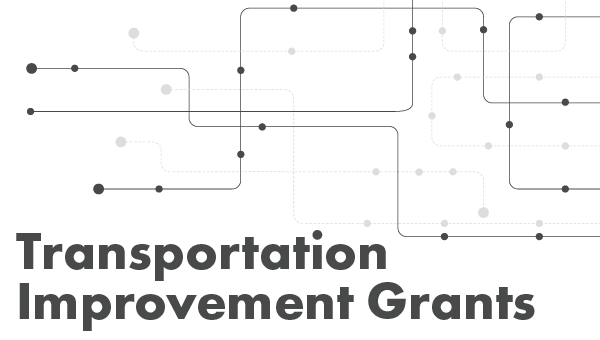 I am pleased to announce Tioga and Union Counties have been awarded state funding through the Pennsylvania Department of Transportation's (PennDOT) Multimodal Transportation Fund (MTF).
In Tioga County, $149,000 in MTF funds will be used for the continuation of the Pine Creek Rail Trail Track Removal and Road Restoration Project. This project seeks to remove railroad tracks, ties, and signposts and to repave and restore the road at six former railroad crossings in Wellsboro Borough and Delmar Township. The rails currently act as an impediment to accessibility and transportation.
In Union County, $800,000 in MTF funds will be used for a multi-municipal bridge replacement bundle for locally owned structures that are between eight feet and 20 feet in length and are in poor condition. Bridges slated for replacement are located in New Berlin Borough and Hartley, Lewis, West Buffalo and White Deer Townships.
The MTF offers funding to improve safety for bicyclists and pedestrians, as well as investments in ports, rail freight and aviation projects. PennDOT selected 58 plans totaling $49.6 million during this latest application round. Applications for the next round of funding for grants under the MTF will be accepted starting on September 25, 2023.
Additional Farmland Preserved in Lycoming, Union Counties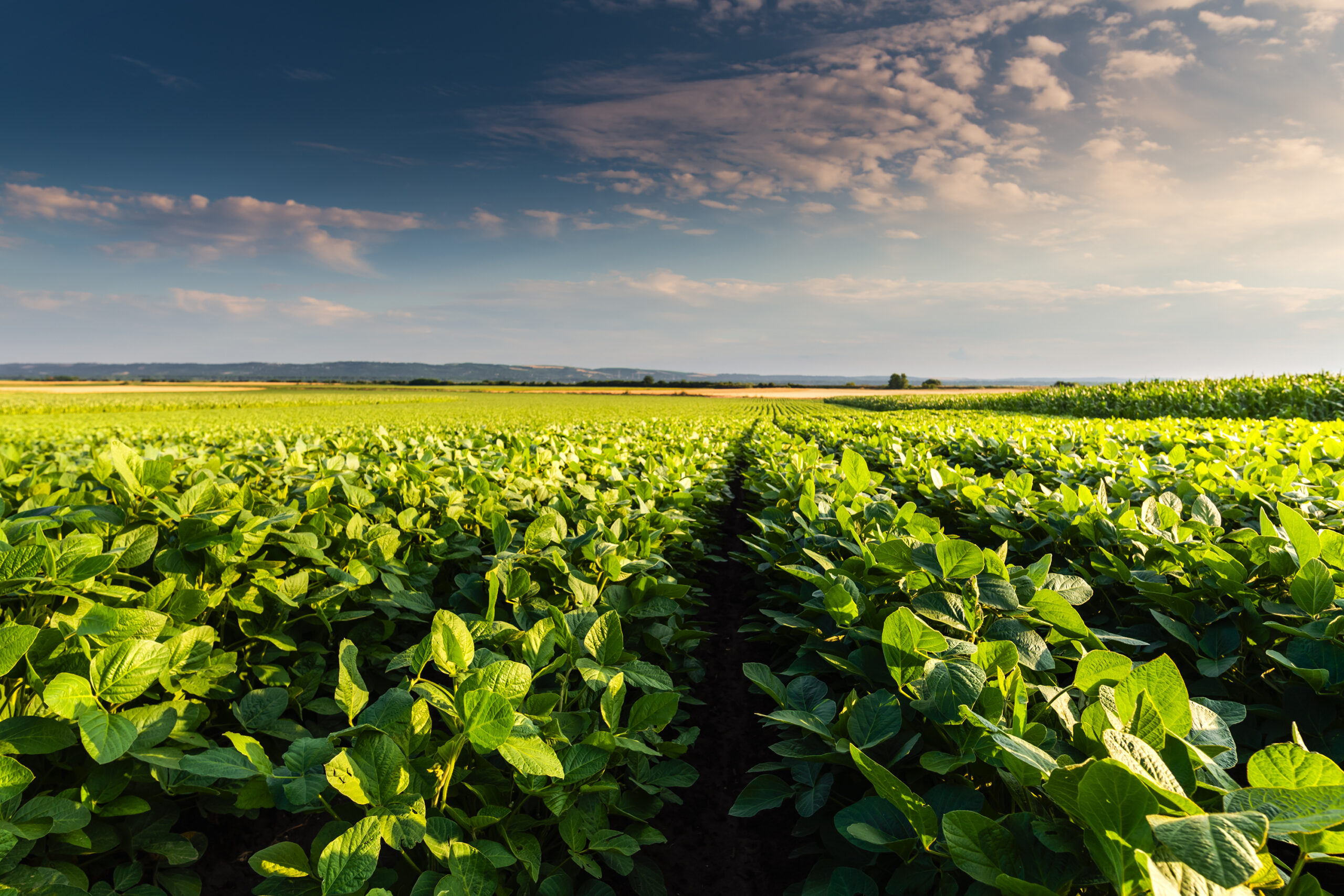 Additional acres of farmland in the 23rd Senatorial District will be protected for future generations following recent approval of the purchase of conservation easements by the state Agricultural Land Preservation Board.
Three local crop and livestock operations were part of 2,645 total acres across the state and 35 farms in 18 counties that were approved for preservation. The local operations include:
Kevin P. and Angela Lynn Ganther Farm– Wolf Township, 93 acre crop operation
Paul O. and Patricia P. Wentzler Farm– Muncy Township, 67 acre crop operation
Lucas, Melinda, and Deborah Criswell #3 Farm– Kelly Township, 54 acre crop operation
The Pennsylvania Agricultural Conservation Easement Purchase Program, as it is formally known, is dedicated to slowing the loss of prime farmland to non-agricultural uses. Funding allows state, county, and local governments to purchase conservation easements from owners of quality farmland. State, county, local, and federal funds committed during the Board's meetings are allocated to county programs to purchase development rights to preserve farms on county waiting lists.
On the Road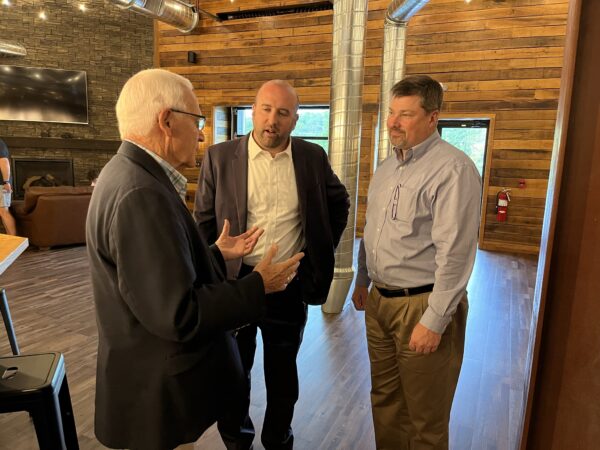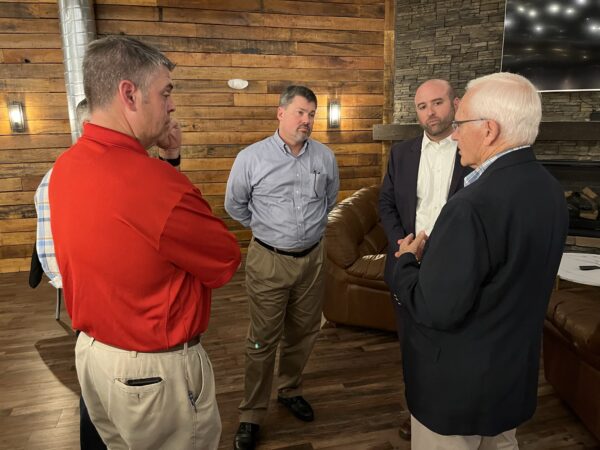 Last week, I joined the Williamsport/Lycoming Chamber of Commerce and Chamber President, Jason Fink, Pennsylvania Department of Community and Economic Development Secretary Rick Siger, Executive Director of the Governor's Action Team, Brent Vernon, and local business consultants for a tour of a few great sites and developments in Lycoming County.
We had a great conversation about what our region has to offer, followed by a fantastic dinner at Bald Birds Brewing Co.in Jersey Shore.
Last week, a few of my colleagues and I toured Eastern Controls, Inc., located in Newtown Square.
Since1969, family-owned Eastern Controls has been the leading manufacturer representative, distributor, and service provider of process measurement and control equipment in the Mid-Atlantic region.
It was great to meet some of their highly trained technical employees and see the leading-edge equipment at their facility.
Thank you for having us!
Free Hunter-Trapper Education Course Available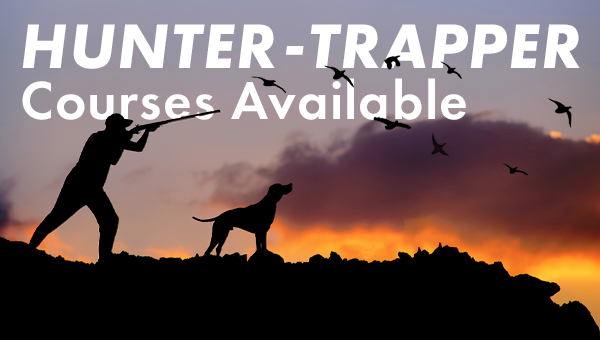 All first-time hunters and trappers, regardless of age, must successfully complete hunter-trapper education training before they can buy a Pennsylvania hunting or trapping license.
A free in-person hunter-trapper education course is available to anyone 11 years and older. It covers responsible hunting behavior, firearms basics and safety, basic shooting, wildlife conservation and management, outdoor safety and survival, hunting techniques, trapping and fur taking basics, and hunting safety.
The Pennsylvania Game Commission also has three online hunter-trapper education courses: online hunter education for $34.95, NRA free online hunter education course and interactive online hunter education for $50. Learn more and register for a course here.
New CDL Skills Test Intended to Attract More School Bus Drivers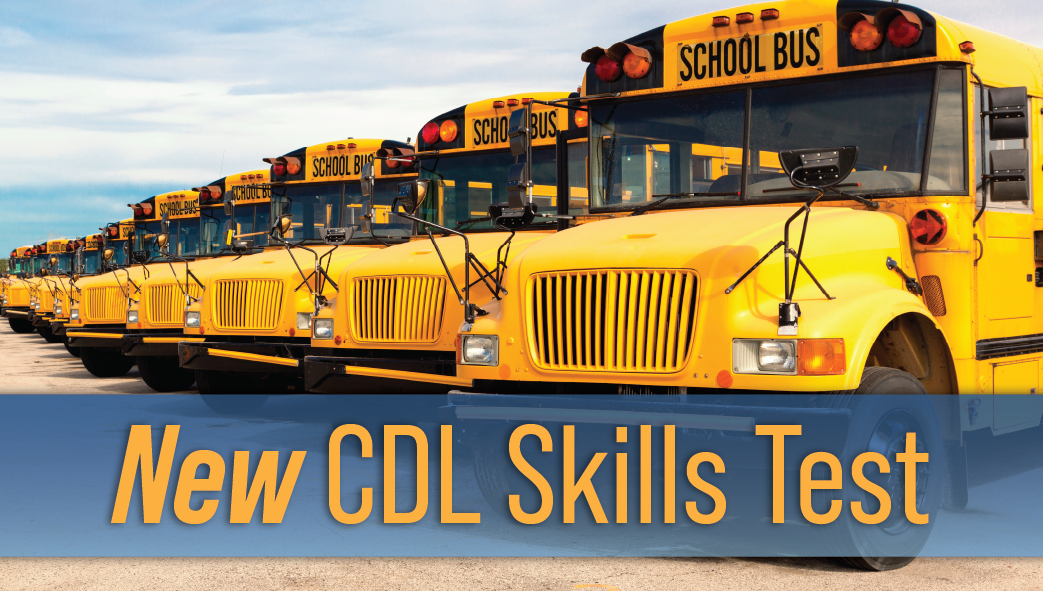 Beginning Monday, Aug. 28, a modernized commercial driver's license (CDL) skills test will be implemented at all Pennsylvania Department of Transportation (PennDOT) driver license centers that offer CDL skills tests and at all third party CDL driving skill testers.
Applicants who will take the test after Aug. 28 are encouraged to review updated materials here.
As some schools are already back in session and others are scheduled to start soon, there is a pressing need to ensure the availability of school bus drivers. According to PennDOT, these measures will streamline the school bus endorsement process and hopefully attract new drivers – alleviating Pennsylvania's school bus driver shortage.
Recognizing International Overdose Awareness Day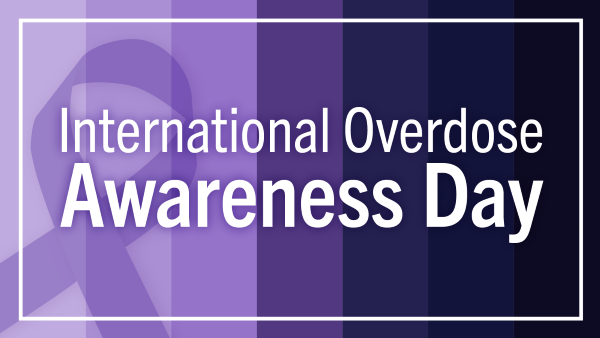 Sadly, the opioid epidemic still impacts communities all across our state. It affects people regardless of age, race, socioeconomic status and gender – threatening our families and the safe communities we all want to enjoy.
As International Overdose Awareness Day approaches on Aug. 31, Senate Republicans remain committed to fighting the epidemic. The Senate unanimously passed legislation allowing EMS providers to leave life-saving naloxone, or Narcan, with the on-scene caregiver of a patient who overdosed on opioids but was revived.
Senate Republicans also passed a bill banning official "injection sites," which do not help to overcome addiction and instead encourage the continued use of illegal and often deadly drugs. Injection sites normalize drug use and send a powerful, dangerous and incorrect message from government that illegal drugs can be used safely.