Dear Friends,
Hello! Thank you for subscribing to my E-newsletter. I am honored to serve the 23rd Senate District and look forward to working with you toward building a better future for Pennsylvania!
This E-newsletter serves to keep you updated on what is happening throughout Bradford, Lycoming, Sullivan, Tioga and Union counties and what I am doing as your state senator in Harrisburg. I hope that you will find this E-newsletter helpful, and if you have any questions or concerns, please feel free to contact me.
Gene Yaw
State Senator
www.SenatorGeneYaw.com

Click here to find the latest information on coronavirus from the Pennsylvania Department of Health and the Centers for Disease Control and Prevention
One-Size-Fits-All Mask Mandate is WRONG for Pennsylvania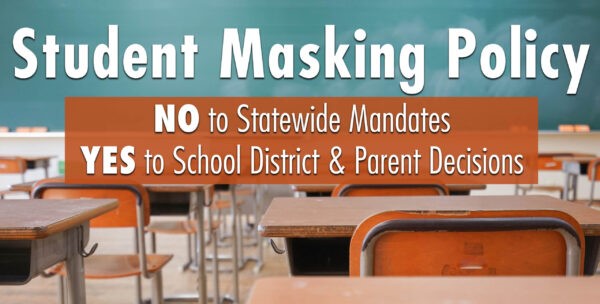 In May, voters stripped Governor Wolf of his authority to unilaterally extend emergency declarations, and actions such as his statewide student mask mandate demonstrate why citizens made that decision. I have said repeatedly that local school boards are best suited to deal with this issue because they know their district, the problems and the capabilities each face. A mandated one size fits all approach does not recognize the differences among districts.
As a result of the Governor's unilateral action, Senate Bill 846 was introduced in the state Senate and would require school districts to develop and promote a plan for parents or legal guardians to opt-out out their child from wearing a face covering or mask. The plan must also state that a child who has been opted-out will not be subject to any harassment or discriminatory treatment. The bill was referred to the Senate Education Committee for further review.
In Other News…
Senate Intergovernmental Operations Committee Plans First Public Hearing of Election Investigation…The Senate Intergovernmental Operations Committee plans to hold the first public hearing of its investigation into the 2020 General Election and the 2021 Primary Election on Thursday, September 9, at the Capitol Building. Pennsylvania Department of State officials are invited to testify at the hearing regarding last-minute guidance provided to counties and its impact on the 2020 General Election. READ MORE
IRRC Votes to Approve Job Crushing Regulation…The commission charged with reviewing proposed state regulations approved one lastWednesday that would implement the Governor's unilateral mandate to have Pennsylvania join the Regional Greenhouse Gas Initiative (RGGI), a job crushing scheme that would impose a carbon tax on state energy generators. READ MORE
Up to $4 Million Available in Pennsylvania Industry Partnership Grants… This Notice of Grant Availability (NGA) seeks applications to support Industry Partnership initiatives across PA that work to identify workforce, education & training, and economic development needs, coordinate regional teams to support industry needs, identify public and community resources to address industry identified needs and increase collaboration among businesses within a targeted industry sector. READ MORE
Help Available as Federal Pandemic Unemployment Benefit Programs Ends … Pennsylvanians are reminded that federal unemployment benefits, including Pandemic Unemployment Assistance (PUA), the Pandemic Emergency Unemployment Compensation (PEUC), and Federal Pandemic Unemployment Compensation (FPUC), ended Sept. 4. Non-unemployment program resources are available to assist individuals affected by the federal benefit end.
First Round of Antlerless Deer License Sales to Begin Sept. 13…While 2021-22 antlerless deer licenses are sold out in many of the state's Wildlife Management Units (WMUs), licenses figure to remain available in at least a half-dozen WMUs by Monday, Sept. 13 – the date when over-the-counter antlerless license sales begin statewide. READ MORE
Visiting with the Bradford-Sullivan Farm Bureau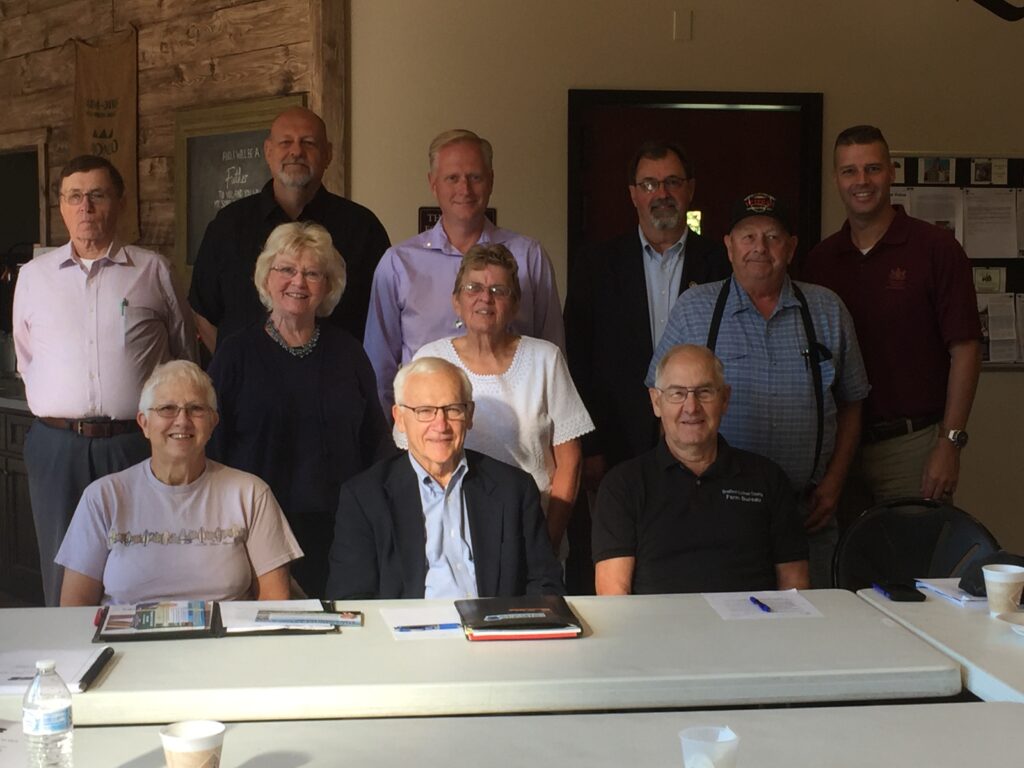 [Pictured Left to Right: Back Row: Bradford County Commissioner John Sullivan; Greg Perry, Congressman Fred Keller, Bradford County Commissioner Daryl Miller, State Rep. Clint Owlett. Middle Row: State Rep. Tina Pickett, Barb Warburton, Paul Yoachim. Front Row: Kathy Yoachim, Senator Yaw and Doug Graybill.]
This week, I had the pleasure to sit down with the Bradford-Sullivan County Farm Bureau in Canton for an in-depth policy discussion on local, state and federal matters. I commend their membership on their active role with the Board and also for volunteering their time, energy and resources to educate themselves, and us as policy makers, often while running their own farms.
Sullivan County Fair Tour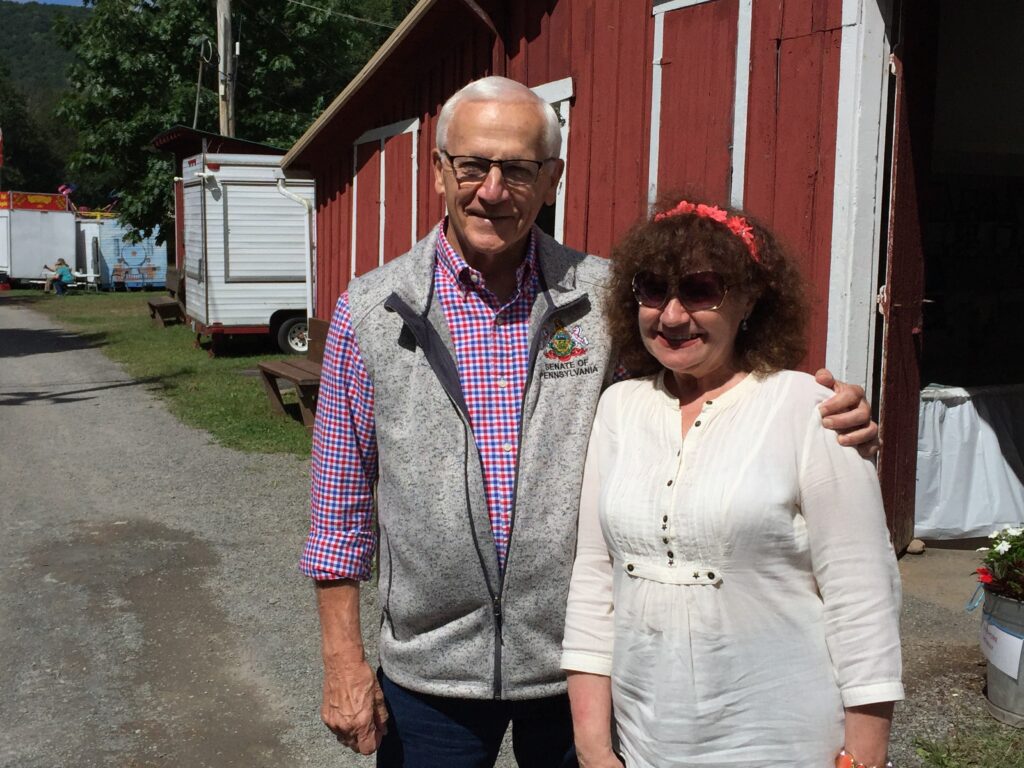 Last week, I stopped by the 169th Annual Sullivan County Fair in Forksville, which ran from Sept. 1st to 5th. Ran into many familiar faces along the way including Ferna Fetterman. Ferna and I attended Lycoming College together.
Legislative Review: Supporting Veterans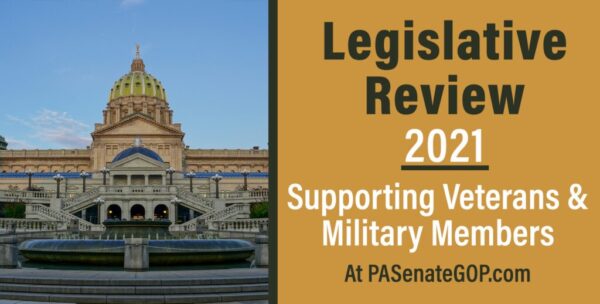 Pennsylvania is home to nearly 800,000 veterans in addition to active members of the military. Supporting these men and women, and their families, is a top priority. The Senate passed several bills this year to assist Pennsylvanians who served our nation.
Act 31 of 2021 extends employment protections to Pennsylvania citizens who are members of another state's National Guard.
Act 55 of 2021 increases the maximum donation amounts to the Veterans' Trust Fund from $3 to $5 when applying for or renewing a driver's license, ID card or vehicle registration and from $6 to $10 when applying for a two-year vehicle registration.
Act 63 of 2021 adds a member of the State Veterans Commission to the Pennsylvania Long-Term Care Council.
Senate Bill 248 designates March 6 as Persian Gulf War Veterans Day and October 7 as Global War on Terrorism Veterans Day.
Senate Bill 486 provides members of the Pennsylvania National Guard and reserve components of the U.S. Armed Forces who serve on active duty, as well as their spouses, preference for placement into job training programs for one year after discharge.
You can find a full list of bills of note passed by the Senate in 2021 here.
9/11- 20 Years Later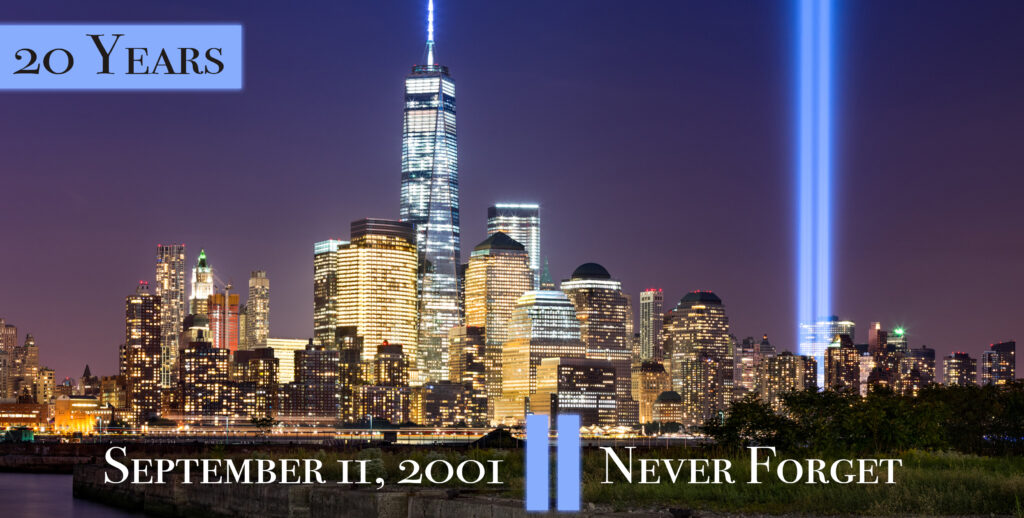 It was 20 years ago that terrorists carried out a coordinated attack on the United States, killing nearly 3,000 Americans. It was an atrocity that would shake the nation's confidence and test its resolve.
Amid the tragedies playing out in New York City, Washington, D.C. and Somerset County, Pennsylvania, there were stirring acts of courage and bravery. From the shock and mourning emerged a unified people.
The effects of the events of September 11, 2001 continue to reverberate. Many of those who died left behind children who were so young they never got to know their parents. A new generation has grown up over the past two decades with few, if any, memories of those they lost. Some 1,106 victims, or 40% of those who died, remain unidentified.
The best way to honor those killed 20 years ago is to renew our commitment to unity and to overcoming the challenges we face today.
Free Webinars Connect Military Veterans with Agriculture Business Funding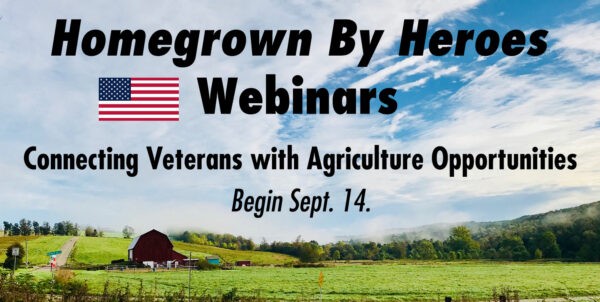 A free webinar series begins this month to connect military veterans who are considering starting or expanding an agriculture business with resources, funding and planning tools they need to succeed.
The first session will be held Sept. 14 from 7-8 p.m. and will cover grants, business planning and other resources. A web link or phone number to join the session can be obtained by contacting PA Preferred Program Manager Gwyn Rowland at RA-AgPaPreferred@pa.gov.
Future sessions will explore the PA Preferred Homegrown By Heroes program, which gives military veterans tools to brand their PA-made and PA-grown agricultural products for consumers who want to buy local and support veterans in their communities; sustainable agriculture opportunities through the PA Preferred Organic program; and other resources for transitioning, diversifying and expanding agricultural businesses.
National Childhood Cancer Awareness Month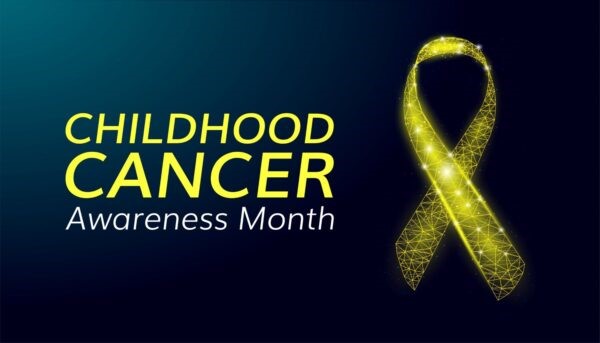 September is National Childhood Cancer Awareness Month. Childhood cancers take many forms, from blood disorders to various types of tumors and rare genetic diseases.
In recent years, the General Assembly created the opportunity for contributions to be used for pediatric cancer research. These contributions are deducted from a tax refund and may be made as a $5 contribution when renewing a driver's license or vehicle registration.