Dear Friends,
Hello! Thank you for subscribing to my E-newsletter. I am honored to serve the 23rd Senate District and look forward to working with you toward building a better future for Pennsylvania!
This E-newsletter serves to keep you updated on what is happening throughout Bradford, Lycoming, Sullivan, Tioga and Union counties and what I am doing as your state senator in Harrisburg. I hope that you will find this E-newsletter helpful, and if you have any questions or concerns, please feel free to contact me.
Gene Yaw
State Senator
www.SenatorGeneYaw.com

October 7, 2019
Bradford County FACT:
Bradford County was created in 1810 and named for William Bradford, a politician and jurist who served in George Washington's cabinet.
---
Today is the Voter Registration Deadline for Nov. 5 Election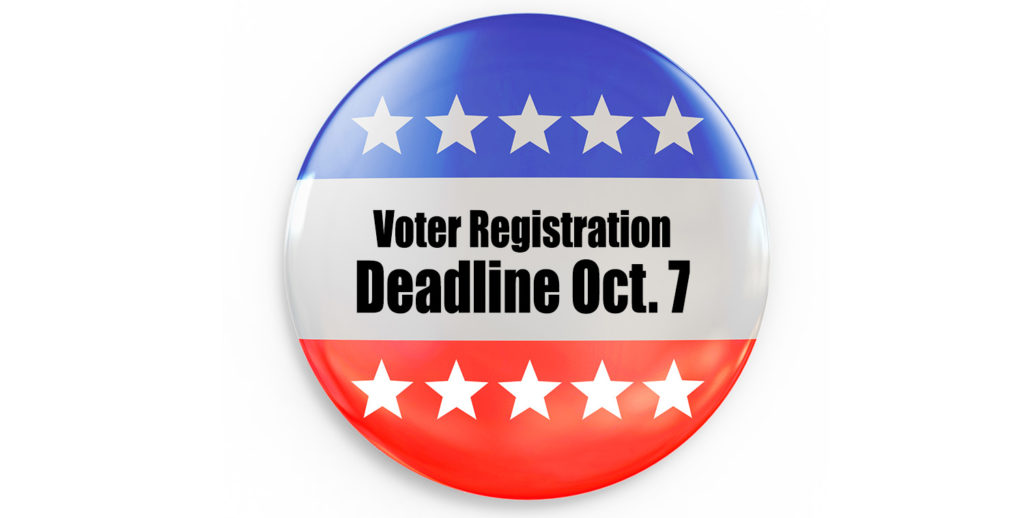 Today is the deadline to register to vote in the Nov. 5 general election. You can register online, by mail, in person at your county voter registration office, or at PennDOT and some other government agencies.
Requirements include being a resident of the election district in which you plan to vote for at least 30 days before the election. For more information, click here.
Statement on Wolf Plan to Enter Regional Greenhouse Gas
As Chairman of the Senate Environmental Resources and Energy Committee, I issued the following statement on the announcement by Governor Tom Wolf to bring Pennsylvania into the Regional Greenhouse Gas Initiative (RGGI), a consortium of 10 states – Connecticut, Delaware, Maine, Maryland, Massachusetts, New Hampshire, New Jersey (effective Jan. 2020), New York, Rhode Island and Vermont – to reduce greenhouse gas emissions.
"There are a lot of unanswered questions as to what entering RGGI would entail for the citizens of Pennsylvania. Perhaps the most important is "cost." How is this going to impact industry? We have numerous gas fired power plants, as well as coal. What is the impact going to be on the petrochemical cracker plant in Beaver County?
I support efforts to reduce greenhouse gas emissions, but it is worth noting that, since RGGI began trading allowances in 2009, the current nine RGGI states have reduced carbon emissions by 17%, while Pennsylvania has reduced carbon emissions by 28%. This was accomplished all without government mandate and at great savings to consumers. To read more, click here.
Judiciary Hearing Held on Statute of Limitation / Claims of Sexual Abuse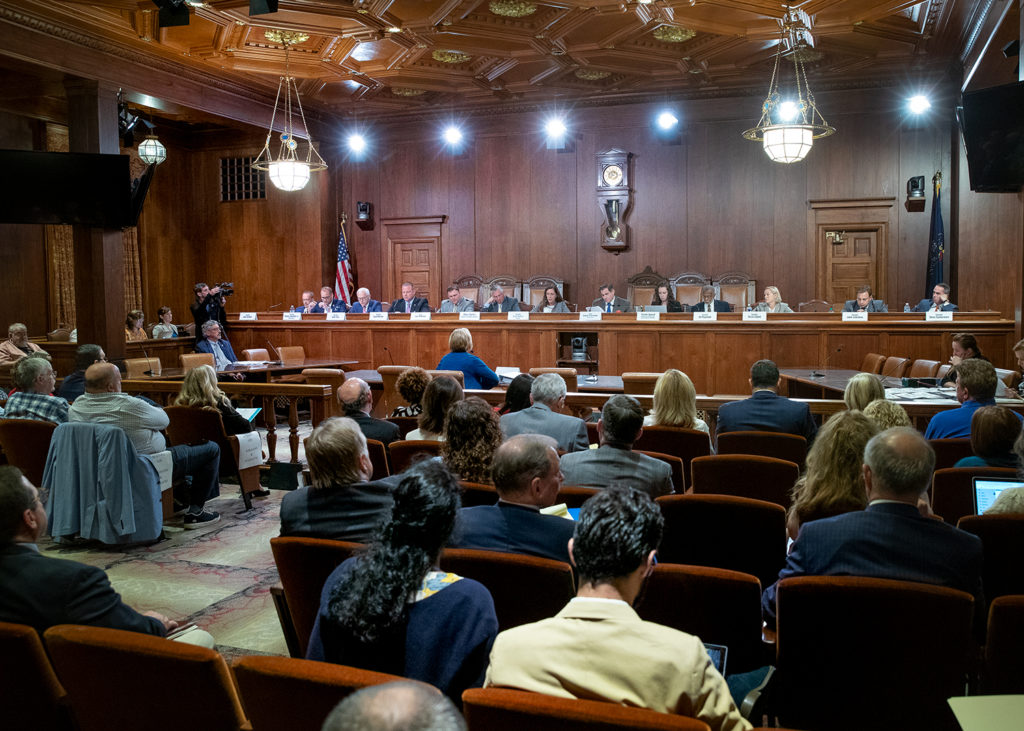 As a member of the Senate Judiciary Committee, we recently heard from several panels at the State Capitol on changing Pennsylvania's statute of limitations for alleged child sex abuse victims.
The Committee heard testimony from child sex abuse victims, victim rights advocates, prosecutors, administrators of Roman Catholic Church diocese victim compensation programs, the insurance industry, and more. Many of the discussion topics included state constitutional issues regarding retroactive lawsuits, criminal justice, victim compensation programs, the financial costs of compensation and human memory and response to childhood trauma.
Stepping Back in Time at the Heritage Village & Farm Museum in Bradford County
I recently stopped by the Heritage Village and Farm Museum in Troy for a tour of their many exhibits and antique machinery. The museum is operated by the Bradford County Heritage Association and records the history of agricultural development throughout the County over the years. In the main museum, there is the current exhibit "Snake Oil to Modern Medicine," featuring the 1958 Government Packaged Disaster Hospital and a Civil War field hospital tent. Exhibits also include textile, local history, early horse drawn farming equipment and much more. So much to see!
To learn more, visit https://www.theheritagevillage.org/.
Susquehanna, Union County "Green Light-Go" Grants Announced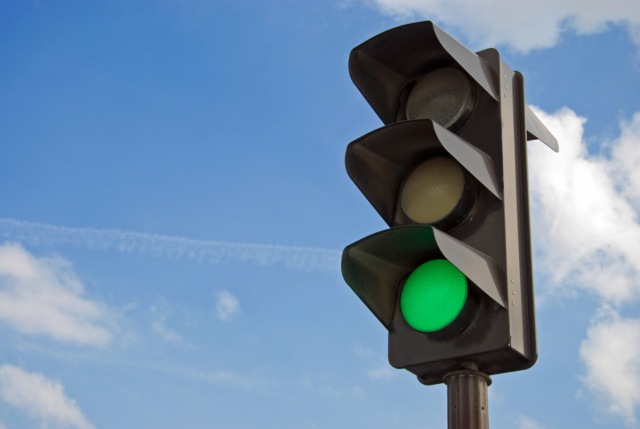 Twenty-four statewide municipalities will receive over $5 million to support traffic signal upgrades, increasing safety and mobility across Pennsylvania's communities through the Pennsylvania Department of Transportation's (PennDOT's) "Green Light-Go" program.
I was pleased to see that two Green Light-Go grants were awarded for Susquehanna County's Choconut Township – $7,193.20 to upgrade vehicle detection at the intersection of SR 267 and Stanley Lake, as well as for Union County's Kelly Township – $263,094 for traffic signal retiming, controller upgrades, and communication at seven intersections along US Route 15.
Grant funding through the Green Light-Go program may be utilized for a range of operational improvements including, but not limited to: light-emitting diode (LED) technology installation, traffic signal retiming, developing special event plans and monitoring traffic signals, as well as upgrading traffic signals to the latest technologies.
$21K in Pre-Kindergarten & K-6 Area Scholarships Awarded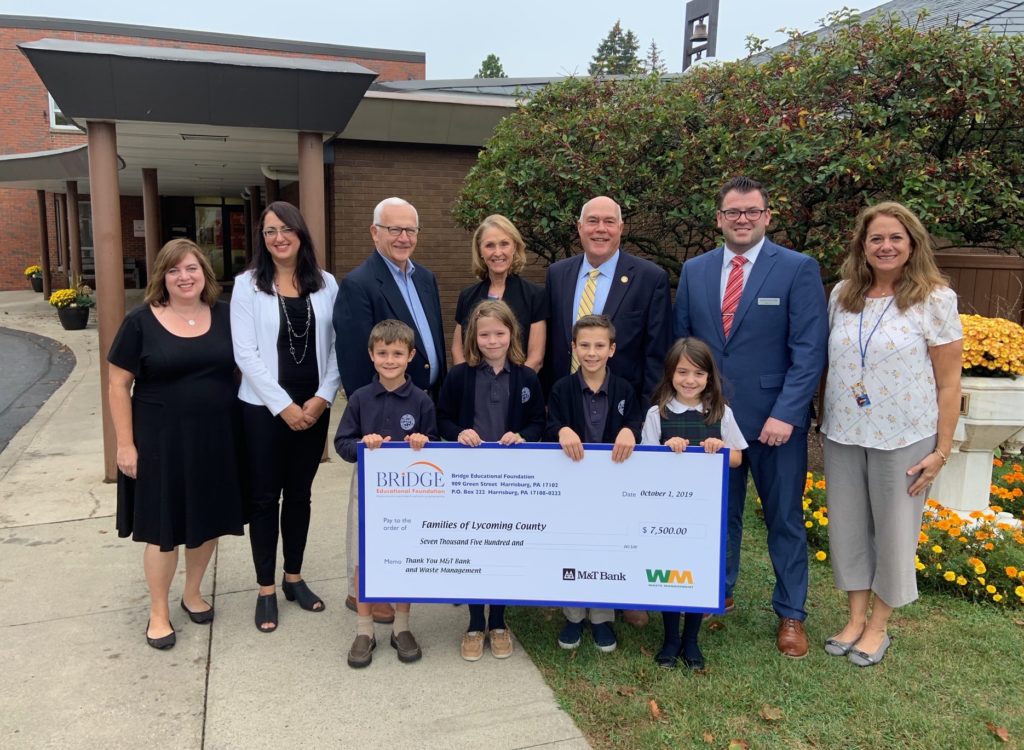 I joined Rep. Jeff Wheeland & officials from the Bridge Educational Foundation, M&T Bank and Waste Management for a scholarship presentation with faculty and students at St. John Neumann Regional Academy, Williamsport, on Tuesday.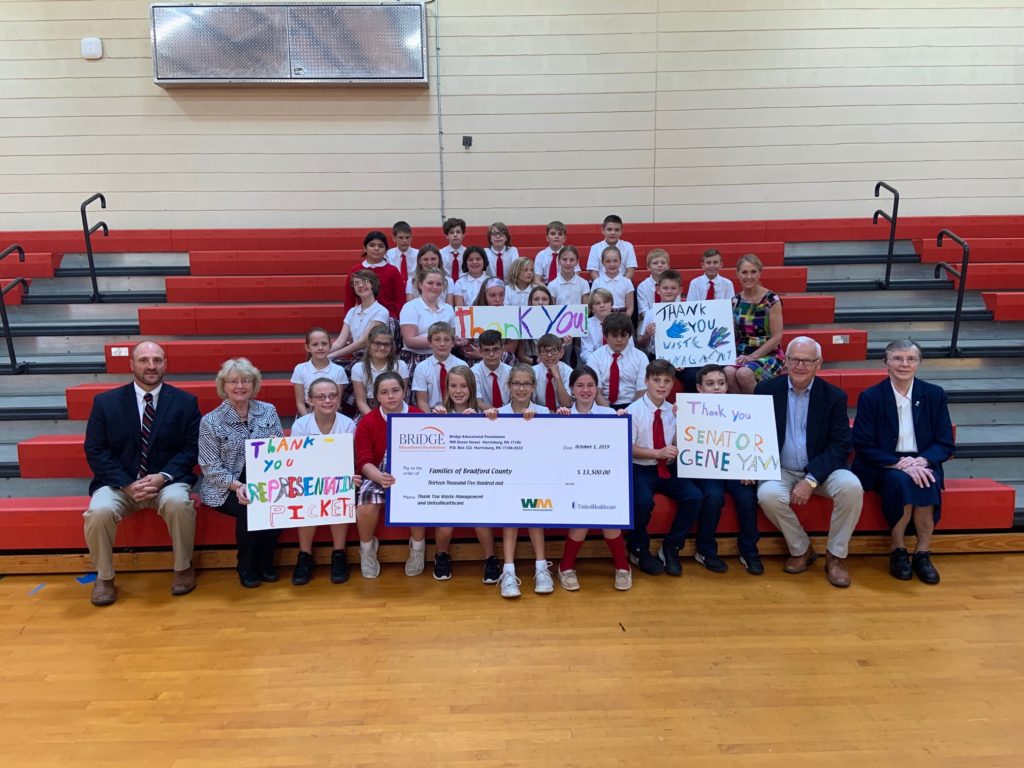 I joined Rep. Tina Pickett & officials from the Bridge Educational Foundation, UnitedHealthcare and Waste Management for a scholarship presentation with faculty and students at St. Agnes Elementary School, Towanda, on Tuesday.
Over $21,000 in scholarships has been awarded for families in Bradford and Lycoming counties through the Educational Improvement Tax Credit (EITC) program of the Commonwealth of Pennsylvania.
I joined representatives from the Bridge Educational Foundation, a scholarship organization recognized as an approved 501(c)3 not-for-profit organization, and officials from M&T Bank and Waste Management to announce $7,500 in scholarship assistance at St. John Neumann Regional Academy, Williamsport. Later in the day, Senator Yaw joined Foundation representatives and officials from Waste Management and UnitedHealthcare to announce $13,500 in scholarship money at St. Agnes Elementary School, Towanda.
Year after year, it is extremely rewarding to see how generous Pennsylvania businesses contribute to the Bridge Foundation through the Educational Improvement Tax Credit program. "these public-private partnerships strengthen our educational programs, while expanding academic opportunities for our children throughout our state.
For more information on the Bridge Educational Foundation, visit their website at www.bridgeedu.org.
Participating in the Sullivan County Township Officials Annual Convention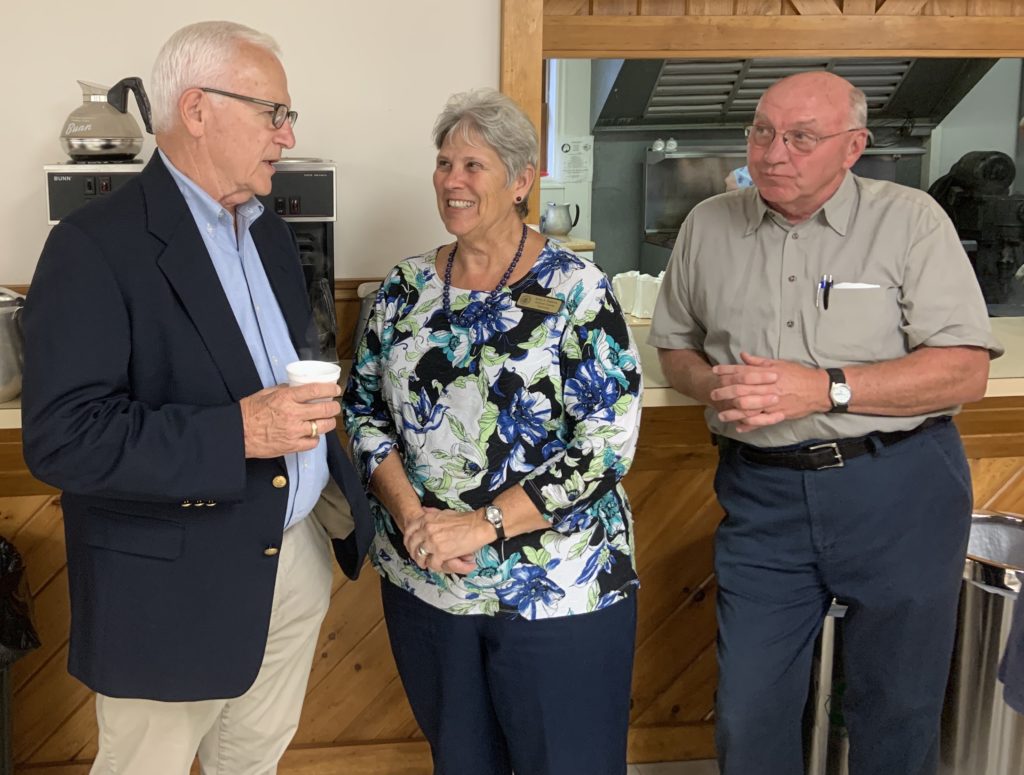 Talking county and state-wide issues with Sullivan County Treasurer Kathy Robbins and her husband Tom
I joined officials representing townships of the second class in Sullivan County last week for their Annual County Convention at the Muncy Valley Fire Company.
The purpose of the annual convention was to provide township officials with up-to-date information to help them better serve their constituents and give them an opportunity to exchange ideas on local government issues. The convention featured a wide range of speakers, including Sen. Yaw; Representative Tina Pickett, the Sullivan County Commissioners, PennDOT Municipal Services and PSATS staff and more who discussed legislation and topics affecting townships of the second class, association programs and services for townships, and issues of major importance to townships and their residents.
THIS WEEK: Oct. 10th Fire, EMS Grant Workshop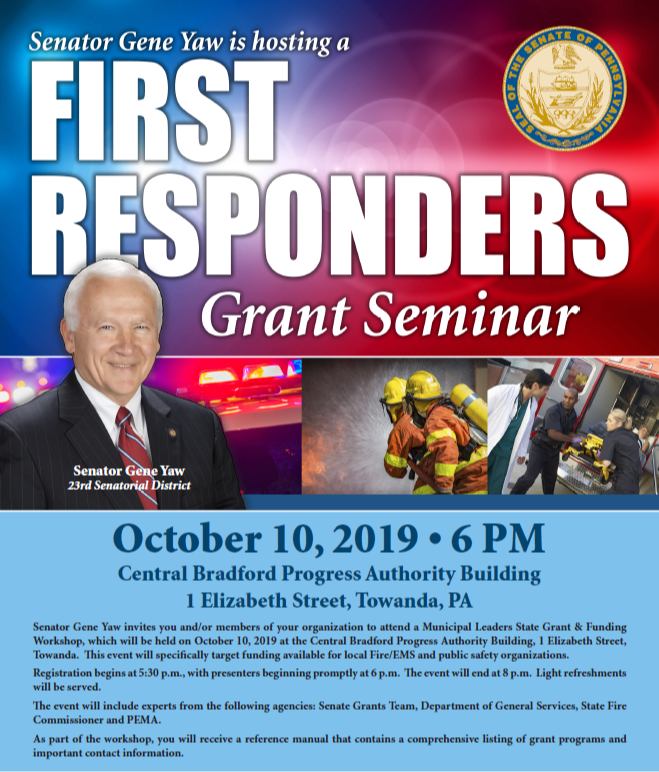 On October 10th, 2019, I will be hosting a Municipal Leaders State Grant & Funding Workshop at the Central Bradford Progress Authority Building, 1 Elizabeth Street, Towanda. This event will specifically target funding available for local Fire/EMS and public safety organizations.
I invite officers of EMS/Fire companies in the 23rd District to attend. The event will include experts from the following agencies: Senate Grants Team, Department of General Services, State Fire Commissioner and PEMA. As part of the workshop, you will receive a reference manual that contains a comprehensive listing of grant programs and important contact information.
Registration begins at 5:30 p.m., with presenters beginning promptly at 6 p.m. The event will end at 8 p.m. Light refreshments will be served.
There is no charge for the event, but seating is limited and pre-registration is required. To register, please click on https://www.senatorgeneyaw.com/grant-seminar/